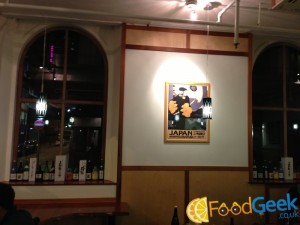 I've never been hugely impressed with most of the Chinese restaurants in Manchester's Chinatown but thankfully 'Yuzu', the solitary Japanese restaurant on offer is fantastic.
It's a tiny little place which completely adds to the charm, it feels really authentic with it's Japanese artwork, various bottles and ornaments and wooden benches although i've yet to visit Japan so I can't confirm that it is. There were several Japanese customers which I always think means that they're doing it right!
It took a while before anybody came to take our order despite the waiter wandering past several times. He even took the order of the table that arrived after us first, despite us having closed our menus long before and been sat patiently tapping our fingers. As well as being quite annoying it was also worrying as we only had 90 minutes until we needed to be somewhere else.
When he finally took the order I was disappointed yet again to be told that they had run out of Chicken Yakitori. I understand that these things happen but it was 6:30pm and they'd only been open for dinner since 5:30pm, it does seem a little early to be selling out. Presumably a large group of Yakitori lovers had been in and ordered the lot for lunch.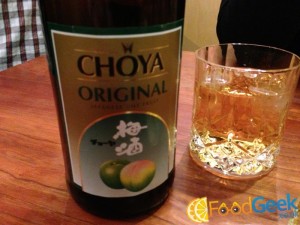 Instead I ordered Chicken Kara-age, Prawn Gyoza's & Homemade Pickles to start. I was very undecided what to drink as I love Japanese beer, Sake and plum wine. In true food geek style I ordered all 3.
It took a while for the starters to arrive and disappointingly we didn't receive our drinks until the same time. It's a long time since i've sat in a restaurant for 30 minutes without even receiving a drink. Luckily both the food and drinks were more than worth the wait.
They serve several Japanese beers in bottles such as the popular Asahi, Sapporo and my favourite Ichiban. The plum wine felt slightly overpriced at £24 for a 70cl bottle but it was very nice, the highlight however was the Yuzu Sake which is my new favourite drink, the blend of Yuzu juice (a Japanese citrus fruit) mixed with the junmai sake worked so well and tasted incredible. I'm going to have to get some of that stuff.
Starters were excellent too, the Gyoza's so light and filled with huge chunks of perfectly cooked prawn and delicate flavourings. The Chicken Kara-age are deep fried chicken thighs which had been marinated in some sort of special sauce and it really was special, they were seriously tasty and the juiciest chicken I have ever had. So good.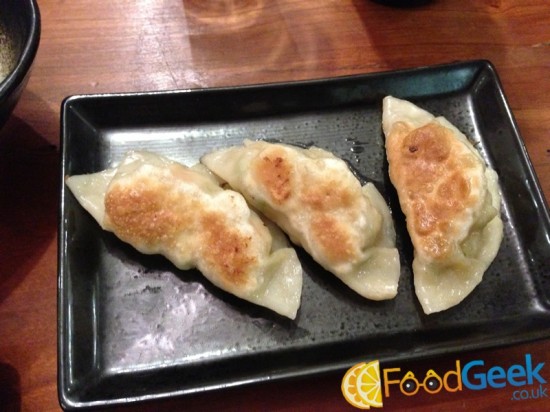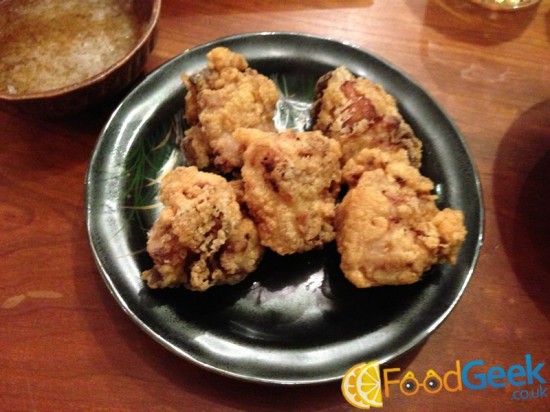 The Assorted Tempura ordered with the main courses turned up with the starters too but wasn't quite as successful. There was nothing particularly wrong with them, the vegetables and prawns were well cooked and the batter light and crispy but I felt that they lacked flavour. They were really quite bland particularly the vegetables as the natural flavour of the prawn just about came through but the vegetables didn't taste of much at all.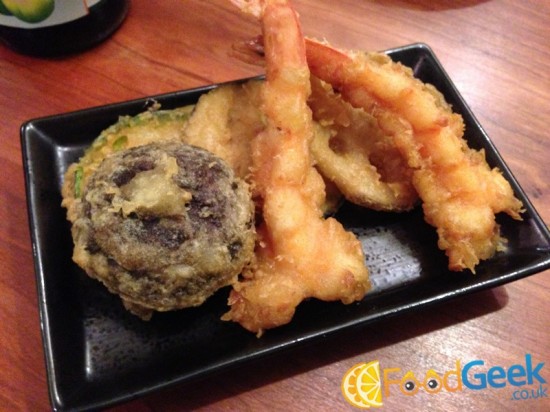 When the main courses came we realised that our pickles hadn't arrived! The waiter apologised and brought them fairly quickly and wow, they were totally worth the wait too. The thin slices of cucumber and white radish didn't look like much but the taste was mind blowing, nothing like their regular tastes, much much better! They were sharp as you would expect from pickled vegetables but they also had a deep, savoury, umami flavour which is impossible to describe but was so so good. The addition of toasted sesame seeds took it to another level, just brilliant.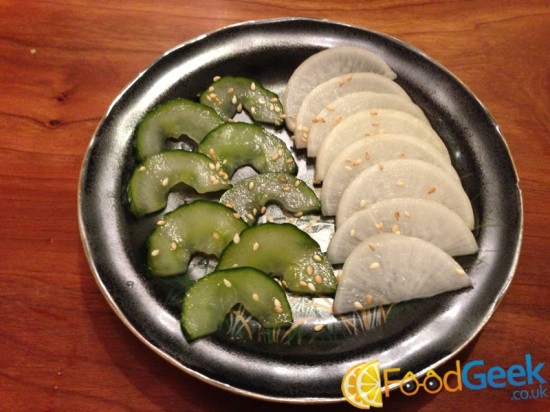 As well as the Tempura we'd also ordered Vegetable Yaki Udon noodles and Kaisen Don which is a Sashimi dish. The noodle dish was good but for me it needed loads more heat, conveniently they provide cute little wooden contraptions full of chilli powder so I could spice it up to my hearts content.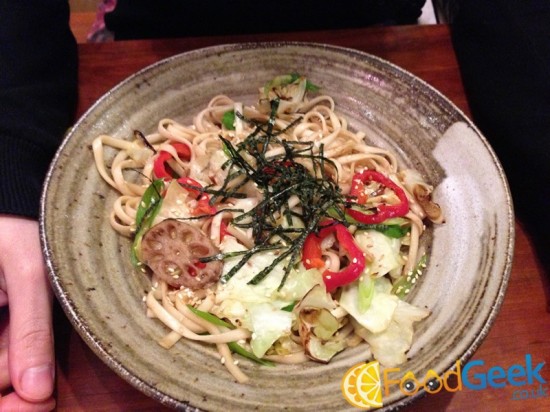 I'm very fond of sushi but sashimi is something that I really want to like more than I do. I want to love it but just can't, I thought if anywhere could make me love it Yuzu could but unfortunately they failed, not through any fault of their own. The Kaisen Don contained scallop, tuna, salmon and prawn and was unquestionably high quality and so incredibly fresh, I've no idea where they find fish so fresh in Manchester. It was sliced skilfully and presented beautifully – served on a bed of rice in a bowl neatly arranged on a round wooden board with a jug of soy and a small bowl of pickled vegetables. The sticky sushi rice in the bottom was great, so what was the problem? Well, I used to think that deep down I don't really like raw fish that much. I loved the idea of it and i'm a huge seafood fan but I just couldn't help thinking a little cooking makes it so much better. A seared scallop is a beautiful thing as is a perfectly cooked prawn or rare salmon & tuna. Contradictory though, I have grown to love sushi over the last few years, I don't know if it's the way it's prepared or the addition of rice but I have no problem at all with raw fish in sushi.
I think for this particular dish my biggest problem was with the golden roe on top, I quite like caviar but this was really, really strong and with the wasabi completely overpowered the delicate taste of the fish in my opinion.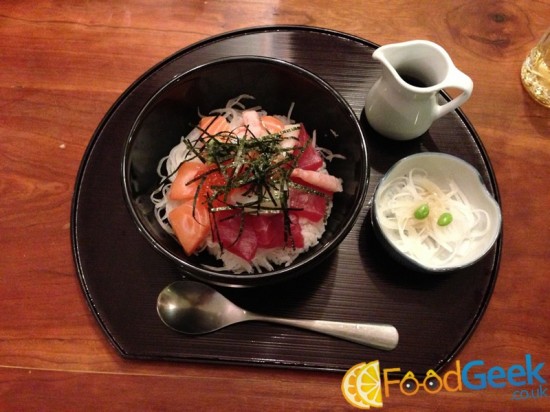 So I didn't particularly enjoy the Sashimi dish but I definitely blame myself and not Yuzu for that, besides the slightly bland tempura everything else we ate was fantastic with some absolutely brilliant dishes. I'll be thinking about those pickles, chicken thighs and gyoza's for a very long time not to mention my new favourite drink Yuzu Sake. Although I still feel the Plum Wine is overpriced the food is amazing value, you'll be lucky to find food of this standard using such quality ingredients at these prices anywhere else.
Unfortunately the service continued to be slow throughout the night which meant that we had to leave without dessert. I was genuinely upset about this as the Rum and Raisin Parfait sounded gorgeous.
It's such a shame that the level of service doesn't match the high food standards, it wasn't so much bad service but just really slow, it probably wouldn't have bothered me had we not been rushing off but I still feel that almost 90minutes for 2 courses of this sort of food is too long and waiting 30minutes to receive a drink isn't really good enough. There seemed to be only 1 waiter serving, he was friendly enough when he was with us but everything just took too long. I'd like to give them the benefit of the doubt and think that they were just short staffed.
It did unfortunately take a bit of shine off what would otherwise have been a truly great night. I'd still very much recommend Yuzu though and am excited to have it in Manchester.
Date of visit: 26.10.2012
* Update * After posting this review I was contacted by Yuzu asking for more details about my visit which I happily provided. They then came back the next day saying that they'd spoken to the waiter who had apologised and insisted that it wouldn't happen again. I'm hugely impressed with how proactive Yuzu were with this matter and how seriously they dealt with a relatively small complaint. * (05.11.2012)