I must confess that despite being a foodie and a bit of a burger snob I am still quite partial to a McDonalds Big Mac. I think the reason is that it's quite unique thanks to it's middle layer of bread and particularly Big Mac Sauce, there isn't really a direct equivalent available from the better burger places. Or at least there wasn't, as SoLita recently introduced their take on the Big Mac called the 'Big Manc'.
The Big Manc is a giant burger with two 6oz patties made from prime chuck steak with added bone marrow served on a brioche bun with lettuce, pickles, Monterey Jack cheese and Big Manc Sauce.
Obviously it is supposed to look like a Big Mac and it does, only bigger and much more impressive. In fact a regular Big Mac looks pretty sad now in comparison!
Taste wise it's on another level too. The superior quality of the ingredients shine through, the patties are chunkier, meatier, juicier and tastier, the cheese is infinitely nicer than the plastic slices found at McDonalds and the brioche bun is bigger, better and fresher than the dull, average burger bun of the Big Mac. Most impressively for me though is how much the sauce tastes like Big Mac sauce which is easily the best bit of a McDonalds Big Mac. I always thought the recipe was as closely guarded as the Colonel's secret recipe but they have completely nailed it. Actually, there is just one point in which the Big Mac beats the Big Manc, whilst SoLita have pulled off the taste the addition of chopped pickles in genuine Mac sauce gives a nice extra dimension and texture. Other than that the Big Manc wins hands down in every category.
So How Big Is A Big Manc?
The Big Manc looks great and tastes even better but how does it measure up to the Big Mac in the figures? With the help of a trusty ruler I can confirm that the Big Manc is in fact more than double the size of a McDonalds Big Mac! Coming in at just over 11cm compared to a paltry 5cm for the original version!
A Bigger Big Manc
The Big Manc actually isn't my favourite burger from SoLita but it it definitely the most impressive so far, hence this post. However, since my visit SoLita have already beaten it with 'The Mega Manc'. Everything the Big Manc includes but with three 6oz patties and an extra layer of brioche! I can't imagine being able to finish it but in true Man Vs Food style I just know I need to try!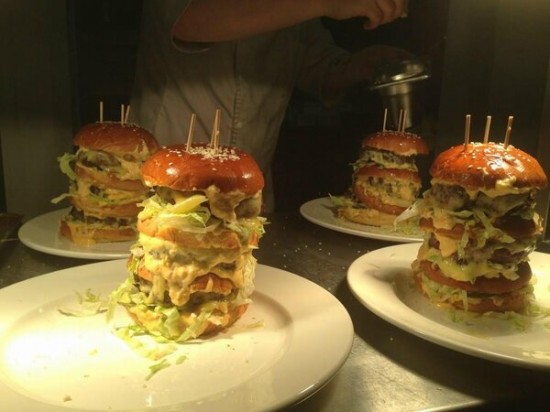 Date Of Visit: 25.01.2013