Regular readers will know I'm a massive chilli freak; I put loads of fresh chilli in pretty much everything I cook at home and use chilli powder and cayenne pepper like salt. When i'm out almost everything 'hot' isn't hot enough for me; Nando's 'Extra-Hot' just isn't and Almost Famous suicide sauce certainly didn't make me reach for a noose.
I was even disappointed by SoLita who usually can't do much wrong in my eyes when their 'Ribs, Wings & Things' dish which we were warned was 'seriously spicy' due to the Naga chilli sauce turned out to be very tasty but not particularly hot.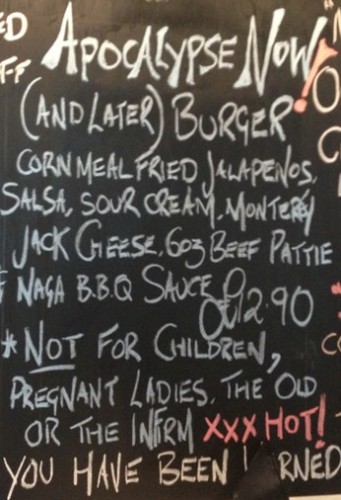 So when I heard that their latest special burger was 'XXX Hot' I wasn't sure whether to believe them or not. But Franco (owner, crazy recipe inventor and social media addict) assured me that this time it was genuinely hot.
A.N.A.L?
He also insisted that the acronym A.N.A.L which is derived form the burgers full name 'Apocalypse Now (And Later)' was entirely accidental. I don't believe that for one minute but I took his word that it was HOT and he didn't let me down.
The burger includes a standard Solita 6oz chuck steak pattie with the heat coming from cornmeal fried jalapeños and Naga BBQ sauce. The jalapeños are not particularly intense but the BBQ sauce was, VERY! I had a taste of it on it's own before biting into the burger and I have to admit it had me a little worried.
However, the burger also contains a delicious fresh salsa, melted monterey jack cheese and loads of sour cream which together with the meat and bread really toned down the intensity of the sauce. It was still very hot though, even to somebody who loves spicy food but the other cooling flavours stopped it from being as relentless as it would have otherwise been.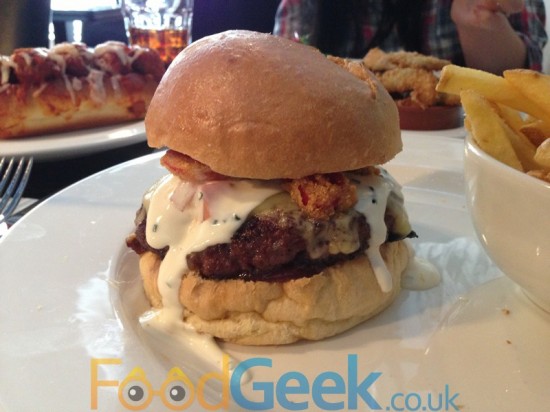 I managed to finish the burger fairly easily and without touching my drink but soon after I finished my mouth, throat and stomach were burning. Thankfully. it only lasted around 10 – 15 minutes and wasn't anything a few drinks didn't solve. It was definitely 'hot enough' for me but I would have perhaps liked it a little hotter and to be a bit more of a challenge. I realise that I am a bit weird in this respect and I'm sure it would be too much for most normal/sane people.
I'm not sure if it was their intention or not but I genuinely enjoyed eating this burger, the combination of flavours worked really well. The Naga BBQ sauce wasn't just crazy heat, it had a great smokey taste and that was contrasted brilliantly by the cool sour cream and fresh salsa.
Overall, it's probably my favourite SoLita burger but it is certainly not for the faint hearted (or children, pregnant ladies, the old or the infirm as the board says!).