Believe it or not I don't write about all of my trips to SoLita, as they've featured in so many posts over the past few months I genuinely arrive most times intending not to blog about what I eat but it usually ends up being so good I just can't resist. I have restrained myself from blogging on a few occasions but my last visit was not one of them.
It was Sunday and we were on our way to the final day of 'The Cake & Bake Show 2013' at Manchester Central, as much as I love cake I needed something a little more substantial first and SoLita was the obvious choice.
We started with a variety of starters and sides including olives, pulled pork sundae, mac 'n' cheese balls & deep fried pickles, all of which were great but I've raved about them plenty of times before. If you haven't read them check out the SoLita archive here.
What I was most excited about was 2 special new burgers, the first named after a great but underrated movie 'The Life Aquatic with Steve Zissou' starring Bill Murray as a submarine driver on a mission to revenge the death of his partner who was (possibly) killed by a shark.
The Life Aquatic burger is a double surf & turf, a regular 6oz chuck steak patty topped with crab meat, mixed leaves and panko coated king prawns. Not only is it one of the classiest and best looking burgers i've ever seen, it's also one of the tastiest. The flavours are quite subtle for a SoLita burger but unique and so so good. The dressed crab meat kept everything super moist and the prawns were crunchy, sweet and delicious. Unfortunately it will probably have disappeared into the land of past SoLita specials in the sky by the time you read this but if you ever see it back on the menu you have to try it.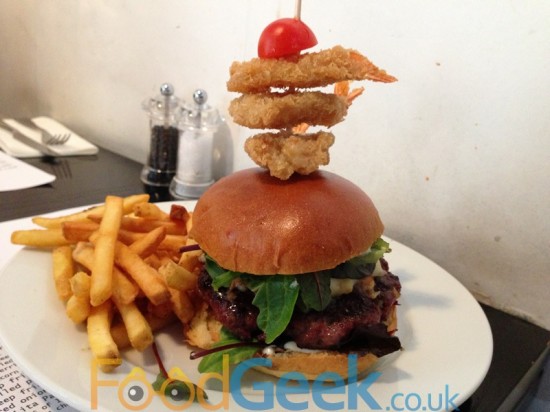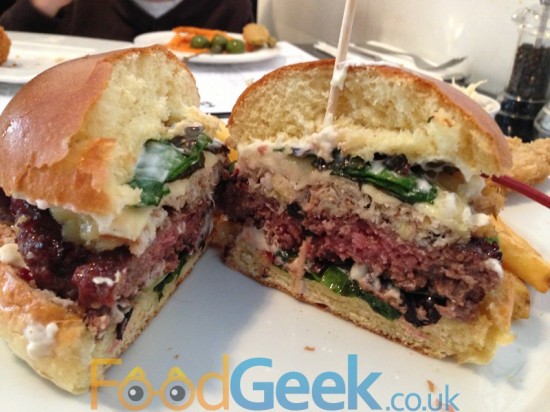 The second new burger wasn't actually new but a returning favourite which was new to me. The Sunday Lunch Burger was a popular special last year which I didn't manage to try before it disappeared so I was very happy to see it back on the menu,  it should be around most Sunday's now which is great news.
A brioche bun stuffed with a beef patty, giant Yorkshire pudding, horseradish sauce, watercress and served with a pot of onion gravy. It's meaty, comforting and packed with flavour thanks to the horseradish & watercress that are prominent but not overpowering and work so well with the beef. It's all held together by the wonderfully rich onion gravy. The Yorkshire pudding was particularly impressive and really all that was missing was a few roast potatoes but the seasoned fries are a pretty decent substitue.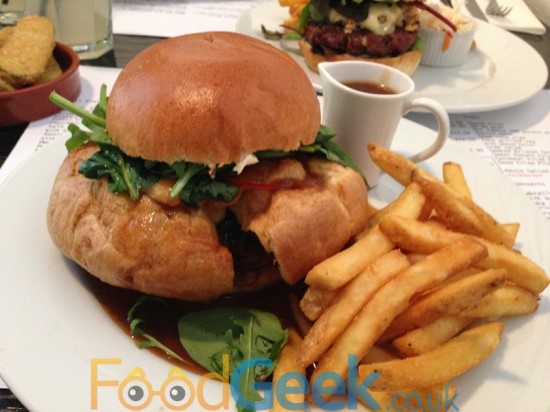 We'd intended not to do dessert as we'd inevitably spend the rest of the day eating cake but couldn't say no when we spotted a special that we hadn't seen before: 'Sticky toffee waffle pudding with creme caramel ice cream'.
Unfortunately they'd sold out of the Creme Caramel ice-cream so we had to have it with Oreo flavour instead, no a bad thing as it's very good but a shame as i'd have liked to try the creme caramel. The pudding was gorgeous though,  a moist, sticky, cakey delight with a hint of banana flavour topped with toffee sauce and waffle. I felt it needed a bit more waffle to be honest but other than that it was good fun and a very tasty pud.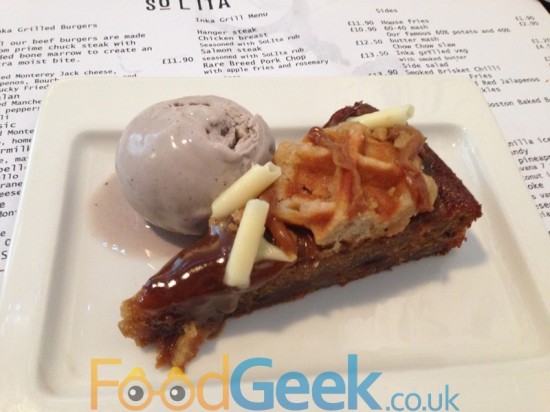 Sneak Peeks
Despite how it may appear based on how much I rave about them, I have no affiliation with SoLita. I'm just a big fan and regular customer because I love the place, they're by far my favourite 'casual dining' restaurant and always coming up with new and exciting dishes. However, as my visits have become more regular and owner Franco seems to value my opinion he sometimes offers samples of new dishes for me to try and give my opinion on.
This time he was busy in the kitchen perfecting the patty for upcoming burger special the famous 'Jucy Lucy' (not a typo, the name comes from the Minneapolis bar where it was created). The Jucy Lucy is a burger i've been desperate to try since seeing on an old episode of Man Vs Food so I was excited to hear that SoLita were working on one and even more so when I got to try an early version of it.
The Jucy Lucy is special because the cheese is contained inside the patty itself rather than on top, when it's cooked it obviously melts and is released when you cut or bite into it. SoLita's version came with melted Lancashire cheese oozing out from the middle of their usual bone marrow chuck steak patty. It tasted brilliant, the choice of Lancashire cheese for the filling is inspired and it certainly lived up to it's name.
The version I ate was just topped with a tomato and it was amazing, simplicity at it's best. At the time the other toppings hadn't been finalised but I was actually hoping that it wouldn't be anything that distracted from the main event which is clearly the hot, melting cheese. As i'm so late in writing this post the Jucy Lucy special has already been being sold for the last week and although i've not had chance to try the finished version I'm happy to hear that it's been kept simple, topped with just tomato, mixed leaves, mayo & ketchup. It seriously doesn't need anything else.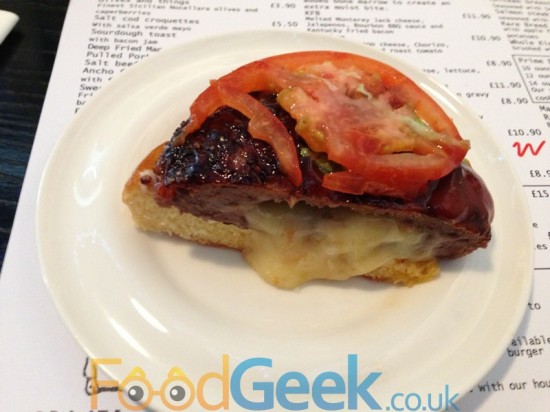 The following day I was busy sampling the burger menu at the Hard Rock Cafe when I heard from Franco that a special item the SoLita chefs had been working on for a while had been finalised and was ready to be launched on the lunch menu the next day. He offered my a sample and despite being completely stuffed after 9 burgers at the Hard Rock I couldn't turn the opportunity down so rushed over to try it out. I'm glad I did as it's yet another winner. I do love a good scotch egg (by good I mean a freshly made one with a runny yolk and not one of those awful, cold, supermarket versions with the hard and dry yolk). Of course SoLita have a unique take on it and have replaced the layer of sausage meat with pulled pork. I was a little unsure as to whether it would hold it's shape but it does, it looks amazing, it's fun and quirky but more importantly it tastes great too.
It's available as part of the weekday lunch menu with brioche soliders which is a great idea, who doesn't love dipping soliders into runny egg? Although that's great for lunch, I've suggested that it should also be on the main menu without the brioche as a snack. Something that works very well for Heston at The Hind's Head as practically everybody ordered one when I was there regardless of what else they were eating.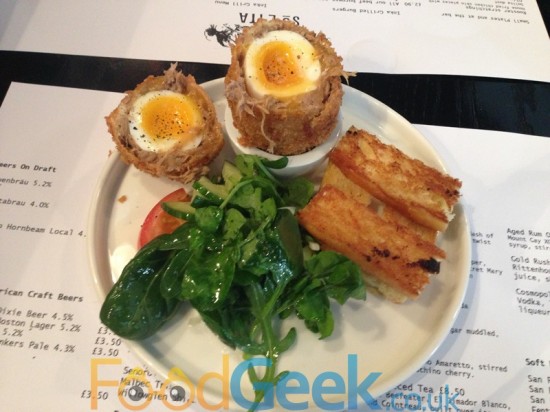 Date Of Visit: 07.04.2013 (Pulled Pork Scotch Egg 08.04.2013)