Just a few years ago there's no way i'd be writing a review of food eaten at a festival. Thankfully, the days of cheap nasty burgers and hot dogs are long gone. Gourmet street food is all the rage these days and Manchester International Festival in Albert Square at the weekend was no different!
I'd love to be able to tell you something about the festival itself but i'm afraid all I did was eat! I believe there are a range of musical acts and theatre performances but I couldn't say for sure. What I can tell you is that the food on offer was really good.
First I headed to Streatza's classic Citroen van complete with wood fire oven in the back who served me the best pizza i've had this year at Guerrilla Eats King Street.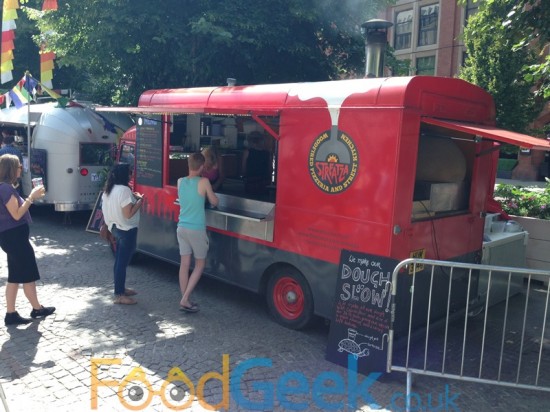 They'd run out of my favourite spicy sausage 'Nduja' last time so I was happy to see the Nduja pizza on the menu and quickly ordered one. It was every bit as good as i'd hoped, the same fantastically thin and tasty base with a gorgeous topping of stingy mozzarella and spicy Nduja. Delizioso.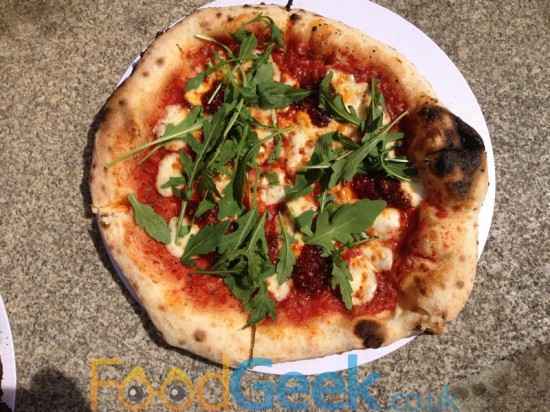 I also ordered a 'Napoli Salami' (with added sun blushed tomatoes) which was similarly excellent. I said it last time but it's worth repeating, these pizzas are just brilliant. They're being served out of the back of a van but they put plenty of restaurants to shame.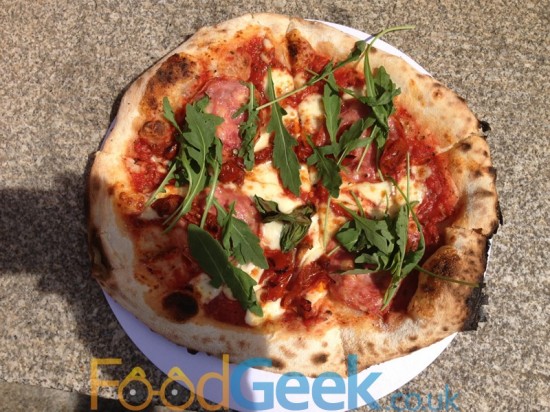 Next, I was excited to finally get to eat the food of 'The Hungry Gecko', also known as MasterChef semi-finalist Jackie Kearney. I've been desperate to catch her at her semi-permanent home The Beech Inn in Chorlton where she serves her exciting Asian street food from Thursday – Sunday every week. I haven't managed it yet so it was great to get the chance here.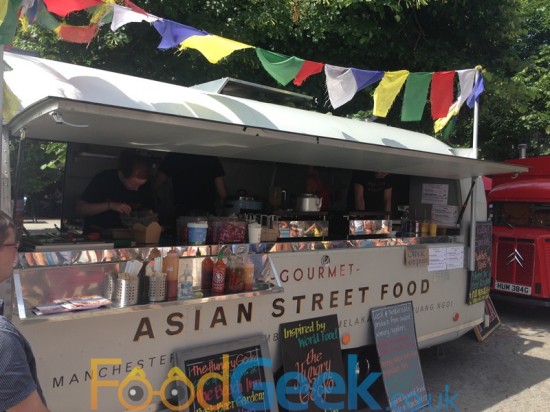 Firstly an intriguing box of goodies with an equally intriguing title 'Buddha's Tapas'. Containing fresh and tasty Hoi sin lettuce cups, mustard greens, edamame beans and mock 'tiger prawns' which were very clever and tasted great. Every element was interesting and delicious.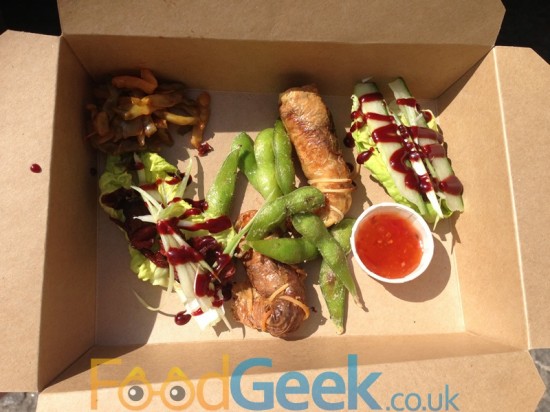 I remember from MasterChef that Jackie is a vegetarian so was surprised to see her selling 'Beef Rendang' but i'm glad she was as it was really good. It was supposed to be a 'Sloppy Joe Rendang' served in a crusty roll but unfortunately she'd already run out of them. It didn't matter as this was amazing anyway, seriously succulent slow cooked beef witha chilli kick and depth of other spices, served with 'som tum' a Thai style coleslaw it tasted great and was fantastic quality, i'd be happy to receive it in any top Thai restaurant.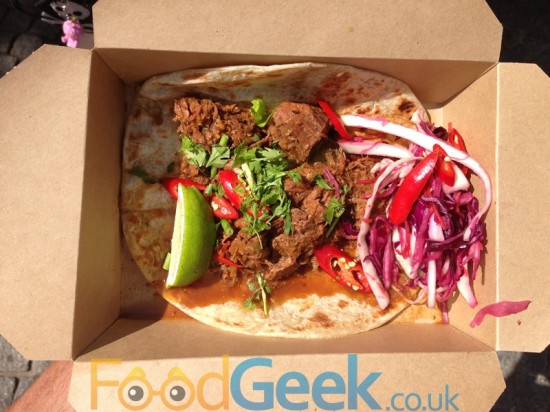 The next dish 'Dal Masala' took us from Thailand to India. A subtle, buttery yellow dal topped with spicy aubergine masala was a wonderful contrast of flavours , served on steamed rice and with a freshly cooked paratha. Not only is the quality of Jackie's food excellent but the dishes are so exciting too. I'll definitely be visiting her again as soon as I can.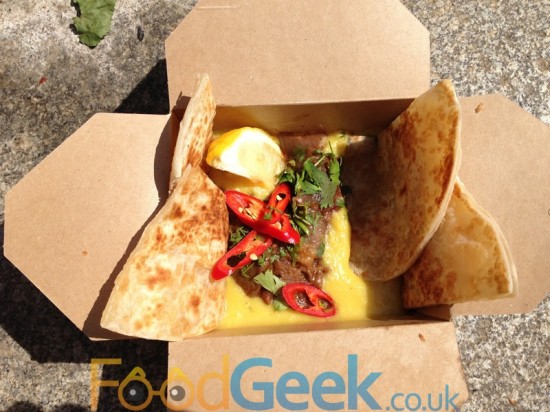 With temperatures pushing 30degrees what better for dessert than ice cream? And not just any ice cream, it's home made 'for grown ups'. It was my first experience of Gingers Comfort Emporium but i've heard tales of fabulous sounding flavours such as Mojito and Smoked Sea Salt!
Unfortunately the rest of Albert Square had the same idea as they had by far the biggest queue for the whole time we were there.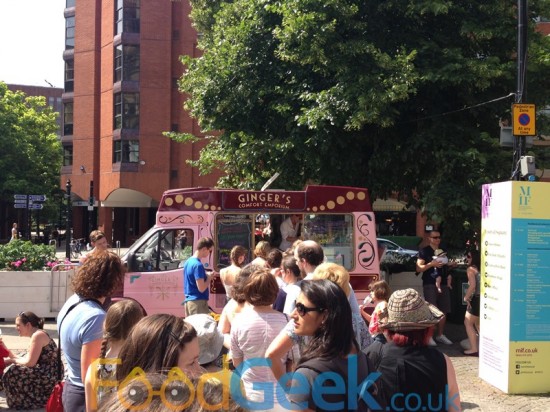 It was worth the wait! I tried four of the 5 flavours of ice cream and sorbets on offer and they were all great. 'Lemon & Orange Blossom Sorbet' was light and refreshing. As was the 'Kampot Pepper & Rhubarb Sorbet' which had the added benefit of containing rhubarb which I love. Kampot pepper is Cambodian black pepper which added a slight spicy depth to the sorbet.
The ice creams were even better, 'Fennel Pollen' was deliciously sweet and creamy with a subtle aniseed flavour but the star of the show was by far 'Chorlton Crack', an outrageously delicious mix of salted caramel and peanut buter! It's right up there with the best ice cream i've ever had. No wonder it's named after a hugely addictive drug as I wanted another straight away and I want some right now too!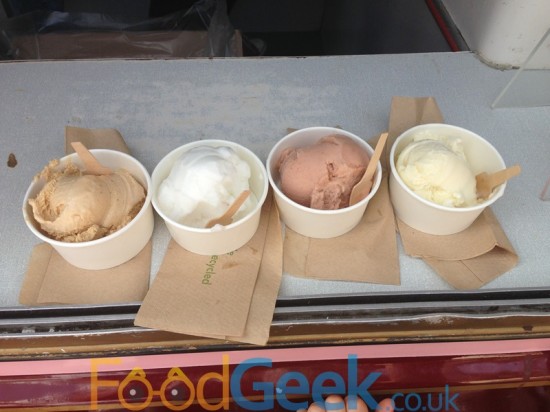 After the success of Guerrilla Eats and now this it's clear the Manchester street food scene is in a very good state. All the food we ate today was easily restaurant quality, I was already a Streatza fan, The Hungry Gecko and Gingers have now been added to the list of vendors i'll be looking out for in future. I can't wait to see where they popup next.
The festival is on every day until next Sunday, 21st July and the street food vendors regularly change. I'm tempted to go back at the weekend to see what else is on offer.
Date of Visit: 14.07.2013