Hands up if you've heard of Chobani? Don't worry, I hadn't either until last week when I was invited to a Chobani inspired dinner at Room Restaurant.
It turns out they're a brand of strained yoghurts. They're new to the UK but have a pretty interesting background. I'm a big fan of Greek/strained yoghurt and use it all the time in my cooking, so having recently enjoyed a great lunch at Room I decided to go along and find out more.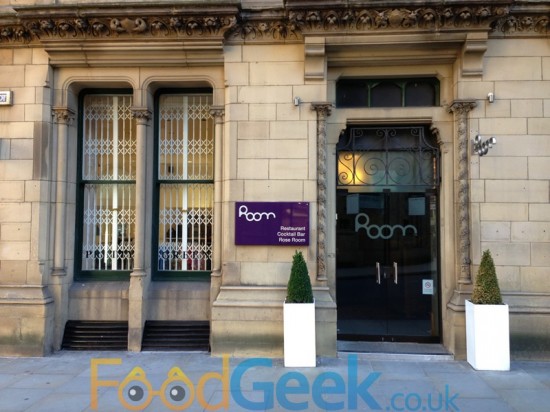 I was greeted by Amy and Christine, without doubt the nicest and most fun marketing/PR people i've ever met. I decided that even before they started to ply me with delicious cocktails.
The two cocktails on offer were made with Chobani yoghurt, naturally! The first a mix of apple and honey liqueurs with almond milk, Chobani and topped with cinnamon was deliciously sweet and creamy. I wasn't paying quite as much attention with the other but it was a fruitier mix containing blackberries and mint which was also delicious.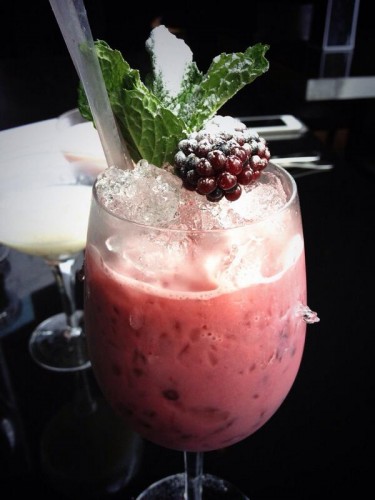 After a few drinks Amy and Christine talked us through the history of Chobani, my eyes usually glaze over during these sorts of speeches but not only are they great presenters, I found the story genuinely fascinating too. I will however give you the shortened version.
The company was formed in 2005 by Hamdi Ulukaya, a Turkish immigrant to the USA who couldn't find any decent strained yoghurt in America so bought himself a yoghurt factory. As you do. He spent 18 months perfecting the recipe and within 2 years the product began to hit the shelves, just 4 years later they were officially the #1 selling brand of yoghurt in America and now employ over 3000 staff!
Things are a little smaller in the UK, they're currently a team of just 5. Including Amy and Christine! Though they seem to be doing pretty well considering they only soft launched last September and have gradually been getting into more and more stores including Tesco, and ASDA just last week.
They've been doing some quirky promotion recently such as sponsoring the UK Backwards Run Championship in Manchester last weekend, yes, it's really a thing! And this dinner was another interesting promotional idea.
A group of food bloggers, including myself were invited to a special dinner with dishes inspired by and including Chobani. The 3 course menu contained 2 options for each. Choosing between 'Beetroot Carpaccio with lemon & pepper, whipped Chobani yoghurt and goats cheese' or 'Prawn & Crab Cocktail with Chobani Guacamole' wasn't easy but I ended up going for the latter, i'm glad I did as it was stunning.
The pretty dish tasted every bit as good as it looked. The prawns plump, juicy and very lightly battered sitting upon flakes of beautiful fresh crab meat and a dollop of guacamole made with Chobani, finished with a sweet apple crisp. The guacamole worked really well, my only complaint is I would have liked a little more of it on the plate.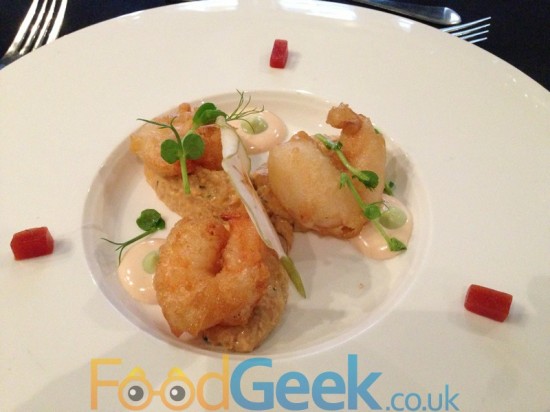 Choosing a main course was also difficult as I adore Halloumi so was drawn to the 'Chip Shop Halloumi'. The cheese coated in buttermilk, beer battered and served with mushy peas, Chobani tartare sauce and malt vinegar jelly. I decided against it only because i'd already had batter in my starter.
Instead I had 'Sirloin Of Beef' served with a beef fritter, chunky chips, watercress and Chobani béarnaise sauce. It looked impressive served on a wooden platter, the steak was good quality but i'd have liked the fat rendered down a little more and it also lacked seasoning. That was easily fixed though. The chips were really good as was the béarnaise which had all the right flavours but felt incredibly light thanks to the yoghurt.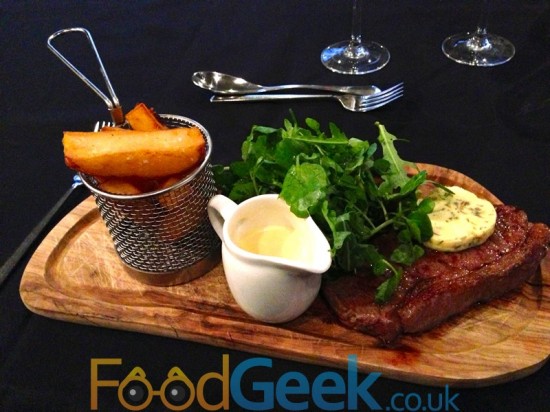 Dessert was an easy choice. Although the 'Chocolate Marquise with hazlenut & Chobani yoghurt puree' sounded great the other choice was 'Treacle Tart'.
I've become a bit obsessed with Treacle Tart since having what I believe to be the best ever at Aumbry a few years ago. I've never found anywhere to match it yet and this didn't either but it was still a good tart and very enjoyable. I really liked the yoghurt parfait and the salted caramel was a clever touch.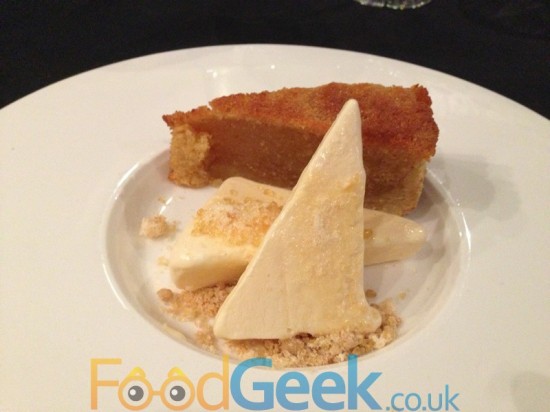 Overall it was another really impressive meal from the Room chefs and they did a great job of incorporating Chobani into each dish successfully.
The food was great and I met some lovely people but most importantly my impression of Chobani is very good. Not just as a product but as a company too.
I received a goody bag which contained amongst other things a small pot of pomegranate flavoured Chobani. I ate it when I got in and thought it was brilliant. I tasted so rich and creamy I was amazed to find it contains no fat and only 140 calories!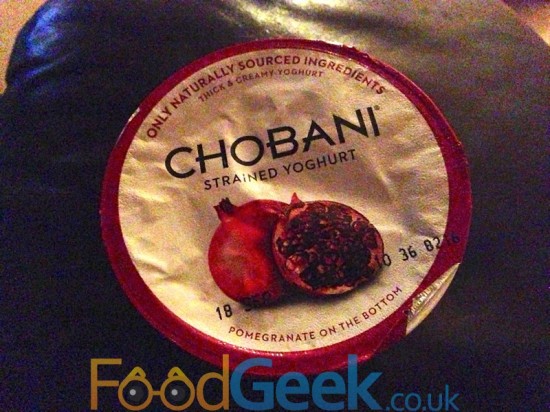 All of their yoghurts are fat free, preservative free and contain twice the protein of regular yoghurt. I use plain yoghurt a lot in my cooking, for sauces, dressings and replacing cream in dishes like pannacotta. Chobani are definitely my greek/strained yoghurt of choice now.
Date Of Visit: 13.08.2013
Disclaimer: I was invited to this event and did not pay for my meal/drinks. However, I wasn't under any obligation to write anything and all thoughts are my own. I'm genuinely impressed by the quality and versatility of Chobani and will be a regular purchaser.