When I first heard about Summercamp festival run by Camp and Furnace in Liverpool I thought it looked brilliant, particularly the foodie dinners. I was intrigued by the 'No Knives or Forks' and 'Tree Hugger' (10 course vegetarian banquet) dinners and have wanted to eat Michelin starred chef Glynn Purnell's food for a long time so this seemed the perfect opportunity.
However, as you may have noticed via this blog i've eaten quite a lot recently. With a holiday in Spain coming up I'd decided to cut down on eating out for at least a few days before I leave so reluctantly decided to play the grown up and give Summercamp a miss.
Until I received a message from Steven Burgess – food director at Camp & Furnace – inviting me to the 'No Knives or Forks' and 'Tree Huggers' dinners. I'd like to say I was conflicted and it was a difficult decision but it wasn't, i'm not known for my willpower. Unfortunately I couldn't  make the Tree Hugger dinner but jumped at the chance of attending 'No Knives Or Forks'.
I arrived on Saturday afternoon to a sunny Liverpool and was happy to find many of my favourite street food vendors at the festival including Streatza & Gingers Comfort Emporium. I secretly hoped i'd still be hungry after dinner so I had an excuse to buy food from them.
After a beer in the outside bar we ventured up to the huge dining room with two long tables set for us.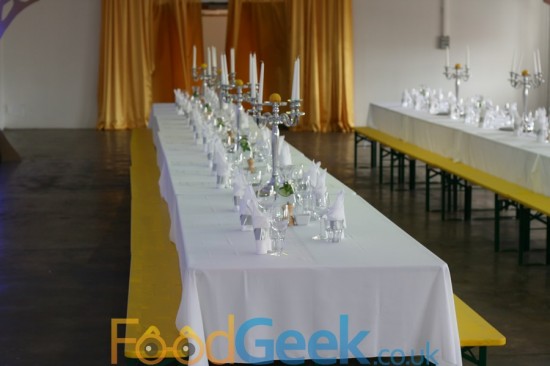 The tables were formally and beautifully set with perfectly ironed table cloths, folded cloth napkins, cucumber & mint infused water and oddly; lemon topped candelabras. The only thing missing was the cutlery. As the name of the event 'No Knives of Forks' suggests there weren't any here, except on the walls anyway.
The menu states: "Different cultures eat with their hands because they believe that food nourishes the mind, intellect and spirit. This practice builds a sensuous connection to the food, encourages mindful eating and raises awareness."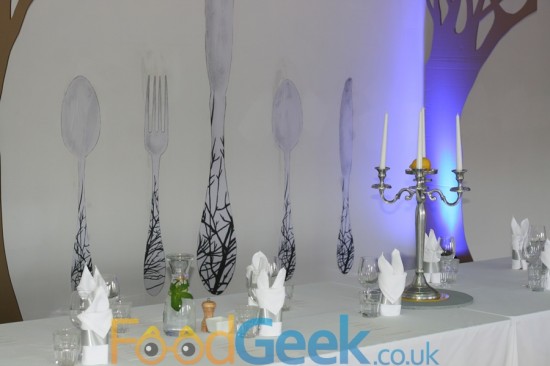 We didn't miss knives & forks for the first course of 'Chicken Liver Macaroon, Lamb Lollipop, Cream Cheese Cracker'.
The macaroon was a one bite wonder (for me at least), beautifully smooth chicken liver parfait in a traditional macaroon shell. The 'venison lollipop' was challenging for some other diners but personally I loved the rich venison parfait with hints of sloe gin and juniper coated in chocolate. The light and crispy cracker brought some much needed texture after the smooth parfaits and  a lightness from the cream cheese, herbs and edible flowers.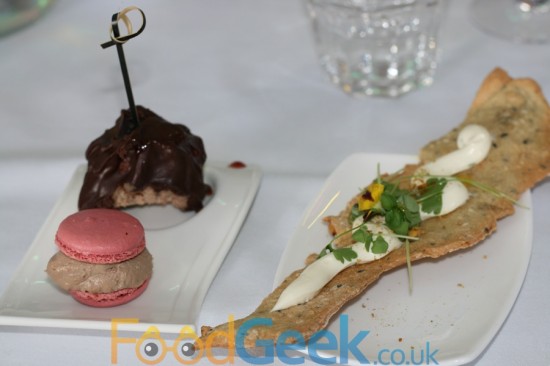 The second course was the exact opposite; light, fresh and vibrant. Breaking into the langoustines was challenging but the reward of delicate and delicious meat made it worth the effort. They'd been cooked to perfection and served with a simple dressing, white crab and red chilli which gave everything a welcome kick.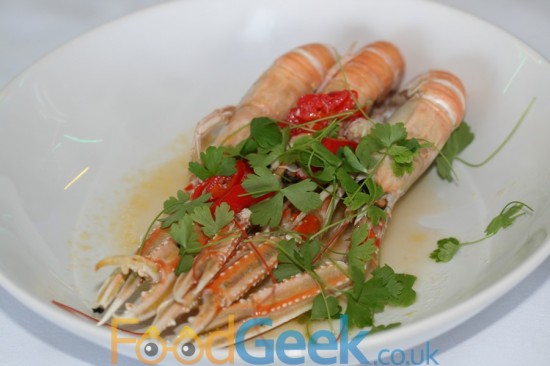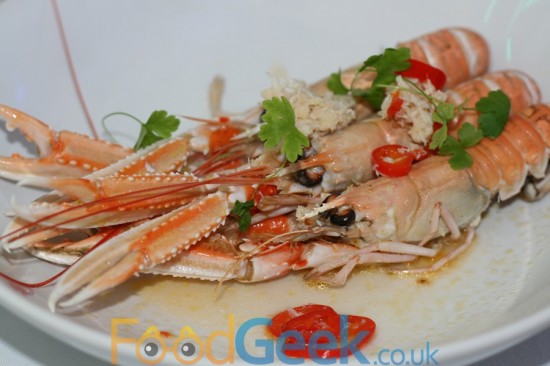 The main event was theatrically carried to the table by several members of staff. A whole suckling pig! It smelled amazing from the moment it was placed by my side. It tasted as good as it smelled and looked, stunningly moist and succulent meat with wonderfully crisp crackling.
The accompanying elements were equally impressive. A fabulous freshly baked sourdough, by far my favourite bread and this was the best i've had since Noma! I'm a huge scotch egg fan and this one ticked all the right boxes, crispy exterior, soft meaty interior and a perfectly runny yolk.
Amazingly though, the star of this dish wasn't the pig but the sticky buttered pork gravy. It's quite possibly the best gravy i've ever tasted; rich, meaty, sticky, buttery and just full of flavour it was gorgeous, I just couldn't resist mopping up every last drop with the leftover pork and sourdough. I could feel that beach body getting further and further away with every mouthful but it was so worth it.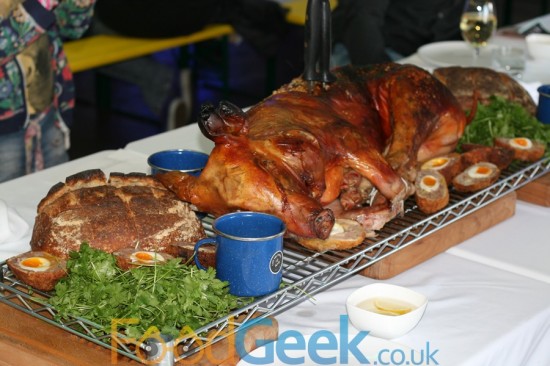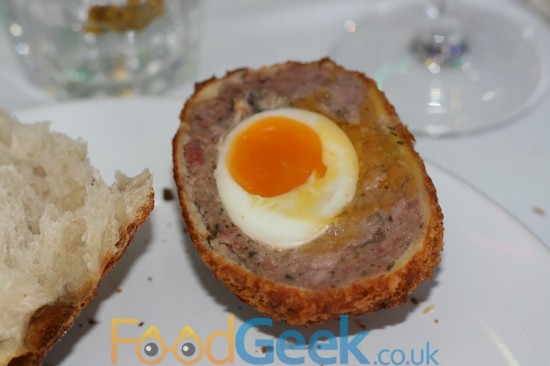 Once the aftermath of the amazing pig had been cleared up the fourth course, 'Cheese Fondue' arrived looking beautiful. The melted cheese tasted fantastic but unfortunately I think it had been plated up a little too early as the cheese had started to set and made it very difficult to eat as intended in a true fondue style. We did however manage to pinch off pieces of the cheese and stretch it over the bread which was almost as fun as dipping into warm, melted cheese.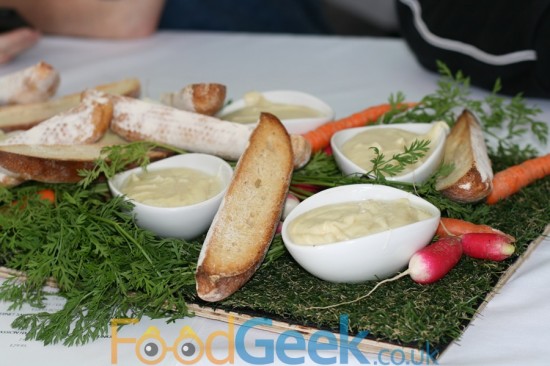 Most people seemed to be getting full by now, several even left before the dessert and even I was wondering if I could really manage much more after indulging in a bit too much pig.
I soon changed my mind when faced with a giant 'Triple Chocolate Brownie' though!
Served whole and still warm it was rich, decadent and delicious. Crispy on the top and bottom, soft and gooey in the centre with an intense chocolate flavour. I'm not the biggest lover of marshmallow but these were brilliant whilst the raspberries and basil freshened up the dish but the flavours really worked too.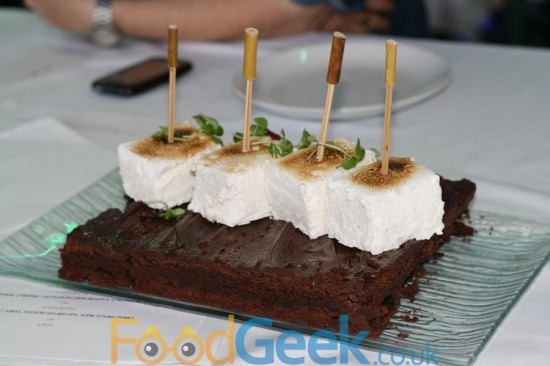 By the end of the meal I was very full and very messy but very happy. The no knives or forks concept was interesting and good fun.
Everything we ate was great, service was friendly and efficient and there was a great atmosphere. I'm gutted I wasn't able to make the 'Tree Huggers' dinner as i've no doubt it will be every bit as good as this one was.
I didn't see much of the other things going on at Summercamp but from what I could tell it's a great event which i'd like to check out properly if it happens again next year.
Needless to say I didn't bother buying pizza or ice cream on my way out.
Date of Visit: 24.08.2013
Disclaimer: I was invited to the dinner and not asked to pay. However, I wasn't told what to write and all opinions are my own. I'd been considering attending the dinner as a paying customer anyway and would have no hesitation in paying for future events.