After attending two fabulous supper clubs recently my third had a lot to live up to. I had particularly high hopes for this one though as it was held by Franco Sotgiu owner of one of my favourite Manchester restaurants, SoLita. Never one to undersell himself Franco described the event in aid of Trussell Trust as "A Rather Special Italian Winter Feast".
After a couple of pints and complementary nibbles in Franco's local 'The Horseshoe' we arrived at his beautiful house to be greeted by his lovely wife Lucy and the cutest, most adorable dog in the world, Chester.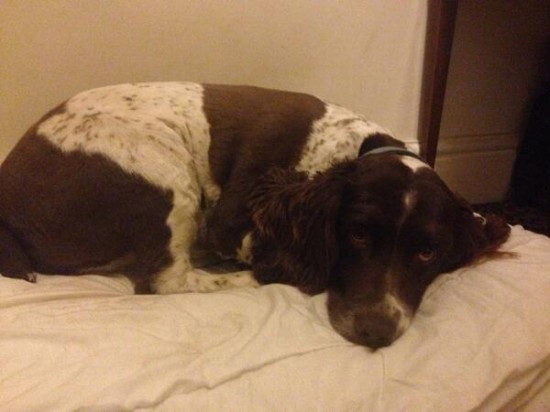 Following an aperitif of Prosecco, naturally, and olives from SoLita we were served a traditional antipasto of 'Crostini con Spuma di mortadella' (crostini topped with pureed Italian sausage, mortadella) and 'Farinta Genovese', a savoury flatbread made from chickpea flour. Both were so good that nobody managed to take a photo before they were all gone, this despite half of the guests being food bloggers.
The first course or 'Primi' was a bowl of homemade tortellini filled with Italian cheeses and Swiss chard served in a bollito poaching stock that our main course had been cooked in! Finished with a generous amount of wonderful black truffle from nearby fine-dining restaurant Aumbry. The quality and consistency of the tortellini was genuinely impressive but the star of the dish was the stock with it's incredible depth of flavour.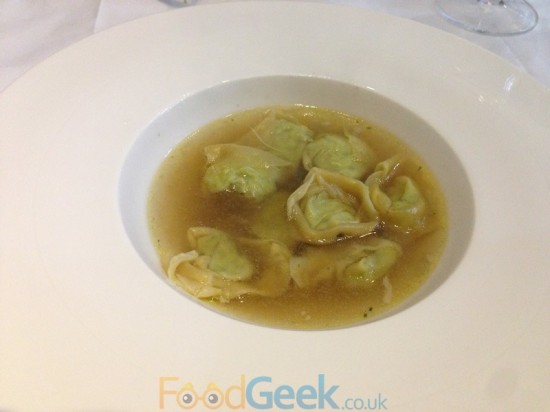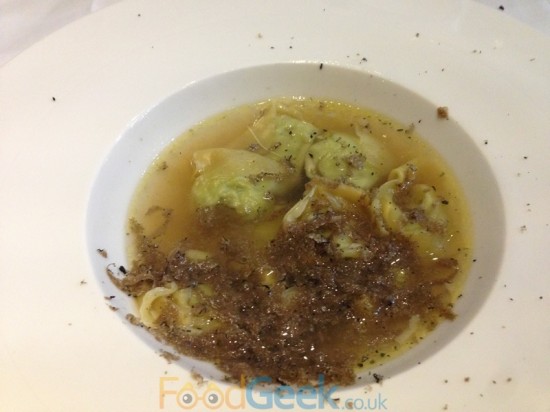 Main course (Secondi) was 'Gran Bollito Misto' a classic Northern Italian stew. Traditionally it can contain up to seven meats, we had five: poached veal, belly pork, chicken, salt beef brisket and zampone (stuffed pigs trotter) served with carrots, potatoes, winter greens, lentils and three sauces: Salsa Rossa, Salsa Verde & Mostarda Di Cremona. I have to admit i'm not generally a fan of boiled meats but this was brilliant, they were all succulent and delicious, particularly the brisket and pigs trotter. I loved all of the accompaniments too, particularly the red and green salsas and surprisingly even the 'Mostarda Di Cremona' (candied fruit in mustard oil) which I didn't expect to like.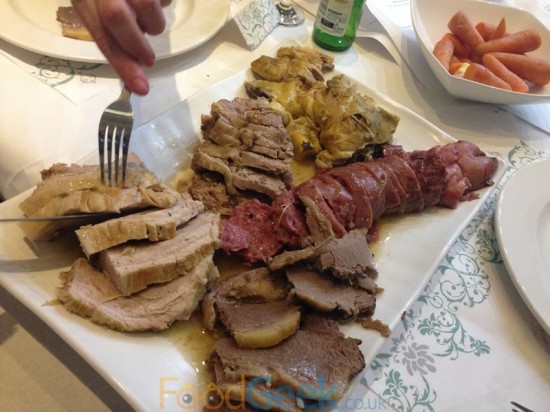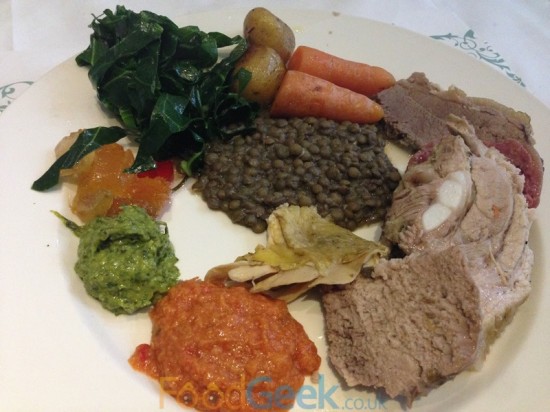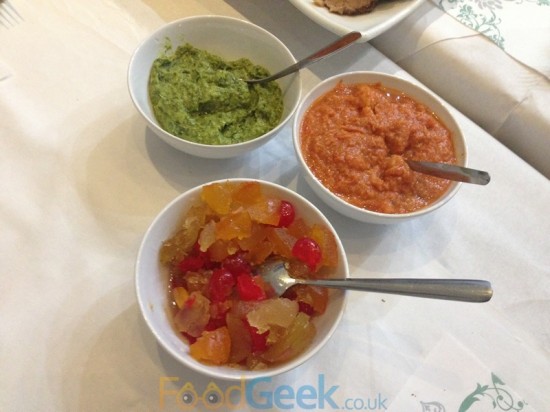 Despite eating far too much meat there was no way I was missing dessert (Dolci). A dark, rich, indulgent 'Torta Nera' first and then a light as a feather but equally indulgent and very alcoholic 'Zabaglione' were both gorgeous.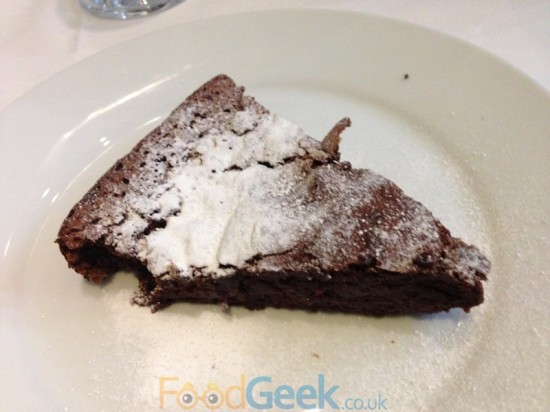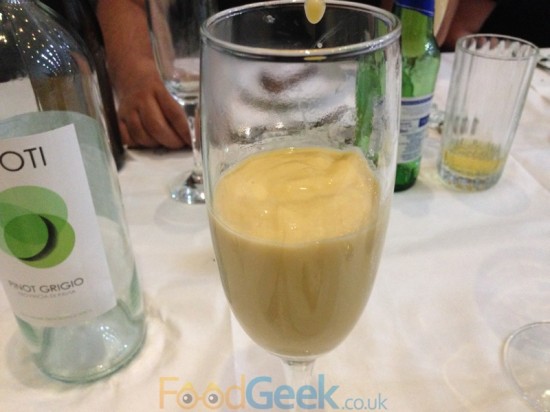 Most people, myself included were struggling to move by this point. There were cries of "I can't eat another thing" but it's hard to resist a plate of quality cheese. That's exactly what we got with our '24 Month Parmigiano & Aged Balsamic'. Whilst i'm certainly no cheese expert I do try to buy what I consider to be decent quality but this parmesan was far better than anything i've ever eaten before. The balsamic too was divine, sweet and fruity without the harshness of many vinegars. A fitting end to a wonderful meal but I REALLY couldn't eat another thing.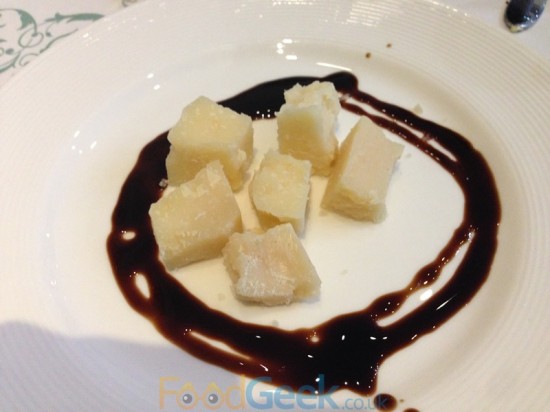 Franco had an early morning flight to Romania, via Copenhagen the following morning, this didn't stop him showing off his impressive collection of Italian spirits & liqueurs though. Despite having consumed far too much wine already and not being a fan of unmixed spirits I couldn't resist trying a few. Including one I forgot the name of but tasted liked very alcoholic flat coke and a 95% homemade Limoncello which although lethal actually tasted much nicer than the bought stuff.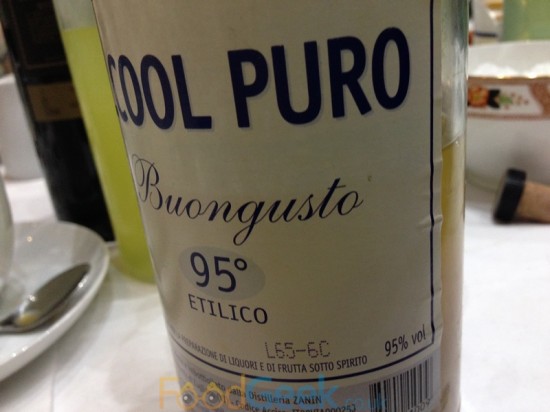 So my 100% supper club success rate continued after a really enjoyable evening. The quality of food was extremely high, I left wishing there was an Italian restaurant where we could get food like this! As always with these sort of events it's the people that really make it and this was no exception. It was great to catch up with some of my favourite food blogger friends and equally to meet lots of lovely new people. The biggest compliment has to go to Franco and Lucy though who as well as clearly being able to cook were perfect hosts.
Date of visit: 29.11.2013