As you may have noticed, I eat out rather a lot; whether it's lunch, dinner, tea, afternoon snack, late night snack or anything in between. One meal I've neglected though – at least locally – is breakfast. Not being a morning person i'm usually too lazy to bother getting up and out in time to eat breakfast, I do feel like i'm missing out though as I know there are some brilliant places serving great food for people willing to make the effort. Through writing this blog i'm often asked for recommendations which i'm happy to give but there's a definite hole in my knowledge when it comes to breakfast. This is something i'd already vowed to address in 2014.
Co-incidentally, not long after making that vow I heard that one of my favourite restaurants SoLita were to start serving brunch. My eyes lit up at this news as to me it's the best of both worlds; breakfast dishes which I love but I don't have to get up too early to eat them! The perfect way to gently break myself into the world of breakfast dining.
The new brunch menu is launched tomorrow (Friday 24th January) and earlier this week I was invited down to SoLita to sample it, naturally I jumped at the chance!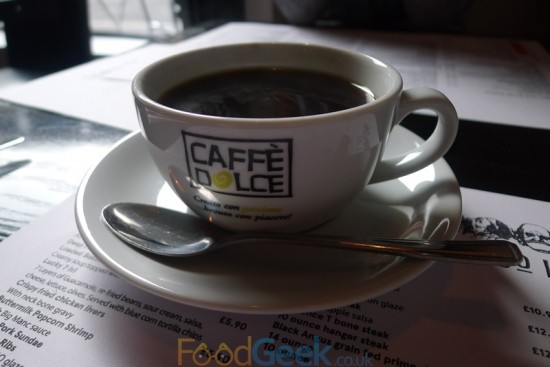 The menu is bigger than I expected and covers all the basis except one; there was talk of Porridge and Granola making an appearance but those thoughts were rightly shelved, although there are still a few relatively healthy dishes you just don't go to SoLita for proper healthy eating do you?
What you do go for are indulgent but interesting and exciting dishes that look good and taste even better and thats exactly what I experienced.
Starting with a typical SoLita twist on a classic. Eggs Benedict is one of my all time favourite breakfast dishes and whilst I love steak I wasn't sure how I felt about them being combined. I needn't have worried 'Steak & Eggs Benedict' is fantastic. Replacing the ham with 6oz rib eye steak really works, making for a meatier, more substantial overall dish. I loved the inclusion of capers which cut through the richness of the excellent Hollandaise and perfectly runny egg yolk.
'California Eggs Benedict' is a (slightly) healthier or vegetarian version with beautifully sliced avocado replacing the steak. I'm a huge avocado fan so this was another winner for me and I couldn't help but admire the knife skills.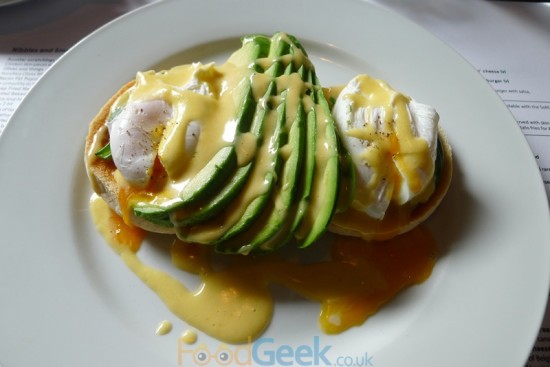 One of the healthier dishes on the menu is 'Uovo Pomodoro' a classic Italian dish of eggs baked in marinara sauce. This was a lovely version; beautiful in it's simplicity. The clean flavours of tomato sauce are enhanced by the rich and creamy egg yolk. Served with sourdough soldiers to mop up the sauce and yolk. It's also available with the addition of spicy Italian sausage, Nduja.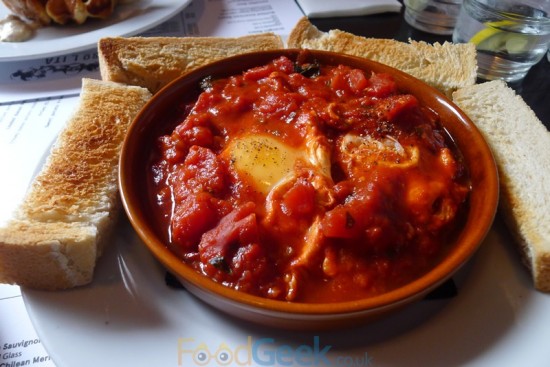 After a couple of relatively healthy dishes, by SoLita standards anyway it was time to get back to what they do best. Like a stack of giant 'Buttermilk Pancakes with Bacon & Whipped Maple Butter'. When I say stack of giant pancakes I really mean it, although there were actually only 3 pancakes they're so big and fluffy the overall portion size was enough to keep Elvis happy. Topped with rashers of crispy bacon and smothered with maple syrup and the pièce de résistance was the most amazing whipped maple butter. It's no exaggeration to say this warm, smooth, rich, buttery, sweet, maple flavoured creation was one of the best things i've tasted for a long time even on it's own, when combined with the salty bacon and fluffy pancakes it was pure heaven.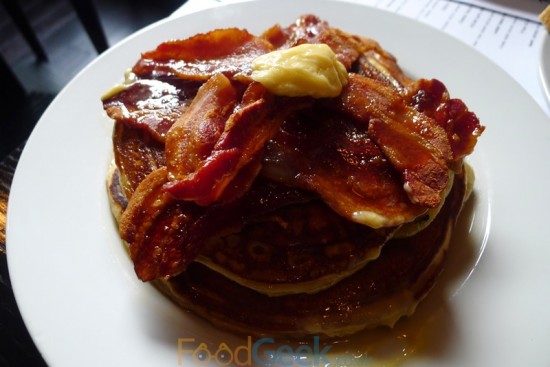 Possibly my favourite dish was 'House Waffles with Buttermilk Fried Chicken & Sausage Gravy', this despite the waffle itself being a little too sweet for my tastes. Although it's authentically American, personally I i'd have preferred the dish with a savoury waffle as i'm not the biggest fan of combining sweet and savoury. That aside it's an incredible plate of food; the waffle is warm and crisp, the buttermilk fried chicken crunchy on the outside yet perfectly juicy inside but the star of the show is the brilliant sausage gravy. The combinations of flavours and textures were comforting and delicious and for me it's the perfect brunch dish.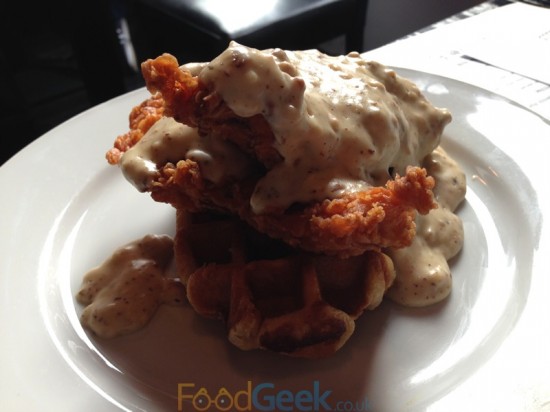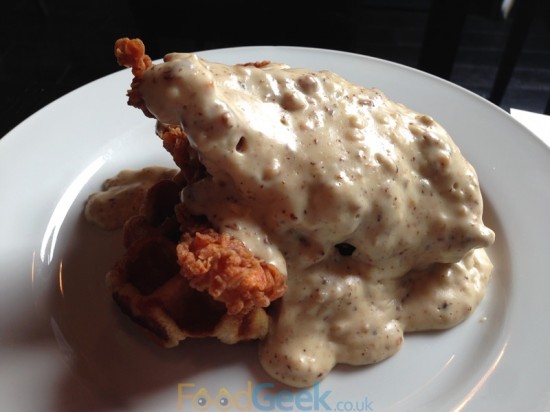 Unfortunately as the menu was still being tweaked at the time of my visit I didn't get chance to try what I expect will be one of the most popular items. 'Full English toad in the hole' features bacon, sausage, black pudding, egg, tomato and mushrooms inside a giant Yorkshire pudding! Oh my.
Perhaps it's for the best as it would have quite possibly finished me off, probably wise to save it for next time. I loved everything I ate and i'm genuinely impressed with the Brunch menu which has something for everybody. There's even a range of 'Brunch Cocktails' including a Breakfast Martini made with marmalade and a hangover killing, 'hair of the dog' Bloody Mary. I'm looking forward to returning to try them along with the toad in the hole and other new items.
The SoLita Brunch Menu is available from 10am – 1pm on Friday, Saturday & Sunday.
Disclaimer: I was invited to SoLita to sample the menu and not asked to pay. This has no influence on my honest opinions, I have been a regular paying customer on many occasions and will be again for many more in the future.