There aren't many restaurants I return to time and time again; not because I don't like them, as thanks to good research and a bit of luck I tend to have mostly positive experiences. The problem is I love pretty much everything; from Japanese to Mexican, burgers to sushi or fine-dining to street food. I also enjoy trying new places of which there have been plenty over the last couple of years making it difficult to return to many places as often as i'd like.
There are a few places I just can't stay away from though; Aumbry & The French for fine-dining, SoLita for burgers, Yuzu & Umezushi for Japanese food, the Parkers Arms for stunning 'pub' food and The Farmers Arms for great value comfort food. The latest addition to that list is Mughli in Rusholme which since discovering last year I visited three times and was totally blown away by how good it is. After my second visit in October I claimed it was the "best Indian food i've ever eaten", a quote I now have to stand by as it made their website (click image to see larger size).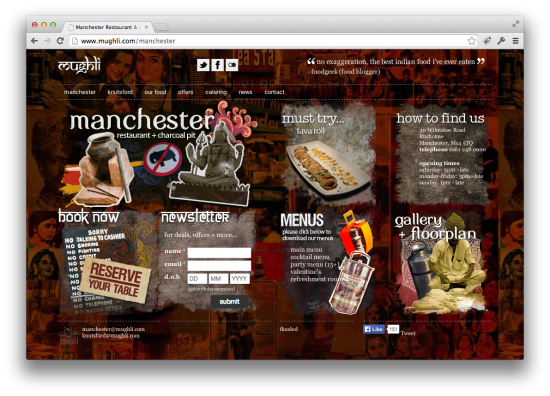 Thankfully, the third visit in December exceeded my high expectations which is why I chose to return last week for a fourth time on Mrs FGs birthday.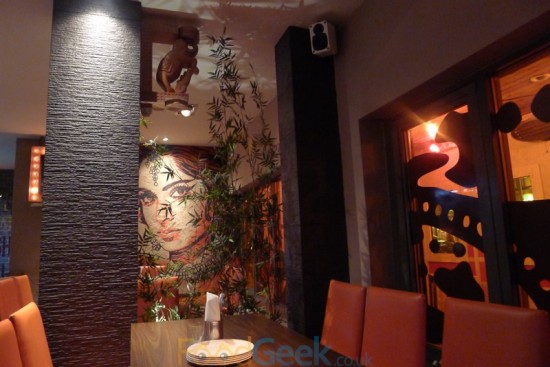 Just like trying new restaurants I also tend to order dishes I haven't had before until i've had everything on the menu. This proved difficult at Mughli since I wanted to eat everything i'd had before as well as everything I hadn't, especially from the Street Food menu. In the end we did a pretty good job at restricting ourselves to new dishes but one thing  I  couldn't resist was the 'Halloumi Menander' which was somehow even better than I remembered!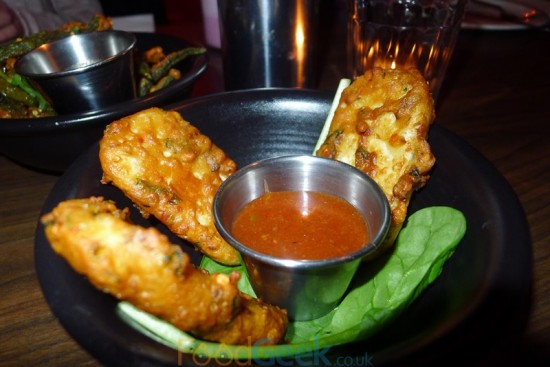 Another dish we came close to reordering was the fabulous 'Gunpowder Chips' (sweet potato fries) but instead we opted to try the 'Chilli Okra Fries'; whole okra and fairly mild green chillies are coated in a spiced batter and deep fried. They're very tasty and perfectly enjoyable but not quite up there with the Gunpowder Chips for me.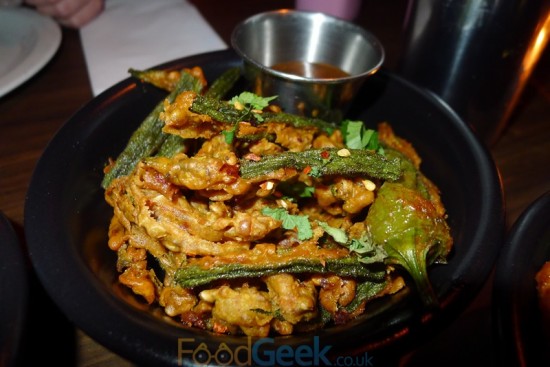 'Chicken Pataka' is inspired by a dish sold trackside at Lahore train station, the succulent chicken is tossed with sesame seeds to give a lovely crisp exterior. As with everything here it's the balance of spices that make it so good.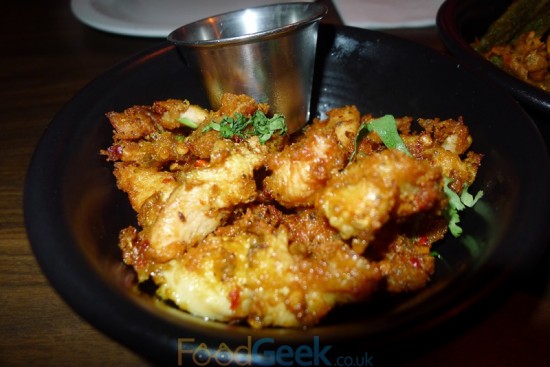 Mughli is famous for it's 'Charcoal Pit' but somehow i'd never ordered anything from it. Rectifying that we tried the 'Fish Mughlai' and 'Lamb Chops' which were exceptional; a wonderfully charred exterior which as well as looking fantastic brought lovely smokey flavour to the meat which was was intensely spiced and pink and juicy inside. It's about as good a lamb chop as you're ever likely to eat.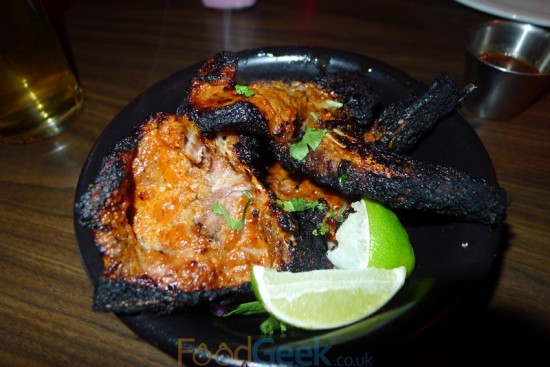 The 'Fish Mughlai' was just as good. a thick piece of haddock which had been marinated in delicious spices, cooked perfectly and topped with coriander and lime.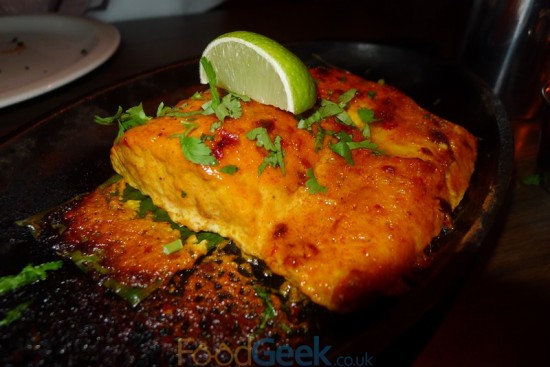 For main courses we went for one of our old favourites; Saag wala (not pictured), chicken cooked with spinach. It was an excellent curry with succulent chicken, soft and buttery spinach and a good range of spices but personally i'd like a little more heat in a dish advertised as 'Medium Hot' on the menu.
Our second main course 'Railway Curry' was a delicious lamb dish with a rich tamarind, peppercorn and tomato sauce. Owner Haz kindly sent out the 'staff curry' for us to try too, his lucky staff get interesting dishes made for them daily by the chef and on this occasion it was 'Chickpea & Egg'. I'm mad about chickpeas but whole, hard boiled eggs not so much. The Chickpeas and sauce were lovely but I must confess to picking the egg white from around the overcooked, chalky yolk  like a fussy child. It didn't go to waste though as luckily Mrs FG is partial to an overcooked egg, it took me 10 years to get her eating runny yolk so she happily ate this.
It's just as well you can't have too many chickpeas as we'd already ordered a side of 'Tamarind Chickpeas' another dish we'd had before, needless to say they were just as good as last time.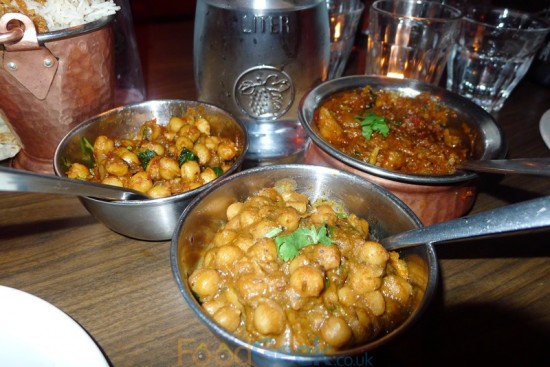 I often find myself not eating much rice in Asian/Indian restaurants as it's so filling and we've usually ordered far too much, it's also a bit boring compared to other dishes. I couldn't stop eating the awesome 'Tamarind Mushroom Rice' though and it was far from boring.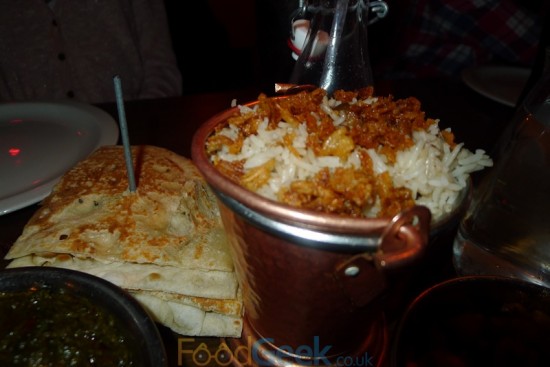 I don't know who Peter is or why he has a bread named after him but i'm glad he does as my 'Peter's Bread' was stunning. Resembling a top quality Italian style garlic bread more than a typical Indian bread it's thin, crisp and topped with chilli, garlic and coriander. Our 'Tandoori Naan' and 'Tandoori Roti' weren't quite as exciting but just as good quality, they're very good at bread here too.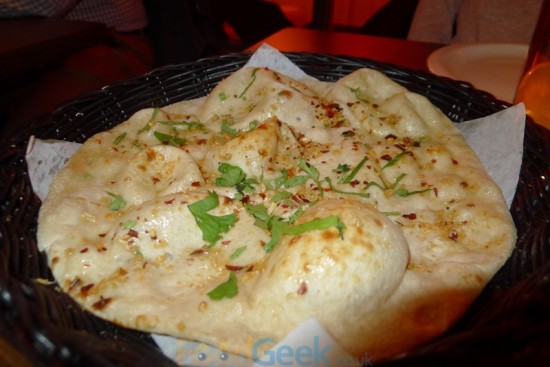 We don't generally eat dessert in Indian restaurants since they're often uninspiring and we're almost always far too full to even consider it. I hadn't even ever seen a dessert menu at Mughli but you have to eat dessert on your birthday, so before my visit I checked with Haz to make sure there would be something suitable available. He listed a few which all sounded perfectly fine but also offered to have the chef come up with something special.
Chef duly obliged and we were served with an interesting and tasty pud which was beautifully presented in cocktail glasses. A layer of sweet strawberry & pomegranate compote was topped with a smooth and creamy Indian style rice pudding, a slice of classic Indian dessert Gulab jamun and fresh strawberries.
As if that wasn't enough we then received a plate with even more Gulab jamun, this time served with ice cream, thanks chef!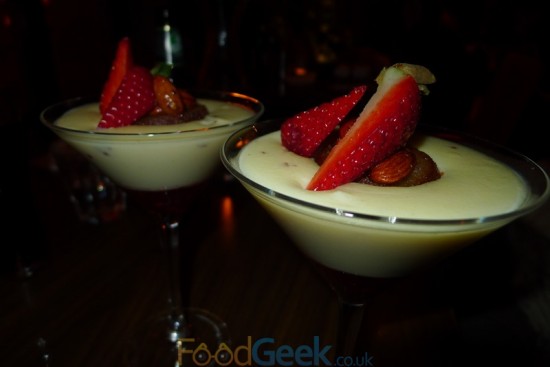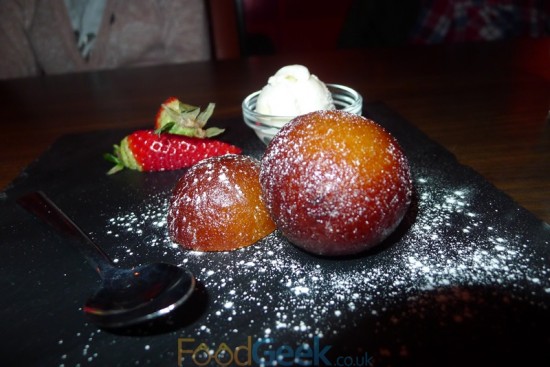 We left Mughli very full and very happy after another successful visit, service was spot on as ever and i'll never get bored of eating their food. It seems as though it's only going to get better too as speaking to Haz I discovered that he has all sorts of plans; a new outdoor eating area which may host popups, a more interesting range of beers, supper clubs and a mysterious secret menu. Personally, I just can't get enough of the place. I'm often asked for restaurant recommendations and my answer now always includes "definitely Mughli for Indian food".
Date of visit: 29.01.2014