Arepa!Arepa!Arepa! (aka GoodGobbleBlog aka Grub aka Jules and Bailey) have gone from strength to strength since I attended their inaugural supper club last January. After outgrowing their dining room they've taken over the kitchen at BrewDog and moved their supper clubs to Trove in Levenshulme.
I missed the first one but made sure I got tickets to their Christmas event in December.
There was absolutely nothing festive about the miserable Manchester weather that day, I arrived at Trove thoroughly soaked after the short walk from Levenshulme train station. I'd never been to Trove before so was fairly surprised to find it's not actually that much bigger than Jules and Bailey's front room. It looks like a nice little place though and the menus on the walls sounding very enticing indeed.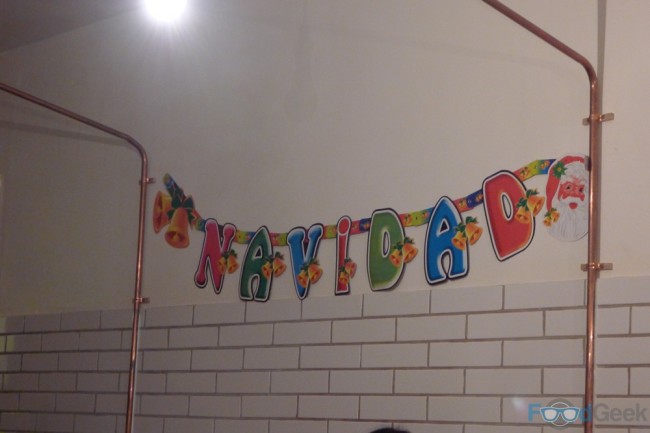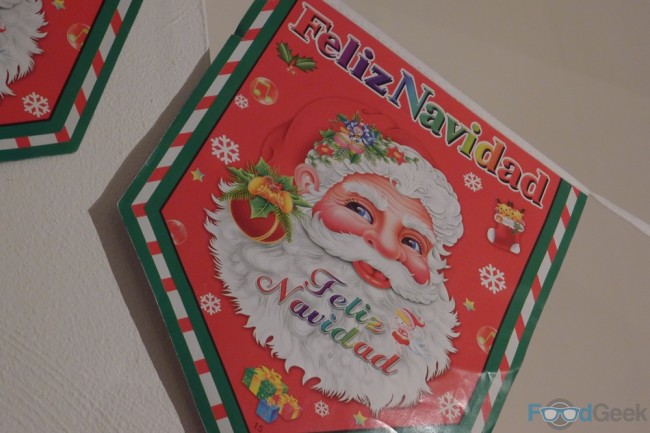 I soon dried out and warmed up thanks to the welcome cocktail, 'Canelazo'. I immediately recognised it as the hot and seriously sweet drink that I'd really struggled to finish at the Levenshulme Christmas Market last year.
But the recipe seems to have been tweaked since, as although the combination of panela (unrefined cane sugar), lime, cinnamon and Aguardiente (Colombia's favourite spirit) is still very sweet and could probably be improved with more lime, I happily finished it off this time.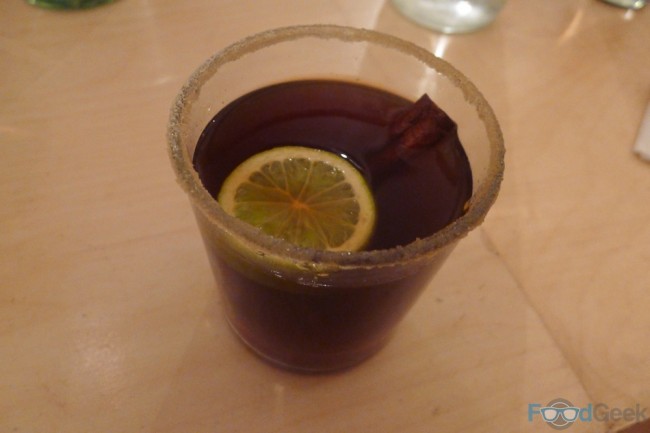 The first course – or para picar – quickly followed, in the form of 'patacón' (twice-fried squashed plantain bites) served with a Colombian aji sauce and guacamole.
The patacón themselves were brilliant; so crispy and tastier than any fried potato equivalent I've ever come across. Topped with the lovely chunky guacamole and spicy chilli salsa they were the perfect snack and highly addictive.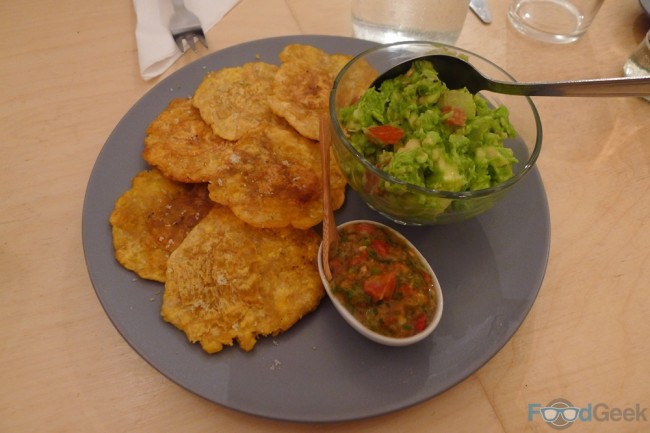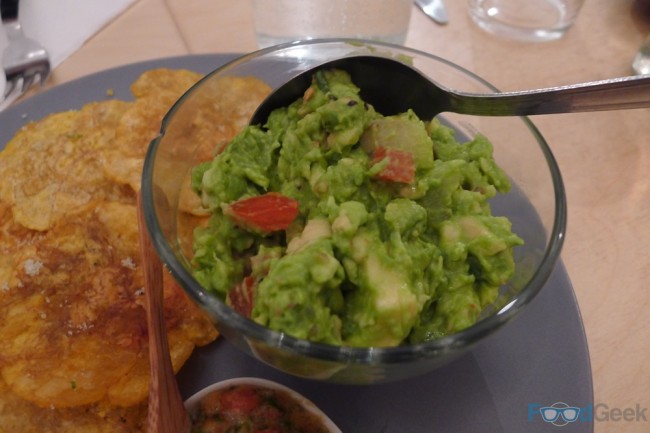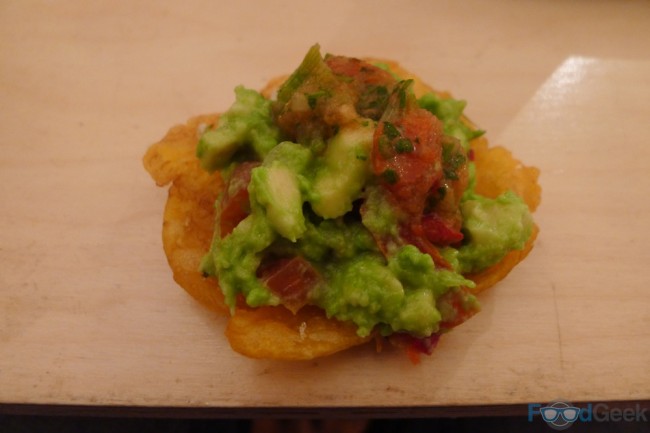 The following course, 'Picada', was described as 'basically a bowl of carbs' on the menu. Not a strictly accurate description as there were tomatoes, avocado and Chorizo amongst the fried potatoes and mini arepas. It was also on a plate.
Accurate or not it was a very tasty plate of food; salty, crispy potatoes and arepas with marinated tomatoes and avocado is a wonderful combination in itself. The best bit was the Colombian style Chorizo which impressively was homemade.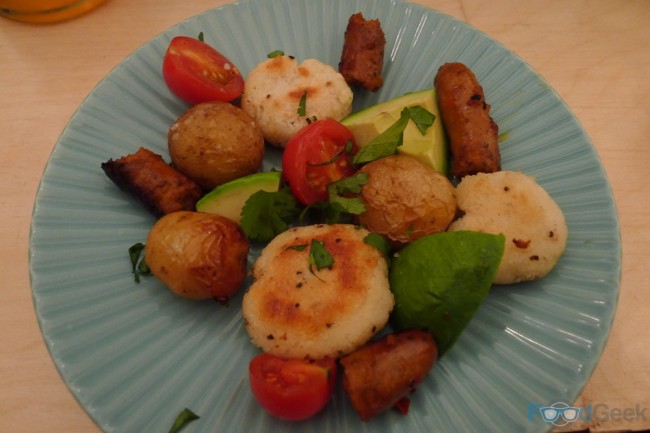 The main course, 'Tamales de Pipián' is apparently a Colombian Christmas staple. Perhaps because it comes wrapped up in a banana leaf like a Christmas gift.
After eagerly unwrapping at the table I found one of the most interesting dishes I've eaten for a long time. A base of arepa flour and pureed corn hydrated with pork stock was unusual, quite wet but really enjoyable; with the pork meat, alinos (pepper and garlic salsa) and chilli peanut sauce every mouthful was more intriguing and more delicious than the last.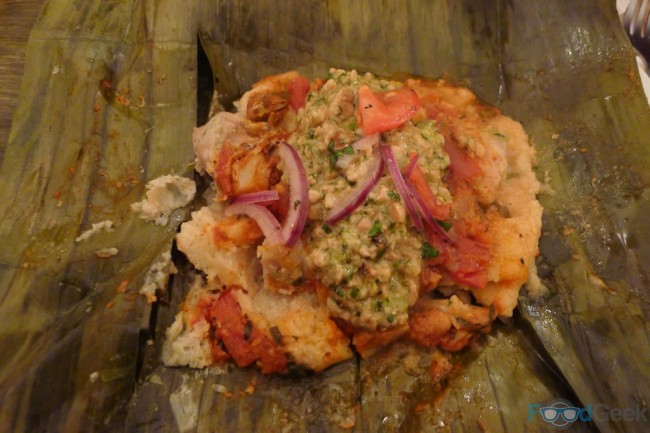 It seems my constant moaning on this blog about dishes not being hot enough has finally paid off, as I was served an extra portion of the excellent 'chilli peanut sauce' to spice up my tamal.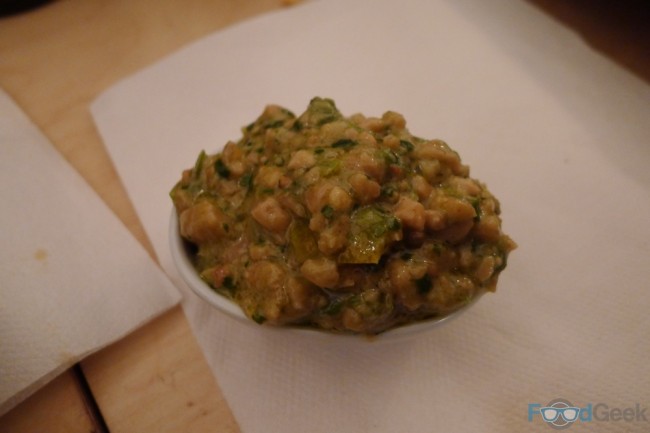 I'd also had the dessert, 'Buñuelos con Natillas' before at the Levy Christmas market. I enjoyed it then but this time was so much better. The deep-fried cheese balls were as good as ever but I found the texture of the set custard a little weird last time. Here it was perfect and the sweet cinnamon flavour was a brilliant contrast to the salty, savoury cheese balls.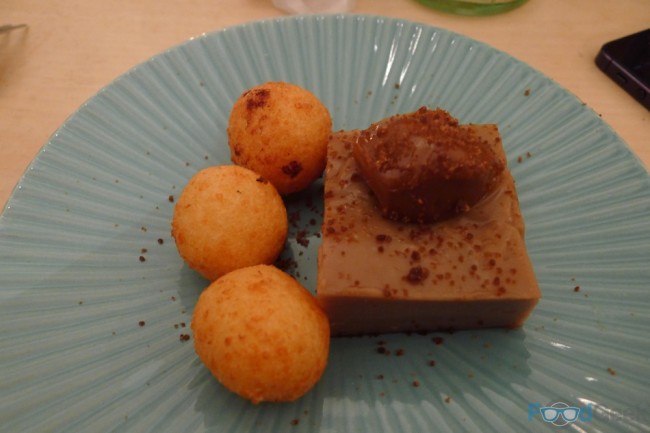 I've enjoyed eating Arepa!Arepa!Arepa!'s food wherever it's been, from Levy Market to their first supper club, BrewDog to Friday Food Fight. This was no exception; in fact I'd say it was probably the best in terms of food quality and consistency.
Service on the night was also fantastic; mostly thanks to Jules' genuinely Colombian and very charming mother.
There were a couple of delays between courses due to the lack of oven space at Trove; each course had to be cooked essentially from scratch once the previous course had been served. But it was nearly Christmas, the drinks were flowing and the company was great so nobody really cared.
Feliz Navidad!
Date of supper club: 12.12.2014