After leaving Restaurant Krebsegaarden I literally stumbled upon one of the best cocktail bars I have ever visited. Bar 7 is tucked away on the same side street, i'm so glad that I happened to walk that way.
Coming inside almost anywhere from the cold winter Copenhagen night would have been warming but Bar 7 felt especially warm. The decor is so inviting, it's made up of different rooms or areas which they say are for different people, each decorated in there own unique style, such as the white room, the blue room and the lounge all decorated with unique Danish furniture.
I chose the lounge area which was intimate and relaxing, we sat on a comfortable sofa in front of a fire and TV which was showing 'Friends' in Danish. About as far away as you can get from the pretentious cocktail bars of London and most other cities.
Liquorish Jewel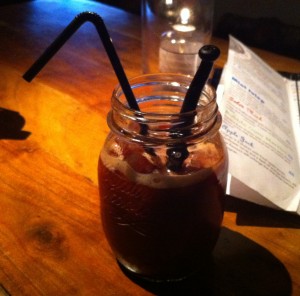 The drinks had a lot to live up to due to the fantastic decor & atmosphere and the menu didn't disappoint. As well as the usual classics like Mojito's & Daiquiri's were much more interesting concoctions such as 'Liqorish Jewel' made by shaking fresh liquorish with Rum, lemon juice, strawberries & Honey and served in a jam jar with a liquorish pipe.
Choosing was so difficult as they all sounded amazing, it became obvious that it would be a long and expensive night. We ordered a 'Liqorish Jewel' and a 'Carrot Slapper' which is fresh carrot juice shaken with rum, elderflower, lemon and lemonade.
The bar could be mistaken for a green grocers with all of the fresh ingredients on show. At the end was a basket containing more fresh root ginger than I have ever seen, there were also numerous lemons, limes, carrots and even Kumquats!
The bar staff were great, as well as being incredibly friendly they were also genuinely passionate about what they do. They asked how sweet or sour we'd like the cocktails to ensure they were perfect.
And perfect they were, not only great flavour combinations but the quality of fresh ingredients was obvious too. Such a pleasure to drink a carrot based cocktail made with fresh carrot juice rather than a silly little pouch of carrot puree as I see so often.
Fresh, Vibrant, Exciting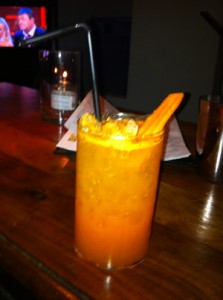 Next up were 'Passion & Ginger' a Vodka based cocktail shaken with fresh ginger, passion fruit and honey. A delicious flavour combination, the fresh ginger gave it a real kick and the sharp passion fruit and sweet honey were perfectly balanced. Also a 'Raspberry Duck' which is Rum, muddled with Fresh Lime, fresh Raspberries and sparkling wine topped with freeze dried raspberries was just as good. The frozen rasberries were amazing giving little bursts of sharp raspberry flavour.
I was right about it being a long and expensive night, as they were followed up with many other cocktails the highlights of which included: 'Tender Lotus' (Vodka shaken with fresh Ginger, lychee's
Sugar & lychee juice.), 'Blueberry Bitch' (Fresh blueberries muddled with Lemons & Vodka topped with Lychee juice) and 'Earl Grey Martini' (Fresh Earl Grey Tea shaken with Gin, lemon juice and raspberry dust). The raspberry dust was as exciting as the frozen raspberries!
I enjoyed my time in Bar 7 so much that I returned the following night after eating at Noma and it was just as good the second time around. The whole place is fantastic, from the decor and the ambience to the staff and of course the cocktails themselves. I hope i'll be visiting Copenhagen again someday and i'll certainly be back to Bar 7 if I do!
Date Of  Visit: 18.11.2011 & 19.11.2011