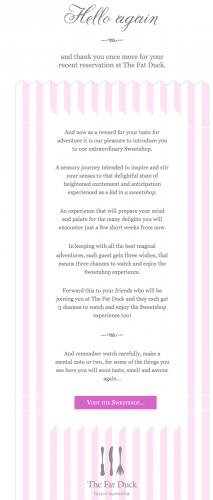 Later this month I'm finally dining at The Fat Duck, over 6 years since I was supposed to (long stroy).
Reservations are required to be made 3 calendar months in advance so mine was made in August which feels like forever ago and I'd almost forgotten about it (not really)!
A couple of days ago I received a surprise email from The Fat Duck, firstly thanking me once again for my reservation but more importantly inviting me to experience their magical sweetshop!
* Spoiler alert * If you are planning on visiting The Fat Duck in the future and would like to keep this as a surprise please don't read on. I won't be going into great detail but I would hate to spoil it for you *
I was intrigued so of course I clicked the big pink 'Visit The Sweetshop' button and was instantly transported to a magical world.
OK, not quite. But what did happen was a lot of fun.
A video appers with 6 or 7 minutes of visualy stimulating animation with music and quotes from Charlie & The Chocolate Factory. There are also several visual Alice In Wonderland references and the whole thing is clearly influenced by the 'down the rabbit hole' scenes. There are occasional hints and clues to famous Fat Duck dishes such as the pocket watch from the 'Mad Hatters Tea Party' and sea shells with iPod headphones attached as in the Sound Of The Sea dish.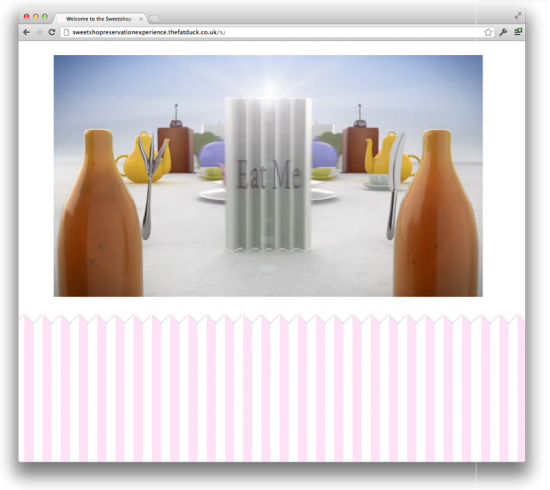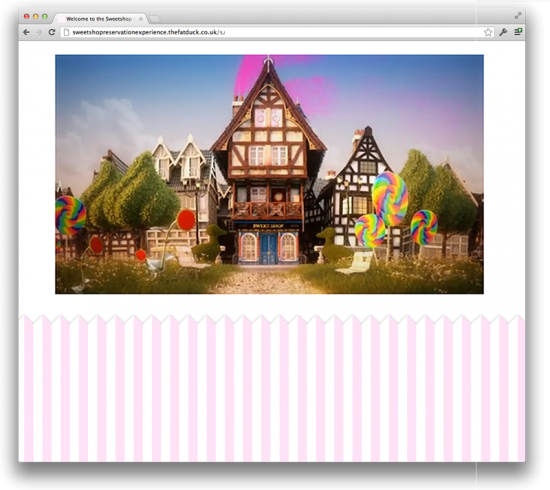 The journey ends outside a Sweetshop when the screen blacks out and you're asked to close your eyes.
What follows is a strange, almost hypnotic experience. John Hurt plays the part of the shopkeeper and gives a sort of tour of the shop, talking in fact almost chanting about several ingredients and types of sweets. Again with the occasional reference to a Fat Duck dish. It's really quite trippy.
It then ends leaving you wanting more which I imagine is the whole point. It has certainly done it's job in not only reminding me about my reservation but building the anticipation. I imagine another aspect of this is that it then goes full circle as the final dish served at The Fat Duck is "Like A Kid In A Sweetshop".
Let's hope the restaurant experience lives up to this ever growing anticipation, look out for my review at the end of the month to find out if it does or not.