It's been heavily rumoured for the past few months and this afternoon I received confirmation that Byron are bringing their 'proper hamburgers' to Manchester!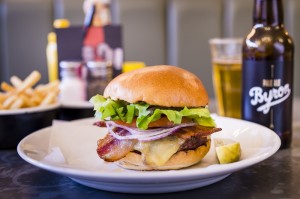 The new restaurant will be situated at the junction of Deansgate and John Dalton Street and open in 'early June 2013'.
Byron was founded by Tom Byng in 2007, with the first Byron opening on Kensington High Street in London that year. The inspiration behind Byron comes from Tom's four-year stint in America where he ate hamburgers that were simple, tasty, a bit messy, but made with good quality meat and only classic toppings such as lettuce, tomato, red onion, and maybe a slice of cheese or bacon.
Back in London, Tom realised there weren't any restaurants offering hamburgers like that and so Byron was born. Their mantra is to do one thing, and do it properly. They have several restaurants now but their vision remains the same: to keep serving proper hamburgers the way they should be.
Patties are made from good quality beef sourced from Scottish farms and minced freshly each morning, cooked pink – and served in a soft, squishy bun with a pickle on the side. There are numerous interesting toppings, side dishes, salads and desserts too.
There is also a strong craft beer list which includes Camden Hell's Lager and Brooklyn Lager, alongside Byron's own Pale Ale – created exclusively by the Camden Town Brewery. Byron plans to regularly update its list of craft beers which are available alongside a five-strong list of Kentucky bourbons.
'Early June' is only a few weeks away but if you can't wait that long you can check out the menu here: http://www.byronhamburgers.com/menu/
Byron Manchester – opening early June 2013
115 Deansgate
Manchester
M3 2NW
Opening hours:
Mon – Thu: 12.00-23.00
Fri: 12.00-23.30
Sat:11.00 -23.30
Sun: 11.00- 23.30