I have to confess I'm not the biggest fan of ten pin bowling, this is probably because I'm not particularly good at it. So when I was invited to eat & bowl at Black Dog Ballroom's new venture, a bowling alley named 'Dog Bowl' I really wasn't sure. Not only would I be breaking my personal rule of avoiding activities I'm not very good at but my memories of food at bowling alleys is mainly cheap, nasty hot dogs and soggy chips. But as soon as I was told that Dog Bowl are taking food seriously – they claim to cook everything in house using fresh, local ingredients – and have an exciting cocktail menu I was convinced to give them a try.
They're located under one of the arches on Whitworth Street West, a short walk from Manchester Oxford Road station, next door to Gorilla Bar & Kitchen and it shares a similar urban style with Gorilla, both inside and out.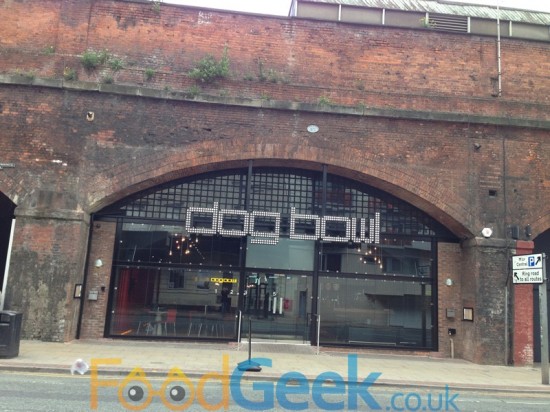 From the moment I walked through the door I could sense it's a very different place than the mainstream bowling chains I was used to. The bar and restaurant area looked genuinely inviting and not just a place to sit and eat fast food whilst the 5 bowling lanes at the rear are modern, stylish and have gleaming floors.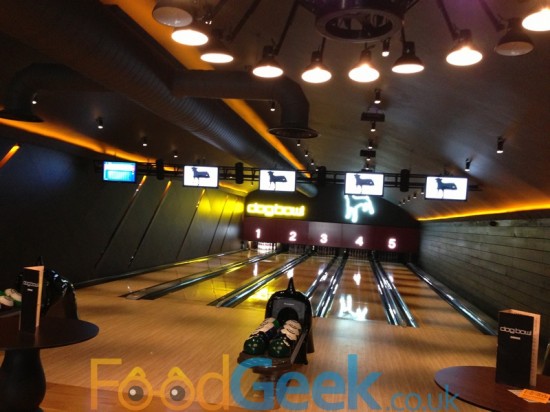 There are some nice touches with the decor such as spider lamp fittings and ball dispensers inspired by the Black Dog brand name.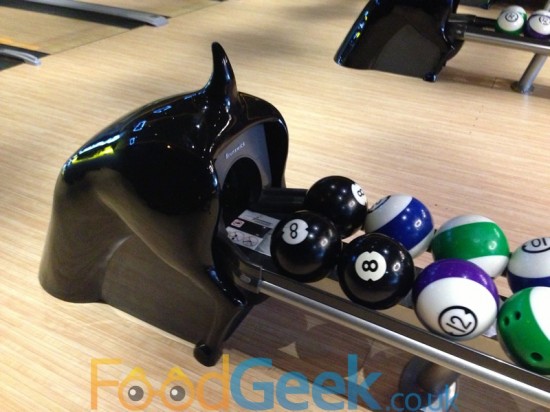 We weren't here to admire the decor though, I had a game to win. Despite not being a big bowling fan I am fiercely competitive, if I was going to bowl, I had to win! So I reluctantly gave away my shiny new trainers in exchange for a pair of those ridiculous looking bowling shoes and headed to lane 1 which had been setup for our game.
It was actually much more fun than I expected and despite not managing to score a single strike which I was devastated about I won the game on points even though Mrs FoodGeek did manage a couple (she also managed a few 0's! At least I was consistent.).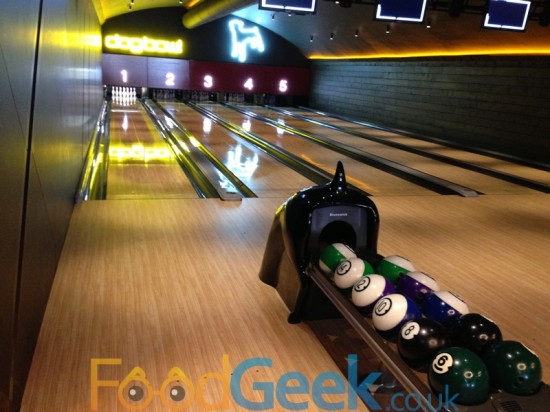 During our game we were offered a cocktail from the impressive looking menu, I chose a 'Passionfruit Tequila Mojito' as the title alone contains 3 of my favourite things. Unfortunately the waiter returned shortly after we ordered to inform me that they had no mint and therefore couldn't make any Mojito's. Not a good start! I've no idea why bars and restaurants find it so difficult to keep mint in stock but this is a very common and annoying occurrence. Luckily there are plenty of other delicious sounding cocktails on the menu and though I was still a bit gutted I couldn't have what I wanted I thoroughly enjoyed my 'Roasted Pineapple Margarita' instead.
Mrs FG went for 'The Floozy' a fruity concoction of Bombay Sapphire gin, peach, passion fruit & Prosecco which was also very good. You definitely don't cocktails of this quality at Hollywood/MegaBowl places.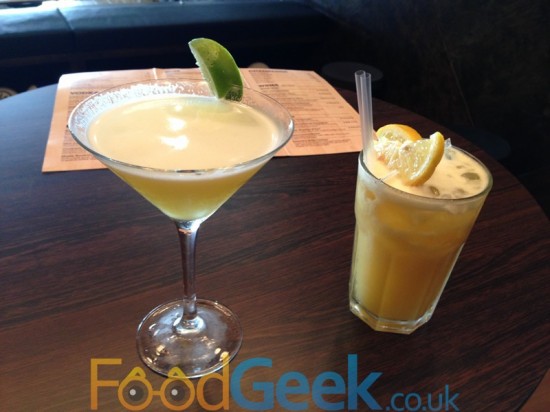 After finishing bowling and changing out of the clown shoes we were seated in the restaurant, the reason I was really here was of course to eat. The menu is mainly tex-mex inspired with dishes such as quesadillas, tacos & fajitas as well as chicken wings, ribs and steak. Choosing was difficult as everything sounded great, it's a far cry from crap hot dogs and burgers (there is actually a good selection of interesting burgers).
First we went for something I've become a bit obsessed with, deep fried pickles. These were very good, whole dill pickles in a light and crispy batter. Not quite up there with the best I've had at Southern Eleven but at least as good if not better than the version at SoLita.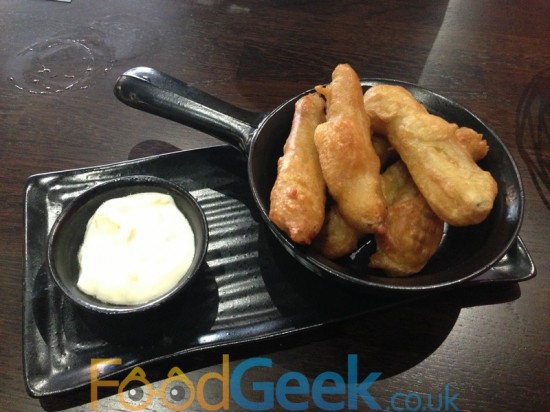 Quesadillas are one of my favourite things in the world so they were a must, choosing which to order was more difficult though as they all sounded good. Particularly the 'Marinated Rump Steak with Tabasco Onions' and 'Cajun Rubbed Shrimp' but in the end we went for 'Pulled Pork' as I've never had it in a quesadilla before and could imagine it working well.
I was right, the tortillas were crispy as they should be and the combination of juicy, melt in your mouth, slow cooked pulled pork with stringy, melted cheese was just brilliant.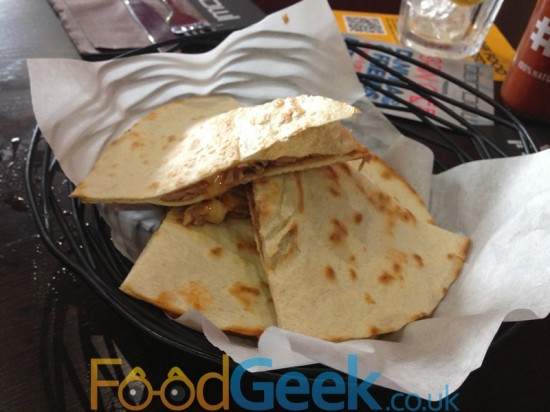 For my main course I chose the 'Beef Short Ribs' which were reasonably well cooked and had a nice smokey flavour from being dry smoked in their house rub but the best bit was the tangy BBQ sauce that it was coated in. Unfortunately  there just wasn't enough of this sauce, the ribs were served with both chilli and blue cheese sauces on the side but neither were as good.
Fries were excellent, skin on, crispy and well seasoned.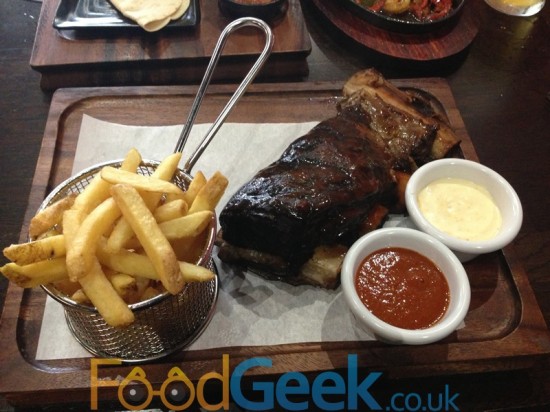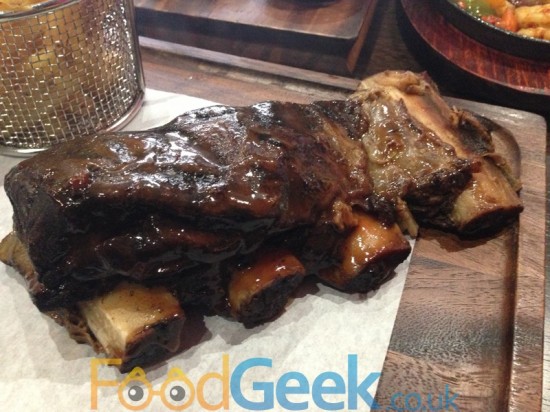 I spotted a Mexican sauce on the table which looked interesting and it was! Made from Habanero chillies it was much nicer than the chilli sauce they served the ribs with!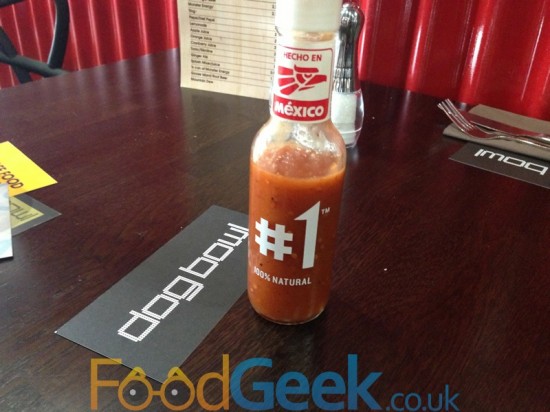 Mrs FG ordered 'Shrimp Fajitas', which we could hear sizzling as the waiter approached the table. These were good if a little unspectacular, the pepper and onion mix was slightly overcooked and a little too soft but the prawns (i'm not American, shrimps are tiny little things in this country) were well cooked and still juicy. Served with sour cream, salsa and guacamole which was OK, not as good as my own but at least it's house made! Overall they were perfectly decent but none of the elements quite as flavoursome as they could have been, they were much improved with a splash of that Habanero sauce though!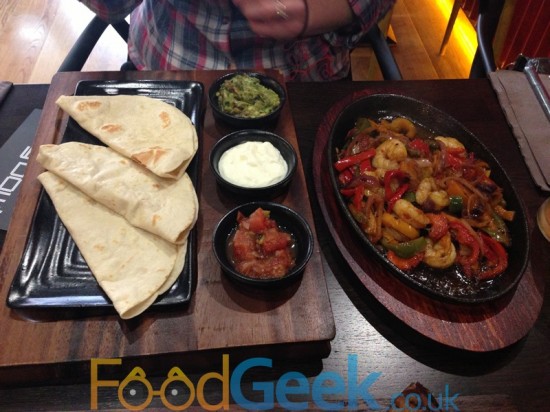 We'd also asked for a side of onion rings which didn't turn up with our main courses but arrived fairly quickly after we reminded the waiter. They were worth the wait! The same light and crispy batter that surrounded the deep fried pickles made these very good onion rings.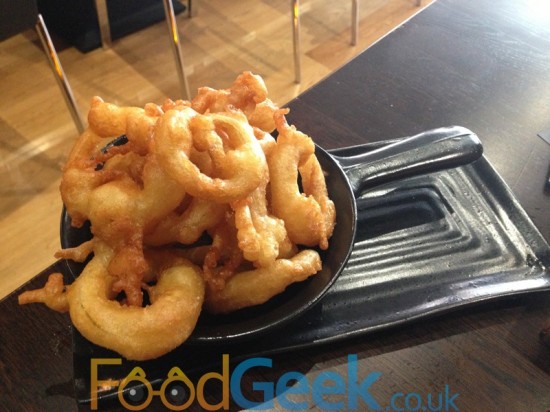 Portion sizes at Dog Bowl are on the large side and we wondered if we'd be able to manage dessert, particularly as they all sounded rather heavy such as 'Bourbon Pecan Pie', 'Hot Fudge Sundae' and 'Deep Fried Ice Cream'. The 'lightest' option seemed to be the Churros, not that you can really call strips of deep fried dough light. We enjoyed them but for me Churros should come with a pot of sauce for dipping whereas these had it drizzled on top, worse still, as with the ribs there just wasn't enough of it. Still a good dessert but would be far better with the sauce on the side.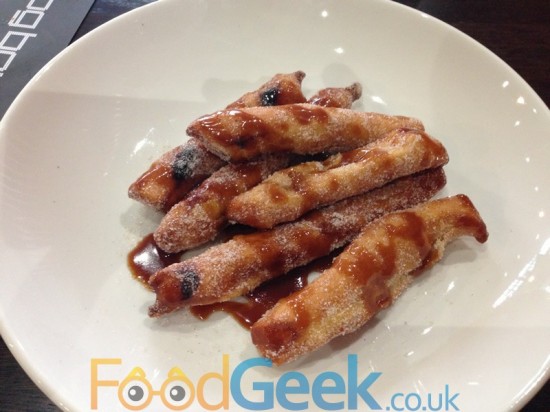 Service was efficient but not particularly attentive or even overly friendly. Considering they'd invited me and knew that they'd be reviewed I'd expected a little more really.
Overall though we had a good time. The bowling was fun, it's definitely much cooler than those mainstream places, the bar and cocktails are excellent and whilst the food isn't anything special it's fresh and certainly much more interesting and far better quality than you can usually expect to eat whilst you bowl. I'm probably being overly critical and comparing it to proper restaurants, compared to anything I've ever had at a bowling alley before it's streets ahead. Obviously I didn't pay for anything but I did look at the prices and genuinely consider the food to be excellent value.
So the big question is would I have been happy to pay? Yes, absolutely. Would I return? Probably not just to eat but that's only because there are so many amazing restaurants in Manchester. If I was going bowling I'd definitely return to Dog Bowl and I'd be more than happy to eat whilst I was there.
Date Of Visit: 08.05.2013