I was recently asked by Sainsbury's as part of their 'Kitchen Heroes' competition for my signature dish and kitchen cupboard hero ingredient. At first I struggled to come up with a signature dish as I love variety and cook so many different dishes across many cuisines, it's often months before I repeat a dish.
The store cupboard ingredient is easy though, it's definitely tinned chickpeas, I always have them in the cupboard and use them in so many different ways from soups to salads to tagines and of course for making falafels. Something else I love them in are curries, often instead of meat. So my 'signature dish' which includes my store cupboard staple is *drumroll* Quick & Easy Vegetable Rogan Josh. The remaining contents of the curry often varies depending on what else I have in but this particular version is one of my absolute favourites.
You Can WIN £50
You can find the recipe for my signature dish below and Sainsbury's are offering you the chance to win a £50 voucher by creating your own signature dish and posting the recipe online. Leave a link to your recipe in a comment on this post using the form below or tweet it to me at @FoodGeekUK and i'll pass them onto the Sainsbury's team who will pick the best. Not only will the winner receive a £50 voucher but also your recipe will be put to a public vote on the Sainsbury's Facebook page which has over 600,000 fans! The competition ends at midnight on Tuesday 14th May so be quick!
Quick & Easy Vegetable Rogan Josh Recipe
Here's the recipe for my quick Rogan Josh, I usually like to make my own curry pastes and often use this Jamie Oliver recipe but as I had no red peppers I used a jar of paste I had in the cupboard, it still tastes great.
Ingredients: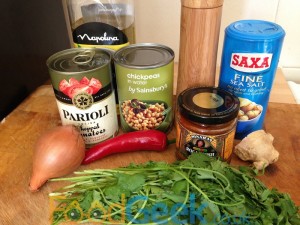 1tbsp olive oil
1 onion
1 red chilli
2 cloves garlic
3cm piece of ginger
3tbsp Rogan Josh curry paste
1 tin chopped tomatos
1 tin chickpeas
Salt
Pepper
200g baby spinach
1/2 bunch fresh corriander
4tbsp natural yoghurt
Method:
1. Peel & quarter onion, peel & roughly chop ginger, peel garlic, pick coriander leaves from stalks, half the red chilli (deseed if you don't like it hot) keeping one half intact and roughly chopping the other.
2. Blitz the onion, ginger, garlic, intact half of the red chilli and coriander stalks (save the leaves for later) in a blender or food processor.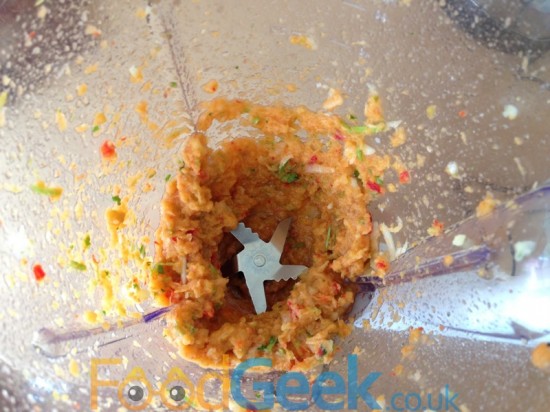 3. Heat the olive oil in a pan over a medium heat and then add the puree. Cook for 5 minutes to soften slightly.
4. Add the curry paste and roughly chopped red chilli. Cook for another few minutes.
5. Add the tin of chopped tomatoes and the chickpeas with their water. Bring to the boil and then reduce heat slightly and leave on a fast simmer for around 30 minutes, stirring regularly until the sauce thickens.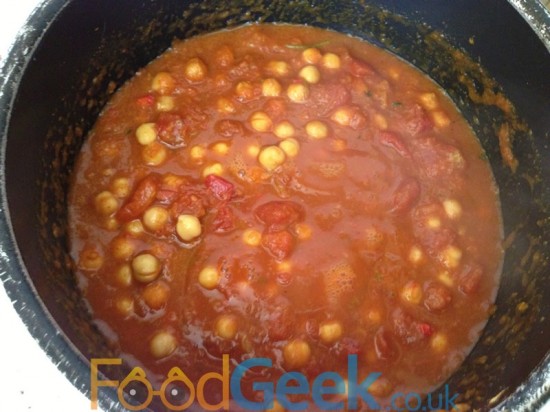 6. Season well with salt & pepper then add the spinach and cook for a few minutes until the spinach has just wilted.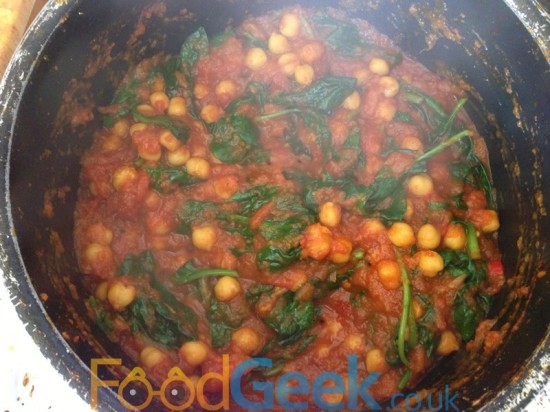 7. Serve topped with natural yoghurt and your coriander leaves. It's great with rice and/or Indian breads such as naan or chapattis.
* Don't forget your chance to win £50. Just post your own signature dish and send me the link either via the comment form below or on Twitter. *