When I started this blog I intended the posts to be roughly 50/50 restaurant reviews and my own recipes. A couple of years later and i've passed 150 reviews but shamefully only posted 6 recipes!
So when I was contacted by Sainsbury's and asked if i'd like to cook and review a recipe created by the winner of 'Yorkshire's Best Young Chef' competition I thought it would be the perfect opportunity to add number 7.
The recipe is by 15 year old Pippa Lister from Wakefield who on the way to winning the competition had to create and cook a pork dish. Her winning recipe is a 'Bacon & Apple Risotto, with Parmesan Crisp and an Apricot & Watercress salad'.
I made a couple of changes to it which i'll mention at the end but the ingredients list and method below are exactly how I received them.
Bacon & Apple Risotto with an Apricot & Watercress salad by Pippa Lister, 'Yorkshire's Best Young Chef 2013'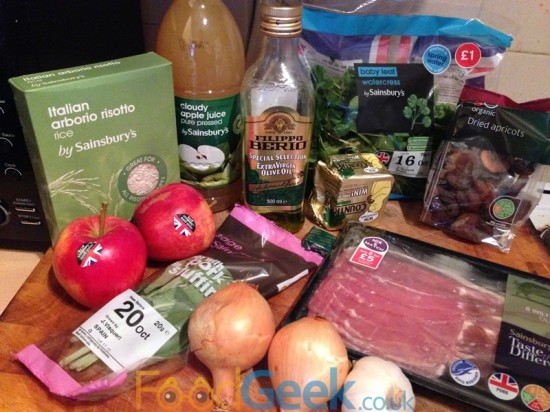 Serves: 4
Cooking Time: Approx 30mins
Ingredients:
2 onions, finely diced
2 cloves of garlic
5 pieces of Sainsbury's Taste the Difference bacon cut into small cubes
2 Royal Gala apples cut into small cubes
A tablespoon of chopped sage
150 ml dry white wine
750ml of boiling water with a vegetable stock cube
300g Arborio rice
2 knobs of butter
A handful of finely grated parmesan
A bag of watercress
8 dried apricots, chopped
Olive oil
Cider vinegar
Apple juice
60g parmesan finely grated
Risotto:
1. Fry the bacon until crisp in a little olive oil then remove this from the pan for later
2. Add a knob of butter to the pan and fry the finely diced onions on a low heat until the onion turns translucent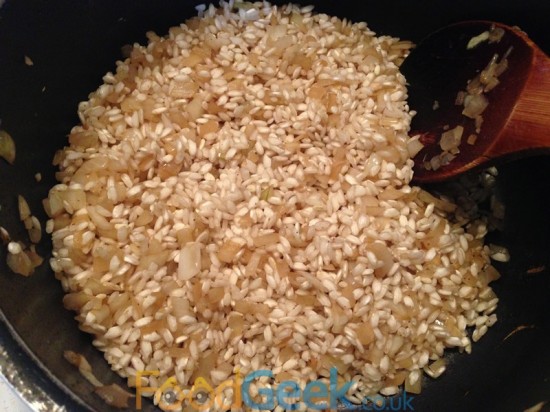 3. Add the garlic and continue frying on a low heat for a further minute, then return the bacon to the pan
4. Add the Arborio rice to the bacon mix and stir for about 2 minutes
5. Next, add the stock and wine a ladle at a time, adding enough liquid to cover the rice
6. Add the chopped apple and leave to simmer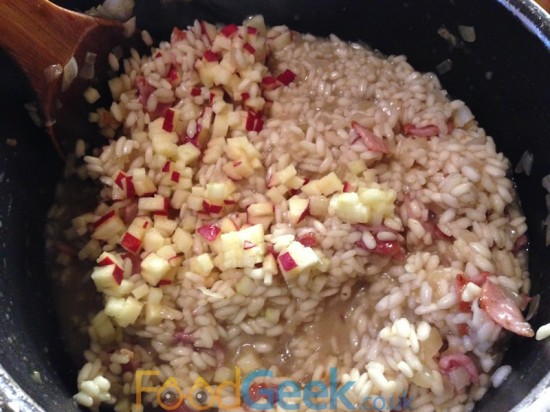 7. Keep adding more stock and wine until the rice feels soft and the risotto is thick and creamy
Salad & parmesan crisps:
1. Mix the watercress and apricot together in a large bowl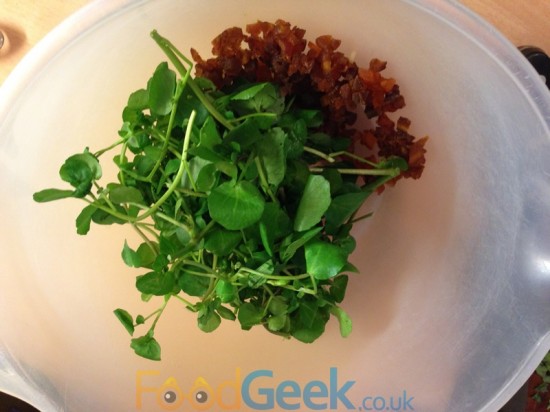 2. Make the salad dressing by mixing a splash of olive oil, splash of cider vinegar and splash of apple juice together in even quantities
3. Make the parmesan crisps by finely grating the parmesan cheese and sprinkling a thin layer on greaseproof paper on a baking tray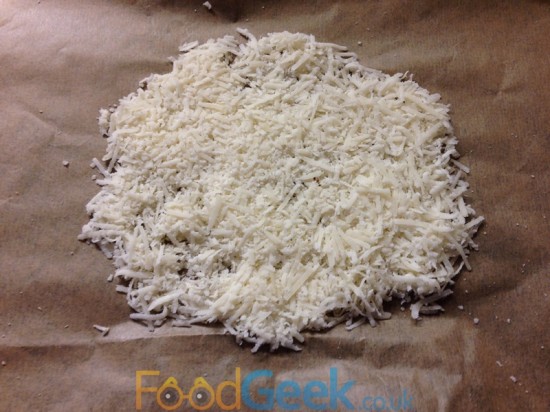 4. Place on the top shelf in the oven at 220C
5. Watch carefully until the parmesan has all melted and is bubbling and remove when it starts to colour (2 to 3 minutes) ensuring that it doesn't burn
6. Remove from the oven and leave a few minutes before cutting into whatever shape takes your fancy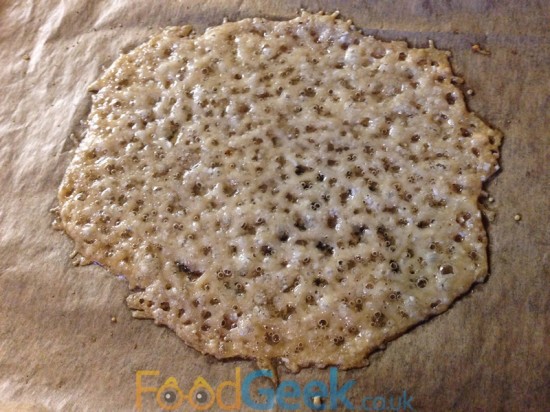 To serve:
Add a knob of butter and a handful of parmesan to the risotto and mix in fully before serving in a small mound accompanied by the salad with dressing and parmesan crisp.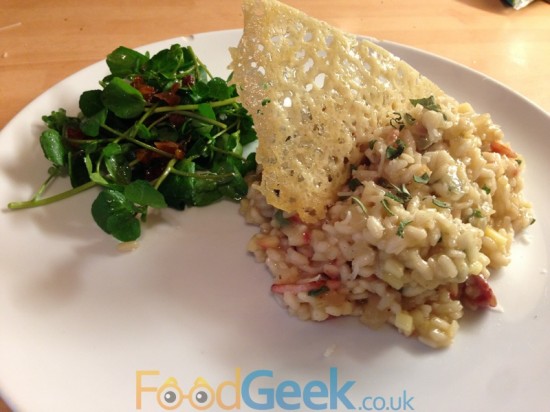 I'm sure you'll agree that the end result looks pretty good! I can also confirm that it tasted fantastic as well. I love bacon so it was off to a good start but the flavour combination of the smokey, salty bacon and sweet, fresh apple is lovely.
The salad was the perfect accompaniment with the zingy dressing complimenting the peppery watercress well and the occasional bursts of sweetness from the apricot were delicious.
In terms of the actual recipe I found it pretty easy to follow with just a couple of minor issues. The eagle eyed amongst you will have noticed that there is no mention of the sage in the method. I stirred most of it through just before I finished cooking the risotto and saved a little for the top. Also, it you followed the recipe literally you'd have had 2 whole cloves of garlic in your risotto which i'm sure wasn't intended, so I crushed it into the pan at step 3.
I also needed to cook my parmesan crisp for far longer than 2 to 3 minutes, it was at least 7 or 8.
Other than that I think it's a great recipe, I enjoyed making it and eating it even more. It's even more impressive that it was created by a 15 year old, Pippa is clearly a worthy winner of Yorkshire's Best Young Chef.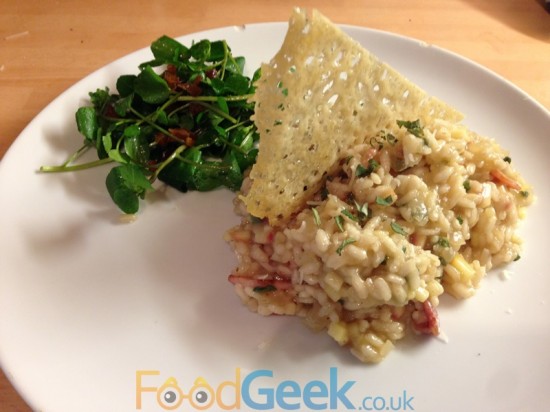 Disclaimer: I received a gift voucher from Sainsbury's to cover the cost of the ingredients.