Before the World Cup started I had what at the time seemed like a great idea; to cook a dish from every country competing before the end of the tournament. 32 dishes from 32 countries in 32 days. Sounds easy right?
It turned out to be more of a challenge than I'd anticipated, I didn't take into account how often I eat out, I didn't have the opportunity to do one dish per day so ended up doubling up several times.
There were days when I really couldn't be bothered making anything special but had to in order to keep on track. I'm glad I stuck to it though, I finished and completed the challenge in time – just one hour before the final started! Ending with finalists and favourites Germany, as if it was planned all along. I had a lot of fun along the way too and made some great dishes that I wouldn't know about otherwise, plus I discovered some amazing new ingredients such as orange blossom water, dried limes and sweet potato noodles.
Besides the challenge and foodie aspect it was also an attempt to get my kids interested in the World Cup and learning about the countries involved. It seemed to work, my 6 year old in particular now has a great knowledge of flags (although his cutting skills leave a lot to be desired as you may notice in a couple of the photos).
Here are all 32 dishes:
Algeria
El ham lahlou: Slow cooked lamb stew with chickpeas, dates and orange blossom water. Served with couscous.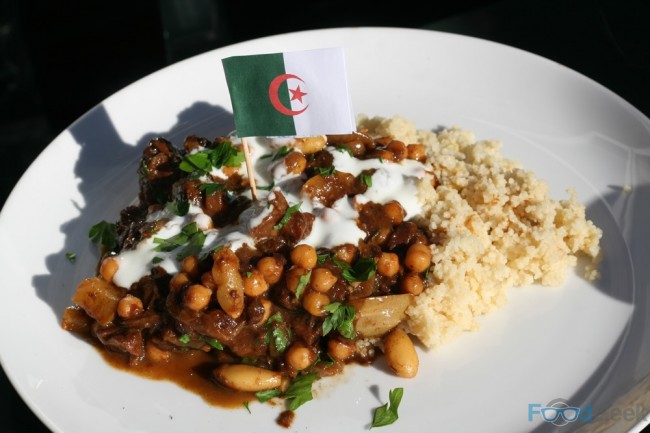 Australia
Anzac Biscuits: Traditional biscuits named after the Australian and New Zealand Army Corps (ANZAC) established in World War I.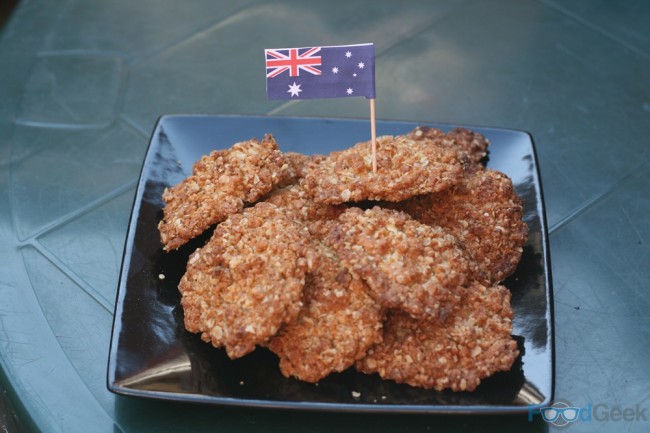 Argentina
Ribeye Steak & Chimmichuri: Served with Hasselback potatoes (which are Swedish, sadly Sweden didn't make the World Cup).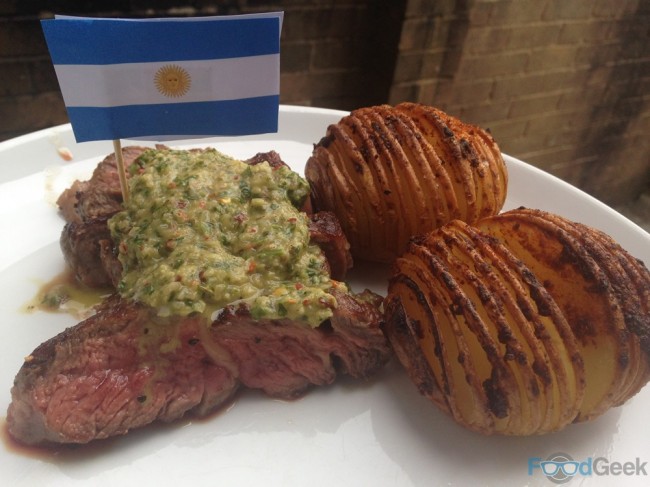 Belgium
Belgian Waffles: With bananas, cream & dark chocolate sauce.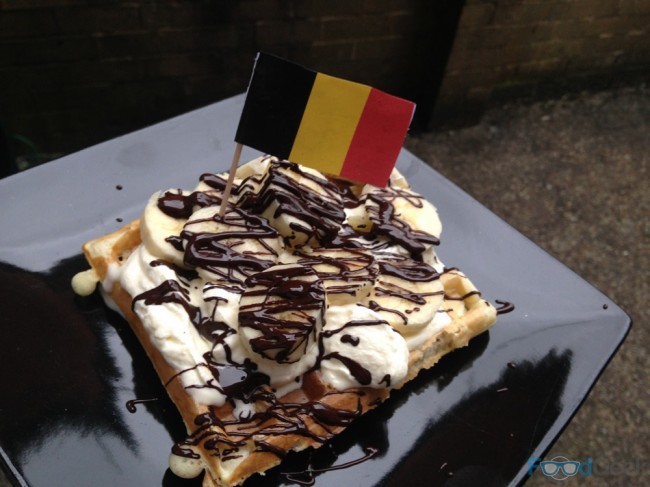 Bosnia-Herzegovina
Cevapi with ajvar: Grilled minced meat (cevapi) with ajvar (red pepper & aubergine sauce) and a quick onion pickle.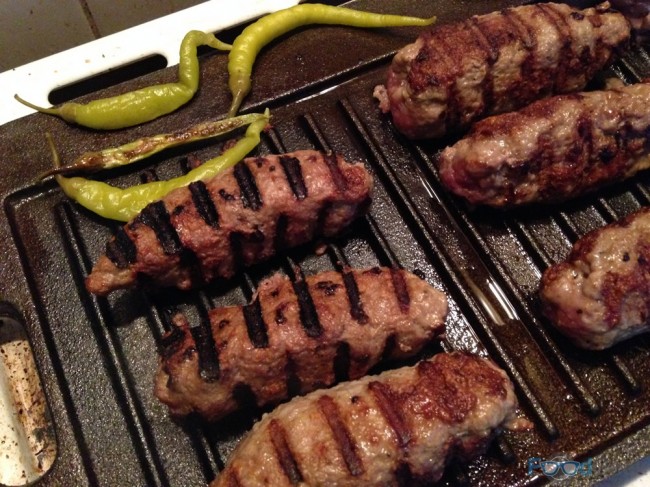 In wraps the first time…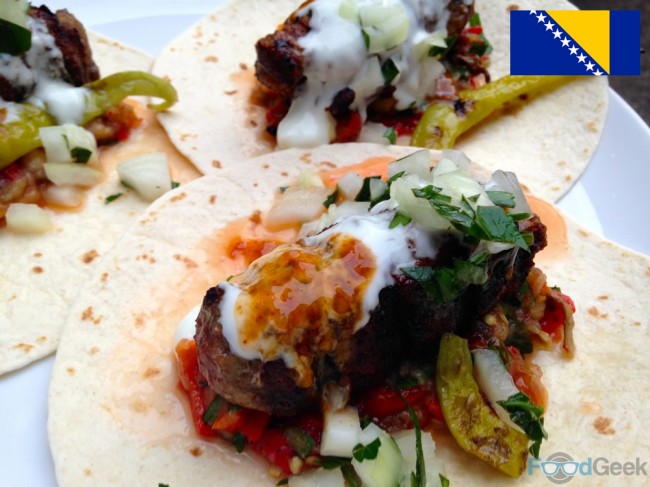 But liked them so much we made them again the next day and put them in pittas.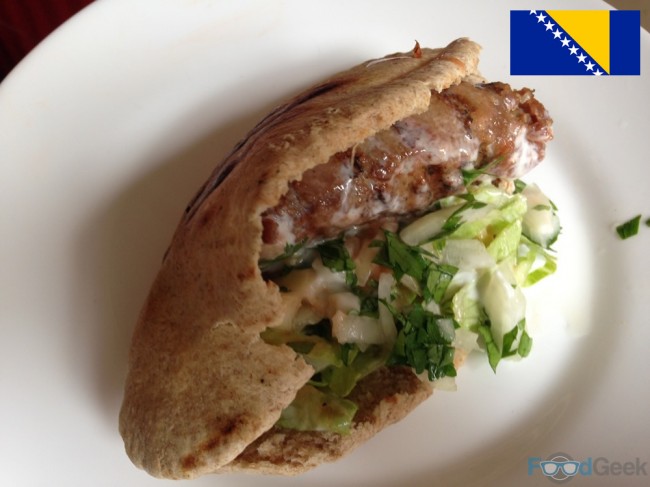 Brazil
Galinhada: Brazilian chicken stew with saffron rice. Washed down with several Caipirinhas (naturally).
Cameroon
Marinated Mackerel with Plantain & Jollof Rice.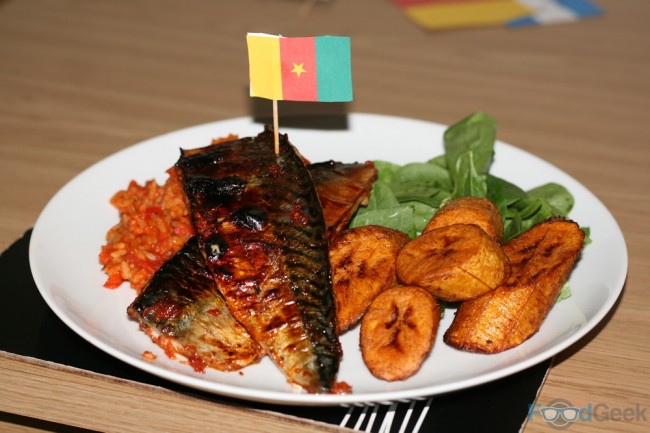 Costa Rica
Chorreadas (sweetcorn fritters) & Costa Rican Tomato & Avocado Salad.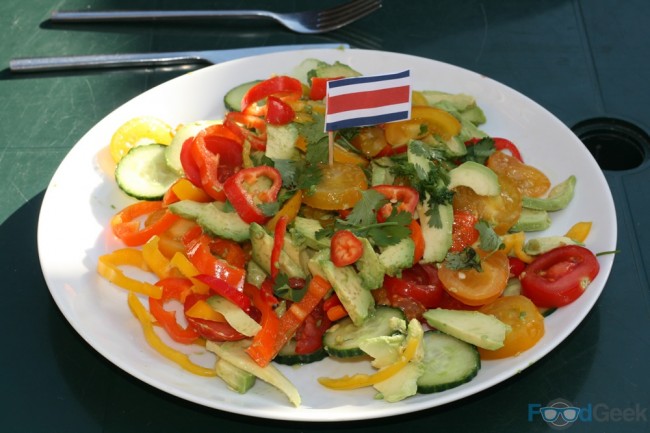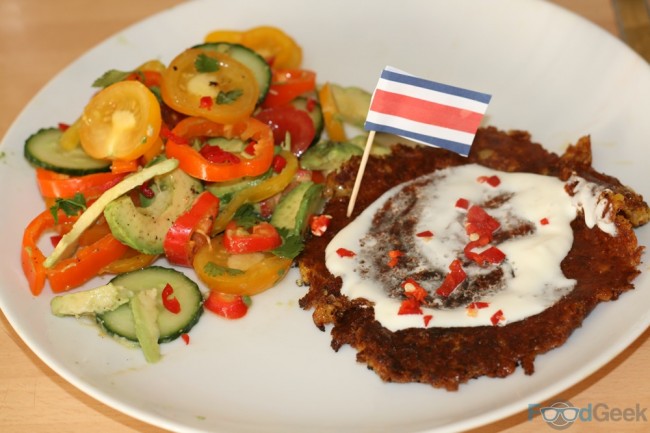 Croatia
Brodet: Croatian fish stew; mackerel, salmon & sardines in red wine.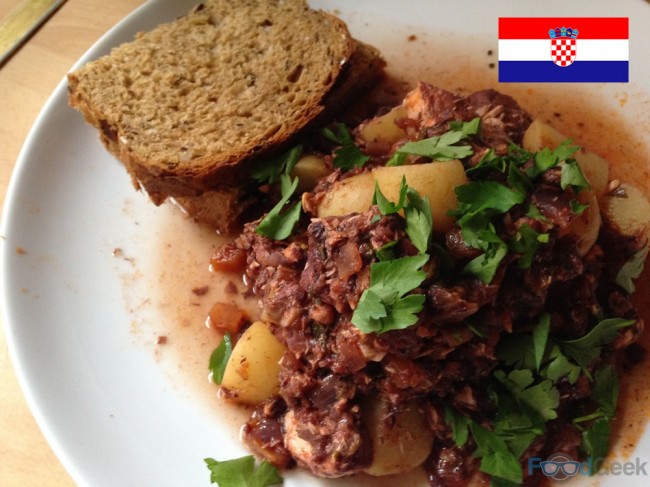 Chile
Mackerel Escabeche: Lightly cooked mackerel marinated overnight in a pickling liquid with lots of spices. Served with griddled sourdough and a spinach & rocket salad.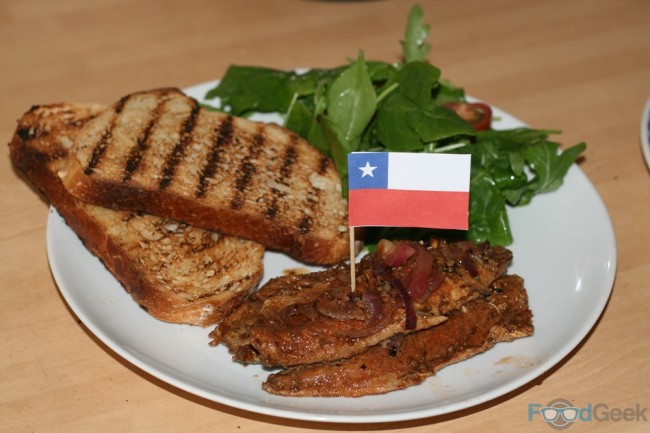 Colombia
Arepa's: Topped with black beans slow cooked in IPA beer & feta with guacamole, salsa and griddled sweetcorn.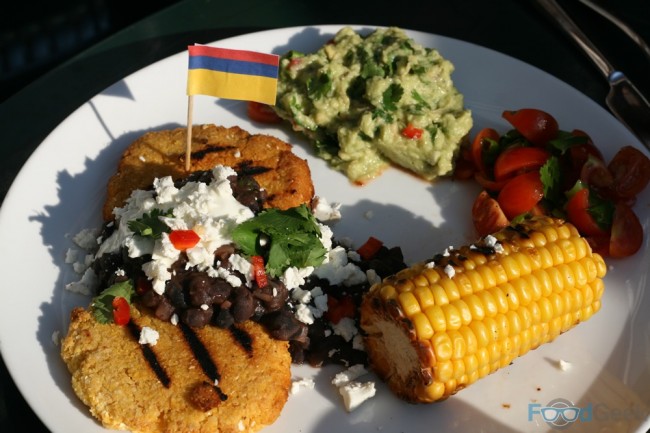 Ecuador
Llapingauchos: Fried spicy potato cakes, topped with tomato curtido (salsa) avocado, fried eggs & hot sauce.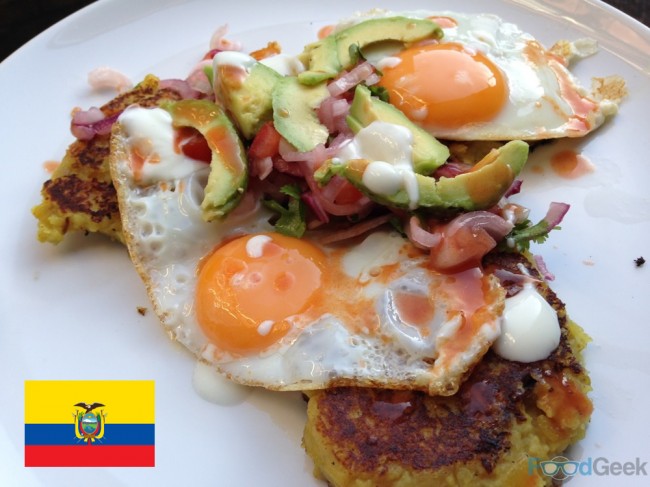 England
English Picnic: Including sandwiches, asparagus tart, cherry tomato tart, cheese & oatcakes, sausages and cake. We ended up eating it indoors though as it rained (of course).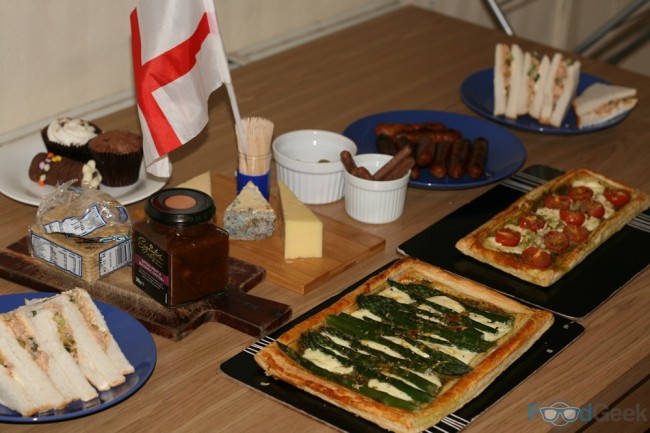 France
Apple Tarte Tatin: With calvados syrup.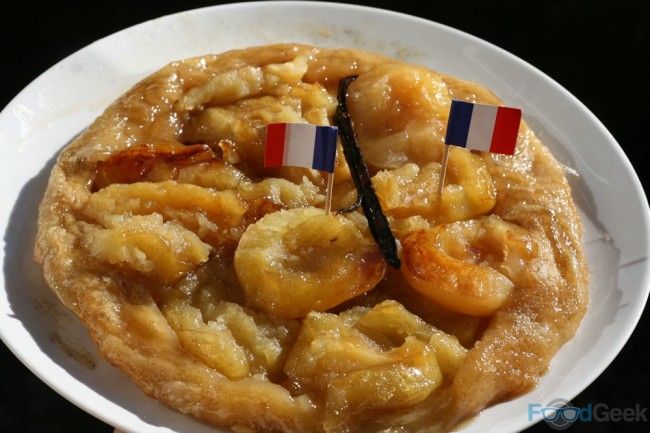 Germany
Bratwurst with Sauerkraut, Chicken Schnitzel, Pretzels & Beer.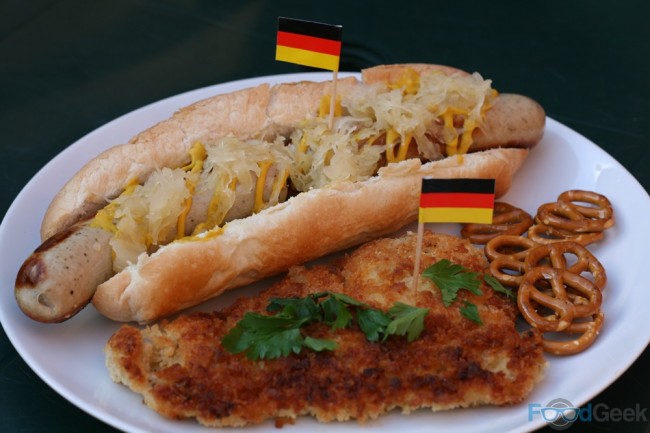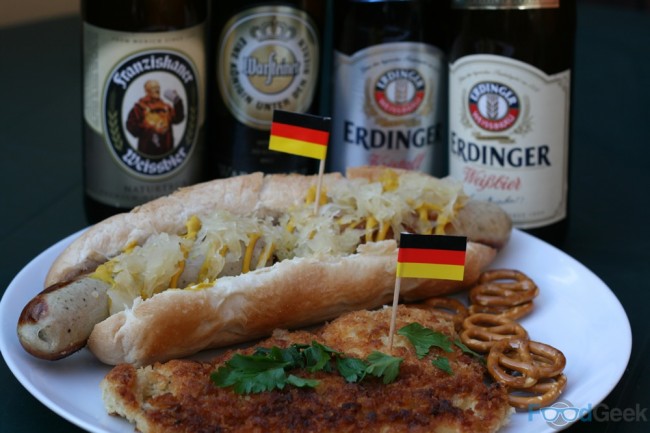 Greece
Moussaka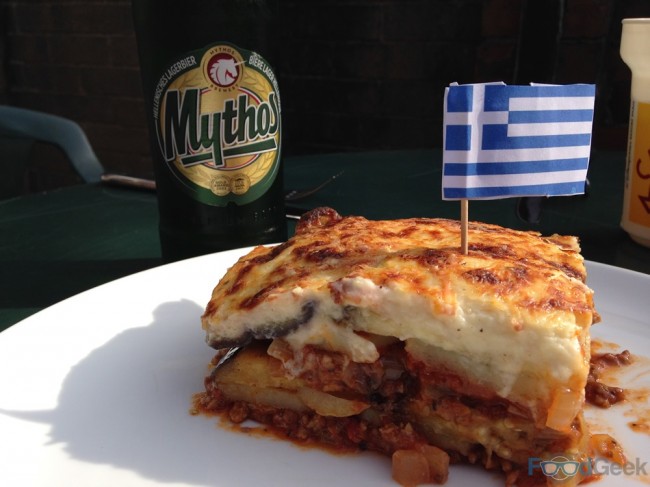 Ghana
Chicken & Jollof Rice: Crispy spiced chicken with scotch bonnet laced jollof rice.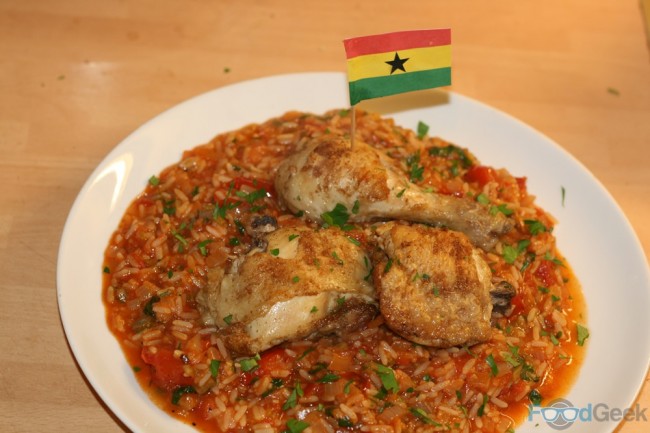 Honduras
Baleadas: Wraps topped with refried beans, chorizo, fried egg, avocado & hot sauce.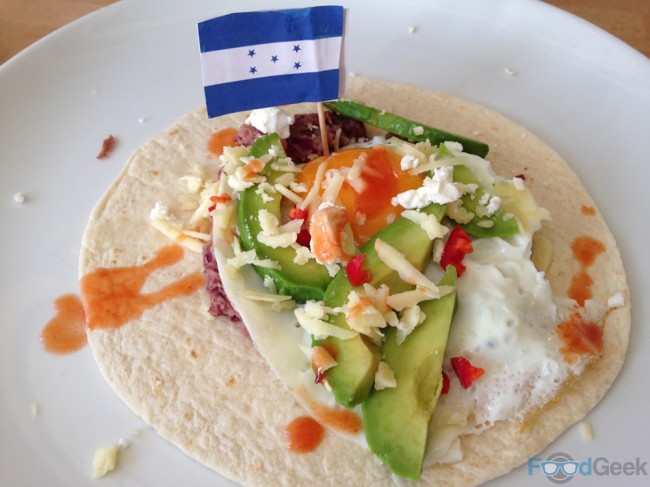 Holland
Wentelteefjes: Essentially Dutch version of 'French Toast'.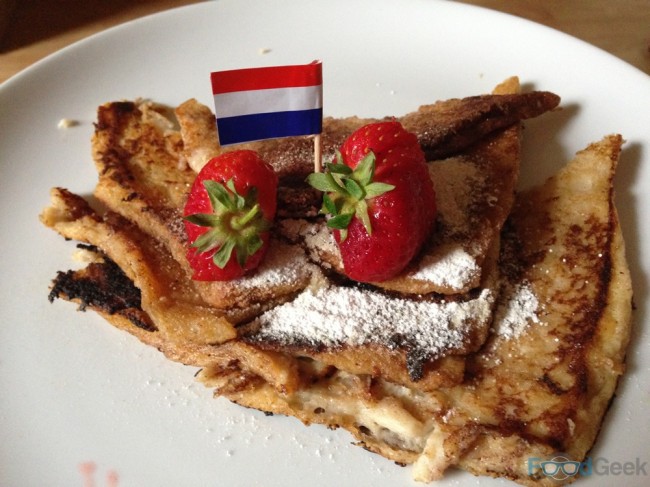 Iran
Iranian Vegetable Stew: An Ottolenghi recipe, made with with dried limes & barberries.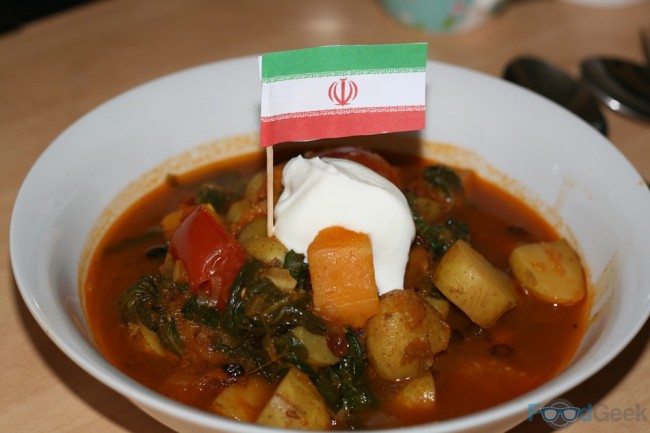 Ivory Coast
Kedjenou: One pot, slow cooked chicken with aubergine, chilli, ginger etc.. Served with rice & plantain crisps.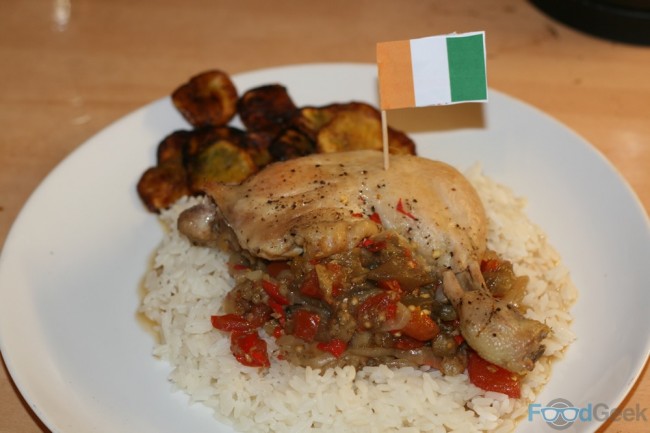 Italy
Pizza: Homemade base & tomato sauce. Topped with pepperoni, onion, courgette, mozzarella, basil & fennel seeds.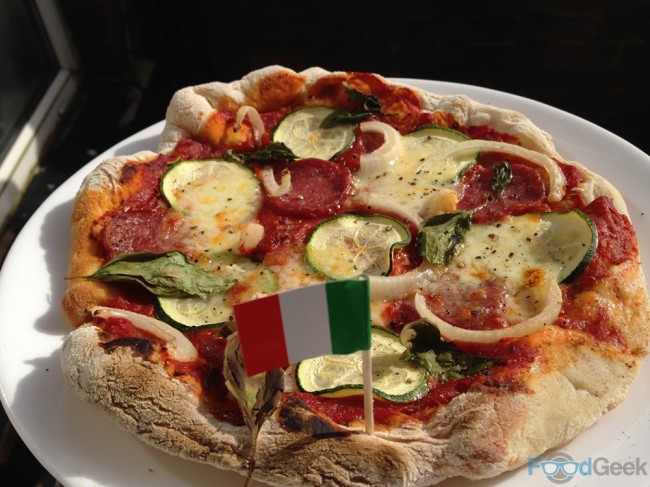 Japan
Japanese feast: Including homemade sushi (salmon & avocado uramaki), miso soup. edamame & pickled daikon.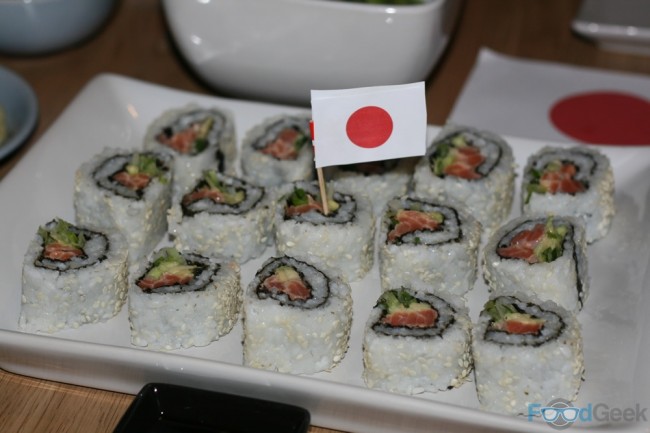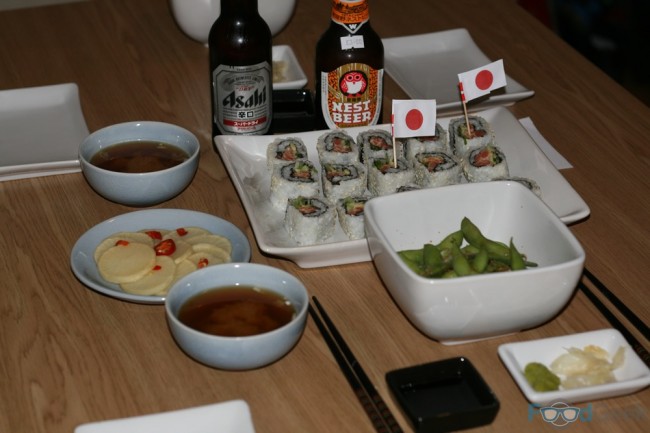 Mexico
Mixed Bean Enchiladas, Spinach Quesadillas & Guacamole.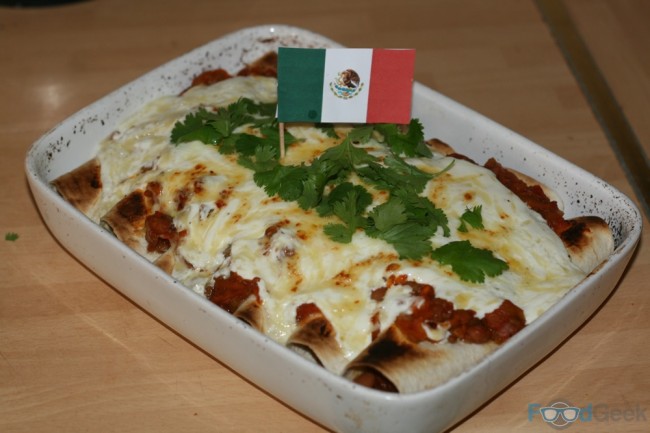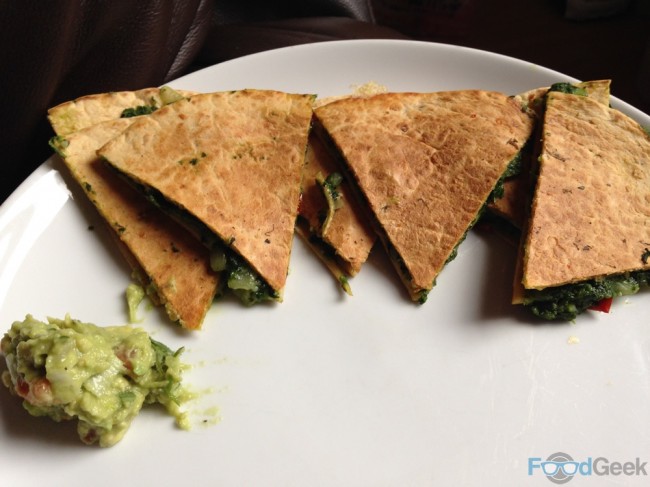 Nigeria
Akara Mboro: Sort of banana doughnuts.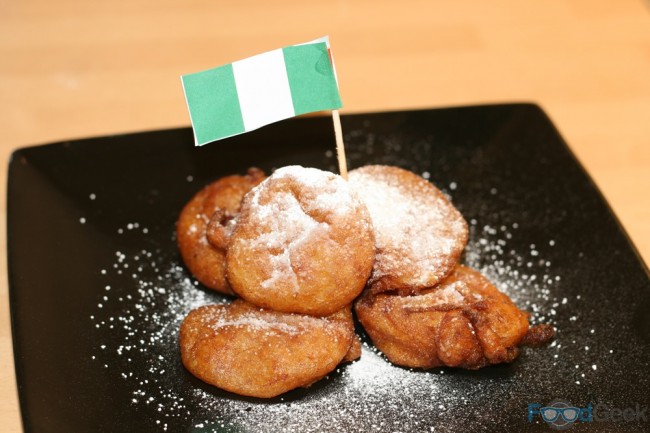 Portugal
Peri-Peri chicken served with sweet potato mash. 'Algarve Salad' which we ate everywhere on holiday a couple of years ago but couldn't find a recipe for so created from memory. Pastéis de Nata (Portuguese Custard Tarts) for dessert.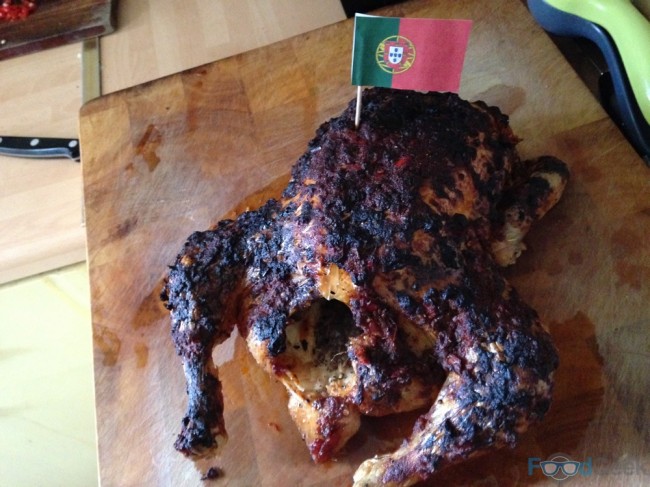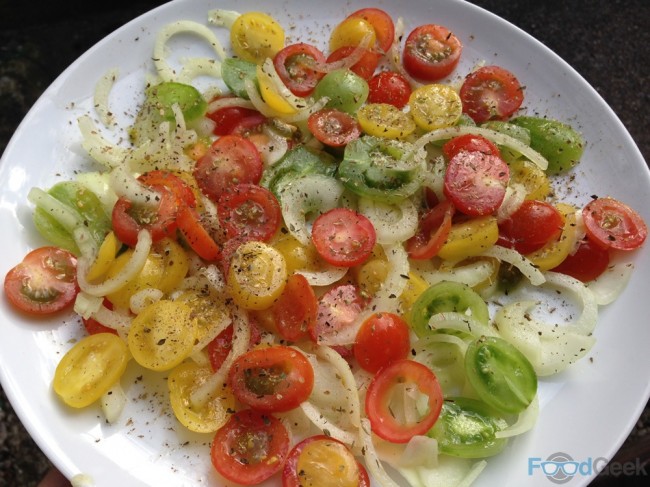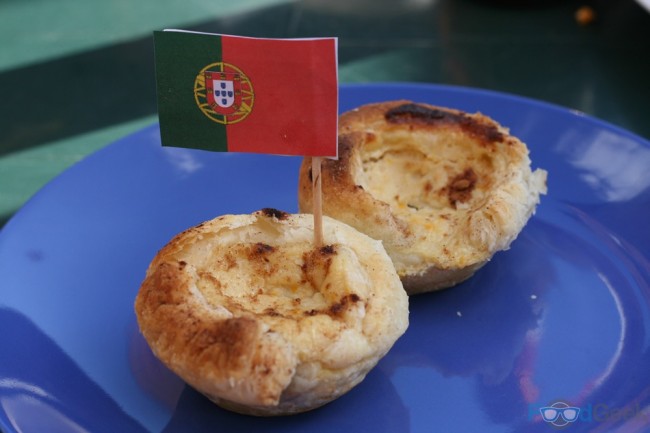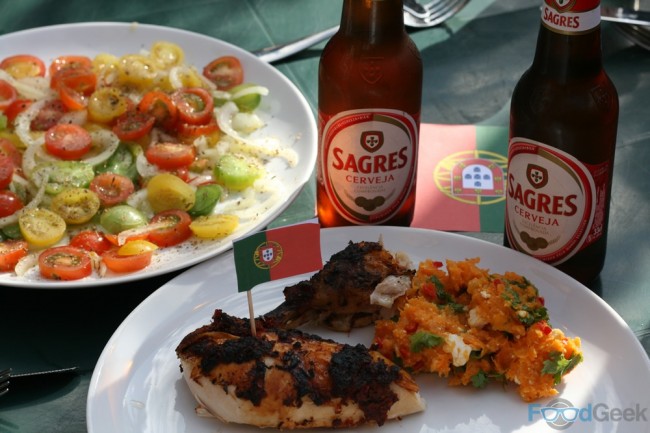 Russia
Russian Salad: Warm salad of potato, carrot, peas & pickles.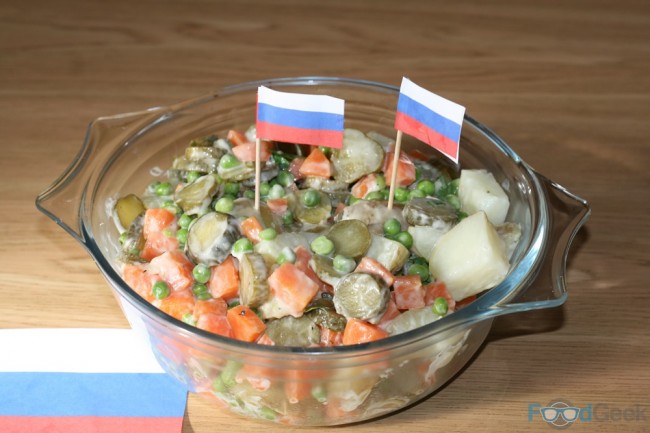 South Korea
Japchae: Sweet potato noodle stir fry with tofu and shiitake mushrooms.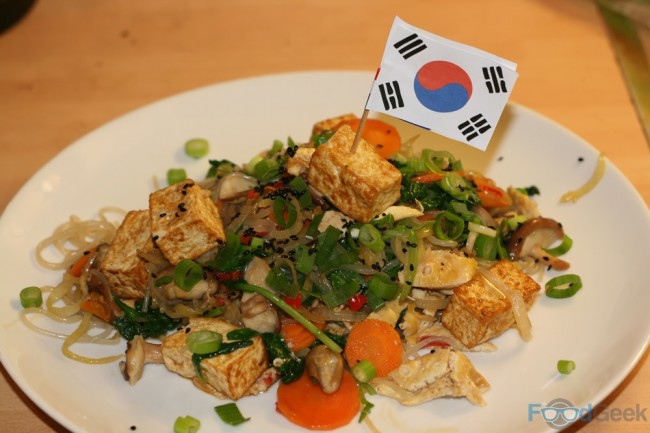 Switzerland
Pan-fried venison in chocolate & grape sauce with a giant potato rosti. Followed by Toblerone, naturally.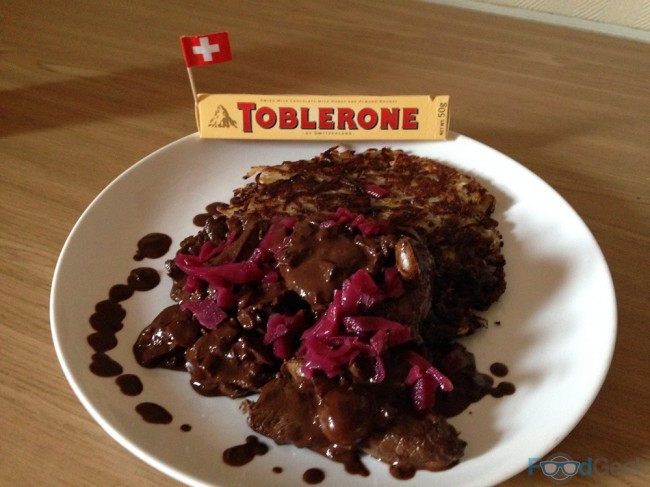 Spain
Spanish Tapas: Including spinach tortilla, smashed chickpeas, serrano wrapped asparagus, stuffed peppers & aioli.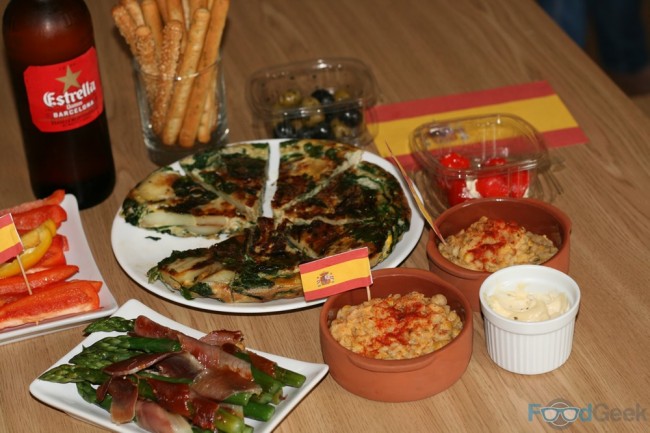 USA
Burgers: Home made beef patties, cooked medium rare; topped with onions, cheese, mustard, ketchup & pickles in a brioche bun.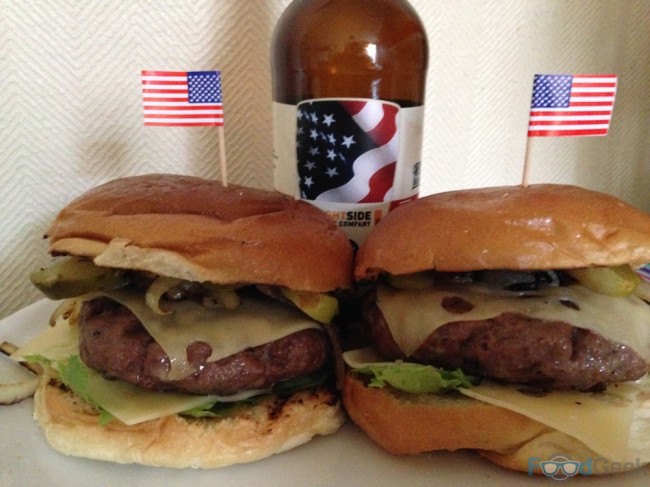 Uruguay
Chivito: The national dish of Uruguay, essentially a giant steak sandwich filled with boiled eggs, salad and mayo. Served with a spicy Uruguayan bean salad.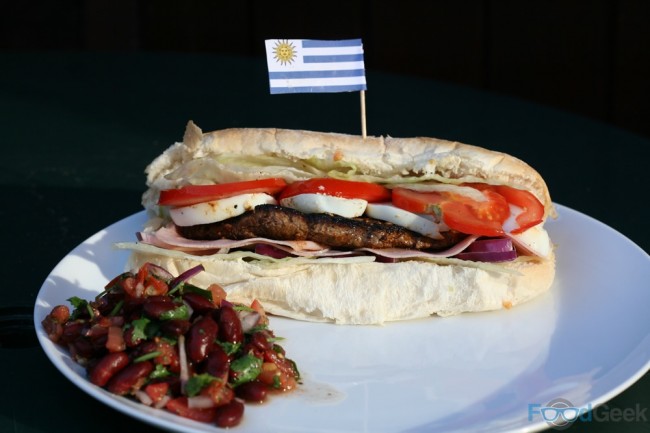 Phew!
I'm impressed with myself for sticking with it and doing all 32. I've enjoyed eating pretty much all of the dishes, favourites include the Iranian vegetable stew, Dutch Wentelteefjes and Ecuadorian Llapingauchos. I'll definitely be making many of them again.