It's fair to say i'm not a particularly green-fingered person, my attempts at gardening basically amounts to trying (and usually failing) to keep potted herbs alive for longer than a week. So when I was invited to a 'Summer Evening' at Woodford Park Garden Centre I must admit I wasn't particularly interested at first.
However,  they got my attention with talk that they take food seriously at their restaurant 'The Farmhouse Kitchen'. According to their website the food is 'homemade, using fresh locally sourced ingredients', so I decided to give them a chance and made the drive to Woodford, Stockport, the most southerly point of Greater Manchester.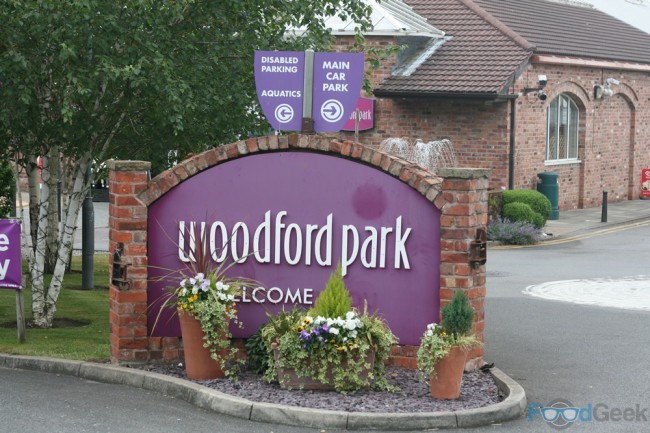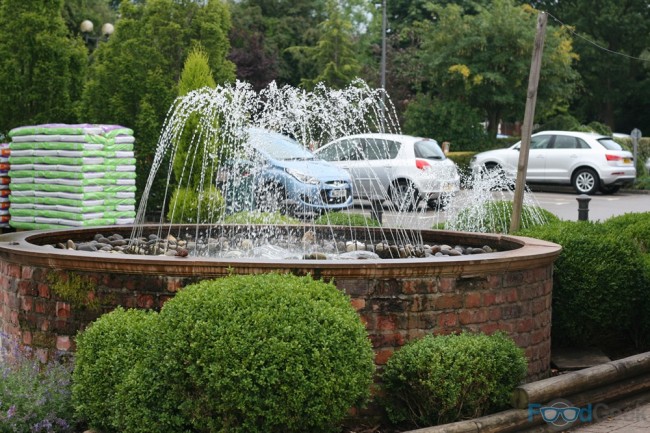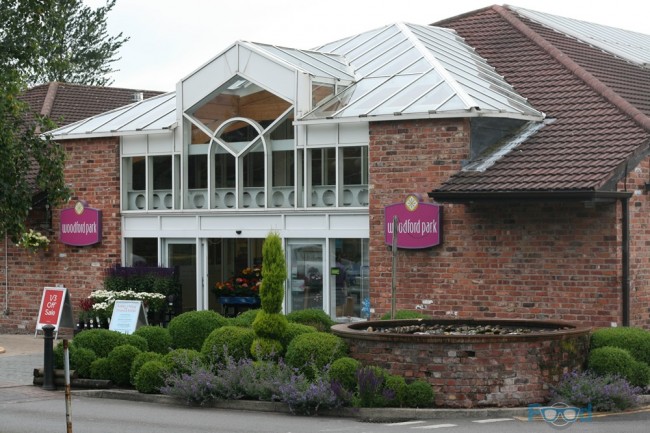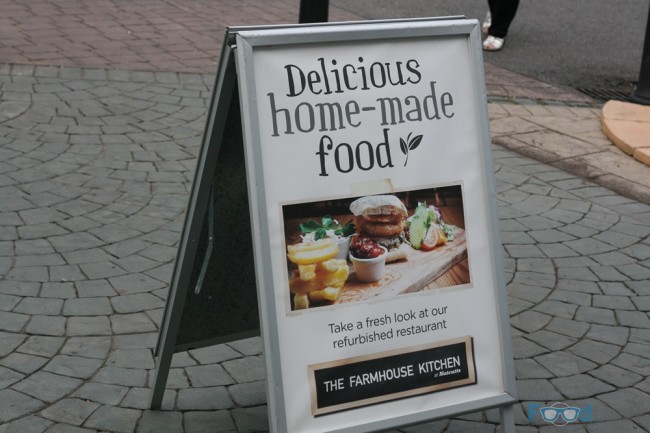 It was my first time in Woodford, it looks like a lovely area surrounded by beautiful countryside. I'd never eaten in a garden centre before either so I'm not sure what I was expecting, probably some sort of cheap cafe. The Farmhouse Kitchen is anything but; it's smartly decorated with a rustic charm both outside and in.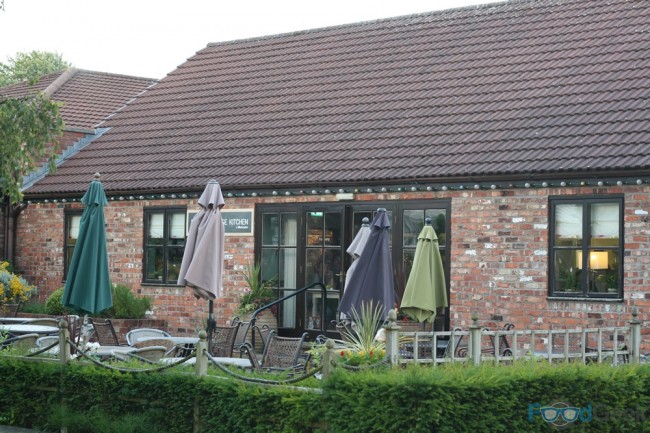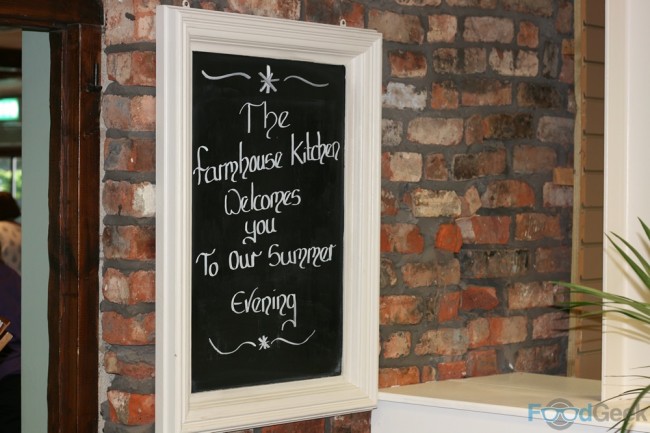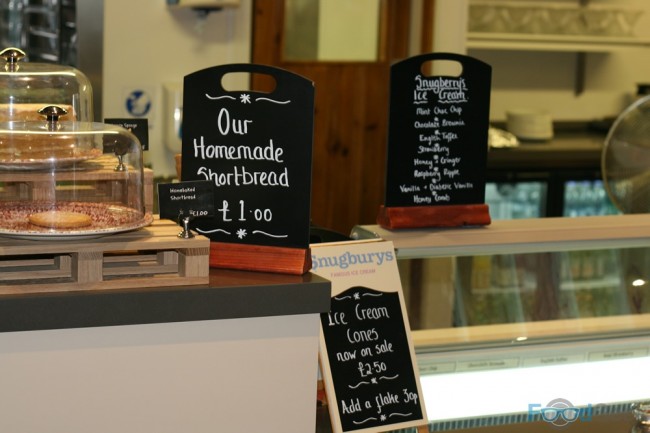 We were seated in the light and spacious dining room and served a complimentary glass of Cava as part of the 'Summer Evening' menu.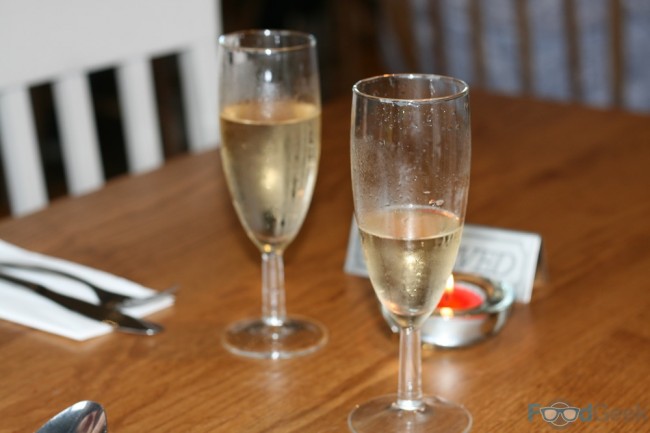 Food options were limited to a choice of four main courses, fairly simple options including 'Steak & Ale Pie', 'Fish & Chips' and even 'Gammon Steak topped with a Fried Egg & Gammon' which I've not seen on a menu for at least 20 years. I opted for the 'Homemade Steak Burger'.
It arrived looking rather impressive topped with 3 giant onion rings besides a stack of inviting looking chips. Those onion rings didn't just look good, they were fantastic and put several city centre restaurants to shame. The batter was perfectly light and wonderfully crisp, as were the chips. The burger itself was cooked medium which was a shame but to be expected given the location but it was compensated for by lashings of melted Monterey Jack cheese and caramelised onions. The only thing I didn't particularly like was the homemade chutney on the side which was far too sweet for my taste, otherwise it was a great burger.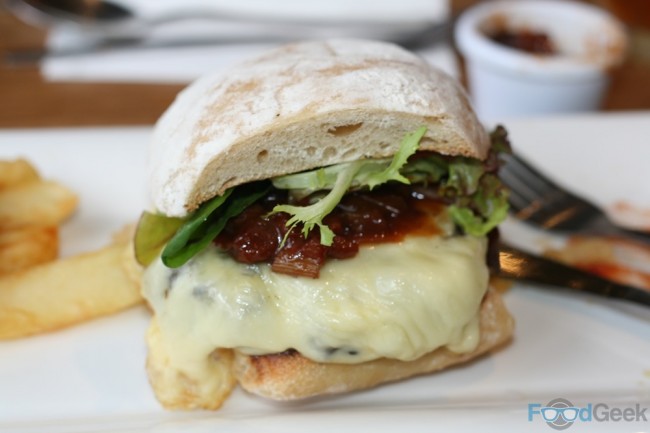 Mrs Food Geek went for 'Fish & Chips', when it arrived I was worried that the fish was undercooked as it lacked a little colour but I was wrong. Just like the onion rings the batter was as light as a feather yet supremely crispy, almost like a tempura batter. It was genuinely impressive and tasted great too. Served with more of those really rather good chips, mushy peas, bread & butter and an excellent home made tartar sauce. Being overly critical, I'd have liked a few more peas but really it was as good a fish & chips as i've had for years.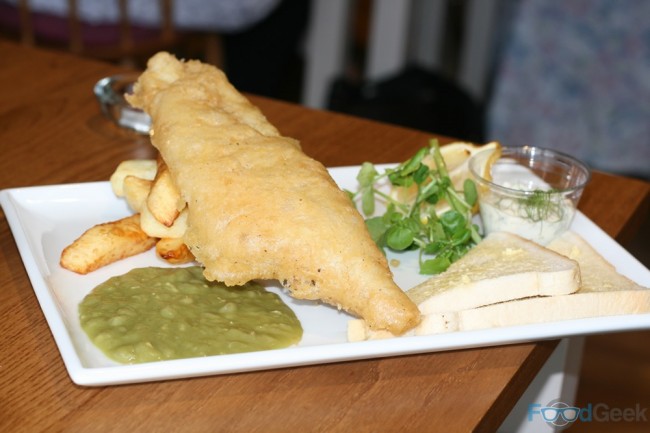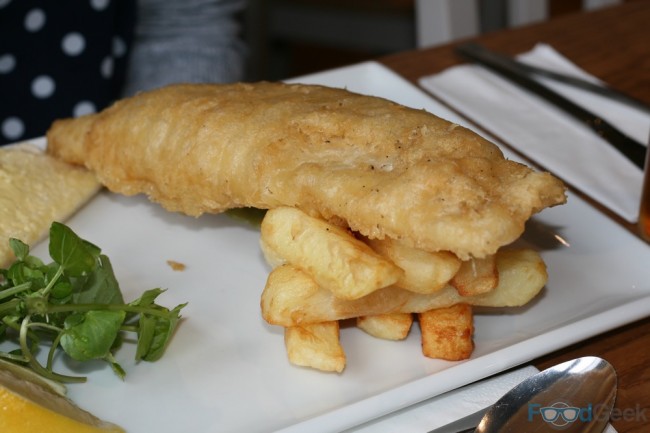 Dessert was a 'Sharing Platter' consisting of; Fruit Pavlova, Chocolate Tart & Cabinet Pudding. I particularly enjoyed the rich, indulgent chocolate tart while the light fruit pavlova was perfectly suited to a Summer evening. I felt the Cabinet Pudding – a traditional steamed pudding with fruit and custard – was a little heavy for the occasion, possibly more suited to the colder months, but I enjoyed eating it all the same.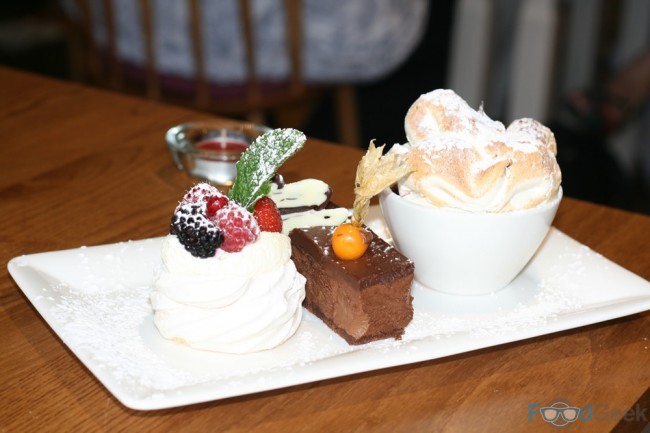 We were more than a little full after eating so took the opportunity to walk around the beautiful grounds outside.
Overall I was surprised how much I enjoyed Woodford Park in general but particularly The Farmhouse Kitchen. The food is simple but it's well executed using good quality ingredients, at £10 for 2 courses and a glass of Cava it's unbelievably good value. The table service was friendly and efficient throughout and food was coming out of the kitchen quickly despite a full dining room.
I can't claim to be an authority on garden centres but I was impressed with what I saw, not only the range of gardening products but there's a variety of homeware, gifts and books available too including a large selection of cookbooks.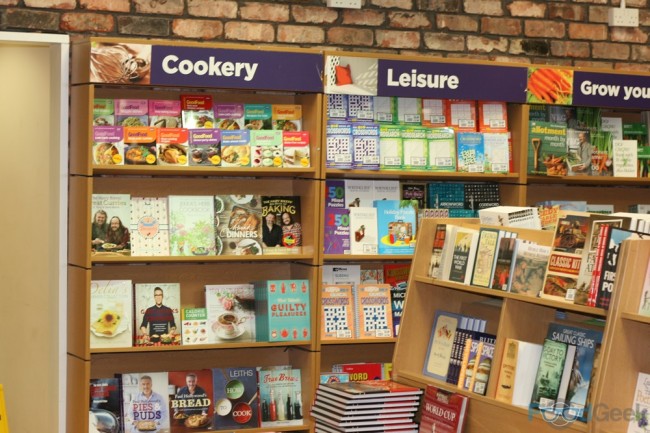 Date of visit: 03.07.2014
Disclaimer: I was invited to The Farmhouse Kitchen and not asked to pay for my food. As ever this does not guarantee a positive review, I genuinely enjoyed my time at Woodford Park and have already made plans to return where I will happily pay to eat.