I've really enjoyed the surge in Manchester's street food scene lately but on a recent London trip I realised it's still got a long way to go. After spending the day eating my way through a variety of the capital's street food offerings I was genuinely surprised at how good it was. Starting with Borough Market, London's most renowned food market where passionate street food vendors offer a wide range of cuisines and dishes from Ethiopian to roast chicken alongside sellers of some of the best produce around.
Followed by a trip to Maltby Street Market, a street market located under the railway arches in Bermondsey, a south-east London backwater. It's the opposite of the more mainstream Borough Market in terms of size and scale, it felt like a grass roots market in comparison but that same quality and passion was evident.
It was the evening where I had the most fun though, at an old warehouse and builders yard in Dalston near Hackney, north-east London.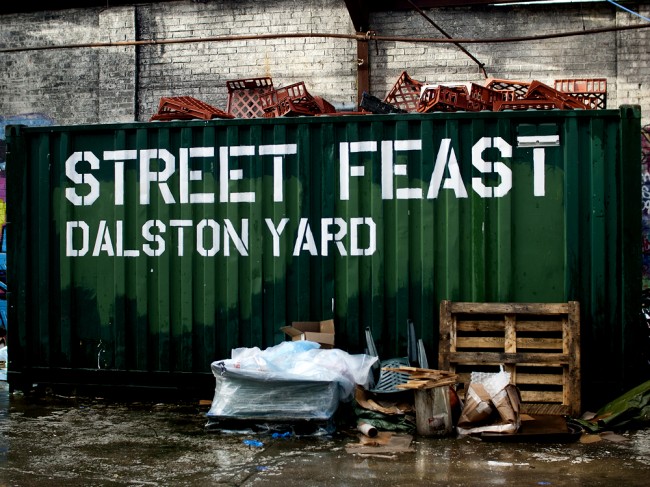 Street Feast is a night food market, they've been around for a couple of years and have held events in all sorts of venues across London from car parks and breweries to warehouses and old tube stations. The event I attended at Dalston Yard is semi-permanent, held on 20 consecutive weekends each year. They bring together some of London's best street food vendors & chefs, much like Manchester's own Friday Food Fight. In fact, i'd be amazed if B.Eat Street hadn't been heavily inspired by Street Feast, particularly it's latest 'Up In Your Grill' guise as the similarities are obvious in everything from the opening times to the look  and style of the venue.
One major difference between Street Feast and B.Eat Street is that as well as a rotating line up of street food traders a couple have their own 'Mini Diners'; branded, seated areas which even have table service!
It was at one of them that I started. 'B.O.B's Lobster Shack', an authentic looking New England USA style crab shack complete with fishing artefacts and plastic table covers.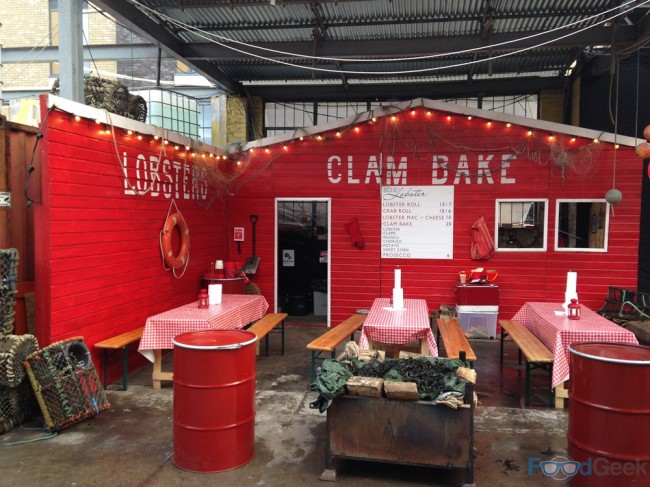 I'd seen B.O.B's Lobster in his VW camper van on various TV shows and always wanted to try their food so was happy to find them here. Unfortunately they weren't serving the dish I really wanted to try, their Ahi-tuna tacos look stunning but are only available from the van.
I happily settled for both a Lobster Roll & Crab Roll instead, opting for the 'mini' versions to leave room for more eating. They were both fantastic, the brioche bun lightly toasted to give a slightly crisp outside but a lovely soft interior. The lobster itself was obviously high quality and perfectly cooked, there was a lot of it too, though the roll was small it was packed with meat. I loved the light mayo dressing and touch of dill, with a good squeeze of lemon to cut through the sweetness it was a delight.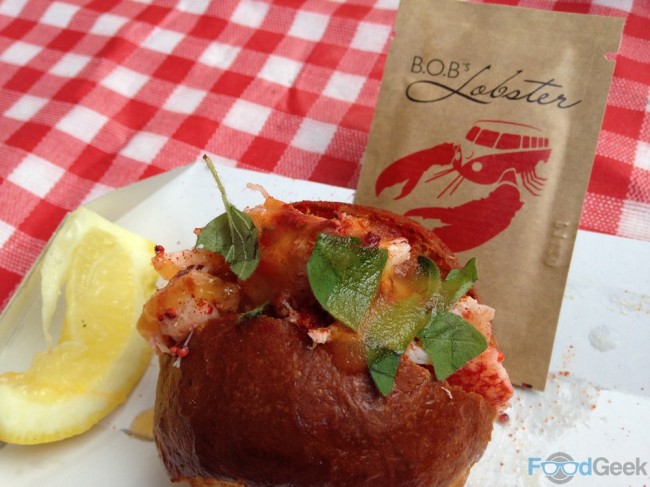 The 'Crab Roll' was similarly excellent with an equally generous amount of quality Dorset crab  mixed with a light homemade lemon aioli. I really enjoyed everything about B.O.B's Lobster shack, the table service made a nice change, my only regret is not ordering the Lobster Mac 'N' Cheese.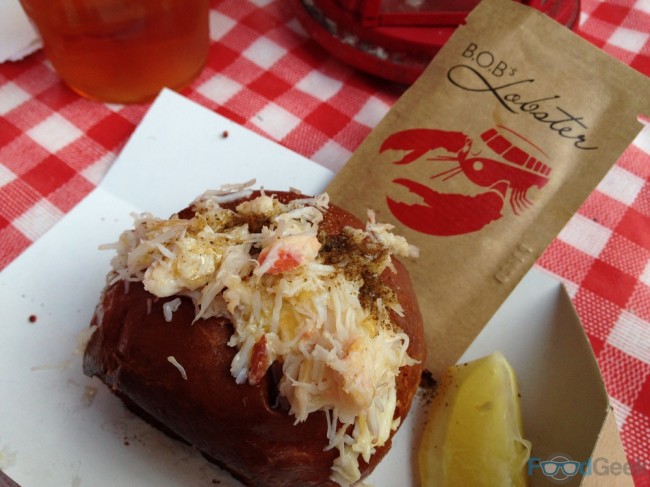 Next up was another vendor i'd heard a lot about, Pizza Pilgrims. Like B.O.B's, they also have their own seating area, a mini pizzeria complete with wood fire oven. I've been a bit obsessed with pizza lately, particularly Neapolitan style so Pizza Pilgrims should be the place for me. Brothers Thom and James Elliot started their first stall after making a pilgrimage to Italy in search of a pizza oven and learning the art of pizza-making from a chef in Naples. They also source their flour from a Naples mill.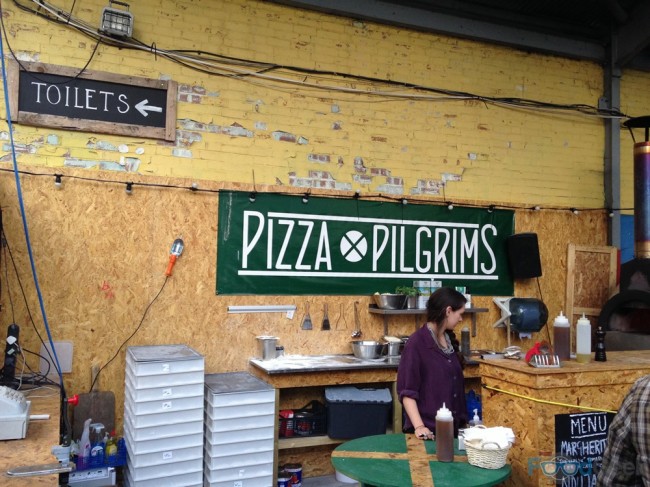 Since I've loved both Streatza and Honest Crust in Manchester which are similar I was hopeful these would be at least as good. It turned out they were even better and pretty much blew me away.
The bases were just stunning, so light with just the right amount of bite and an incredible flavour which is often missing. There wasn't too much tomato sauce or cheese which I often find – it would be crazy to when the base is so good – but what there was tasted amazing. It really was a lesson in the art of simplicity. Both pizzas are right up there with the best i've had for years, although I felt the nduja could've been a touch spicier, perhaps they tone it down for Southerners? At £5 for the Margherita and £6 for the Nduja they really are amazingly good value too.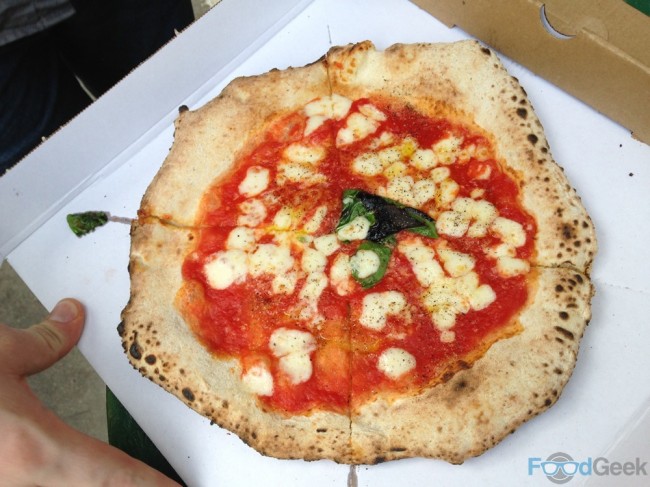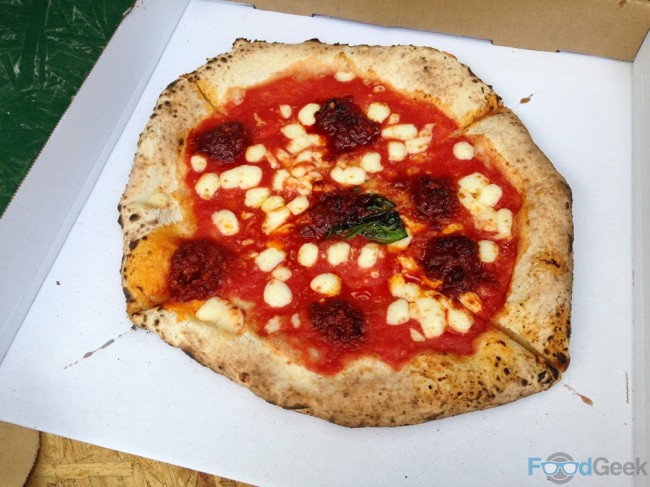 Despite the more interesting offerings I couldn't visit a street food event like this and not have a burger. Particularly not when it's a Bleecker St. Burger, another famous street food vendor that I've read a lot about. Like all great street food it started purely because of a passion for food. The owner  gave up his job as a corporate lawyer in New York to follow his dream and cook burgers from a tiny truck in London. They're very much American style, influenced from his time in New York and Bleecker St is even named after an iconic Manhatten street. I knew we'd get on well as soon as I saw the sign promising that the burgers are served medium rare.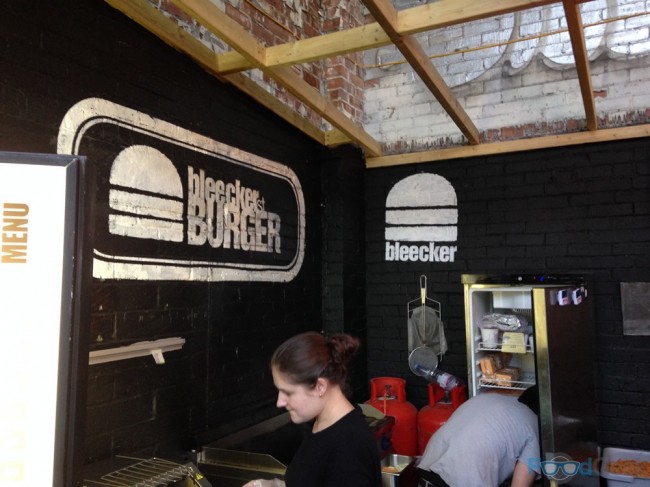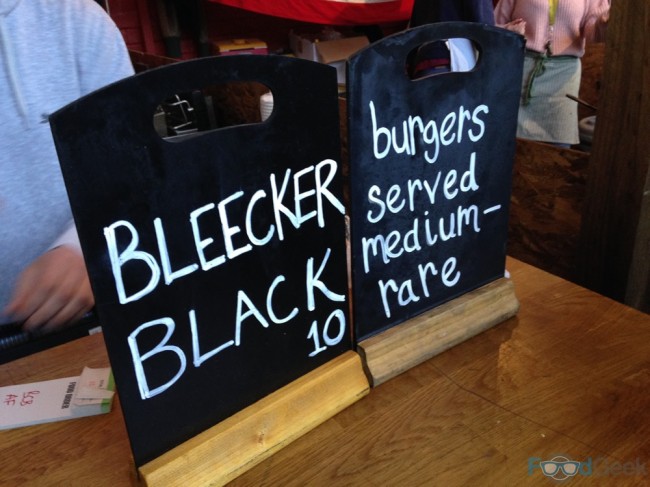 I went for the 'Bacon Cheeseburger' and it was brilliant, from the light, slightly sweet bun to the flavoursome meat which was indeed cooked a lovely pink, medium rare. A burger is such a simple thing but when done well, with quality ingredients it's a beautiful thing and that's exactly what this was. A beefy, juicy, cheesy delight.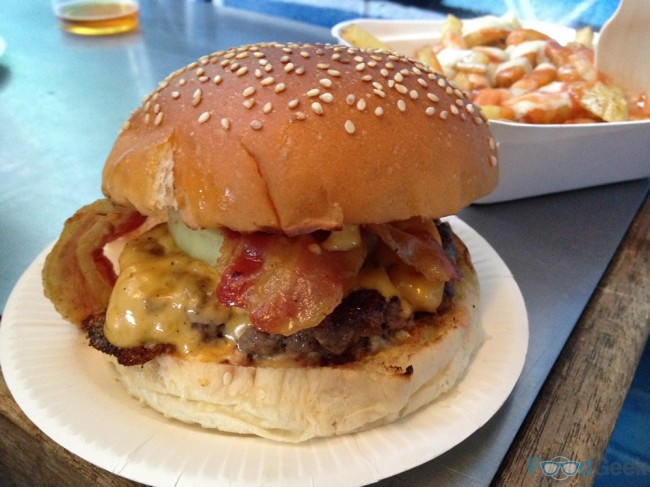 The 'Angry Fries' were also great; crisp hand cut, skin on fries smothered in melted blue cheese and doused in buffalo hot sauce!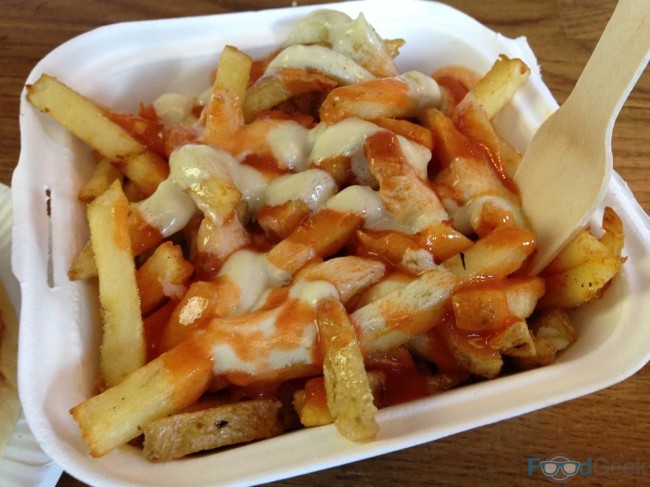 There were so many amazing looking vendors i'd never heard of too, one of the most interesting was Rola Wala who promise 'twisted Indian street food'.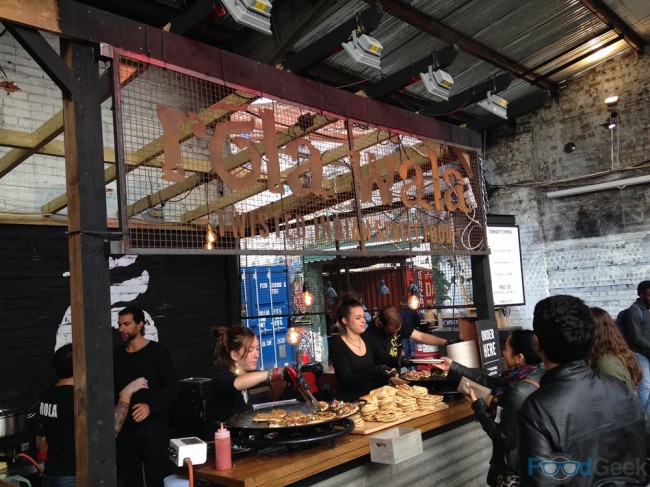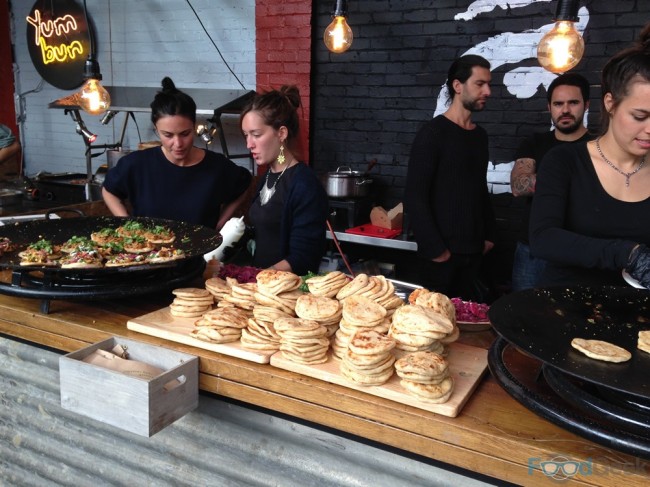 Their 'Naan Sliders' were a bargain at £3.50 each or £9 for the trio of 'Chicken Tikka', 'Beetroot Channa Dal' and 'Goan Pulled Pork'. Each topped with a variety of chutneys, pickles and herbs. They were packed with interesting and unusual textures and flavour combinations. The beetroot and paneer dal was so good, topped with a sweet yet sharp fresh mint, lime & pineapple chutney.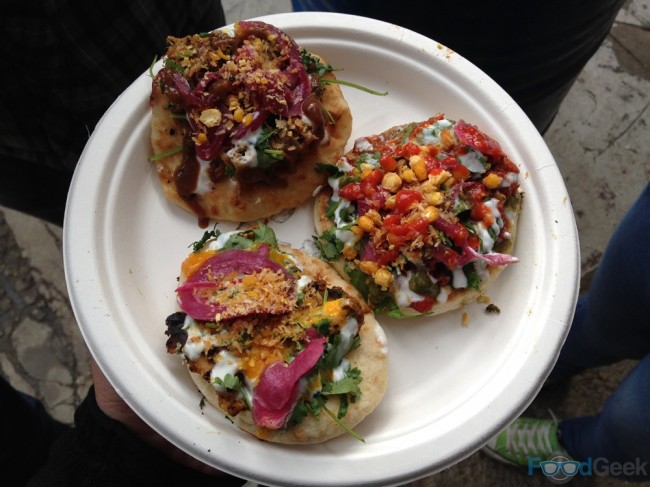 I was incredibly full by this point but had been eyeing up another interesting looking vendor 'Yum Bun' who's simple menu consists of just 2 types of steamed hirata bun.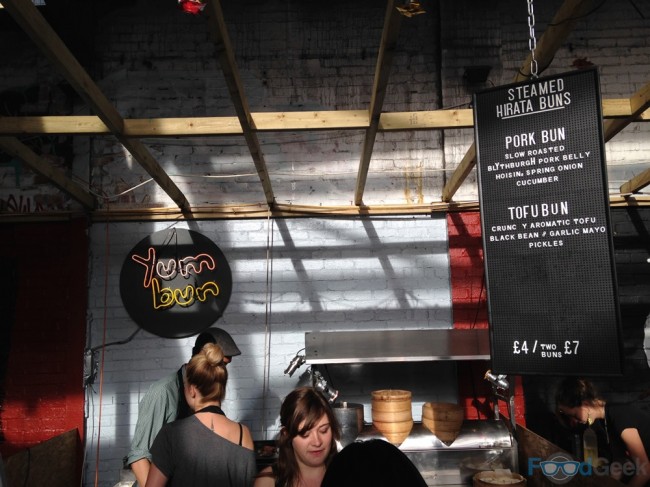 I chose the 'Pork Bun' and it turned out to be one of the best things I ate all weekend. A soft steamed bun filled with succulent, slightly fatty pork belly topped with crunchy spring onion and cucumber is already a great thing, improved further still when smothered with the greatest condiment on earth Sriracha. As with almost everything at Street Feast these were excellent value at £4, with the option of 2 for £7, though I was sadly unable to take advantage of that.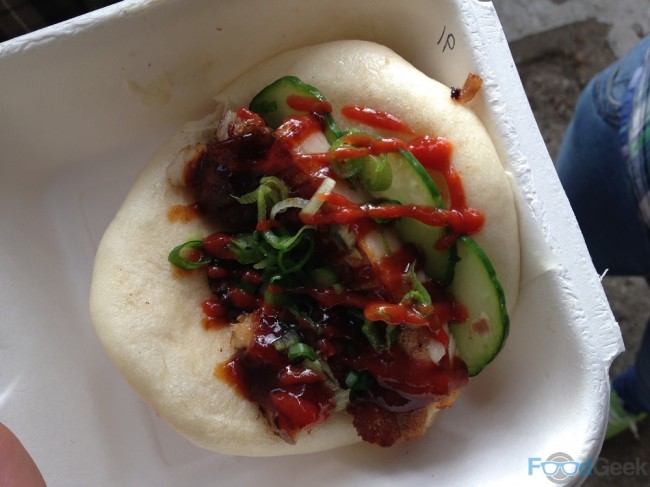 I had a fabulous time at Street Feast, the venue is great, it has a unique, very cool look and the mini diners are an interesting idea to bridge the gap between street food and slightly more formal eating. I liked the fact that almost all of the stalls are genuine street food vendors rather than restaurants, although a couple such as Pizza Pilgrims now have permanent physical locations they started off as proper street food.
I was impressed with the bar too which as well as giant cocktails had a number of local beers including a particular favourite of mine Meantine London Pale Ale, at £4.50 a pint you're unlikely to find much better anywhere in London for less. Given how many great local breweries we have it would be great to see B.Eat Street doing this in Manchester instead of offering the same overpriced, average, mainstream American beers dressed up as 'craft beer' that are available all over the city.
I definitely need to return to Street Feast soon as there's still so much left for me to try, not only the many street food vendors I wasn't able to sample but I also stumbled upon an intriguing looking 'Secret Gin Garden' just as I had to leave. Besides the great food and venue the thing that impressed me the most was that the stall holders all seemed so upbeat, passionate and genuinely happy to be sharing their love of food, which is exactly what street food should be about.
Date of visit: 24.05.2014