It's no secret that i'm a huge fan of SoLita in Manchester's Northern Quarter. As somebody who loves to try new places there aren't many restaurants I revisit regularly but thanks to Foursquare I know I've been to SoLita at least 21 times so far this year. Possibly bordering on obsessive?
For fear of boring you all to death and looking like i'm on the payroll I stopped writing up every visit, the 15 posts dedicated to them already seemed sufficient! But it has been a couple of months since the last one and there have been some rather interesting creations recently so it seemed about time for another.
Starting with possibly my all time favourite SoLita burger.
The UK's First 'Ramen Burger'
Originally invented by chef/blogger Keizo Shimamoto in New York where people queued for hours to get there hands on one. Thankfully SoLita don Franco Sotgiu saved us a trip across the pond and a huge queue (though SoLita does get busy at times) by being the first restaurant in the UK to offer the Ramen Burger.
I've been a bit obsessed with Japanese food recently but was far from convinced by this concept, until I tasted it. Ramen noodles are cooked and formed into 'bun' shapes which are used to replace the bread! Between them is a 6oz patty, spring onions and a delicious spicy, sweet yet savoury sauce made from mirin, soy and my favourite condiment Sriracha.
It's difficult to explain why I liked it so much as I was convinced i'd find it gimmicky but I genuinely loved it. I felt the noodles really worked, the actual flavour of them was subtle but I preferred the texture to bread, it seemed to make the appear patty beefier. Combined with the amazing flavour of the sauce it was a stunning burger.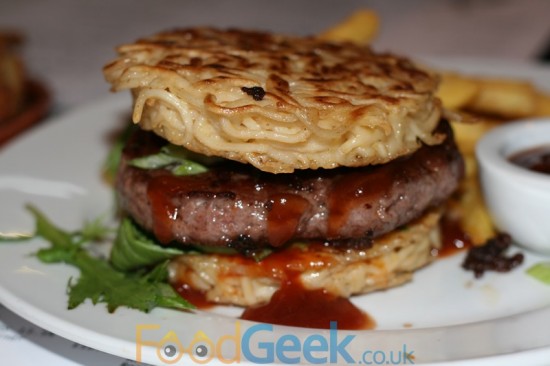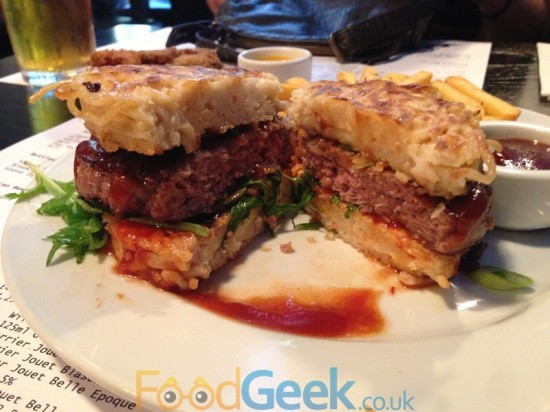 The '#Burger'
Another special burger followed, the '#Burger' cleverly named as it features corned beef hash. It's release was perfectly timed for the colder weather, I had mine on a typical cold, dark and wet Manchester day. The hash itself was excellent, made with corned beef cured in house. Sitting on a brioche bun base, 6oz beef patty and topped with a fried egg and as all corned beef should be, red cabbage. The homemade brown sauce on the side was a highlight too, better than HP.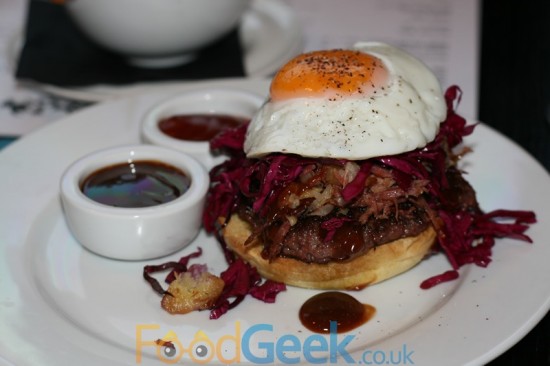 'The Tony Soprano'
To commemorate the death of Soprano's legend James Gandolfini, SoLita renamed their recently released 'Little Italy' burger to the 'Tony Soprano'. Containing their regular 6oz patty, fontina cheese, zucchini fries, panko fried mortadella and roasted pepper marinara sauce. It was big and messy but a wonderful taste of Italy. A great burger and a fitting tribute to a great man. I've no doubt Tony himself would have loved it.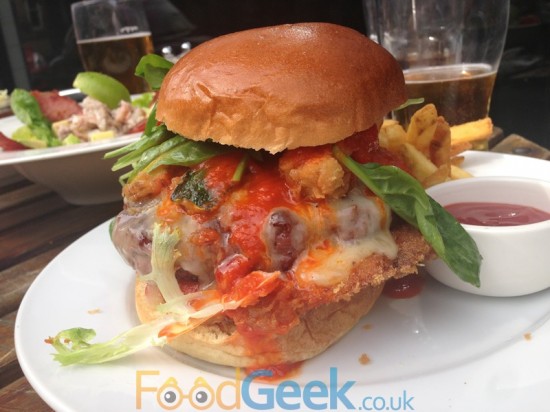 Star Spangled Burger
They don't need much of an excuse to come up with a special burger at SoLita and Independence Day seemed as good as any. The 'Star Spangled Burger', available for one day only on the 4th July somewhat disappointingly didn't come with a sparkler, but did contain; slow cooked beef brisket chilli (RED), sour cream (WHITE) and blue corn tortilla chips (BLUE) topped with monterey jack cheese. Of course the ingredients were chosen for their colours but they also worked brilliantly together. Nice heat from the chilli, cooled by the sour cream and a lovely crunchy texture coming from the tortilla chips.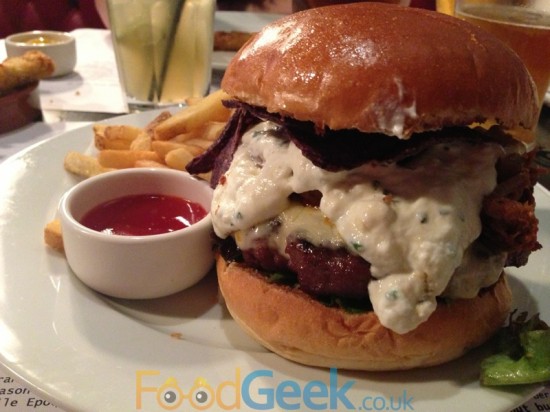 Bacon Double Cheeseburger
One burger that started off as a special but due to popular demand has made it's way onto the regular menu is the Bacon Double Cheeseburger. A 6oz chuck steak patty topped with 4oz monterey jack cheese and a generous amount of crispy bacon. All held together with a slice of bacon candy!
Even with the bacon candy it's a fairly simple creation by SoLita standards but that doesn't make it any less enjoyable. As a huge bacon fan the combination of juicy beef patty, crispy bacon and lashings of melted cheese was heaven.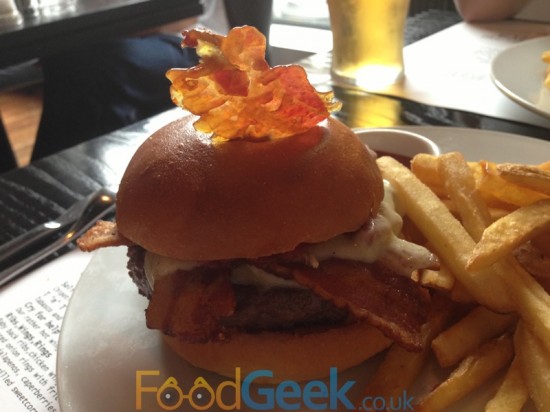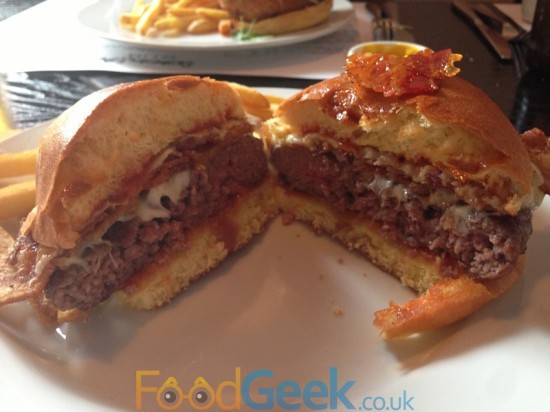 The 'Special SoLita 'V' Burger'
They even managed to find time to make a special for the vegetarians, the 'Special SoLita 'V' Burger' replaced the beef patty with a Panko fried portobello mushroom, stuffed with Lancashire cheese & garlic butter and topped with watercress.
I'm not going to lie and say I didn't miss the meat but it did taste good and should keep the veggies happy!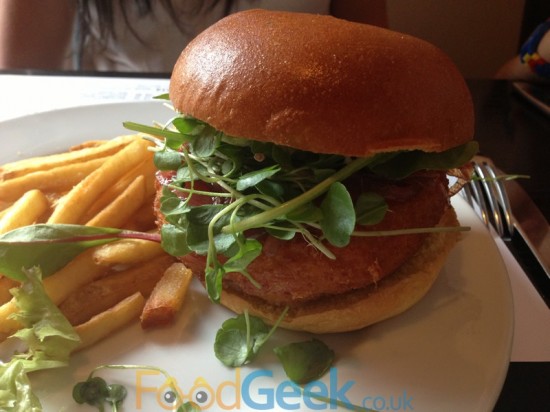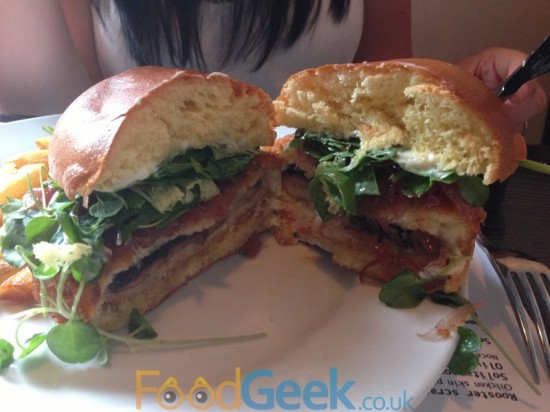 Crab, Bacon & Avocado Salad
Even more unlikely than a veggie burger special was a salad. I got to try the first version before it went on sale, the presentation was refined by the time that happened but it didn't need anything changing flavour wise. The 'Crab, Bacon & Avocado Salad' was brilliant, a generous amount of shredded crab meat with crunchy bacon and delicious, creamy avocado with a squeeze of lime. Perfect for the summer months though apparently it didn't last very long due to low sales, shame on you Manchester!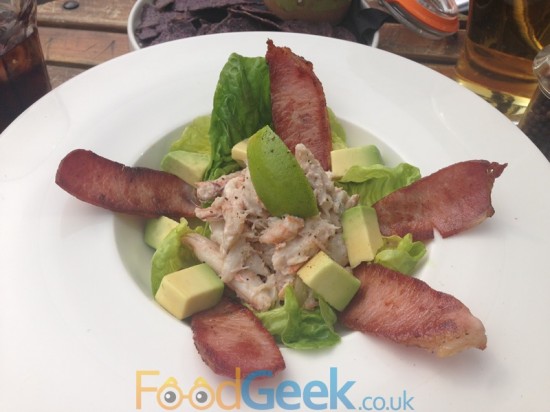 SoLita Onion
The oddly impressive looking 'SoLita Onion' is a whole onion 'flowered' open with a machine costing around £400+. It  tasted really good, like a light and crispy giant onion ring and i'm sure they've sold enough to recoup the investment by now.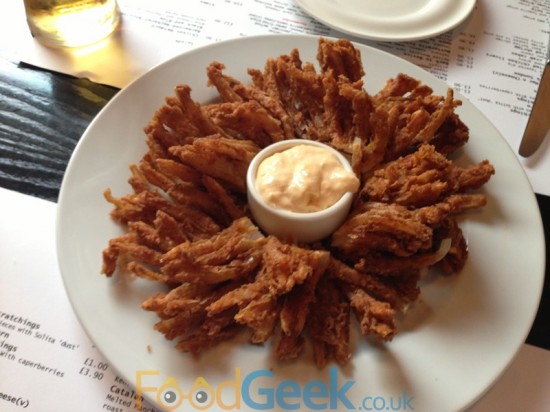 A final point worthy of mention is that they've really upped their game when it comes to cocktails recently. I'd been slightly underwhelmed by most that i'd had previously other than the fabulous Aperol Spritz when SoLita were amongst the first to introduce them to Manchester. But since the brilliant Blue Margarita on 'Breaking Bad' night i've had several others including classic and passion fruit versions which have been fantastic. There's a new cocktail menu coming soon which I can't wait to see.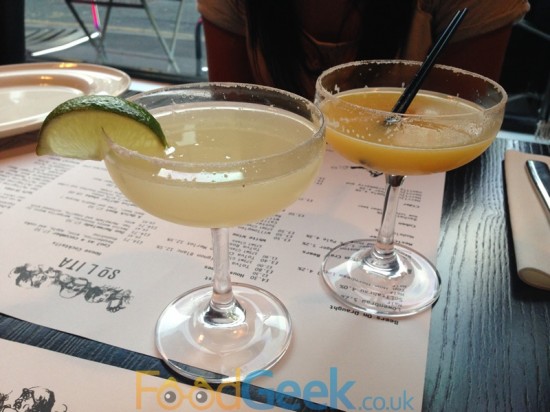 Unfortunately, being specials most of the above are not available anymore, but the current special is the 'Mac Daddy' with the bun replaced by deep fried Mac & Cheese this time!
There's also talk of a previous special that turned into something of a craze returning soon, The Parmo! Don't worry if you don't know what a Parmo is, I didn't either but went to the trouble of not only eating one for you but finding out exactly what they are. Read WTF Is A Parmo Anyway? to see for yourself!