That's the question I found myself asking a few weeks ago when Parmo talk first infiltrated my Twitter feed. Initially from @LoveParmo, whom I've no idea how or why I was following (though I'm glad I do!) and then from my friends SoLita who went on to create their own version.
I thought I must've been living on another planet as I was the last to hear of this great craze but it turns out they're not that common outside of the North East, until now anyway.
They're apparently a Teesside institution, but the closest I've ever got to Middlesbrough is Sunderland, and I don't recall any Parmo talk last time I was there.
From what I could gather from various tweets it's some sort of flattened deep fried meat (chicken, pork and veal were all mentioned), covered in bechamel sauce and melted cheese. People seemed to be getting them from dodgy takeaways after several pints in the pub, basically it's the North East equivalent of the kebab, I think.
Needing further clarification, I headed to the place you go for hard facts. WikiPedia of course, here's what they say:
Parmo or Parmesan, a breaded cutlet dish originating in Middlesbrough, is popular in the north east of England, North Yorkshire and especially in the Teesside area, Stockton-on-Tees, Hartlepool and Darlington. Similar to a Schnitzel, it typically consists of deep-fried chicken in bread crumbs topped with a white béchamel sauce and cheese. Variations use pork or, less commonly, a vegetarian style.
So my cobbled together description was actually pretty accurate and I liked what I was hearing, I wanted one but had no plans to visit Teesside.
Thankfully SoLita were on the case and recently started serving their own Parmo. But typically for them, it isn't conventional. More refined than the pictures I've seen of parmos served in pizza boxes, and controversially, it's topped with meatballs and marinara sauce and served in a brioche bun!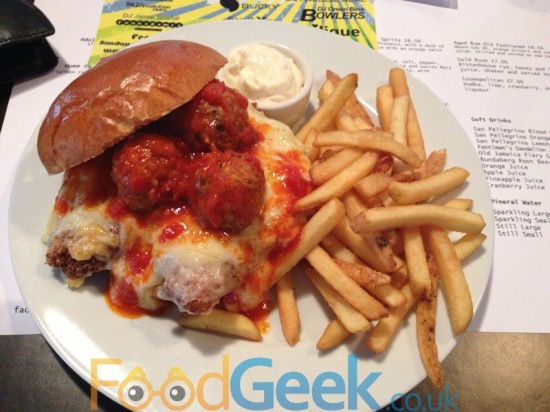 It had been on sale for a while and I'd not had chance to visit yet, the suspense was killing me and seeing pictures of other people tucking into their parmos was torture. So today, after an enjoyable three-course meal at The Albert Square Chop House I headed over to SoLita to finally get my hands on one.
Believe it or not the photo above is the 'Mini Parmo', which is available as part of the lunch menu, the full-size version contains a much larger chicken breast and more meatballs. Obviously if I'd not been stuffed already I'd have gone for the full size one but this was perfect opportunity to get my Parmo fix.
Mrs FoodGeek couldn't manage a single bite, I wasn't at all hungry, but it was so good I just couldn't help myself. It was gone in minutes, you'd think I'd not eaten all day.
The chicken breast is fried in a mixture of parmesan and panko breadcrumbs and was wonderfully moist inside with a great crunch. But it's the bechamel sauce and melted cheese that make it so good.
Of course, I've never tried the original but I love the addition of meatballs and the marinara sauce gives it a chicken Parmigiana vibe. The homemade garlic mayo on the side is incredibly good too.
It's just a brilliant combination of comforting flavours, I can see why it's so popular.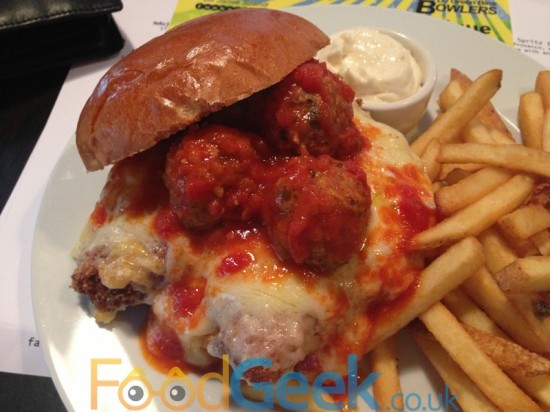 It's not posh – not unless you're comparing it to the original takeaway version anyway – it's certainly not healthy, but it is bloody gorgeous. I don't recommend after a big three-course meal though.
 Date Of Visit: 01.05.2013