They say "there's no such thing as a free lunch" (i've no idea who 'they' are, but they do) but when you have a food blog and it starts attracting more attention that's not strictly true. Over the last couple of years I've received many offers of 'free' meals but until recently always turned them down. Often because they're from places I'm not interested in eating at but primarily out of principle to preserve the integrity of my reviews. However, recently my stance has changed somewhat as I realised that I'm still able to give genuine and honest reviews regardless of whether I've paid for the meal or not. I decided that I would start accepting the occasional comped meal but only if they were from places I'd be likely to eat at anyway and on the strict understanding that I am able to write a 100% honest review.
When I was asked by Manchester Confidential if I'd be interested in visting The Albert Square Chop House in Manchester I was more than happy to accept as it's definitely the sort of place I'd visit on my own. They're an independent local business, located in a historic city building and use fresh, local ingredients. I've heard many positive reviews about their two older restaurants 'Sam's Chop House' & 'Mr Thomas's Chop House' too.
The Albert Square Chop House is located in the 150 year old, iconic, Memorial Hall building on Albert Square overlooking the town hall. It was apparently neglected for a decade but if that's the case they've done an excellent job restoring it. Managing to maintain it's Venetian Gothic charm whilst adding a modern post-industrial twist. There's a bar area upstairs with the main restaurant downstairs where we were seated in one of the comfortable booths with a great view of the open kitchen.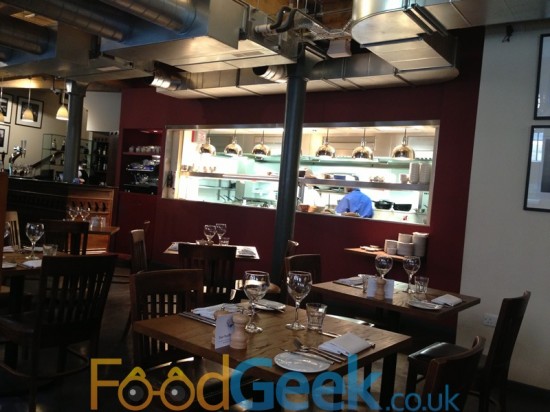 In many respects the fusion of traditional and modern decor is also reflected in the menus which offer classic British cooking with a modern twist and they claim that "We buy the best local ingredients from people we know who are real enthusiasts and mad about food".
There's a fixed price 'Market Menu' which appeared to be good value but we ate from the 'à la carte'. I was tempted by several of the starters, particularly the 'Ox Tongue' and 'Steak Tartare' but in the end went for 'Scallops & Slow-cooked Belly Pork', two of my favourite ingredients in one dish is difficult to resist.
It arrived quickly, we'd barley tucked into the fresh bread with lovely salty butter that we'd just been given but my starter looked very pretty. Excellent quality scallops were cooked to perfection with a brilliant sear, the watercress flavour worked beautifully but I could have done with a lot more of it, particularly the smooth puree as the pork was a little dry.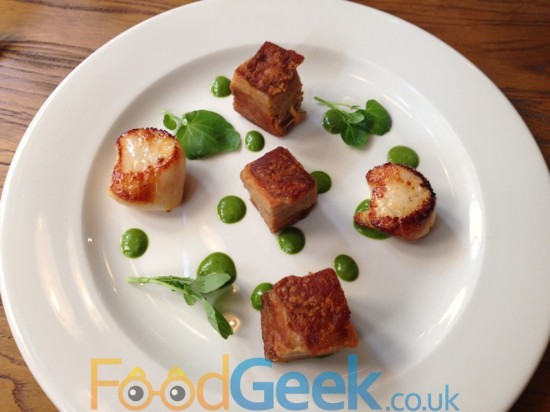 Mrs FoodGeek went for the 'Potted Mackerel' which was buttery and delicious. Served with a slice of fresh smoked mackerel, vibrant pickled cucumber and wholemeal toast it was simple but beautiful clean flavours. Our only complaint was that there wasn't  enough of the toast but thankfully it tasted good with the fresh bread rolls we hadn't finished eating yet.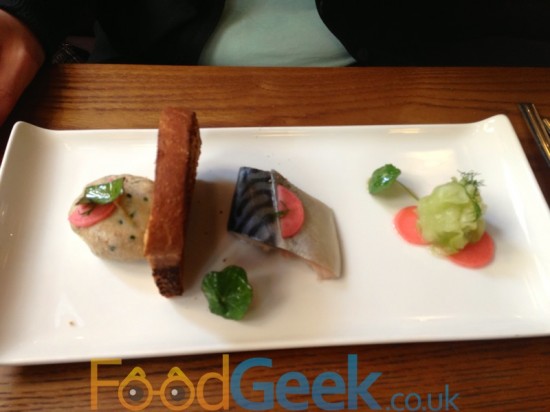 My main course of 'Grilled Halibut, Crispy Chicken Wings & Cockles' looked stunning and smelled gorgeous too. Everything was cooked really well; soft, flaky halibut flesh with a crispy skin, a rich creamy buttery sauce that was cut through by the freshness of the samphire and topped with a tasty and incredibly crispy chicken wing which was delicious and worked well. It was a real joy to eat. I do however take exception to a menu claiming plural of chicken wings when in fact there was only one.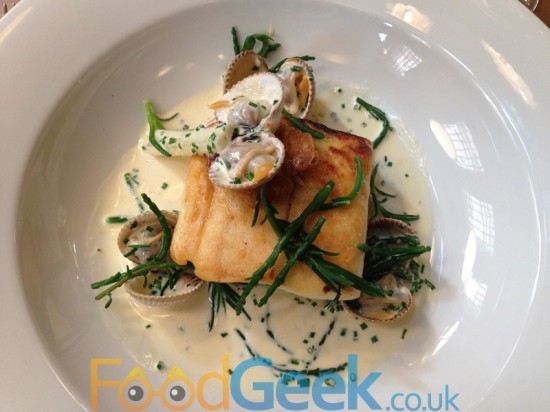 Mrs FG went for fish too, Roast Salmon which also looked pretty. The salmon had a nice crispy skin but disappointingly the flesh was slightly overcooked and had started to dry out. It wasn't enough to stop it being an enjoyable dish though, the crab on top and particularly the deep, rich sauce were packed full of flavour.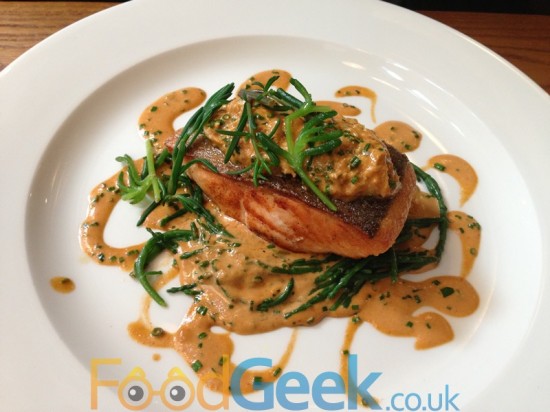 Sides of 'Mixed salad' and 'Savoy Cabbage with bacon' were also good. The salad light, zingy and fresh with a nice mix of tastes, textures and plenty of herbs whilst the cabbage and crispy bacon was drenched in butter. Not the healthiest way to eat cabbage but definitely one of the tastiest!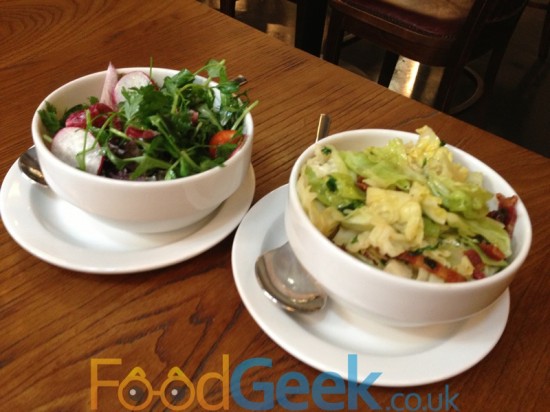 All of the desserts sounded great and I was torn between quite a few, especially the 'Raspberry Soufflé', 'Warm Chocolate Soup', 'Treacle Tart' & 'Warm Marmelade Sponge'. In the end the Soufflé won and I was confident I'd made the right decision as soon as it reached the table. It was perfectly risen, airy and fluffy inside with a sharp raspberry flavour. The rich fruity sauce on the side was excellent and the vanilla ice cream was good too.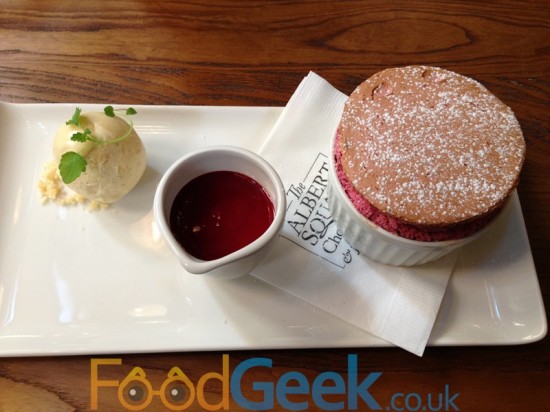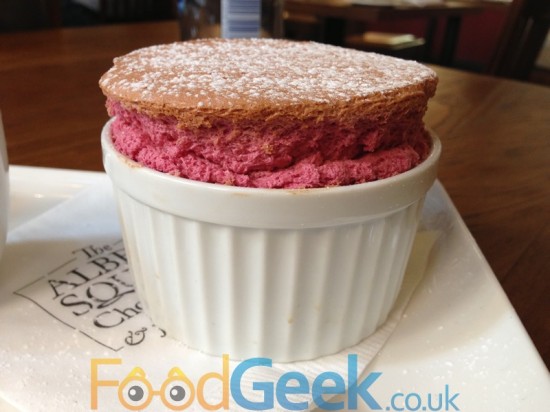 Despite me trying to influence Mrs FG to get the Treacle Tart she ordered the 'Lemon Curd Syllabub with Yorkshire Rhubarb'. She says because she loves rhubarb and was full so wanted something light but I know it's just because she finds the word syllabub hilarious.
It was a nice dessert though, light and fresh creamy syllabub with a perfect balance of sweetness and sharpness from the lemon curd and soft, sharp rhubarb. The candid lime zest on top added a necessary crunch.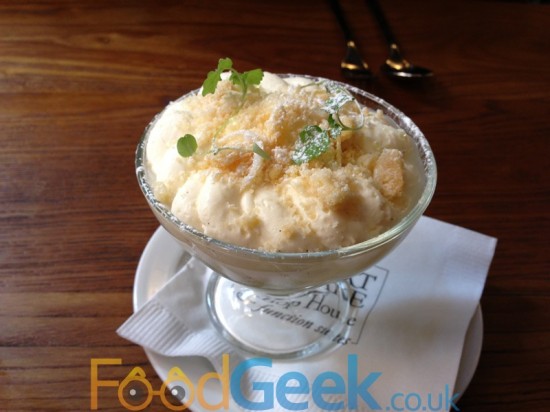 Other than a couple of minor criticisms everything we ate was enjoyable, some of it excellent. The visit was made even better by the staff though who were all great, particularly the sommelier who was fantastic. So enthusiastic, knowledgable and willing to go out of his way to help us. He selected 6 different wines for us and matched them perfectly to our dishes taking time to explain his choices and importantly ask us what we thought too. All of the wines he selected were really good and complimented our food well particularly the Maury dessert wine which was an immaculate match for my soufflé.
Overall we really enjoyed our time at The Albert Square Chop House, obviously I didn't pay for anything and they knew that they were being reviewed but from what I could see we were not treated differently from any of the other diners. When i've had a comped meal I always ask myself whether i'd have been happy to pay for it and whether I would be happy to return and the answer to both of those questions is a definite yes.
 Date Of Visit: 01.05.2013