Three weeks ago I'd never been to a supper club, having loved my first experience I couldn't wait for the second last Saturday. This time run by DineInOut, a dining club who organise events in restaurants and private homes. I'd been tempted by several of their previous events but was finally hooked by the cheekily titled 'On The Game' with The Drunken Butcher.
I'd been following The Drunken Butcher on Twitter for a while, despite his bio being a little scary ("I do things to pigs") he seemed like a great bloke. Iain Devine, as he's perhaps better known isn't actually a butcher but chose the name in tribute to a poem by William Bennett which I won't pretend to have heard of.
Armed with a couple of bottles of wine we arrived at Iain's  lovely house in Sale to be greeted by Tania from DineInOut dressed somewhat provocatively. I'm not generally somebody who pays much attention to what people are wearing but it was difficult not to notice the stripper-esque attire.  She quickly reminded us of the events name and informed us that she likes to dress according to the theme of each night. Quite a relief as when she answered the door I still had Iain's pig confession in my mind so was beginning to wonder what i'd got us into!
After enjoying a welcome cocktail of Bucks Fizz with Angostura bitters we took our seats in the dining room where I was impressed by Iain's collection of cookbooks. Probably one of the few people I know who has more than me and certainly a more eclectic selection.
The food quickly arrived starting with an amuse bouche of 'Venison Tartare' served with 'Gin & Cucumber Granita' and homemade crisps. All immaculately presented and tasted fantastic. The venison tartare in particular was sublime, top quality, tender and rich version delicately flavoured with gin & juniper and balanced beautifully by the sharpness of gherkins and cider vinegar. It looked so elegant  and tasted so refined it reminded me of fabulous tartare dishes I'd enjoyed at places like Northcote and The French. I often find I'm in the minority when begging for more but the whole table enjoyed a second helping of tartare.
The homemade crisps were the perfect accompaniment, made from super thin slices of Anya potatoes with the skin left on and beautifully seasoned they were delicious and extremely moreish. The granita was a lovely palate cleanser to finish on before the next course arrived.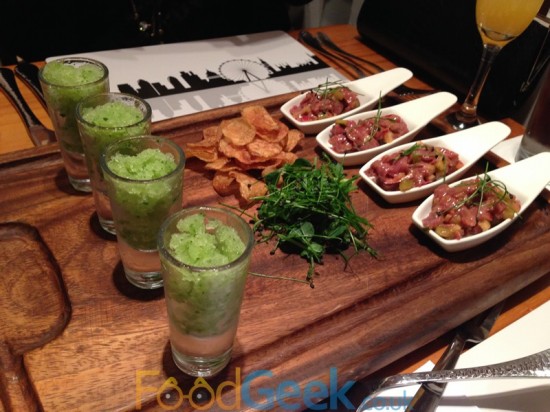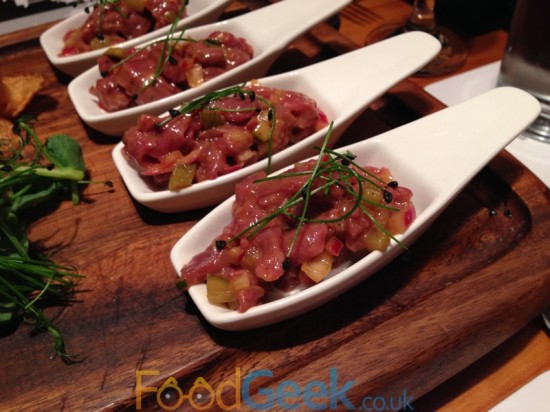 Another plate of meaty delights followed, 'Game Terrine & Deep Fried Rabbit with spicy mayo'. I'd been looking forward to the deep fried rabbit since first reading the menu and it didn't disappoint. The delightfully crispy exterior coating contrasted with the soft rabbit meat inside which had been confit with tarragon before being shredded. The spicy mayo on top was the perfect partner, in fact it was so good I would have liked it served in a pot on the side for dunking, something which the rest of the room agreed with.
The terrine was also excellent, made up of pork & cranberry with pieces of pheasant & wood pigeon and then wrapped in bacon! It was equally well paired with the sweet chutney.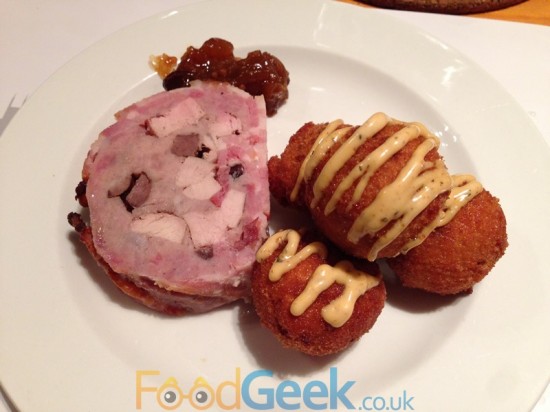 The main course of 'Game Pie, Roast Potatoes, Carrots with Cumin & Cabbage with Chestnuts' was a hefty plate of food. The pie itself was just incredible, packed with generous chunks of venison, rabbit and pheasant and topped with the most amazing suet crust. Most of the accompaniments were great too, I love carrot with cumin and the whole carrot had an intense cumin flavour, the sweet carrot puree sort of merged with the juices from the pie and extra gravy to make a rich, sweet, and delicious jus. I'm fairly proud of my own roast potatoes but these were pretty special, there aren't many restaurants in Manchester serving up roasties of this quality.
For me the cabbage was slightly overcooked but flavour wise it was perfect and was easily forgiven when everything else on the plate was so good. I was already pretty full and knew we still had dessert to come but couldn't resist an extra portion of the pie when offered, it tasted just as good the second time around.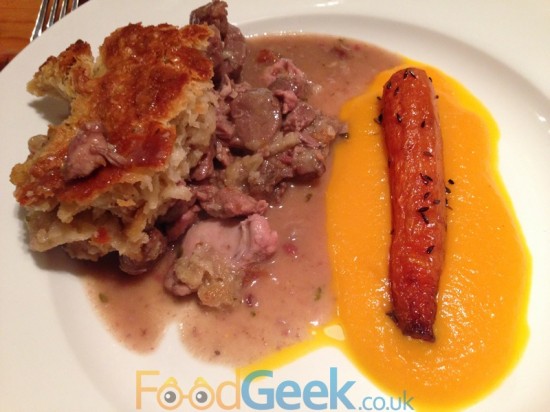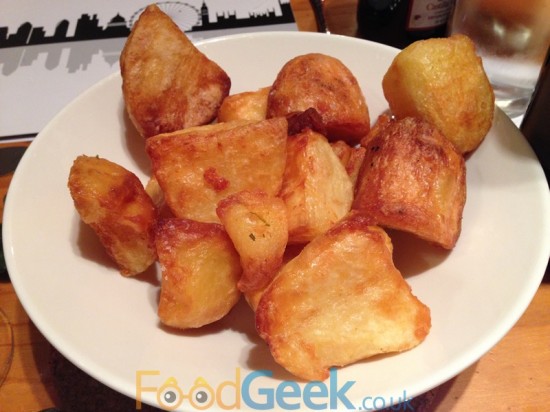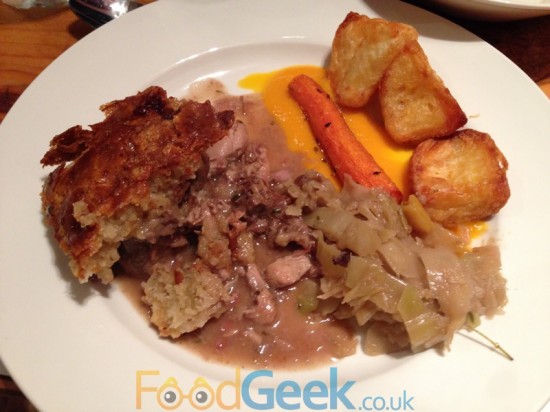 I have to admit when I first saw a cheesecake on the menu I was slightly underwhelmed. I do enjoy a cheesecake every now and again but it has to be a good one to get me excited. Thankfully this was a good one, a very good one. Being baked definitely helps, as does the base being thicker than many I've had recently. It was smooth, creamy and indulgent but it was the balance of flavours that made it really stand out, a combination of sweet, sharp and zingy all at the same time was genuinely exciting. Again I couldn't resist another portion when offered despite the high probability of it pushing me over the edge and into a fully blown food coma.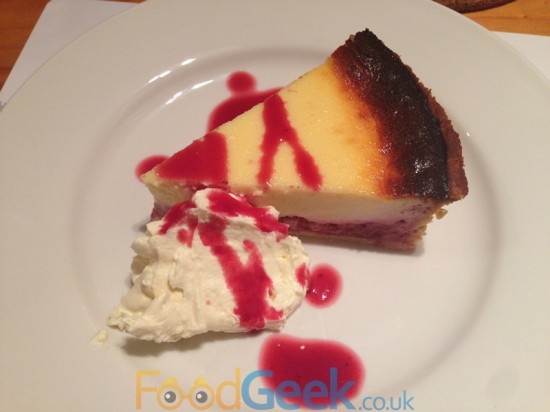 It goes without saying that I had a really great night. It wasn't just about the food either, though it was obviously the highlight thanks to the incredibly high standard. But both Tania and Iain are perfect hosts and we were lucky enough to be sat with two friendly and fun people who ensured that the night was a fantastic event overall.
I'm still only two in but seem to have been bitten by the supper club bug. Although polar opposites of each other in many ways both have been equally enjoyable and up there with my favourite nights of the year, of which there have been many. It's a totally different experience to being in a restaurant and one which I'm starting to appreciate and enjoy more and more.
I've had a sneak peek at The Drunken Butcher's provisional events for next year and I can honestly say I'd love to attend every single one, I know that won't be possible and narrowing down which to chose is going to be a major dilemma. Whichever one happens to be next, I'm looking forward to it already!
Date Of Visit:19.10.2013