After being so disappointed by Sapporo Teppanyaki last month I wasn't sure what to expect from 'Teppanyaki' in Manchester.
On the plus side it's an independent restaurant run by a Japanese family, but then again so is Samsi and it doesn't seem to have done much good there. It's location on the edge of Manchester's chinatown is another positive. As was arriving to a completely full restaurant, with most of the customers appearing to be Japanese, always a good sign in my eyes.
Less positive was being offered a drink in the bar area but not being allowed to drink it. Instead we were almost literally dragged to a small teppanyaki table, sat on wobbly chairs squashed in with 6 other people and forced to wear rather unnecessary bibs.
The reason we'd been rushed to the table was because we'd chosen to eat from a set menu. With the bad experience at Sapporo Teppanyaki and to a lesser extent Samsi still fresh in my mind I simply wasn't willing to risk paying the sort of prices on the regular menu, £18 for 8 pieces of Nigiri sushi for example!
The other 6 people were eating the same menu as us but had been started for a while and had finished the first course of 'Mixed Seafood Fishcake'. We quickly received ours, Mrs FG really didn't like them, I thought they were OK at best. A bit dry and a little dull, served with a garlic mayo which did improve them at least.
Presumably in an attempt to force us to eat faster and catch up to the the other diners we received our second course of 'Duck Sashimi Salad' before we'd even nearly finished our first course. This 'salad' consisted of slices of overcooked duck (surely overcooked sashimi is an oxymoron?) complete with unappetising soggy, flappy fat dumped onto a plate with a pointless handfull of rocket, cucumber and parsley.
No complaints over the 'Chicken & Mushroom Broth' which was adequately tasty.
The 3 main courses were to be cooked freshly on the flat teppanyaki grill in front of us. A Japanese chef arrived and almost immediately set fire to the grill to a chorus of "oohs" and "ahhs" from the other diners, personally I was grumpily more worried about my wine getting warm.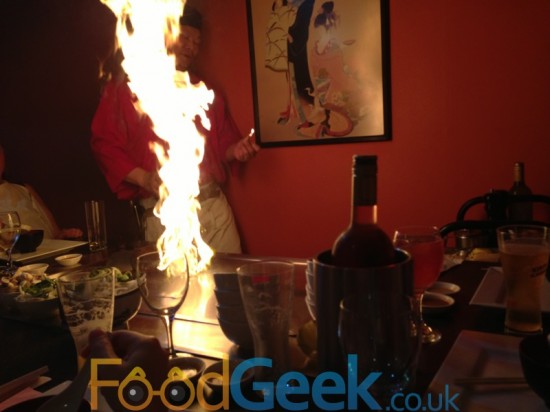 Once the grill was smoking hot the chef began cooking eggs, rice, ginger, chilli, garlic and a whole host of other ingredients and pushing them around into little piles. Eventually he chopped up the eggs, mixed it into the rice with soy sauce and served us each a bowl of egg fried rice.
First up with the rice was 'Garlic & Chilli King Prawns' which were well cooked, juicy and generally tasty. Though I was just thinking they'd have been better with a bit more chilli heat when I heard one of the other diners comment on how spicy they were (they weren't).
I'm a pretty fast eater but even I couldn't keep up with this pace, after eating 2 of the prawns and a few grains of rice the next 'course' was dumped on my plate. 'Chicken With Leek, Mushrooms & Tokyo Butter' turned out to be nothing more than a few bits of chicken fillet and a couple of sliced onions. I've no idea what 'Tokyo Butter' is but it looked and tasted very much like butter to me.
The final main course of 'Beef Sirloin with Yaki Niku Sauce' was simply slices of beef cooked with lots of onions in an umami rich sauce. Very basic but tasted good.
I'm certainly not an expert in Japanese food but I have eaten quite a lot over the last 9 months and this felt much more like westernised version of Chinese food served in local takeaways than authentic Japanese to me.
During the live cooking we were treated to a lesson in politics and the differences between British and Asian immigration systems from the slightly racist chef. I learned that only Japanese people come to this country to work in decent jobs such as chefs, apparently other Asians are happy just driving taxis. I kid you not. He also tried to justify the high prices at 'Teppanyaki' by claiming the chefs like him are all expertly trained which costs money. The argument might have had more weight had he not just served us up 3 courses of the most basic food that pretty much anybody sat around the table could have just as easily produced.
With the main courses and political debate over we were served our 'dessert'. Described on the menu as 'Ice Cream' it was a mishmash of not very good, bright pink strawberry ice cream topped with mango puree which was actually pretty good, awful squirty cream and half a strawberry. I'd have preferred a simple ice cream.
Teppanyaki is clearly better than Sapporo Teppanyaki in every way, it's also much cleaner than Samsi and the food is probably a bit better but still mostly underwhelming in my opinion. Nothing was absolutely terrible but i'm struggling to think of a highlight. I'm glad we ate from the set menu which is just about reasonable value for money, i'd have been disappointed to receive this standard of food after paying full menu prices.
Besides the food the overall experience was let down by the service and size of the restaurant. It was far too cramped and we felt rushed throughout the entire night which wasn't pleasant.
It's very unlikely that i'd return and i'm close to admitting defeat in the search for other decent Japanese restaurants in Manchester. It maybe time to accept that Yuzu and UmeZushi are the only places to be.
Date Of Visit: 05.07.2013
Follow @FoodGeekUK