I'd been looking forward to visiting The Farmers Arms in Bolton for weeks since hearing it was to be reopened by chef Jon Jones, a MasterChef The Professionals quarter finalist who's worked in some of my favourite Manchester restaurants. Unfortunately due to some unforeseen circumstances that wasn't to be.
So I reached for my very long wish list and picked somewhere else instead, continuing my tour of Manchester's Japanese restaurants I settled on Samsi.
It was much bigger than I expected but first impressions were good, I liked the authentic artwork and staff in traditional Japanese dress.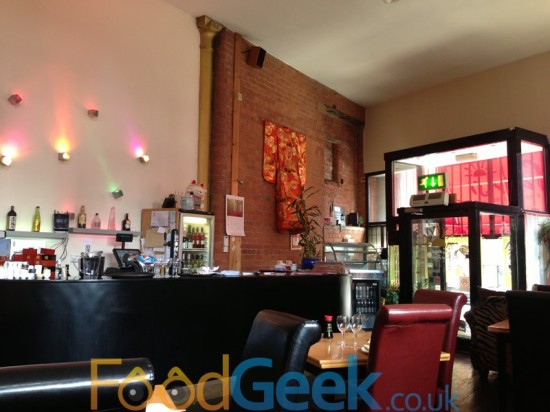 We started with a warm sake which was enjoyable but although i'm trying I still can't say i'm the biggest sake lover.
Next up, customary 'Miso Soup', I can't imagine going to a Japanese restaurant and not ordering it. This looked incredibly dull but thankfully tasted much better. I enjoyed it because the base stock was tasty but it looked like dirty dishwater and was the first miso soup i've ever had that didn't have anything at all added. No wakame, tofu, spring onion and certainly no clams like my last 2 visits to UmeZushi.
Chef's choice Nigiri sushi containing Octopus, Sea Bass, Prawn & Mackerel was okay. The fish reasonable quality but not sliced particularly well whilst the rice was fairly well cooked but lacking seasoning.
I enjoyed the 'Vegetable Gyoza' more. A good soft dumpling case with a nice crispy edge and a tasty mixed vegetable filling.
For my main course I chose a 'Chicken Katsu Curry'. The chicken was very good, perfectly cooked with a seriously crisp exterior. The curry reminded me of old school Chinese chip shop curry sauce and evoked memories of staggering home from the pub. Despite this I actually really enjoyed it.
The fish in Mrs FG's 'Shichimi Salmon Fillet' was well cooked and the sauce flavourful though a little thin. The salad was not only uninspiring but also seriously old. I'll just about stop before calling it rotten but there were plenty of brown edges and some leaves were almost translucent. Ugh.
Dessert was a mixed bag, both in terms of the elements and quality. Firstly the good, both the stem ginger and green tea ice creams were excellent. Rich, creamy and full of flavour. I'd have been happy had we finished here.
Unfortunately we didn't. We also ordered a 'Japanese Dessert Platter' which contained more of that green tea ice cream (very good), orange (fine), unknown and unidentifiable flavoured cheesecake – it looked like it had specs of ginger in it but literally tasted of nothing (dull and not very good), Doriyaki which are mini Japanese sponge pancakes (odd but not unpleasant), apple tempura (thick, heavy batter and not very nice) and finally Daifuku Mochi.
Daifuku are small round rice cakes which are stuffed with a sweetened red bean paste filling. I'm still not sure whether I like these or not, I didn't dislike them as such but found them a little odd which was unfortunate as we'd also ordered a portion separately (we didn't know that they'd be included on the platter). I wouldn't rule out trying them again, maybe there are better places for them than Samsi?
Overall the food was pretty underwhelming. Whilst it feels generally authentic most of it was average, some very slightly above but some far below. It's certainly a massive improvement on Sapporo Teppanyaki but not even close to the quality of Yuzu and UmeZushi.
Service was fairly fast and efficient, although it was quiet so I'd have expected it to be. Our waitress wasn't rude but she certainly wasn't overly friendly and seemed a bit disinterested.
I probably wouldn't have rushed back to Samsi anytime soon because of the average food but what confirmed it was the dirtiness of the place. Sitting with a rat catching device in view of the table wasn't a particularly pleasant experience. Neither was the thick coating of dust on the blinds and plants. I'm no cleaning expert but I would suggest that amount of dust takes at least a few weeks to build up. I worry about the state of the kitchen as cleanliness is clearly not a priority for them. Click the second photo to see a larger version which shows how utterly filthy it was, this was above my table whilst I ate!
Date Of Visit: 26.06.2013
Follow @FoodGeekUK