After some fairly decent weather (by Manchester standards at least) during early June the last couple of weeks have seen a return to greyer, colder and much wetter days. This downturn seemed to have coincided precisely with the launch of SoLita's new summer menu last Tuesday.
I was lucky enough to receive an early draft of the new menu from owner Franco a few weeks ago. Since the first time I set eyes on some of the amazing sounding dishes I was desperate to try them. It was torture seeing how well it was going down as I wasn't able to get to SoLita during the first week. I finally got to sample it for myself on Friday, fittingly having to brave torrential rain on the way.
We sat downstairs in the newly renovated basement which is very sexy but also rather dark which does nothing for the quality of my photographs. You'll have to take my word for it that they really don't do the food justice. * Edit * I revisited SoLita a few days later and reordered a few of the dishes purely to take better photos. The things I do for my readers!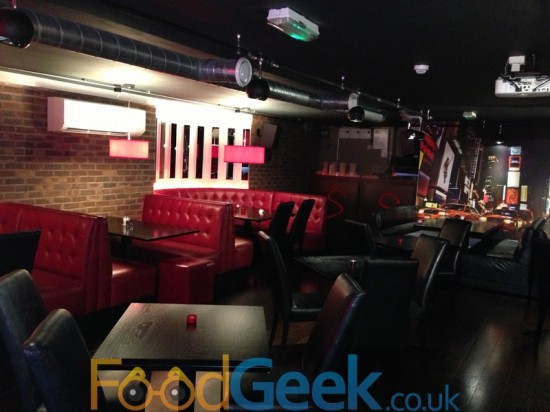 There are 6 new starters, or 'Small Plates' on the new menu and naturally I needed to try them all.
Starting with 'SoLita Popcorn'. Essentially it's just popcorn but with a nice savoury and subtle spicy flavour. I wouldn't order it instead of my favourite 'Rooster Scratchings' but it's only £1 and much healthier so there's no reason not to get both!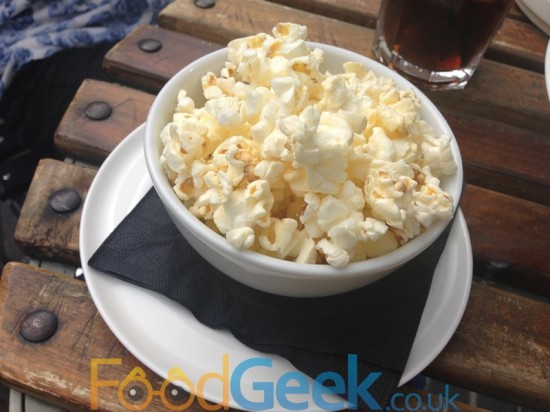 The intriguingly titled 'Lucky 7' is one of the best new starters. A 7 ingredient layered dip containing refried beans, guacamole, salsa, cheese, sour cream, salad and olives and served with a generous portion of blue corn tortilla chips of legendary 'Breaking Bad Burger' fame.
Although I like all of the elements individually I have to confess I expected there to be far too much going on for it to work as a dish. I was wrong, it's utterly delicious. Each layer is distinguishable from the others but they mix together to form interesting and tasty combinations, every mouthful is a bit different from the last but just as good.
'Beer Boiled Shrimp' was one of the new starters I was most looking forward to. The shell on shrimps look impressive and the Sam Adam's Beer in which they're cooked combines wonderfully with the natural juices and the melting 'Old Bay' dirty butter to make a delicious tasting broth, perfect for bread dripping. The shrimp themselves were well cooked and tasty but a little bit small and fiddly for me, i'd prefer to have less of them but bigger in size.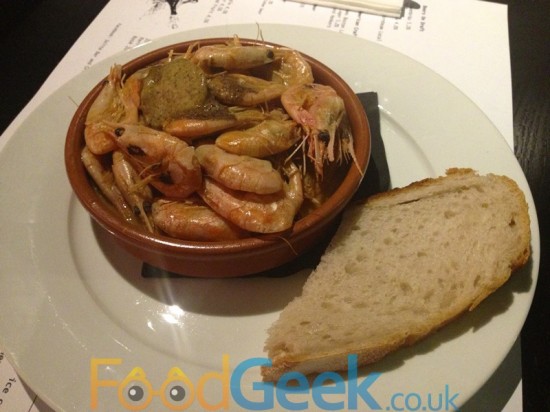 No complaints about the next dish, from me at least. 'Crispy Fried Chicken Livers' is another favorite. A nobbly, crispy batter coating perfectly cooked pieces of liver, served with a brilliantly rich and meaty neck bone gravy which puts KFC to shame. Mrs FG didn't enjoy them as much but she's a girl not a big fan of offal, specifically livers.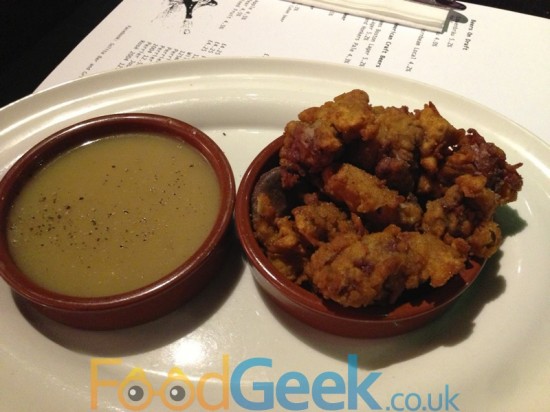 As much as I enjoyed the 'Lucky 7' and chicken livers I think my favourite new starter has to be the 'Maryland Crab Cakes with Big Manc sauce'. I love crab cakes and have eaten plenty in my time but these were some of the best. It sounds stupid to say that they have a strong crab flavour but sadly many don't. They work brilliantly with Big Manc sauce too, who knew?
The final starter 'Eggplant Fritters' are also brilliant  Large pieces of 'eggplant', or aubergine if you prefer coated in seasoned crispy batter served with a garlic marinara sauce for dipping. They're tasty and very moreish, apparently they're in danger of being pulled from the menu due to lack of sales so I urge you to go out and buy them now! Save the eggplant fritters!   Unfortunately they refused to be photographed in such bad light.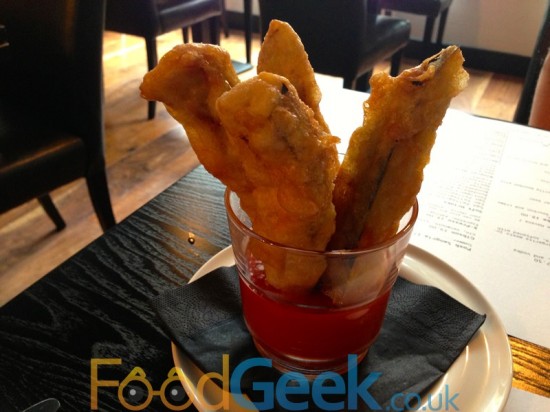 I said I wasn't interested in the 'DIY Steak Tartare' as I cook enough at home and go out to be fed and waited on. Thankfully I changed my mind before I arrived due to hearing rave reviews from pretty much everybody who's tasted it.
It comes served on a custom made wooden platter with a wooden bowl full of top quality steak and tiny plastic bowls containing anchovies, capers, pickles, onions, salt & pepper and of course a whole raw egg yolk.
The idea is to add as much or as little of each ingredient as you desire and mix it up. Personally I just threw everything in and it tasted great. I'm still not convinced that it's 'fun' though i'm sure many people will enjoy mixing it themselves. What I am certain about is that it's easily one of the best things i've ever eaten at SoLita. I'm so glad that my grumpiness didn't stop me trying it!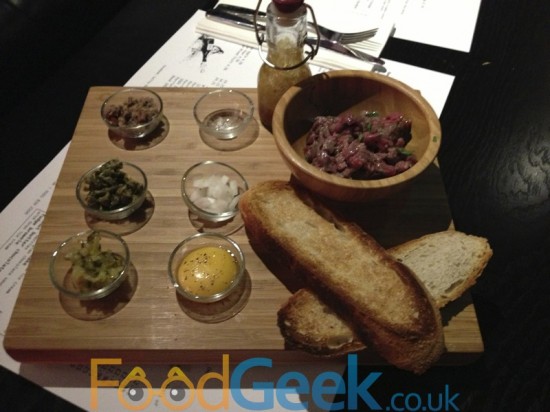 There are a few amazing sounding new burgers on the summer menu but being a Friday night and as we were drinking wine and cocktails we decided to stick to some of the more refined dishes. The burgers will wait for another day. I've not had a steak at SoLita since my very first visit so this seemed like a perfect opportunity to try the signature 12 ounce Prime Rib.
The 35 day, dry aged Dexter beef is good quality, flavoursome and cooked to a perfect medium rare over charcoal to give a smokey, charred exterior with a beautiful pink centre.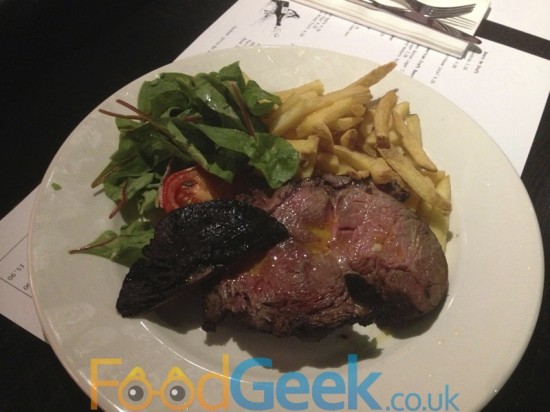 Despite only being launched a week ago there is already a casualty of the new menu. It was to be the final night that the exciting sounding 'Fennel, Heritage Tomato & Blood Orange Salad' would be available due to lack of interest. Unfortunately for me, people seemed to be interested that night as they'd sold out before I arrived. All I can say is shame on you Manchester!
Instead we changed for the 'Barbecued Mackerel Nicoise. It was enjoyable, the mackerel was really well cooked with soft, moist flesh and a lovely crispy skin, the egg perfectly poached and the salad packed with anchovies.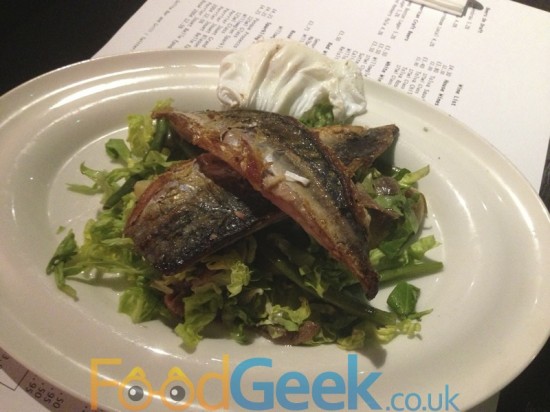 We also tried the 'Zucchini Fries' (Courgette). I found them enjoyable but not quite as good as the ones at Byron. Still a good first attempt and hopefully they'll be even better next time I try them.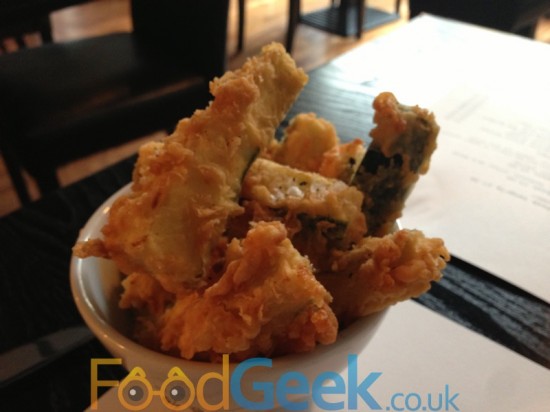 Under normal circumstances we may have left desserts after eating so much (probably not) but we were there to sample the new menu and as there are 2 new desserts it was almost our duty to eat them.
'Key Lime Pie' is one of my favourite ever desserts. I liked this but it wasn't the best i've had, it was slightly too sweet for my taste. I prefer a more pronounced and zingy lime flavour but the textures of the crunchy base and smooth topping were fantastic.
The 'Bourbon & Raisin Cheesecake' was brilliant and that's despite me not being a big Bourbon lover (something else I'm trying to learn to love). It's rich, indulgent and has a wonderful creamy texture and gorgeous flavour.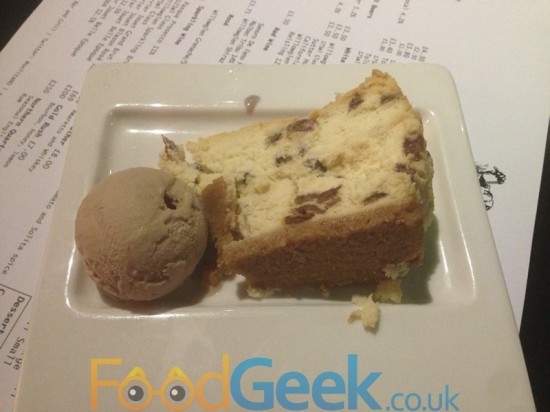 It's fair to say that I really like the summer menu, most of the new dishes feel more grown up than previously yet they still retain their sense of fun and innovation. Although they'll always be compared with Almost Famous and will no doubt be feeding many of their regulars until they are able to reopen (Almost Famous burnt down the day of this visit), not eating burgers reminded me that SoLita is much more than a burger place, it's far more refined and has much more to offer.
We enjoyed a couple of bottles of very good house wine and also some great cocktails including one with a silly name: 'Cool As A Cucumber' and 'Don Mermelade' a margarita containing marmelade! I usually purposefully avoid the busiest times but being Friday night the place was buzzing and the atmosphere helped make the overall experience brilliant.
Through a combination of being invited to sample the new summer menu, claiming a competition prize and owners Franco & Simon being far too generous for their own good I did not pay for this meal. However, that does not effect my opinion in any way. SoLita has received plenty of my money during the last year and they'll have plenty more of it in the future.
Date Of Visit: 28.06.2013
A few days later (03.07.2013), despite having just finished 3 courses at The Farmers Arms I returned to SoLita to preview their 4th July Independence Day special dessert as well as reorder the popcorn, zucchini fries & eggplant fritters.
The dessert was easily worth the trip! 'Caramel Topped, Apple Crumble & Custard Pie with Vanilla Ice Cream' was devine. A pastry case with a hint of frangipane filled with soft apples and baked custard, topped with delicious crumble topping and doused in sticky, warm caramel sauce. We weren't even slightly hungry by this point but demolished it in seconds. Hopefully it will stick around for a bit longer.