Caffeine and Co is a tiny, independent coffee shop in Manchester City centre run by husband and wife team Phil and Claire Howells. Over the past 18 months they've steadily been building a loyal fan base and were nominated for 'Best Coffee Or Tea Shop' at the recent Manchester Food & Drink Festival awards.
July saw the opening of their second venture in Stretford's Longford Park. I was invited down to check it out and finally got around to visiting yesterday.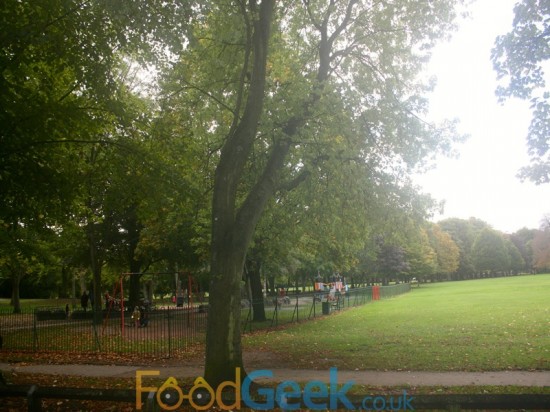 I'd never been to Longford Park before but it looks like a really nice place, with a playground and animal area it's very family friendly. Located right at the heart of the park is Caffeine & Co in what can only be described as a little hut.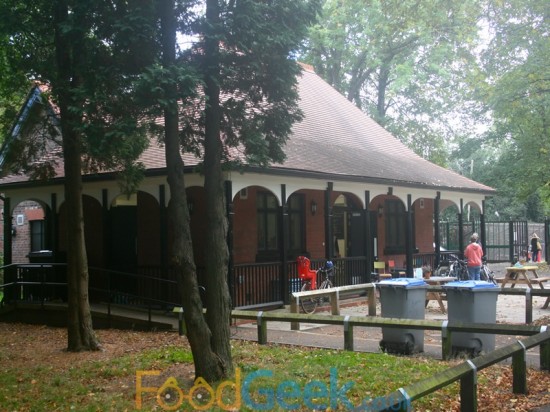 It might not look like much from the outside but inside is a different story. It's warm and inviting, the centre of attention is the large, shiny, modern, well fitted kitchen with a selection of delicious looking breads and cakes out on display and the smell of fresh coffee in the air.
Speaking to Claire it was immediately obvious how passionate she is about food, she told me how they try to make everything they possibly can themselves, from the cakes and bread down to the jams. She seemed excited about the introduction of a selection of freshly made stews next week. I sensed that she didn't really like the attention though and preferred to let her food do the talking. It certainly did as everything we ate was excellent.
Her husband Phil enjoyed talking about their business much more. I was even more impressed by him, particularly after learning that he has a full time job in the music industry and this is a side project that he's also clearly very passionate about. He has been inspired by the popular and ever growing independent coffee shop / cafe bar culture in London and wants to bring it to Manchester.
With a third site about to open in Spinningfields next week Phil suggested I hold off writing this post until I'd seen the new place as it will allow them to improve other areas of the business including ramping up their bread production. There are also plans for the Spinningfields site to act as a popup bar as well which sounded fascinating.
I agreed that the Spinningfields site sounds like the most interesting so far and am happy to cover it once it's open. However I also couldn't resist sharing the fabulous lunch I had while I was at Longford Park too.
Starting with the coffee, they brew Square Mile coffee, a multi award winning coffee roasting company based in East London. It was the first I'd heard of them but i'll be looking out for them in future as it was excellent.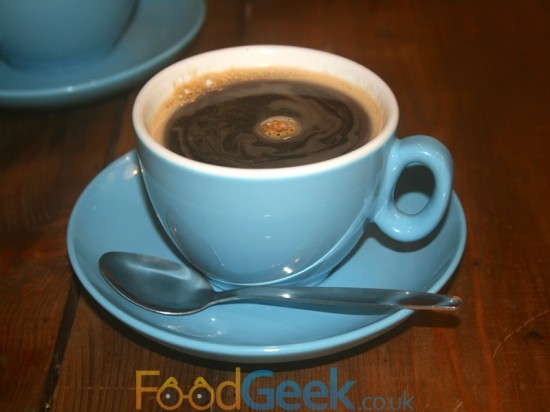 Knowing how much love Phil & Claire had put into their produce I asked them to help choose what to eat. Phil recommended the 'Reuben', in bagel form. I do like a Reuben and I'm fond of bagels but have never combined the two. It worked brilliantly, the bagel standing back and letting the cheese and pastrami shine.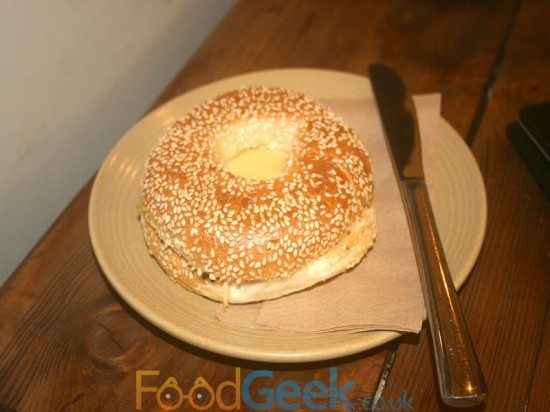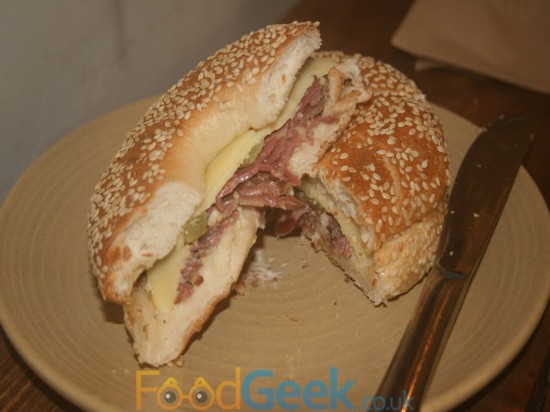 As much as I enjoyed the Reuben it was Claire's favourite that got me the most excited. A warm bagel filled with feta, mixed leaves and a gorgeous fig & walnut chutney. It was sweet, warm and delicious, so comforting for a cool, crisp day.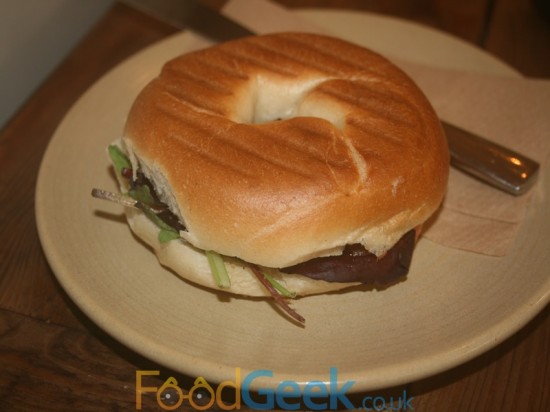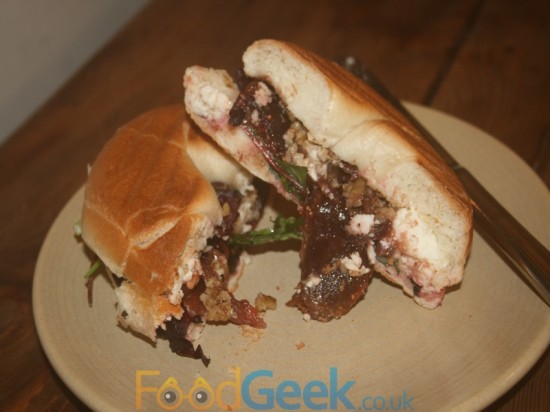 Choosing a sweet was difficult as everything looked so inviting. I was tempted by the raspberry cake, brownie and cupcakes but again turned to Phil and Claire for their suggestions.
I'm glad I did as their selections were great: a lovely moist banana loaf, a crumbly, chocolate topped pecan slice and a healthy but delicious 'Superfood Ball'. All homemade and top quality. I loved all three but was most impressed with the Superfood Ball a mixture of sticky dates, pecans and seeds rolled in coconut.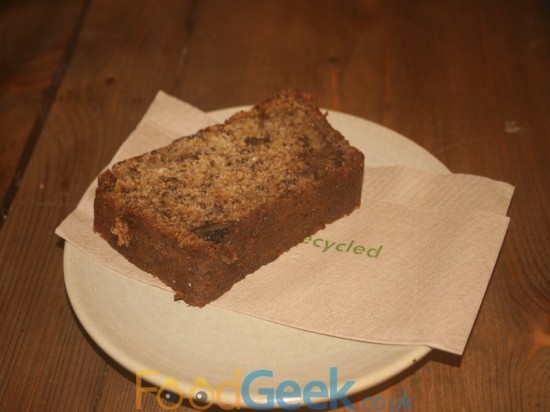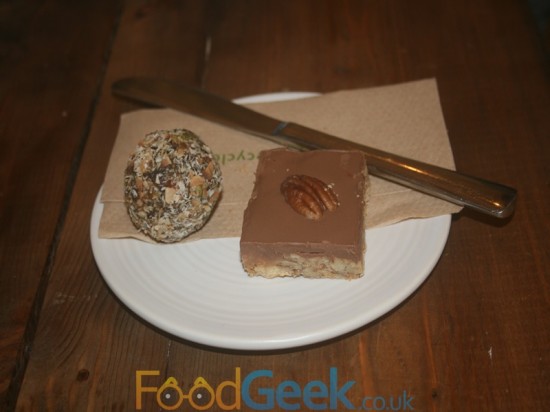 I really liked Caffeine & Co, run by owners who love food and care about the quality of their ingredients, it's definitely my kind of place.
I can't wait for the Spinningfields branch to open and look forward to trying it soon.
Date of visit: 10.10.2013
Disclaimer: I was invited to Caffeine & Co and not asked to pay for my lunch. This in no way influenced my opinions and i'd have been more than happy to pay.