Though I hate to admit it and genuinely try not to be, if I'm being honest I have to accept that deep down I'm a bit of a food snob. Especially when it comes to restaurants, chains in particular. I've been put off by previous bad experiences but mainly I just find them so bland and soulless.
There are a couple of exceptions of which Wagamama is one. I've had good experiences in the past, mainly in Manchester as a pre Nynex M.E.N Manchester Phones-4-u Arena gig venue at the conveniently close but otherwise awful Printworks. Although I'd not been since November 2011 having been distracted by fantastic independent restaurants like Yuzu & UmeZushi. The latter located even closer to the Arena than Wagamama and avoids having to go anywhere near the Printworks.
When I was invited to sample their new autumn winter menu I happily accepted and was looking forward to not only trying the new dishes but seeing if I'd enjoy it as much as I used to.
The event got off to a great start as within 3 minutes of sitting down I had a glass of wine in my hand. We were told that we'd be eating a starter, 4 main courses, 2 sides and a dessert! Head chef Andy talked knowledgeably about the dishes and seemed genuinely passionate which was great to see as it's often not the case with chefs in chain restaurants.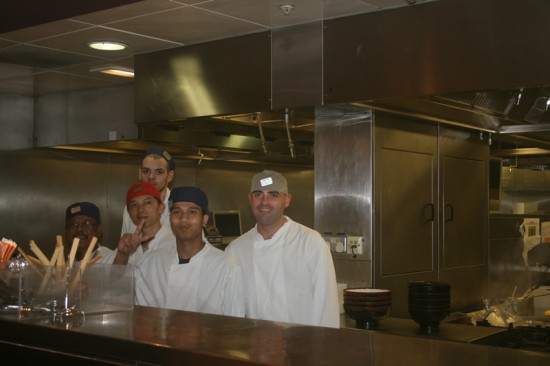 Apparently some of Wagamama's competitors like to steal the names of their dishes so I'm sworn to secrecy as to what the dishes are actually called. Writing about them without giving away the name is going to be a challenge but i'll do my best.
First up, a twist on probably my favourite ever Wagamama dish, gyoza. I've previously enjoyed the duck, chicken and particularly the vegetable versions. This new version sees the dumplings filled with pulled pork. I have to admit that although I do enjoy pulled pork I am getting seriously bored of it and it feels like Wagamama are a bit late to the party.
Putting that aside though, they actually taste really good. The pork is soft and succulent as it should be, it's slow cooked for over 7 hours with leeks, water chestnut & Chinese five spice. I'm glad the dumplings are steamed as I'm not a fan of the deep fried version. The accompanying black vinegar & ginger dipping sauce is the perfect companion.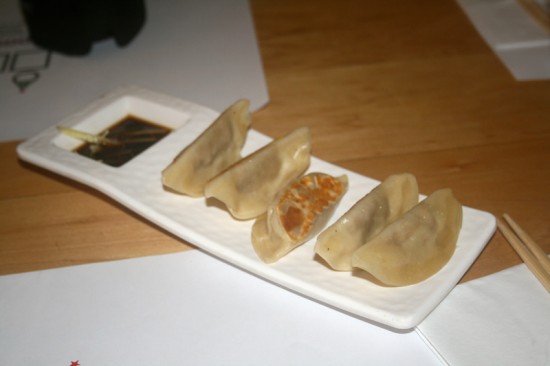 A new addition to the fresh juice selection followed. A glass of vivid purpley orange coloured juice freshly made from a combination of beetroot, carrot and orange. Personally I really enjoyed it but I heard a few complaints of either 'too much beetroot' or 'not enough beetroot' and many didn't get finished. I thought it tasted good and I felt healthier with every sip.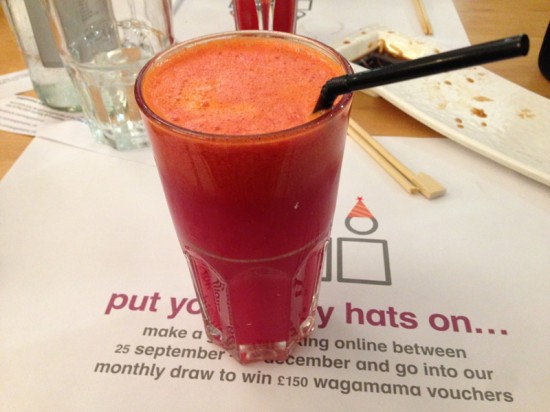 The next dish was the one I was most looking forward to trying as it contained a fish I've heard a lot about but never eaten before, Mahi Mahi. Coming from temperate, tropical waters they're not exactly local so don't appear on many U.K menus but are hugely popular in the likes of California, Florida and South East Asia. The fish was cooked well and I enjoyed it, it's described on the menu as 'white fish' but it's nothing like cod or haddock which that description suggests to me. It's a much meatier fish, closer to swordfish. Served on a lightly spiced curry with sweet potato and red pepper. I found the sauce a little too sweet and not spicy enough but with a bit more heat and a squeeze of lime it could be a great dish.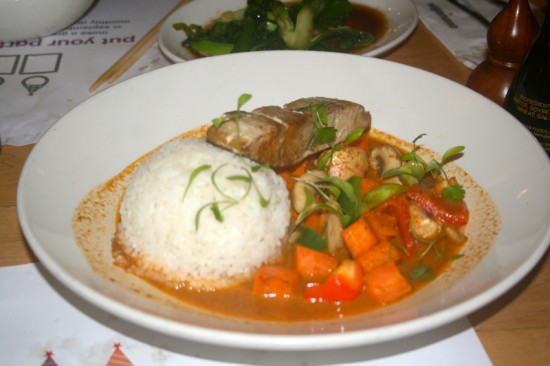 Also served with it was a new side, steamed tender stem broccoli with pak choi, garlic and soy sauce. A simple combination but fresh, flavoursome and very tasty.
Not being a huge fan of coconut I wasn't particularly looking forward to trying the coconut & lemongrass soup, so you can imagine my disappointment when not one but two versions of it arrived. Usually coming with a choice of either chicken or prawns we got to try both. Despite the coconut I quite enjoyed it and anybody that likes coconut should do even more. I'm not sure which I preferred as both the chicken and prawns were good.
Like the curry it was too sweet for me but this time it was garnished with a wedge of lime, the juice of which greatly improved the dish. Unlike the curry it had a good chilli kick and was a nicely balanced combination of flavours. With ramen noodles in the bottom and topped with cucumber & beansprouts it's very filling and warming, a perfect winter dish.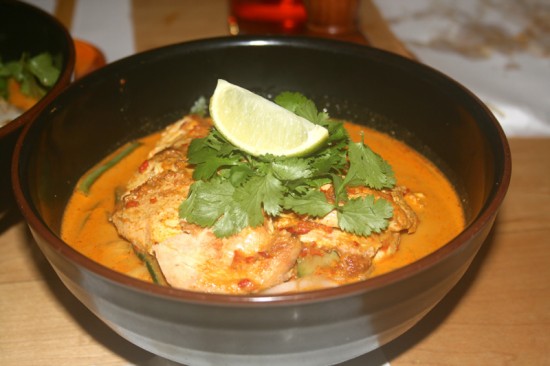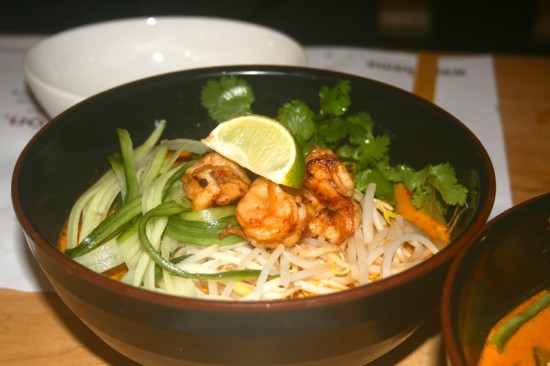 The remaining main courses were two different ramen dishes. The first packed full of mushrooms but sadly lacking in flavour. The broth itself was quite weak and despite being full of 6 different types of mushrooms including oyster, chestnut and shitake they didn't taste very, well, mushroomy. Garnishing with tofu didn't exactly help the lack of flavour either. It's a healthy but hearty dish which looked good and sounded good but for me it definitely needs something to lift the flavour, perhaps garlic, chilli or both.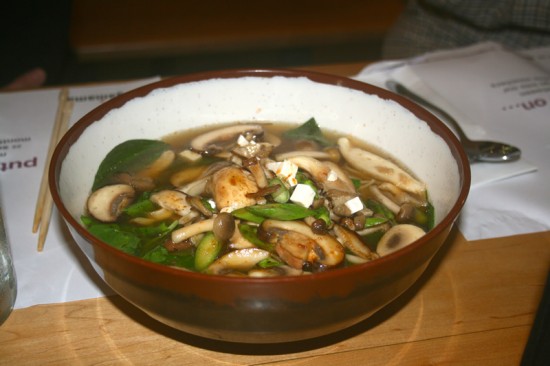 The second ramen dish was much better. Not just because it was topped with deliciously tender and tasty duck leg but the broth was much punchier too. It had a decent amount of fresh red chilli which added a nice heat while the spring onions and pea shoots brought flavour and freshness. It was easily my favourite dish of the night.
The dessert was also excellent, a couple of freshly cooked pancakes filled with a warm, thick date and orange puree and served with a really good cinnamon ice cream. The flavours all worked beautifully together and despite having eaten rather a lot already I happily accepted the offer of a second plate and demolished it just as quickly.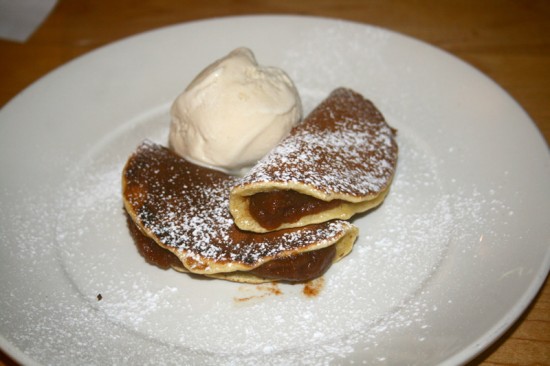 I had a good time at Wagamama and was generally impressed with the new dishes. Besides the disappointing mushroom ramen I liked everything else I ate, they're nice additions to an already good menu. Regular customers will be happy to have new dishes to try and they're well suited to the colder months.
For me it can't compete with places like Koya, Yuzu or UmeZushi but then it isn't trying to. It's a mainstream chain of restaurants so there are always going to be compromises but the food is far more interesting than most, cooked freshly and by people who seem to care. I can't honestly say I'd ever choose it over those independent places but anytime I'm somewhere like the Printworks or a shopping centre and faced with a selection of chain restaurants Wagamama will be one of the very few i'll consider and remains the most likely choice.
The new menu is available from 22nd October.
Date of visit: 07.10.2013
Disclaimer: I was invited to this special preview and didn't pay. I was asked to cover the event in some capacity but not told what to write. All views are my own.