I like to think i'm pretty clued up on restaurants in Manchester but must confess I hadn't heard of Ocean Treasure before I was invited to review it. Possibly because Chinese is a cuisine i've neglected for the last few years but more likely because it's tucked away on the ground floor of the Manchester235 casino in the Great Northern Tower.
Walking through the casino to take the escalator down to the restaurant is a little odd and I imagine it may put off many non gamblers. Although on the way out we did find a side door which would have avoided the casino but it's not obvious from the outside. Personally I didn't have a problem with the casino walk and actually found it quite fun.
I loved the restaurants decor which retains the urban style of the casino but mixes it beautifully with modern chic and a touch of traditional Chinese. It felt like a smart but very relaxed place with a great atmosphere.
Service was equally warm and welcoming from the moment we arrived.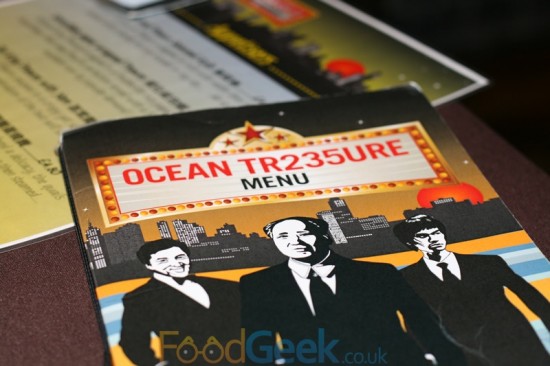 We started with 'Quails Egg Sui Mai', delicate yet tasty dim sum style steamed dumplings.
I was disappointed to find out the soft shell crab wasn't available due to a shortage in the Far East where they're imported from. As we were in a rush I didn't have time to browse the menu again for a replacement. I would've liked to order some of the more interesting starters and specials but almost instinctively opted for one of my childhood favourites, 'Aromatic Crispy Duck with Pancakes'. Shredded table side at a seriously impressive speed.
It may not be the most exciting choice but it was seriously good. The duck itself was excellent, crispy skin on the outside, juicy meat inside and a wonderful aromatic flavour. The pancakes are made in house and were also very good, having a much nicer texture than the bought in variety and I loved that they didn't feel the need to make them into perfect circles.
Being a cold and wet evening we opted for main courses that would warm us up before facing the harsh weather outside. 'Sichuan Slow Cooked Beef' certainly did the job. Described as 'FRICKEN HOT' on the menu and they weren't joking.
Succulent slow cooked beef sat upon a bed of Chinese leaves & bean sprouts in a spicy broth with an intense chilli and garlic flavour. Despite being almost unbearably hot it had a delicious flavour too with lots of depth. Luckily I'm a fan of super spicy food but it was a challenge even for me, my companion for the night, Ma FoodGeek  struggled to manage much more than a spoonful of the firey broth.
'Lamb Fillet with Cumin & Leek' was another warming dish, albeit much less intense. Strips of juicy lamb fillet, stir fried with peppers and leeks with aromatic spices and a heavy use of cumin. The Asian spices were balanced perfectly making a hearty and very tasty dish.
Unfortunately we didn't have time to stay for desserts, I was genuinely gutted as there were some really interesting sounding dishes including 'Steamed Man Tou' (Chinese Buns) and 'Crispy Custard Spring Rolls with Chocolate Sauce'.
Besides having to leave early (which was entirely my fault) I had a brilliant time at Ocean Treasure 235. The staff were all incredibly friendly and efficient whilst the food was as good as any i've ever had in a Chinese restaurant. I can't believe i'd never heard of them but many people i've spoken to since hadn't either which is such a shame as it deserves a much higher profile. I'll definitely be back soon and be sure to leave time for desserts.
Date of visit: 29.10.2013
Disclaimer: I was invited to Ocean Treasure and didn't pay for my food or drinks. This has no effect on my opinions and I will happily return as a paying customer.
Follow @FoodGeekUK