What do you do after a brilliant lunch at Japanese restaurant Yuzu when you crave sugar but they no longer serve dessert? Pop into the small Chinese bakery around the corner for lots of cake of course!
I'd walked past Wong Wong Bakery on Princess Street in Chinatown many times since it opened in 2003 but had never made it inside before. That's almost 10 years that i've been missing out on delicious Chinese buns, cakes & pastries.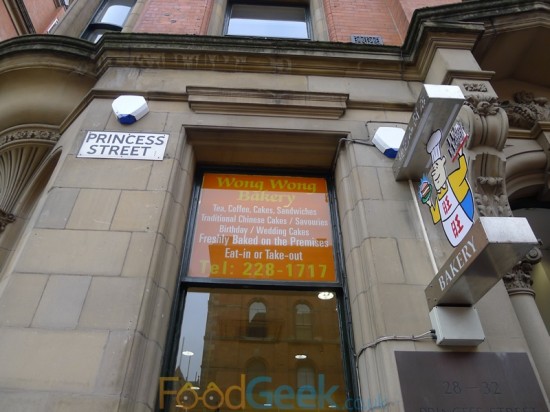 Inside is a cake lovers delight. Shelves just full of enticing looking pastries. As usual we struggled to choose so rather greedily we ate: A turtle bun, peanut butter pancake, egg tart, red bean banana cake, red bean pastry and a custard bun.
All excellent and delicious in their own ways but my favourites were the custard bun and red bean pastry. The custard bun in particular was divine, wonderfully soft pastry filled with a swirling layer of sweet indulgent custard.
The Egg Tart was lovely but not quite as good as my absolute favourite, Portuguese style Nata while the Turtle Bun didn't taste quite as good as it looks but it does look amazing. I'm being overly critical though as I still enjoyed them both, just not quite as much as the others which were outstanding.
I have to say the staff were not overly friendly but it's easier to forgive when the food is so good. The quality of baking is excellent and the range of fascinating creations makes it a more interesting choice than a regular bakery. The coffee was decent and besides the slightly grumpy service it was most enjoyable. I'm already looking forward to returning, hopefully soon!
Date of visit: 15.11.2013
Follow @FoodGeekUK