It's fair to say i've had up and down experiences with the LivingVentures restaurant group. Many years ago their first (I think) Manchester restaurant 'Grill On The Alley' was amongst my favourites in the city however I had a really bad visit there in 2011 and haven't returned since. I was then underwhelmed by 'Grill On New York Street' and though I liked many things about 'Australasia' ultimately I found it a little too much style over substance. On the plus side I really like the cocktails at 'The Alchemist', adore 'The Oast House' and to top it all loved both visits to their latest venture 'Manchester House' by Aiden Byrne which is definitely one of the best restaurants in Manchester.
So when I was invited to one of their newest restaurants 'Artisan' I wasn't sure whether to accept. As I say on my PR page "i'll only accept invites to places that I'd be likely to visit anyway" but I really didn't know if I was likely to visit or not. Eventually, with the great experiences at Manchester House fresh in my mind I accepted. It turned out to be another mixed bag.
First impressions were good, I loved the industrial decor interspersed with various sculptures and pieces of art and was surprised by how large the restaurant is – apparently 12,000 square foot! I was also impressed by the wood fire oven in the kitchen.
The good vibes continued after being seated, there was a nice atmosphere inside the dining area. We were offered a welcome drink and chose two beers from the varied and interesting menu to go with our 'Houmous, Sugar Spiced Nuts & Crispy Flatbreads' which was a tasty, appetising snack. Everything was most enjoyable so far.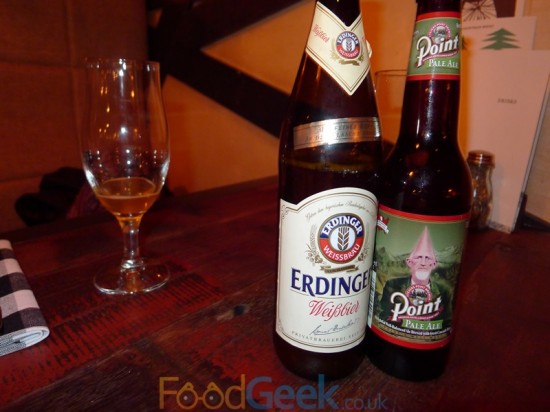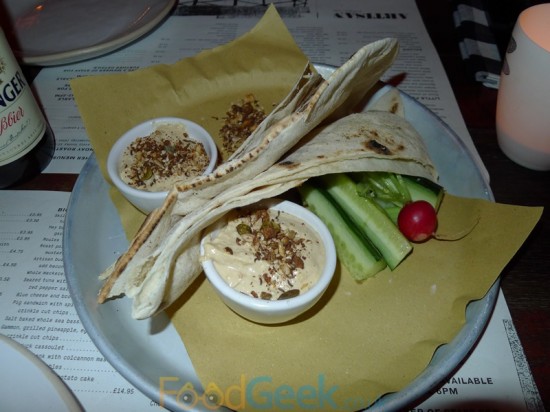 My starter of 'Salmon Ceviche' was fresh and vibrant, I'd have liked an additional dimension of heat from chilli but it was still a nice dish.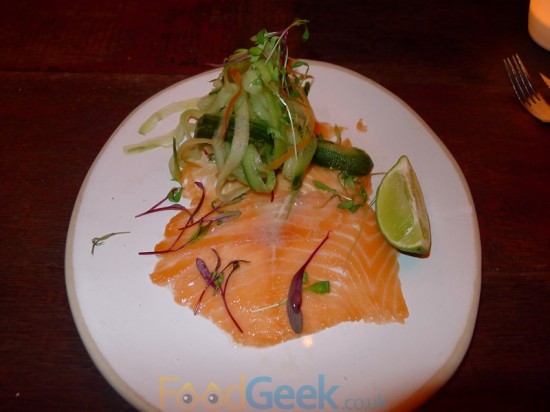 Mrs FGs 'Baby Scallops, Curry Butter & Cauliflower' was almost good. It looked lovely and the scallops were well cooked. However we both felt that the curry flavour really didn't come through enough and that serving the cauliflower puree cold is a bit odd. I'm not sure if it's intentional or accidental, either way I'm confident the dish would be better with it served warm.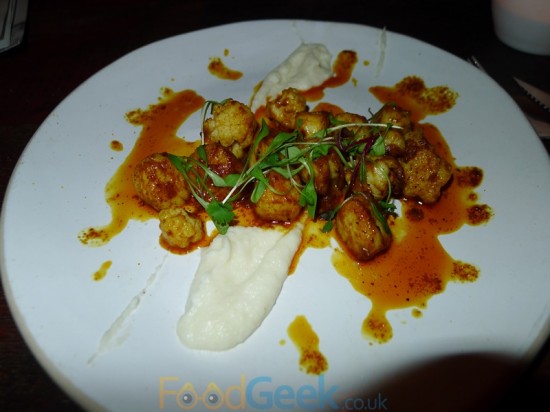 For my main course I chose 'Lamb Shank with Colcannon Mash'. After ordering I remembered a lamb shank with zero flavour was one of the many problems on that horrendous last visit to the Grill On The Alley. Thankfully this was better, though it really couldn't have been any worse. The lamb shank was tender after a long, slow cook and actually tasted of lamb while the Colcannon mash and winter veg were perfectly fine. I felt the gravy was a bit thin and lacking in flavour but overall it was an OK dish.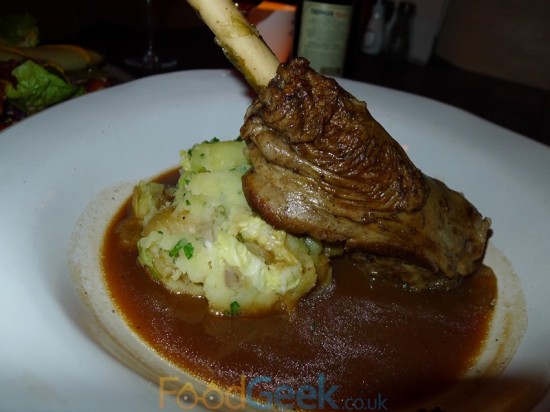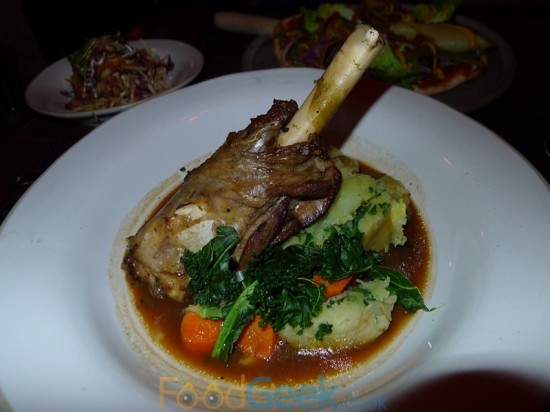 Having been impressed by both the view of the wood fire oven in the kitchen and the delicious smell of pizza cooking Mrs FG went for a 'New York Deli Pizza'. Despite loving all of the ingredients: pastrami, bacon, olives, smoked applewood cheese, gherkin and French's mustard personally I'd never order a pizza containing so many toppings. Even so, I just wasn't prepared for the monstrosity that arrived at our table. It's not an exaggeration to say that my 6 year old son has made far better looking pizzas.
Unfortunately it wasn't much better to eat than to look at. For me the base was a little too thick and not quite cooked enough, there were no crispy bits or charring from the oven. Even worse was the fact that all of the toppings were stone cold. They'd literally all been added after the base was cooked, including the cheese. It was really quite an odd experience.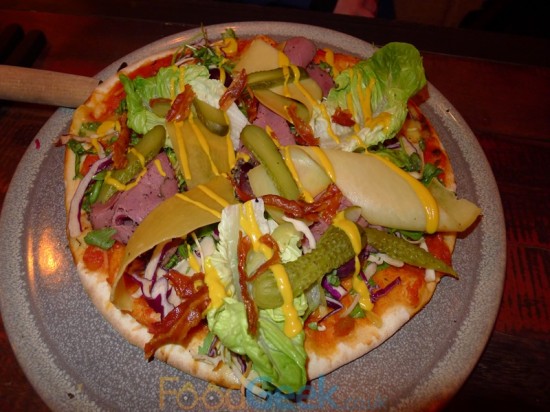 A side of 'Coleslaw Salad with Mint Yoghurt' wasn't really coleslaw. It contained no mayo which i'm fine with, I actually prefer lighter versions using yoghurt but this simply a pile of grated vegetables with a tiny bit of yoghurt drizzled on top. Not terrible but a little odd and not at all easy to eat.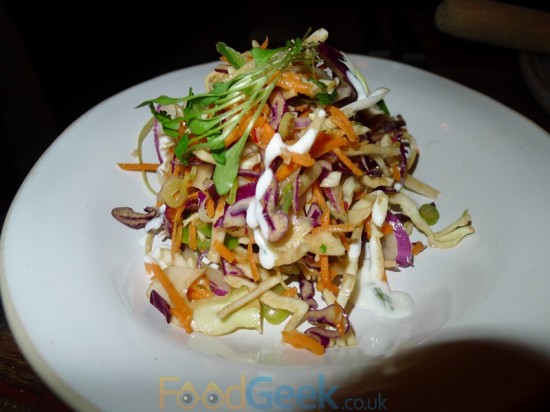 I finished on a high as my 'Salted Caramel Baked Banana' dessert was by far the best thing I ate at Artisan. The banana was wonderfully hot, sticky and sweet with just the right amount of salt coming through from the caramel sauce. Served with delicious gingerbread ice cream, I loved the contrast in temperature.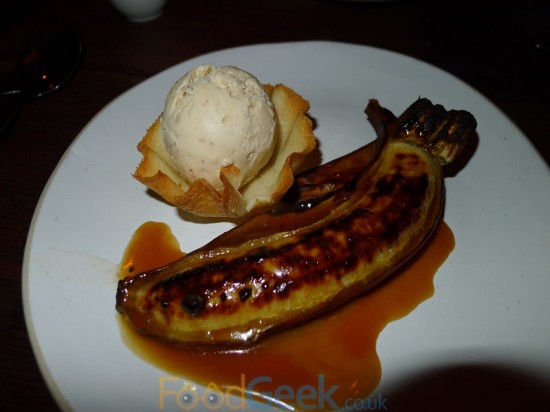 Mrs FG felt her 'Baked Alaska' was too sweet, personally I didn't have a problem with it although to be fair I did only have a small taste. I did agree that the ice cream inside had melted far too much though.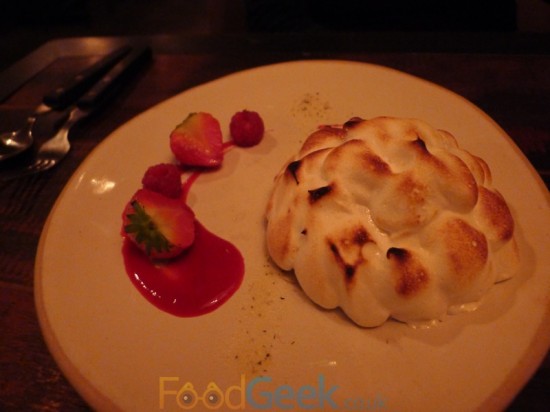 Service was adequate as you would expect when we'd been invited. It did get a bit hectic at times despite the restaurant being only half full but all of the staff were very friendly.
Overall we had a fairly enjoyable evening but left feeling the food doesn't live up to the setting. I get the feeling that they're not overly bothered about that and maybe 'foodies' are not the target market. I've no doubt that many people will go there and be perfectly happy with what they eat. It's not too far away from being decent but for me with just a bit more care in the kitchen it could easily be a well above average restaurant.
Date of visit: 20.11.2013
Disclaimer: I was invited to Artisan and not asked to pay for my food or welcome drinks. As you can see it made no difference to my opinions which are as genuine and honest as ever.