I hate reality TV; one of my proudest claims is the fact i've genuinely never seen a single episode of X-Factor, Britain's Got Talent or any of those bloody dancing shows. There is one exception though, i'm a sucker for food shows. I watch pretty much all of them; from traditional recipe shows to food documentaries and yes, even reality competitions like MasterChef & Bake Off.
The latest is 'The Taste', a British remake of a hit American show currently being shown on Channel 4. I was always going to end up watching it but never expected to get completely hooked which I have for a couple of reasons.
Firstly there's something really quite refreshing about the show, in the format but also the content and overall style. Being post watershed it contains some profanity, not gratuitously but when somebody screws up the dish they've spent an hour cooking we get to hear exactly how gutted they really are, which doesn't happen on the heavily edited, sanitised BBC shows. The presenters too are a breath of fresh air; Anthony Bourdain, a controversial, outspoken, former drug using American who makes some of the best food TV around and Nigella Lawson, no stranger to controversy herself lately. The star of the show though has been the third judge, Ludo Lefebvre a French chef whom I was only vaguely aware of. His restaurant, Ludobites in Los Angeles looks as fantastic as it's name. Ludo is passionate, entertaining, funny and fiercely competitive.
)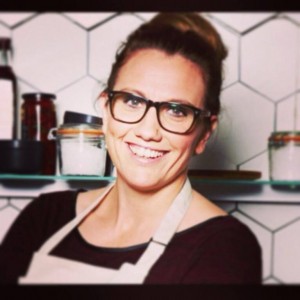 The main reason i've been so gripped by The Taste though is one of the contestants, Debbie Halls-Evans. I would've been supporting Debbie anyway as like me she's from Horwich in Bolton, she now lives in Blackrod (like my Mum) and her son goes to the school I went to. But I've been even more supportive of Debbie as I was already a huge fan of her food after being a regular visitor to her excellent deli 'Delicieux' which sadly closed in December (I'm still suffering from withdrawal symptoms). The fact that Debbie has been a regular reader of this very blog and said nice things about it might have helped too!
It's fair to say Debbie's time on the show has been up and down, she's won several challenges including one judged by my favourite chef Simon Rogan but she's also been in the bottom 3 a few times and risked being eliminated. Even with these inconsistencies it was clear from the start that she was one of the strongest contestants which has been proven by the fact that she's made it all the way to the final.
It's shown tonight (Tuesday 11th March 2014) on Channel 4 and features culinary legend Pierre Koffmann who will judge the 4 contestants canapés.
I bumped into Debbie at a party recently but despite my multiple attempts at finding out – some subtle and clever, others pretty blunt – she wouldn't reveal if she wins the show or not. I was even able to continue the interrogation after she kindly gave me a lift home but she just wouldn't budge. So i'm going to have to watch tonight to find out.
I'll have my fingers crossed and will be cheering her on but whatever happens she's done amazingly well to get to the final and has surely learnt so much that her food will be even better next time I get to eat it. Debbie is hoping to get even more experience in a top professional kitchen after the show finishes but she also has several exciting events planned. Including a popup restaurant at Broughton Hall in Skipton where she will cook with fellow 'The Taste' contestants Kalpna Mistry and James Sherwin. There are plans for events in and around Bolton too, details are set to be released soon. Good luck Debbie!
Don't miss Debbie on The Taste finale tonight at 9pm on Channel 4.