These days, us bloggers are often criticised for accepting 'freebies', personally I turn down far more than I accept but when I do it's with a completely clear conscience. Partly because they're not actually 'free' at all, we provide publicity to the restaurants which otherwise would have cost them far more than a bit of free food. More importantly, good blog posts take a lot of time to write and I value my time.
The main reason I'm happy to accept invites though is because they allow me to discover places i'd never have known about otherwise. This happened recently when I was invited to a 'Tapas Tasting' night by 'Ambiente' in Worsley, a restaurant that I genuinely didn't even know existed, despite having driven past it several times. The website looked good, as did the handful of reviews I could find online so I gladly accepted.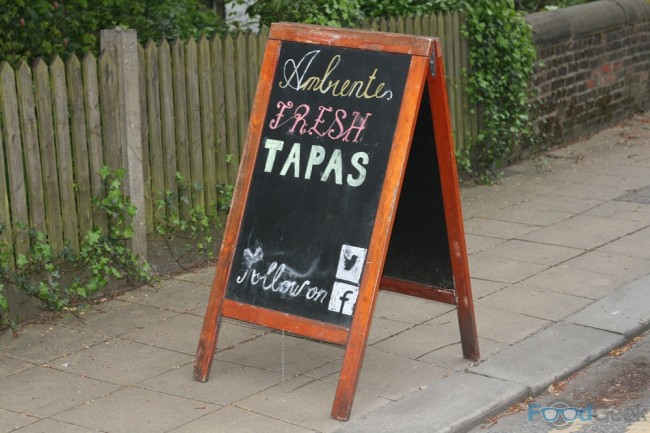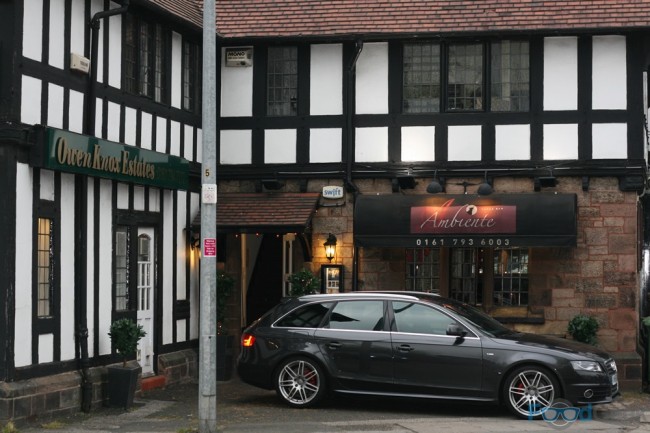 The tiny restaurant, situated between two estate agents on a quiet, leafy road is easy to miss, as I proved when I drove straight past it. Inside is bigger than it seemed from the outside but intimate and cosy. I loved the dim lighting and rustic decor, it felt authentically Spanish.
Freshly baked bread soon arrived served with a decent quality balsamic vinegar. Followed by 'Chilli Bread' which was again supremely fresh and very enjoyable, I would've liked some more heat when i'm promised chilli though.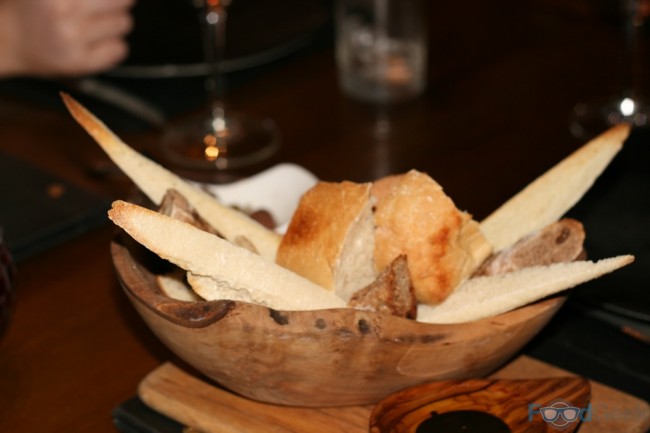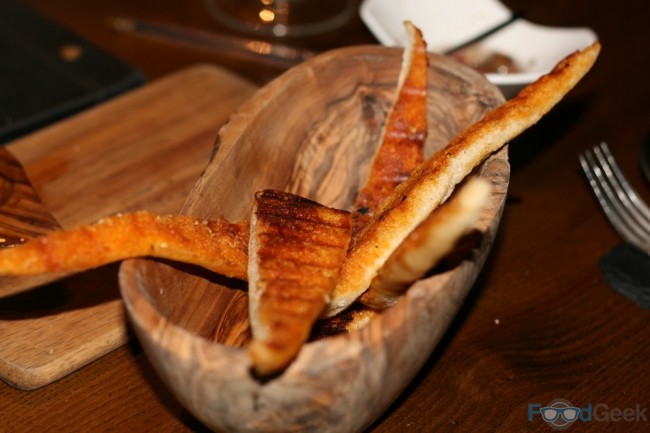 The chef then sent out various dishes including King Prawns which were excellent; large, sweet and extremely juicy cooked and served in a lovely chilli, garlic & sherry sauce. Like the bread i'd really have liked a bit more heat in a chilli based dish but enjoyed them all the same.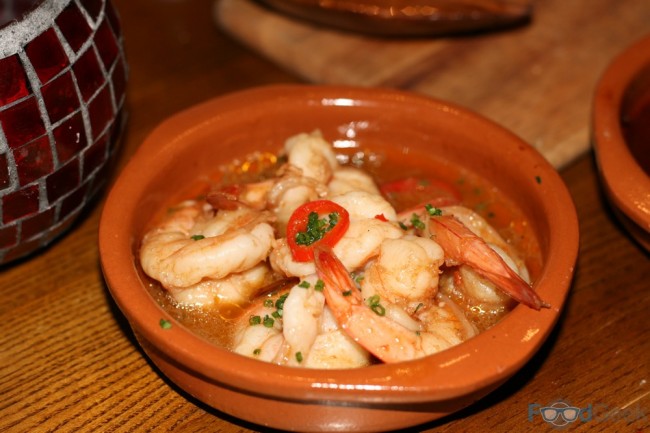 The spicy tomato and garlic sauce topping the classic 'Bravas' dish did have a nice kick to it which made for a great dish.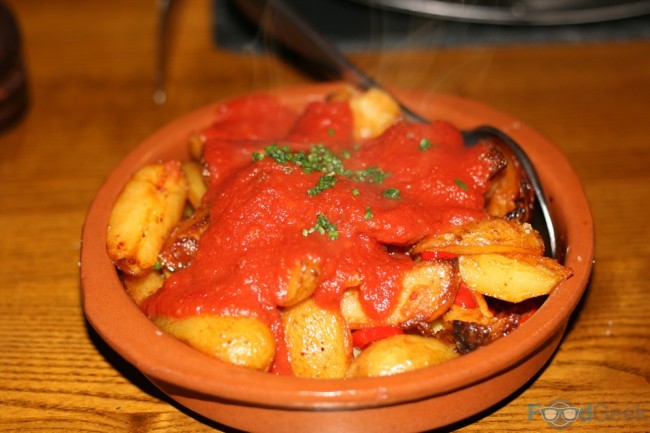 Calamari is such a simple dish but so often places get it wrong, not here thankfully. The perfectly cooked squid was coated in a light, crispy and not too greasy batter. Served with a rich, garlicky aioli.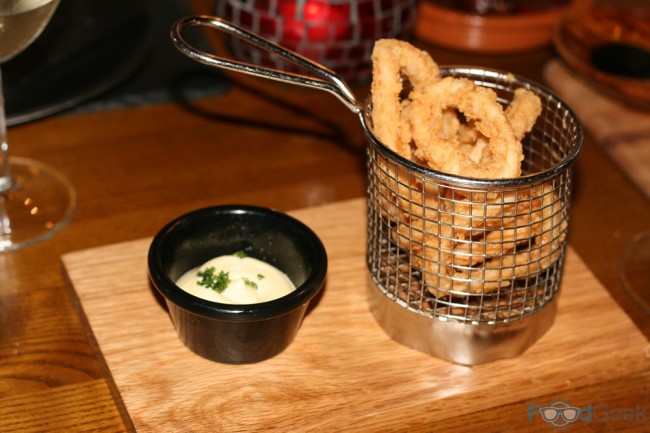 My favourite dish was probably the 'Chorizo', not only were the generous chunks of sausage fantastic quality they had a wonderful aroma having been poached in red wine with rosemary and raisin puree.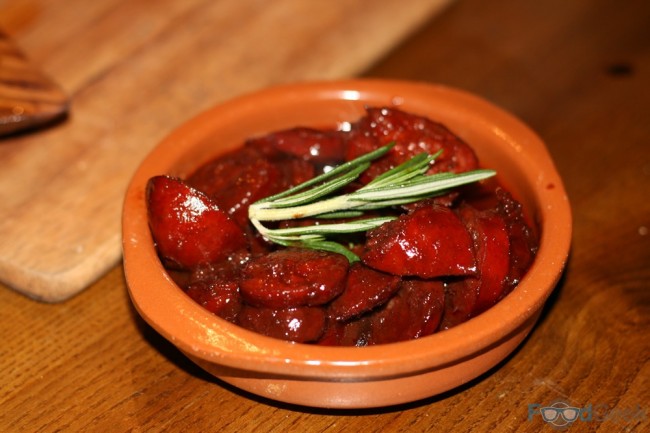 The oven roasted pork & beef meatballs were equally good. Soft and tender meat served in a creamy, smoked tomato sauce topped with crushed almonds.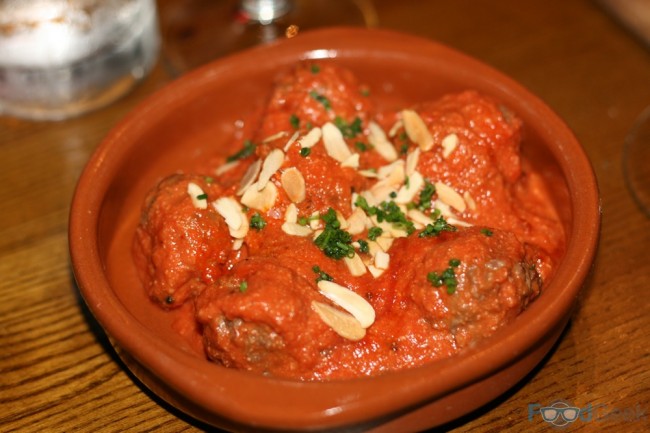 Despite the fact that I probably wouldn't have chosen most of the dishes we were served myself, I enjoyed them all and was really impressed with the cooking at Ambiente. It's simple but obviously high quality; both in terms of the ingredients used and that everything is cooked freshly to order.
It's a charming little place with an authentic Spanish decor and general vibe. I'll definitely return to try some of the more interesting dishes on the menu and if I lived closer I could imagine it being a regular haunt.
Date of visit: 29.04.2014
Disclaimer: I was invited to the restaurant to sample the dishes but as usual all views are my own honest opinions.