They say time flies when you're having fun. Friday nights have certainly been flying by since B.Eat Street started running their 'Friday Food Fight' events at Upper Campfield Market. Amazingly last week was the tenth and there are now just two remaining! It was my sixth time (plus the 'Cook Off') and just as much fun as ever.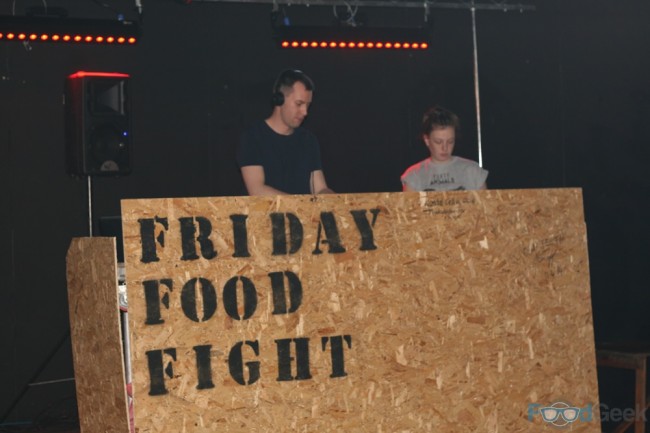 First stop, Flavours Found for my regular 'Far Far' inspection. I really admire the effort Richard puts into changing the shape every week, they were looking particularly good this time and tasted OK too!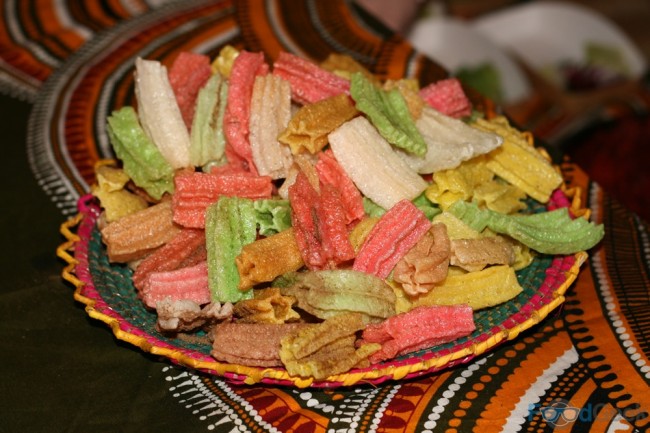 I've probably eaten more of Richard's food than any of the other vendors at Friday Food Fight so was excited to see him trialing a new dish, Moroccan 'Amaze-Balls'. Essentially a deconstructed beef tagine, on a stick! Two spicy beef meatballs and two Moroccan 'arancini' (deep fried balls of couscous coated in breadcrumbs). Topped with a fragrant sauce, pomegranate and raisins. Such a clever idea and it tasted great.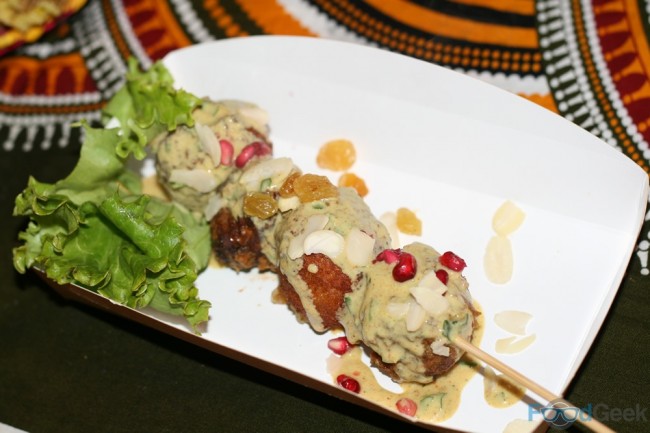 Making their Friday Food Fight debut was one of my favourite Manchester restaurants, Mughli. I'd been eagerly anticipating this and they didn't let me down.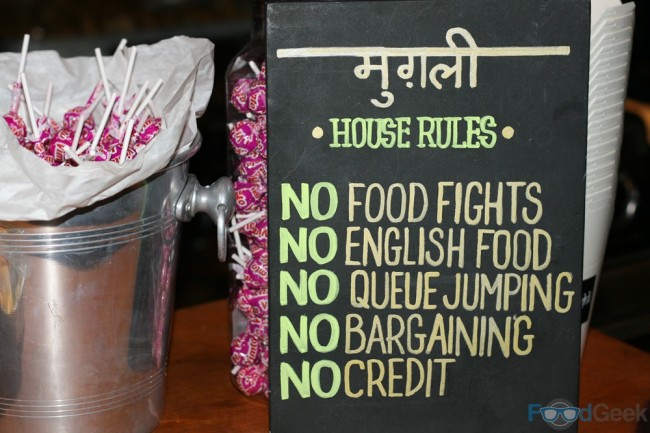 They brought their own, fantastic 'Far Far' along and positioned themselves right next to Flavours Found!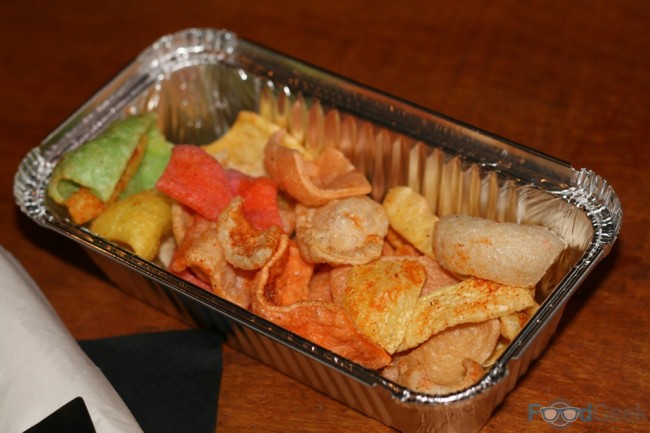 The 'Kati Roll', a spicy tandoori chicken wrap, is one of my favourite dishes at Mughli but I actually preferred this version over the one they serve in the restaurant! It's longer and thinner with much more sauce, keeping it moist and packed with flavour which I loved.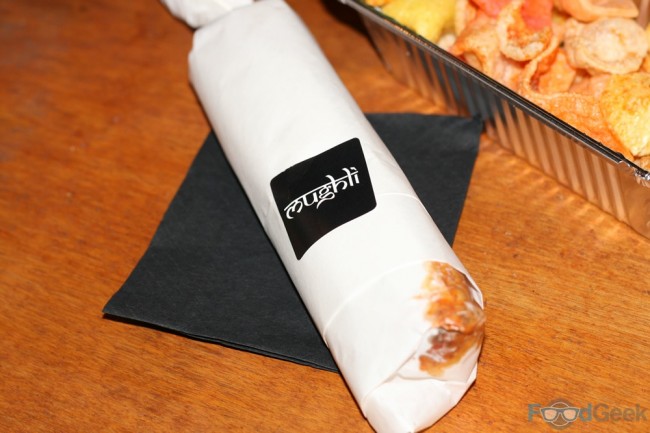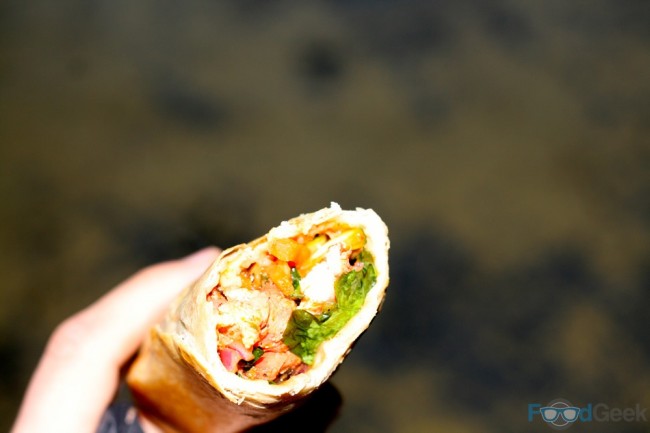 'Butter Chicken' isn't a curry I order on a regular basis since I tend to go for the hotter ones but there's no doubting it's one of the tastiest. I've enjoyed Mughli's previously, it's such a rich curry with a great depth of flavour but here it was countered brilliantly with pickled vegetables and served with cumin rice.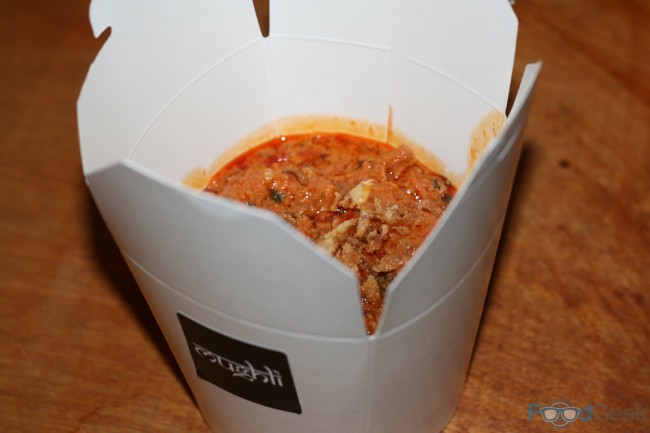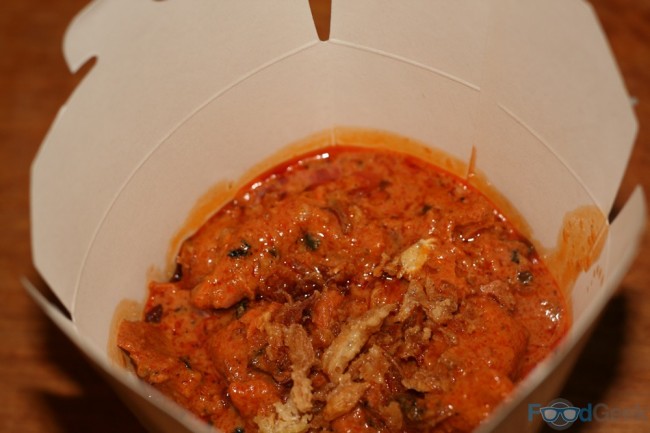 All washed down with a cooling 'Mango Lassi'; thick, rich and creamy with a hint of mint and fennel.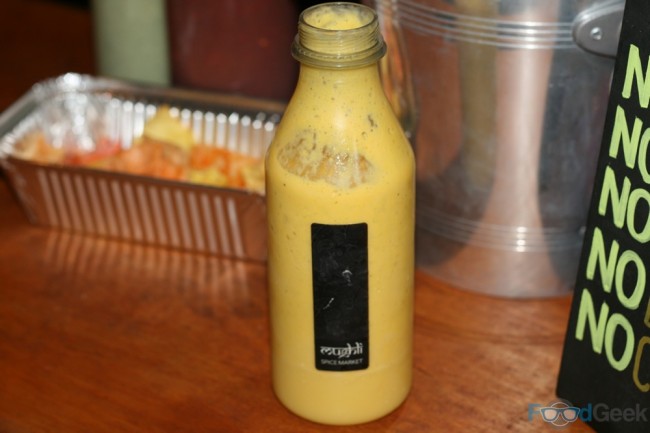 Like Richard at Flavours Found, Jason and his 'Love From The Streets' won their place at Friday Food Fight at the Cook Off. He wowed us with his Jerk chicken at the time but it seems to get better every time I taste it.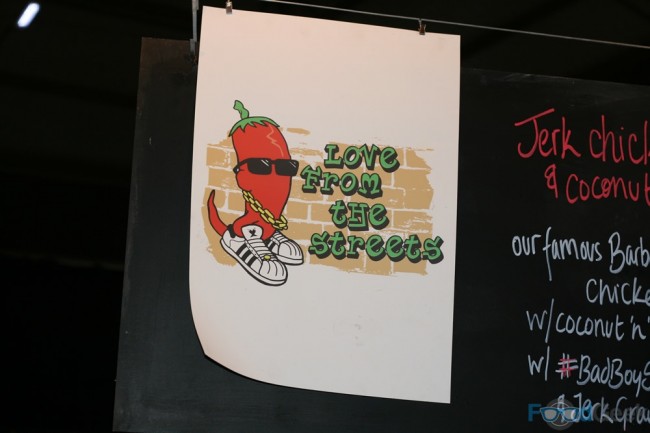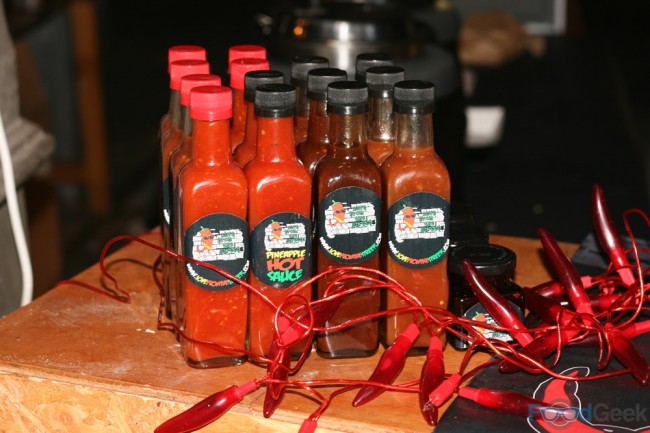 This time it was in the form of a 'Jerk Chicken Sandwich' which is without doubt one of the best things i've eaten this year. The giant, perfectly cooked chicken breasts are tasty enough on their own but are then topped with a gorgeous spicy mango salsa and served on a bed of purple cabbage slaw on a brioche bun! The pièce de résistance though was the simply stunning 'jerk gravy' served in a tub on the side, this was so good I poured every last drop over the burger and am not ashamed to say licked up the bits that dripped off.
I also took home a portion of his 'Slow Cooked Lamb Curry' which was great too. The lamb as tender as you're ever likely to find after being cooked for 6 hours in a rich curry sauce with dirty rice.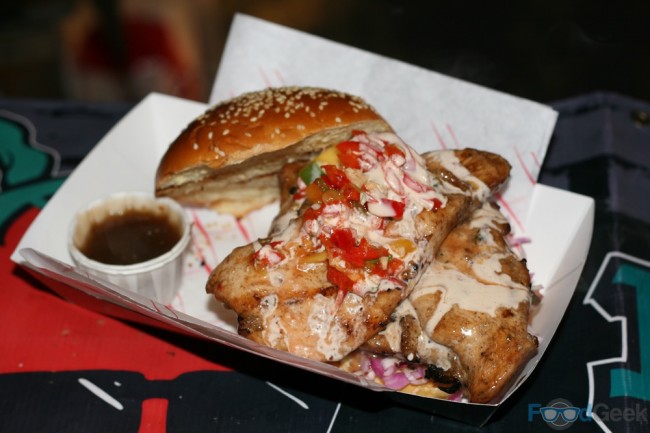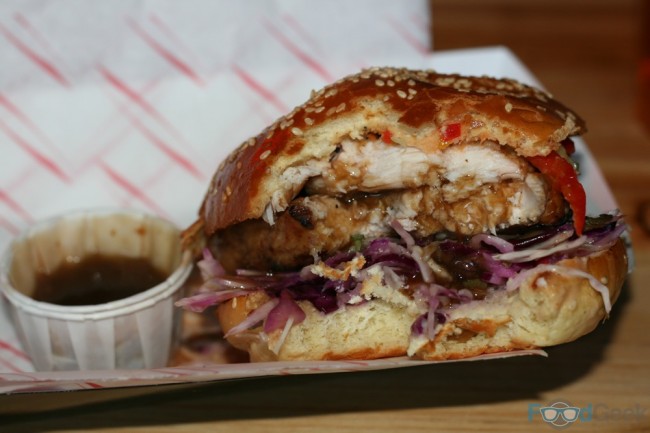 From Red's True Barbecue a portion of comforting 'Pit Beans' and to make me feel a little healthier their zingy slaw. Both just as good as their restaurant versions.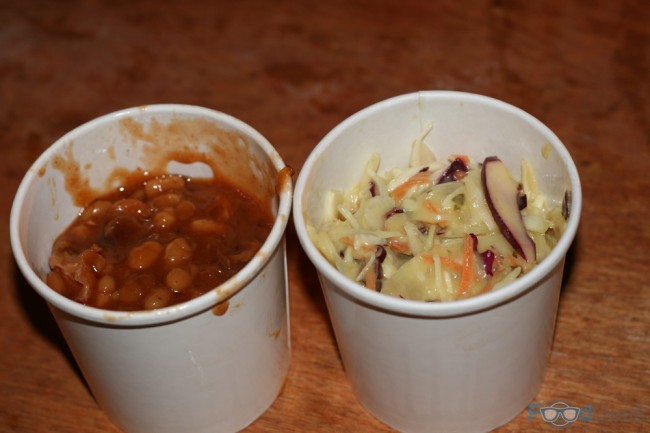 I really enjoyed the Sushi rolls from 'UmeZushi' right back at Friday Food Fight EP . 01 but it was great to see them preparing fresh Nigiri to order here. I was starting to get a little full by this time but had to try some. My 'Mackerel & Tuna Nigiri' were both excellent. Judging by the queues they had all night it seems people agreed.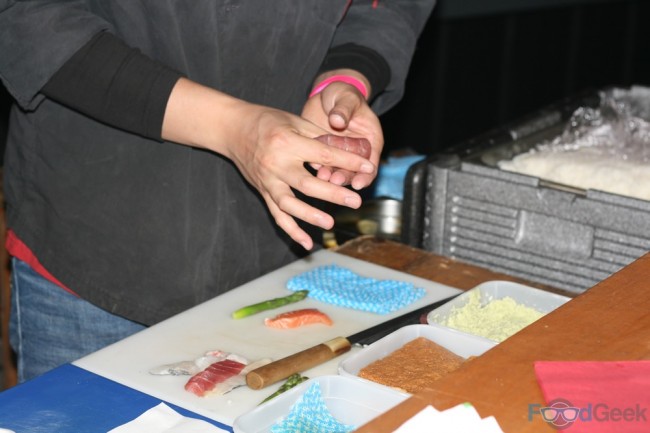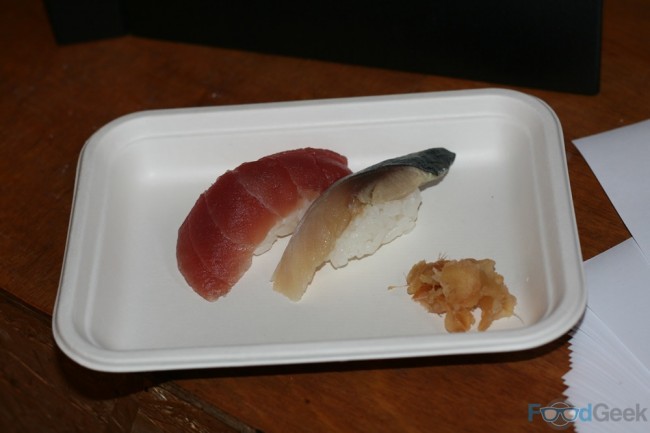 I was well and truly done after that, devastated that I wasn't up to eating at the Hip Hop Chip Shop.
There is always room for a Sugar Rush Gals dessert though! This time a 'Mexican Cheesecake' with Oreo base, lime cheese and chilli chocolate topping! I couldn't taste much chilli unfortunately which was a shame but I'll let them off since it was so good regardless.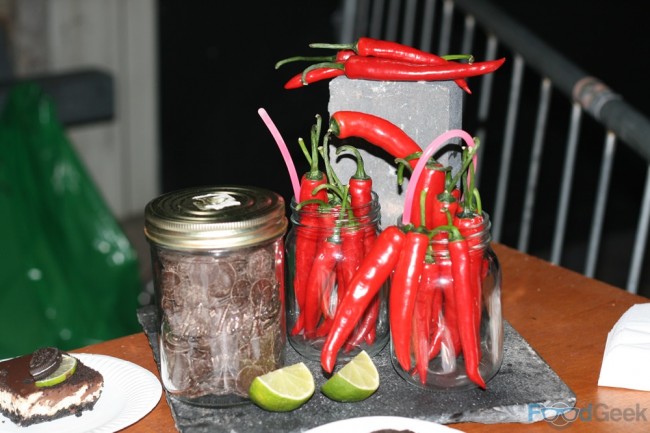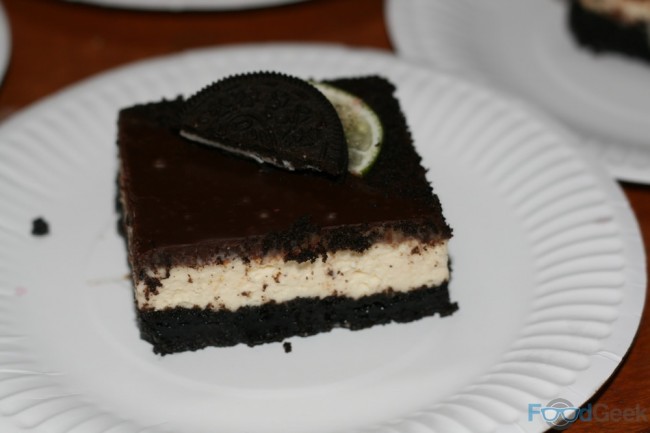 So there are just two Friday Food Fights to go and i'm away for the final one so this could well be my last. If so it's not a bad way to end what has been a fantastic event, I hear there are plans for something big in the summer which i'll definitely be looking out for.
Date of visit: 09.04.2014