Post-gig, late night eating at home generally consists of dodgy kebabs or overpriced Domino's pizza. Not so in London where after the recent Arctic Monkeys gig at Finsbury Park I finally made it to Japanese ramen bar 'Bone Daddies', located just a short walk from Chinatown in Soho.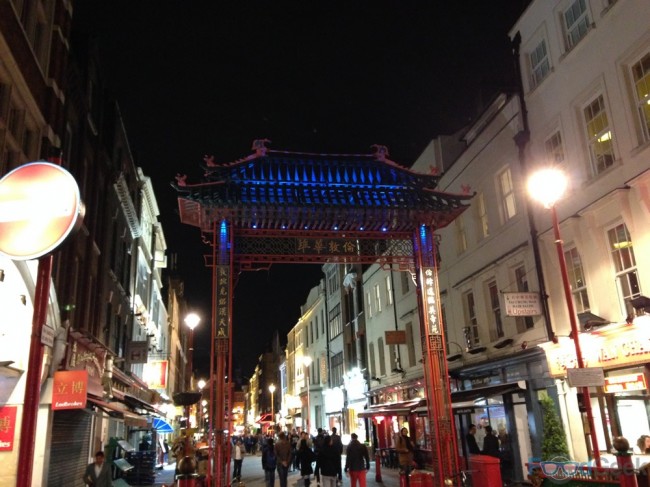 Bone Daddies – run by Ross Shonhan who was previously head chef at Nobu – has been one of the trendiest and most talked about restaurants of the last 12 months. Just as well really, as if I hadn't been looking for it i'd've walked straight past the rather inconspicuous building with it's all black front and small text only signage.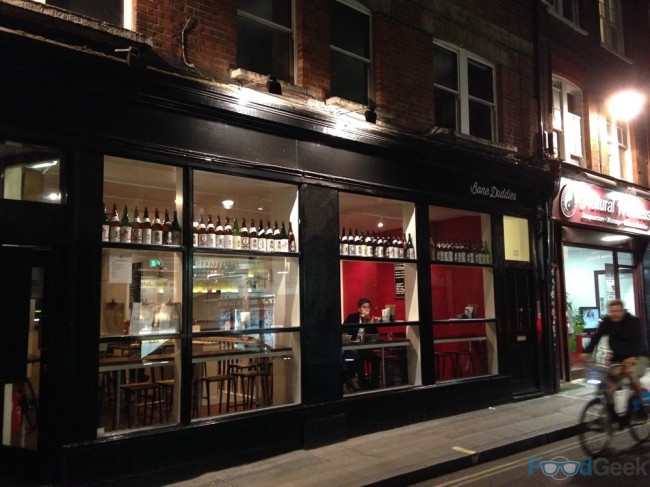 Once inside I immediately loved the place. It was bright, loud and the staff were incredibly welcoming, despite the fact they were due to close any minute and probably wanted to go home. We took a seat at the large bench in the centre with a great view of the bar.
We started with a couple of cocktails, perhaps unwisely having spent most of the previous 12 hours drinking. My 'Tokyo Mule' was really good though, a delicious concoction of sochu, rum, yuzu, ginger beer & bitters.
Unfortunately the same could not be said about Mrs FG's 'Ume Shower' as along with umeshu, lemon & bitters it also contained amaretto which is in fact evil. Our own fault for failing to spot this on the menu of course.
We were right back on track when the food arrived though, starting with a 'Boney D's Bun'. A gorgeous steamed hirata bun, much like the one i'd fallen in love with at Street Feast just a few hours earlier (review coming soon). This one contained fried fowl, cabbage, pickled cucumber and kimchi mayo. It was gone in a couple of mouthfuls but boy were they enjoyable mouthfuls. Just a wonderful combination of flavours and textures from the soft steamed bun, crispy fried fowl, crunchy cabbage, sharp pickled cucumber and stunning kimchi mayo. I'd have happily eaten a plateful.
My ramen was also excellent, after finding it difficult to choose I finally opted for the 'Tantanmen'; a chicken bone broth with sesame, chilli, pork mince & bok choy. The base broth was fantastic, apparently they're boiled for up to 20 hours and it really shows in the depth of flavour. There was plenty of chilli heat which I loved while the meat was rich and tasty. A really great comforting bowl packed full of incredible flavour. My only complaint was that it arrived so hot that by the time I was able to eat the noodles on the bottom they were a little overcooked for my liking.
Unfortunately, like the cocktail Mrs FG didn't choose wisely as although her 'Mr Mazeman 2.0' looked great it tasted a little odd. In hindsight had we been sober read the menu properly neither of us would have ordered a dish containing cod roe, cabbage and cream. The crispy bacon was brilliant as was the huge amount of shredded daikon on top but neither of us liked the creamy, fishy broth and noodles at all.
It clearly wasn't Mrs FG's night as not only had she picked the wrong cocktail and ramen, she  then developed a sore throat and completely lost her voice. The lovely waitress took pity on her and brought over a cool and soothing ice cream which really helped.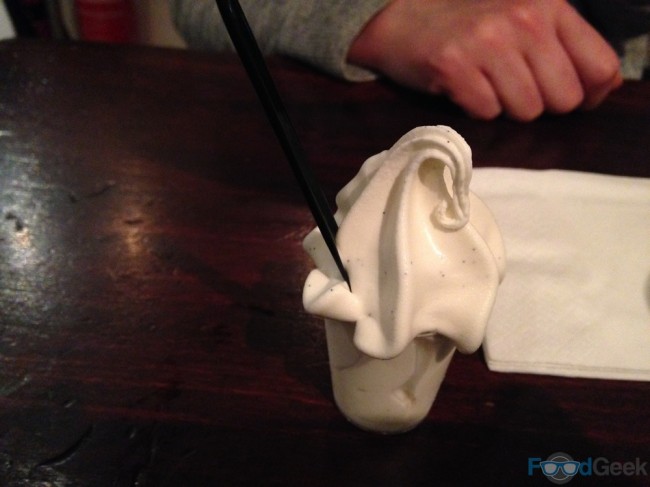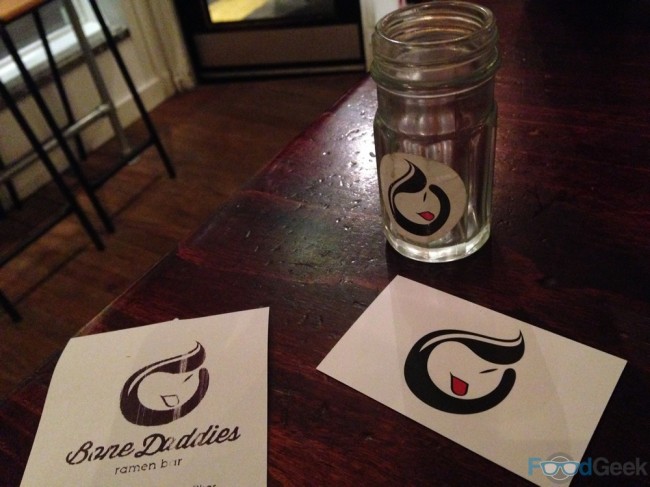 Despite not liking one of the cocktails and ramen I still really enjoyed Bone Daddies, I totally blame ourselves for not reading the menus properly. The steamed bun was incredible and my ramen excellent. I love the staff, atmosphere and just the whole vibe. I can't wait to return, a little earlier next time to sample much more of the menu.
Date of visit: 24.05.2014
Follow @FoodGeekUK
Review Overview
Summary : Brilliant food, great service, awesome vibe. Love the place!