I realised recently that compared to previous years i've hardly eaten in any 'fine-dining' restaurants so far in 2014. As much as I still enjoy refined French food and good wine with fancy silver service I often have the feeling of 'been there, done that', they just don't excite me as much as they once did.
It's partly fatigue from over exposure after eating in a LOT of fine-dining restaurants over the last few years and many more before this blog existed. But equally it's because these days I get more excited about supper clubs, street food and places offering vibrant new cuisines.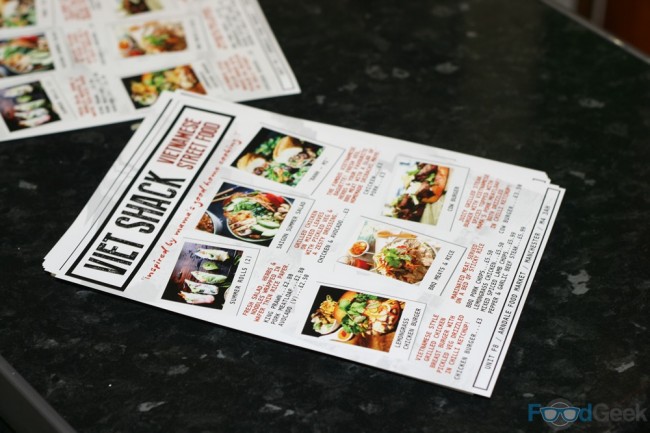 The latest of which, Viet Shack has been much talked about since opening earlier this year. Located in the Arndale Food Market – where the only other decent place to eat is Pancho's Burritos – they promise good honest Viethamese food 'inspired by Mama's home cooking' and that's exactly what they deliver.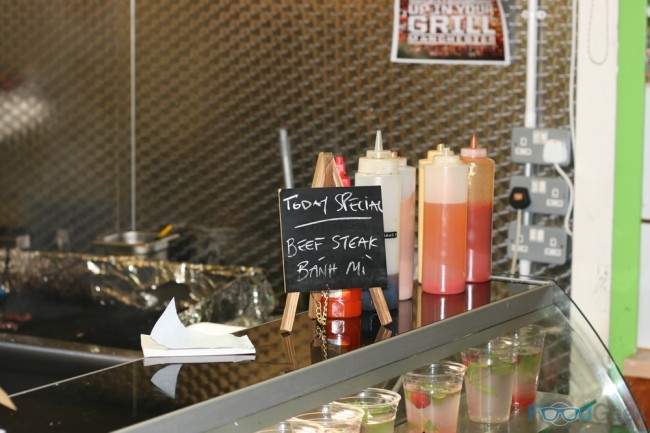 Viet Shack is a tiny place with a similarly small menu, meat is cooked to order on a single grill.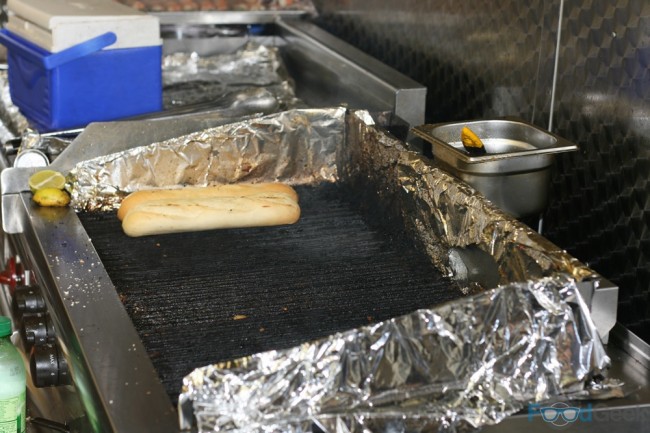 We started with refreshing homemade 'Coolers', just perfect for the hot summers day (remember them?). We tried 'Lime & Mint' and 'Raspberry & Mint', both highly enjoyable, each had a lovely balance of sweetness with just a touch of sharpness. The raspberry just about edged it for me, mainly as the couple of fresh raspberries left at the end were delicious.
The food was just as good; 'Vietnamese Summer Rolls' are one of my favourite things, I love the version at I Am Pho in Chinatown and I loved these too. Wafer thin rice paper rolls are stuffed with salad, noodles, fresh herbs and a choice of fillings. We went for 'King Prawn' and 'Avocado', I liked them both but despite being the worlds biggest avocado fan actually preferred the prawn as they had much more flavour. Mrs FG disagreed, though probably only because she picked them.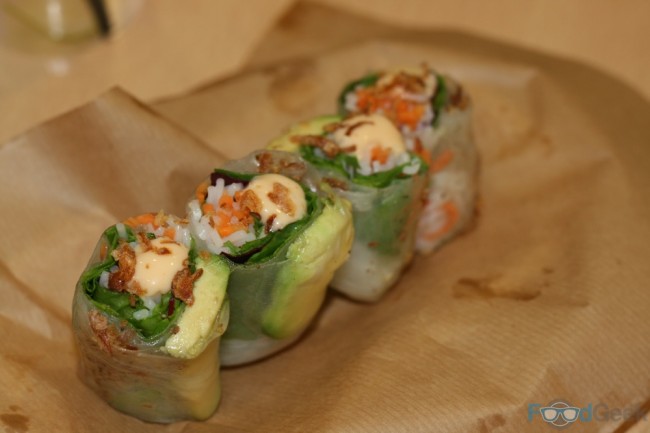 The 'Lemongrass Chicken Burger' was another stunner, not much to look at perhaps, but packed with flavour. The succulent chicken breast was tender and juicy, topped with contrasting pickled carrot and cumber and drizzled with chilli ketchup for a good spicy kick.
Various barbecued meats are available including lamb and pork chops, I went for 'Pepper & Garlic Beef Steak'. A generous portion of sticky rice comes topped with marinated steak and salad. Some of the meat was cooked slightly over the requested medium rare but it's so thin it would be difficult not to, it was still juicy and full of flavour.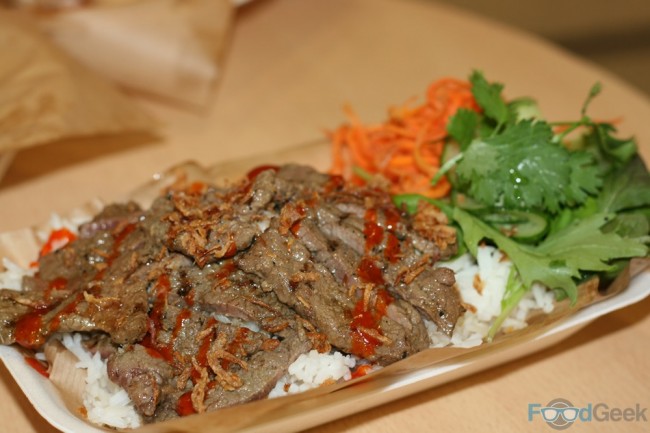 Bánh mì is surely the most famous Vietnamese dish and Viet Shack do a pretty great version. I loved the baguette itself, it was so light and fresh. It comes smothered in a stunning homemade Sriracha mayo before being stuffed with perfectly cooked chicken and more of that delightful pickled veg. The only disappointment was the lack of pâté, i'm not sure if this was intentional, or they'd just run out but for me a Bánh mì needs pâté. Of course I still ate and enjoyed every single mouthful.
Not only is the food at Viet Shack incredibly fresh, flavoursome and healthy but it's ridiculously good value too. Costing well under £20 for two of us to leave very full and very happy. I can't think of a better value lunch anywhere in Manchester.
It's no wonder they've been the talk of the town pretty much since they opened. There was a constant queue whilst I was there, nearby stall holders looked on enviously. They're going to have to up their game to compete or the entire Arndale Food Market may end up being a huge Viet Shack! I can't wait to return to try the rest of the menu.
Date of visit: 17.07.2014
Follow @FoodGeekUK
Review Overview
Summary : One of the best value lunches in Manchester!