Despite the fact that approximately half of my family are from Yorkshire, and in the words of my Mother I am in fact '50% Yorkshire' myself, I don't spend as much time there as I should. Leeds is obviously a great city but the county has so much more to offer, particularly along the coast. Just a few months ago I was considering a trip to Whitby in search of the best fish & chips. So when I was contacted by Ox Pasture Hall, a luxury country house hotel near Scarborough and asked if i'd like to review them it seemed a perfect opportunity.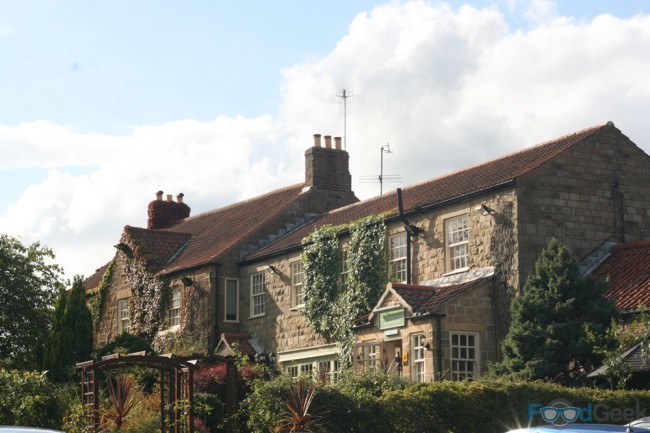 The luxury, country house is set in seventeen acres of beautiful grounds in the equally beautiful North Yorkshire Moors National Park, just a couple of miles from Scarborough.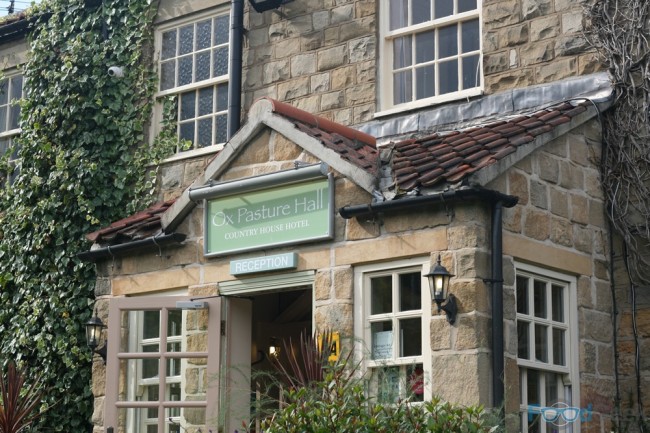 We arrived late after getting stuck in horrendous traffic, fearing we'd be too late for our Afternoon Tea reservation. Thankfully the staff were lovely and very understanding, after checking in they whisked us off to the cosy lounge area where we made ourselves comfortable.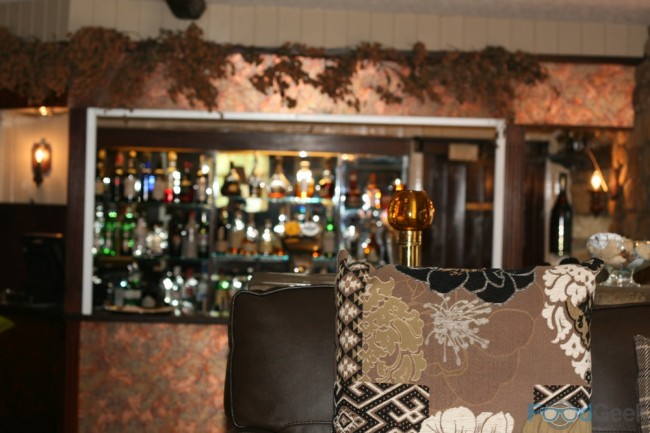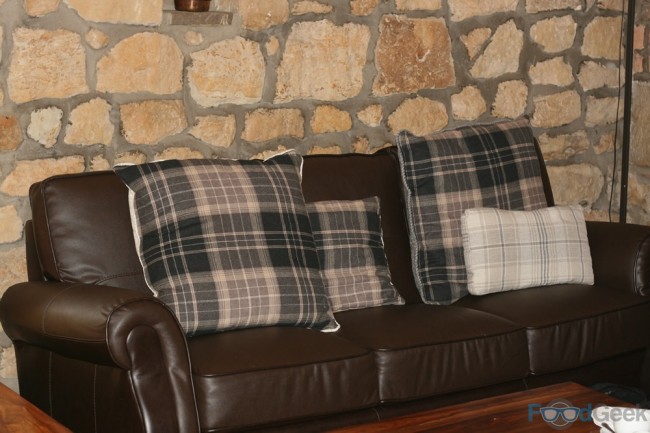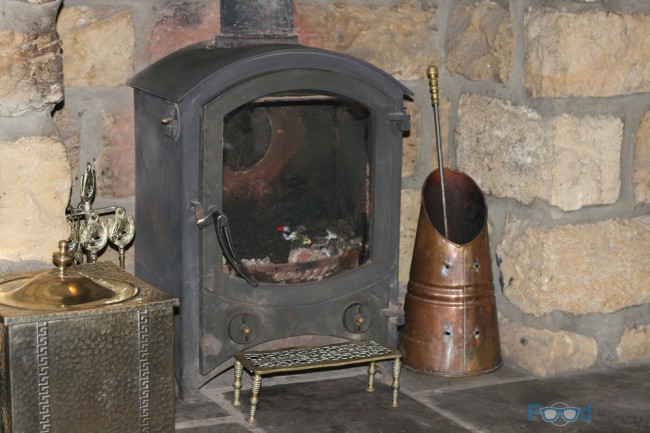 It wasn't long before the elegant and traditional tea was served.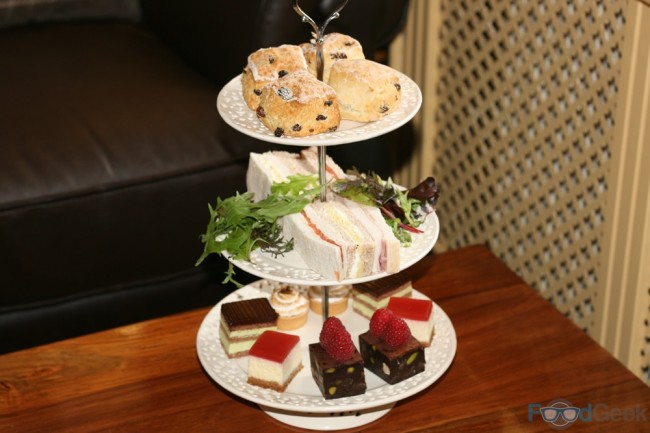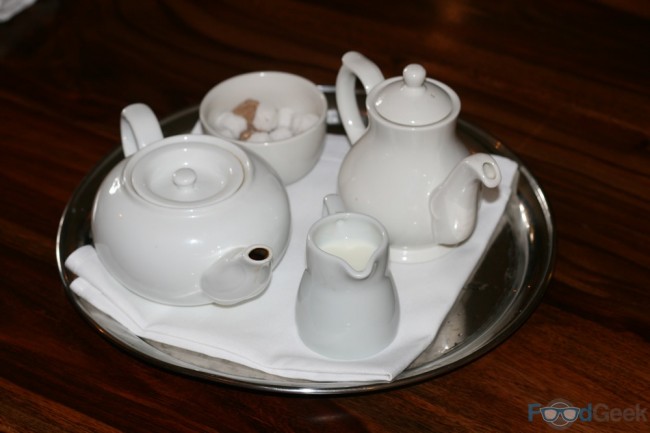 Although it looked very inviting we couldn't help thinking that it was perhaps a little sweet heavy, with just three small finger sandwiches compared to four cakes and two generous sizes scones each. Indeed we were right as we did struggle towards the end, needless to say we soldiered on in the interests of this post and enjoyed every single mouthful.
Highlights included cute lemon meringue tarts and incredibly rich rocky road type delicacies.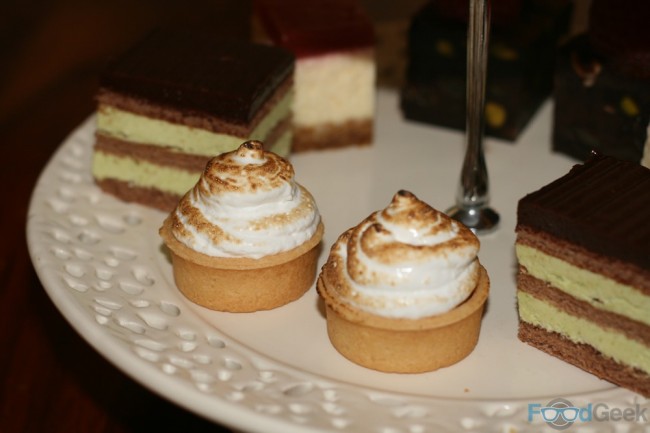 But the clear winner was the fantastic, freshly basked Yorkshire scones. Served with clotted cream and strawberry jam, naturally.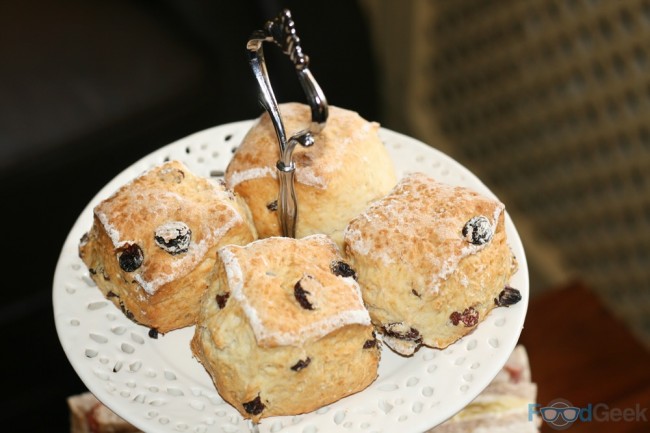 After over indulging on cake we tried to walk it off with a stroll around the gorgeous gardens and grounds.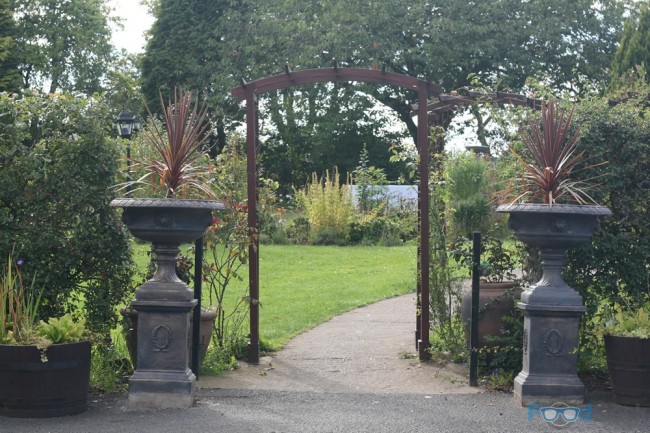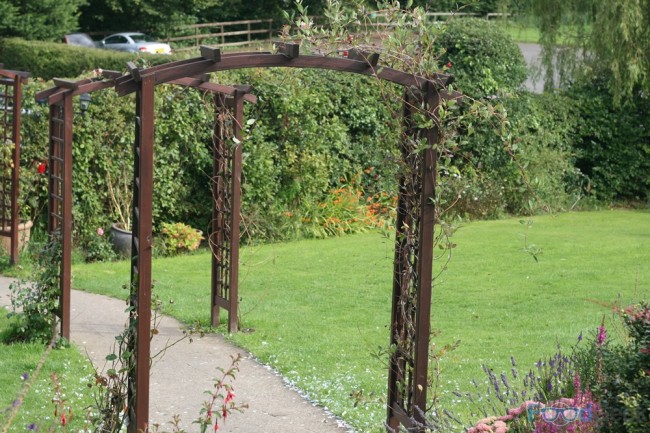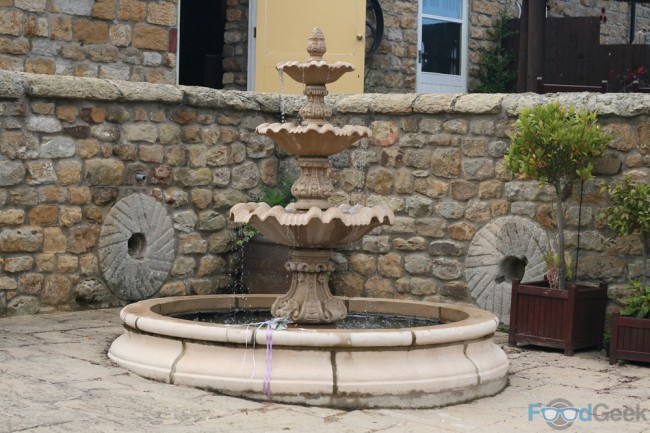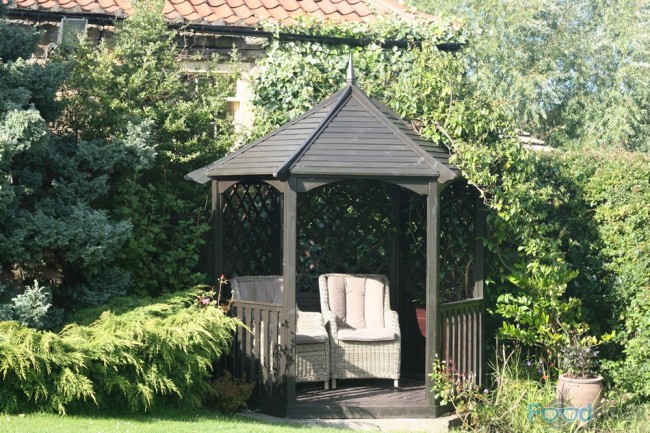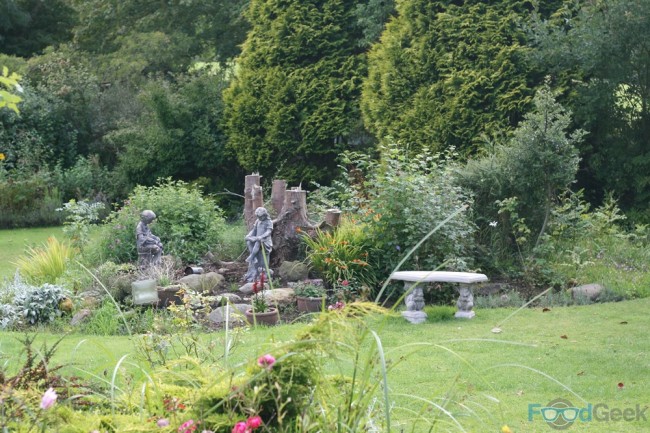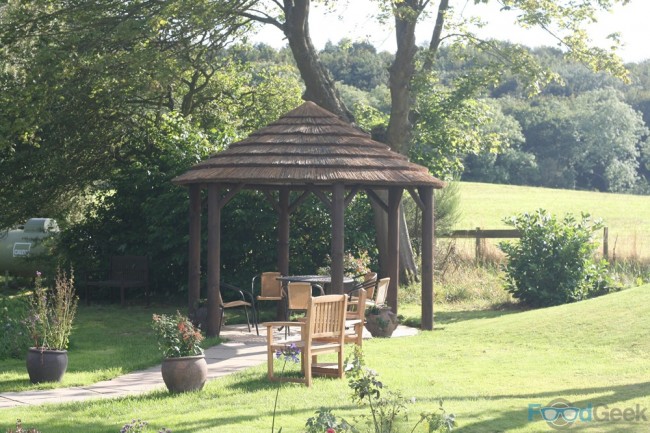 Before returning to our stunning suite for a well earned rest before dinner.
Whilst I can appreciate beautiful scenery and a nice hotel to an extent, for me it's always about the food. I'd had a brilliant time so far but it would be for nothing if the food wasn't up to scratch. The restaurant at Ox Pasture Hall is called the Courtyard Restaurant as it overlooks the picturesque courtyard garden.
It's the only restaurant in Scarborough to have been awarded 2 AA rosettes and is also listed as a recommended restaurant in the Michelin guide.
The restaurant serves two menus; A la carte and a more informal Bistro menu. We chose to eat from the a la carte but first were treated to an aperitif.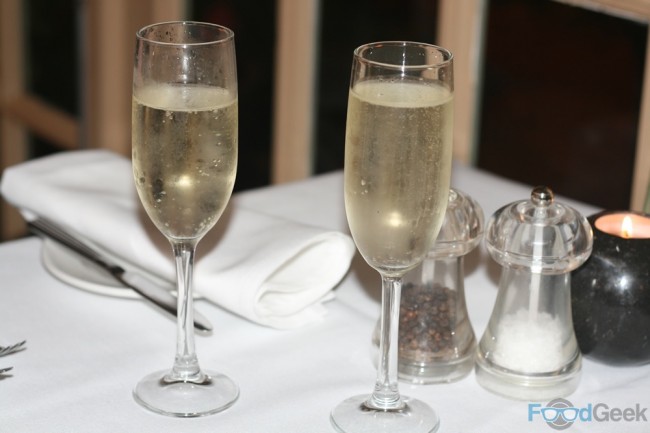 We then received a small taster dish before our starters; confit duck salad, duck liver parfait with cherry sorbet. The confit duck was meltingly tender while the parfait was rich and soft. The combination of duck & cherry worked wonderfully and proved why it's such a classic but it was elevated further by the modern cherry sorbet and freeze dried cherry. A very promising start indeed.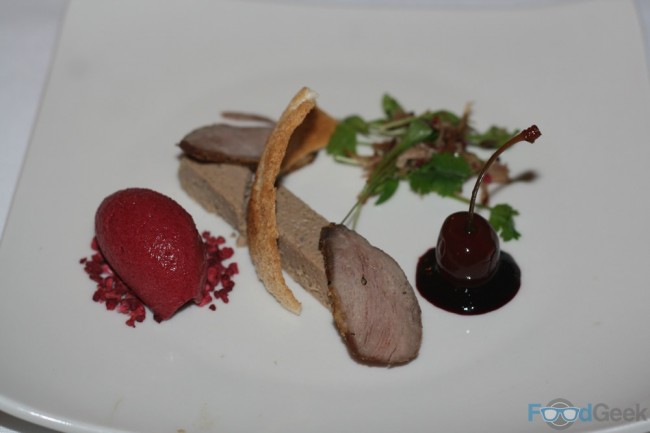 My 'Crab' starter was a much lighter affair; a tian of crab, spring onion and tomato served with a refreshing, light tomato & crab gazpacho that was packed with flavour. The quality and freshness of the crab was immediately obvious, a benefit of being so close to the Yorkshire coast.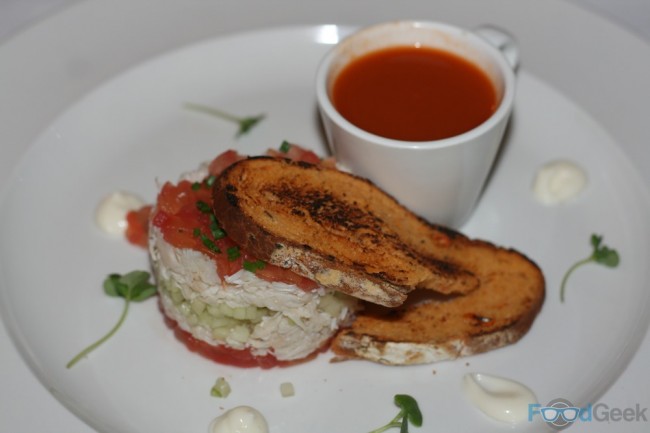 Mrs Food Geek's 'Beetroot, Carrot & Orange' starter arrived looking particularly beautiful, I was impressed with the intricate plating up. It tasted as good as it looked too, chunks of salt baked beetroot sat on a sweet carrot puree with orange and sharp raspberries. Despite my concerns the unusual flavour combinations worked perfectly together to form an interesting, wonderfully balanced dish.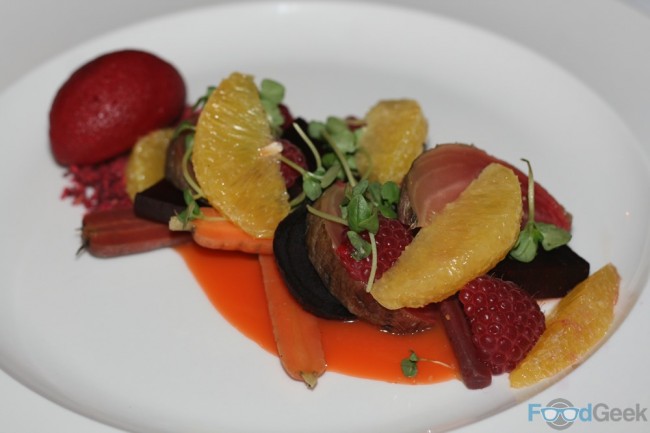 Before our main courses arrived we were presented with a 'Strawberry Consommé'. This was an enjoyable palate cleanser, if a touch too sweet for my tastes.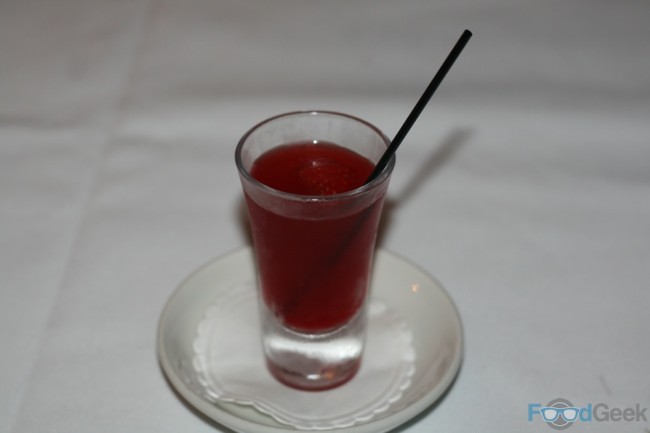 Main courses read fairly simply with a choice of lamb, pork, beef or cod. I opted for the 'Lamb' and was very happy with what I received as once again the plating up was impressive. I'd have liked the  lamb from the rack a little pinker but it was still nice and moist and tasted fantastic. Better still was the braised rump of lamb underneath and the intense, meaty sauce. A touch of freshness was added by baby onions, broad beans and peas.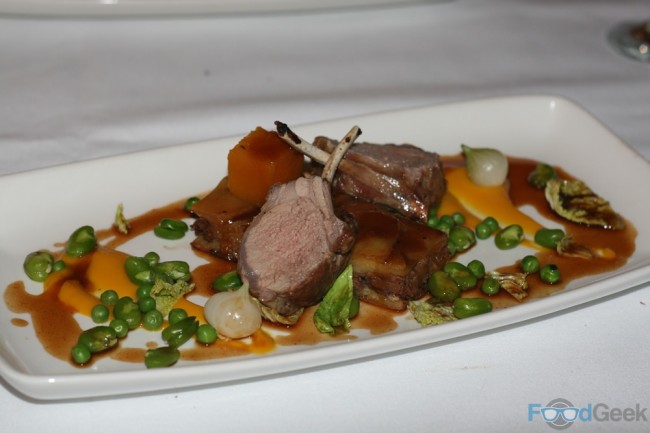 Mrs FG's 'Beef' was equally good. Two generous chunks of beef – a lovely pink fillet and a tender, slow cooked brisket – sat upon creamy mashed potato and mushroom duxelle with baby vegetables and another impressively meaty sauce.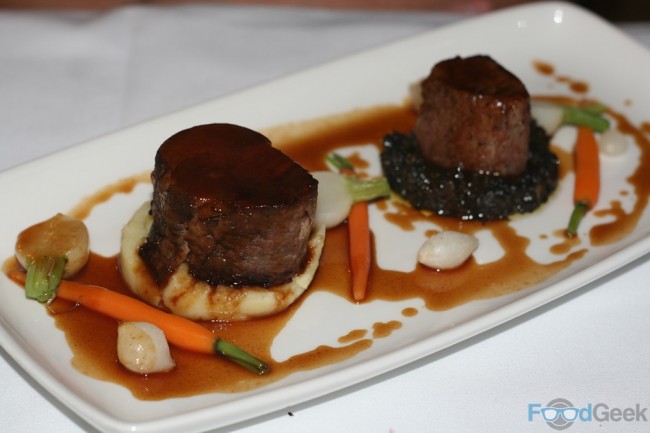 Both dishes were complemented beautifully by our choice of wine, a light but punchy Pinot Noir.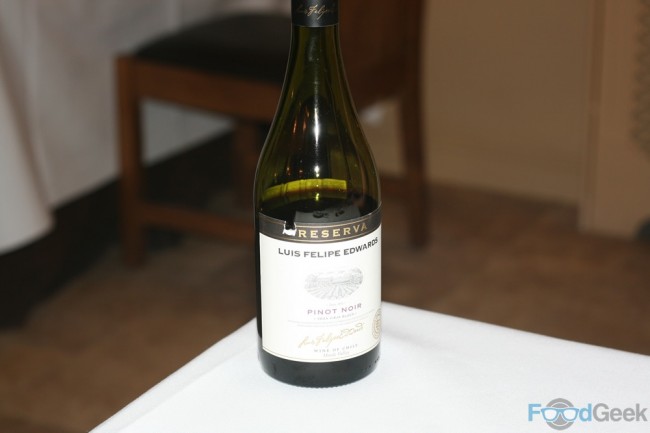 For me the highlight of the entire meal was the pre-dessert! The 'Whiskey & Passion Fruit Sour' was an absolute revelation, a flavour combination I've not only never tasted but never even heard of or even considered before, it was stunningly good.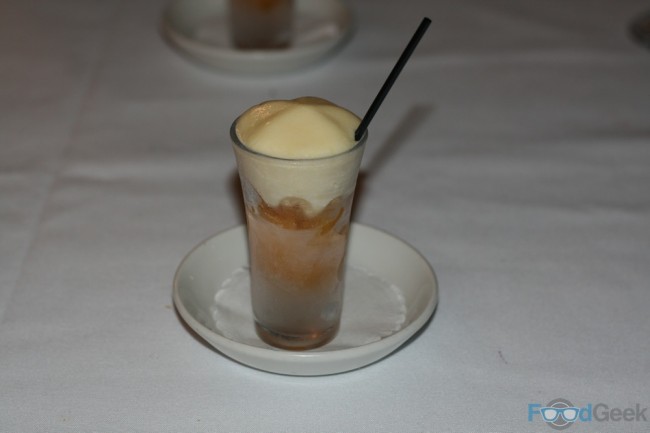 Feeling a little full by this point we sensibly decided to share the cheese board for dessert. But just as I was about to order, the 'Strawberry Crème brûlée' on the Bistro menu caught my attention. I'm a huge fan of this classic dessert and this was executed perfectly. Served with a strawberry milkshake, shortbread biscuit, fresh strawberries and freeze dried strawberries. A lot of skill went into the dish and there was a lot going on but it all worked perfectly and tasted brilliant.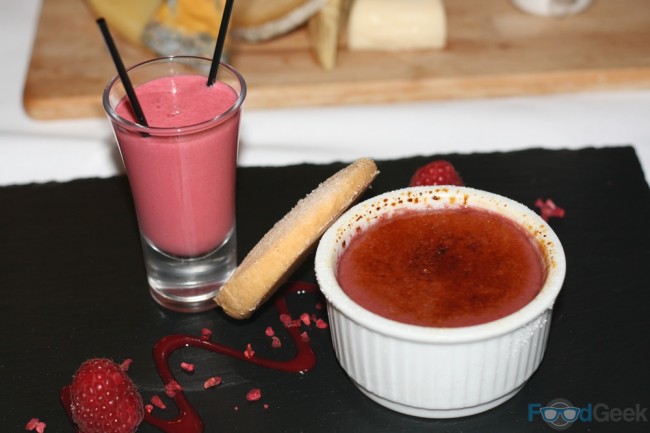 The 'Yorkshire Cheese Board' was also excellent. Containing generous portions of; Wensleydale, Yorkshire Blue, Smoked Cheddar, Ribble Dale Goat's Cheese, Harrogate Blue.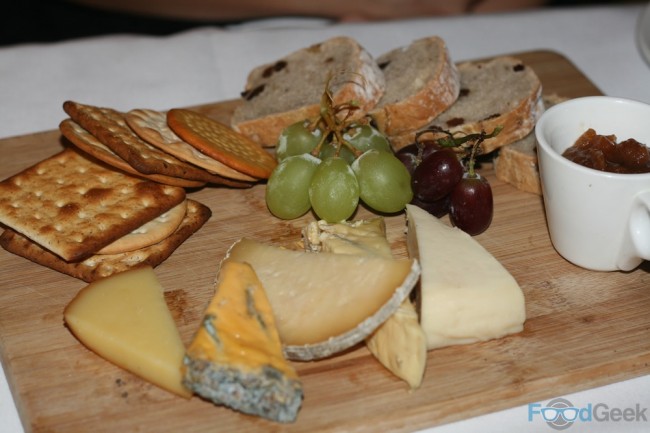 I was hugely impressed with the food from the Courtyard Restaurant. Most of the dishes appear fairly simple at first but there are modern little touches and demonstrations of skill which elevate them to the next level, together with the exceptional quality of ingredients it makes for fantastic food. The staff in the restaurant were great too, as friendly and welcoming as all the Ox Pasture Hall staff we encountered during our stay, they also seemed very knowledgeable about the dishes which is always a good sign.
The following morning, after a good sleep in our lovely suite we returned to the dining room one last time for breakfast. Great coffee and an even better 'Full Yorkshire' made from clearly high quality ingredients, particularly the black pudding which was as good as i've ever had.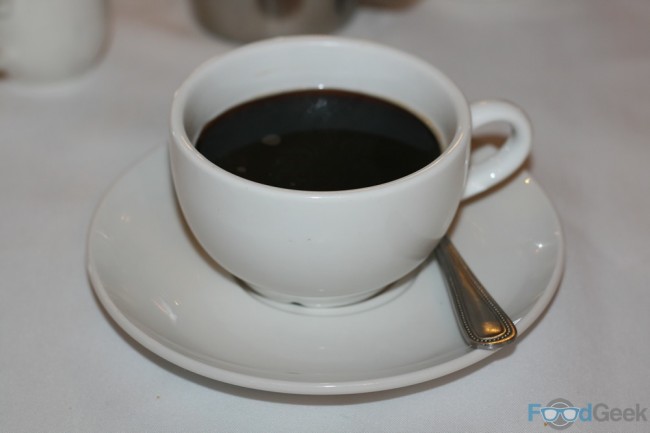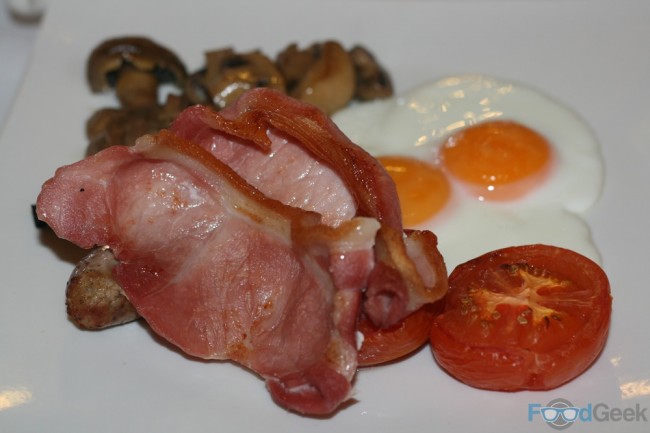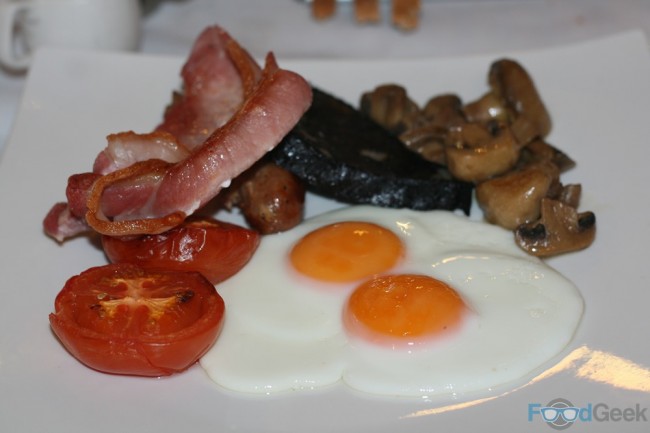 I thoroughly enjoyed the whole stay at Ox Pasture Hall; it's a stunning location, the grounds are really beautiful but so is the building and the suites within it. But the best part for me was the food, if it wasn't so far away i'd happy becoming a regular diner in the restaurant. I'll certainly consider staying there in future for everything mentioned above but mainly to eat there again.
Date of visit: 22.08.2014/23.08.2014
Disclaimer: I was invited to stay at Ox Pasture Hall as a guest of the hotel in exchange for this honest review.