If you'd told me in the late 90's that I'd be making regular trips to bowling alleys in 15 years time, I wouldn't have believed you for a second. I wasn't very good at bowling admittedly but mainly because of the types of places we had available back then. You know those bright, garish mainstream chains – usually on retail parks – full of noisy children and crap food.
That all changed last year after discovering 'boutique bowling alleys'; they're cooler, more adult orientated and most importantly for me have much better quality food. It started with DogBowl and then got even better at All Star Lanes.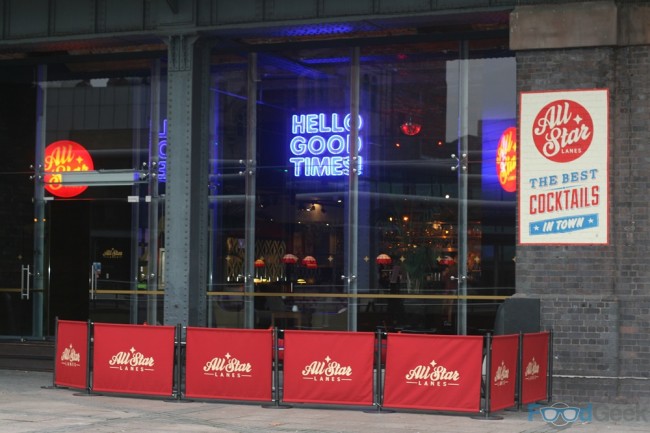 I was invited back to All Star Lanes recently to check out their new menu; before that though, there was time for a spot of bowling.
Although the venue is much cooler than those mainstream places mentioned, sadly the same can't be said about the footwear.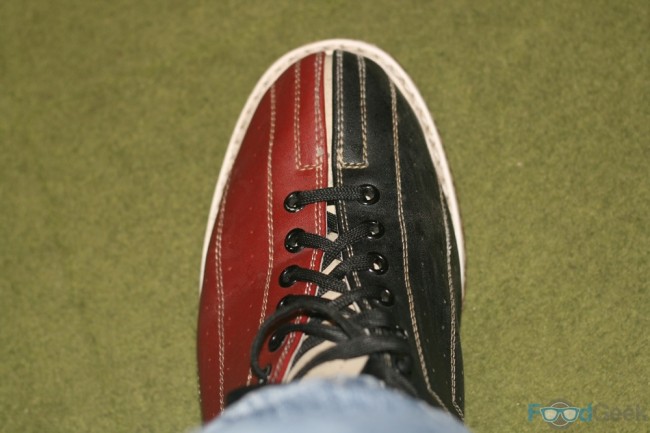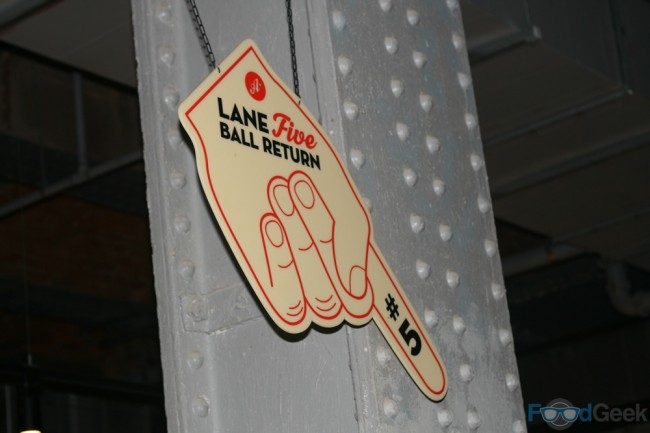 One of my favourite things about All Star Lanes is the bar menu; drinks and snacks are served to your lane whilst you bowl by friendly waiting staff.
We didn't eat from it since we'd be in the restaurant later but did enjoy a couple of cocktails. 'I Love NY', a fruity combination of vodka, Aperol, passion fruit and apple juice and 'Aloha Jar', a similarly fruity vodka, pineapple juice, passion fruit, lime and orgeat concoction.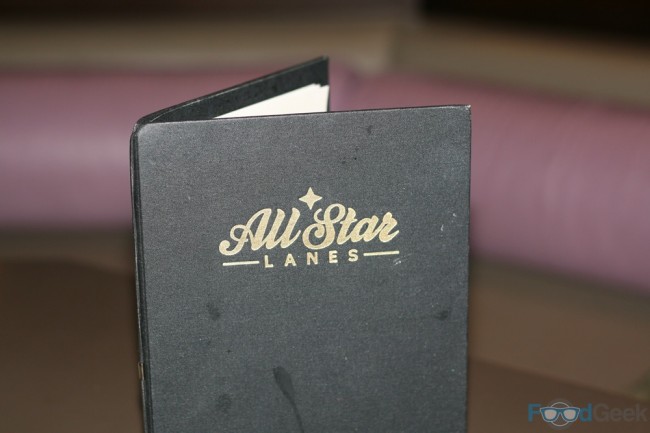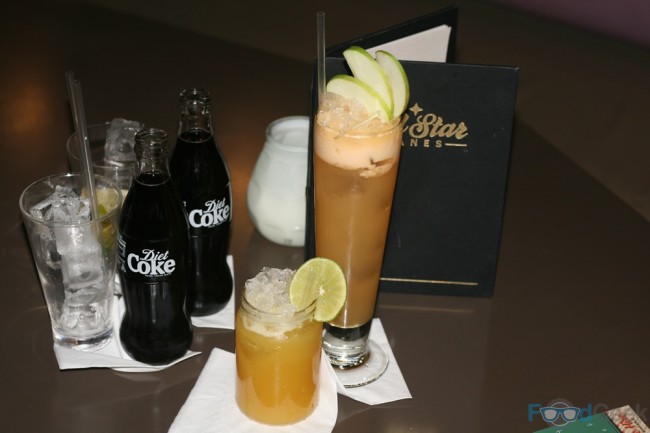 I still wouldn't say I'm good at bowling but I'm definitely improving and actually played better than I can ever remember; winning the game and even getting a couple of strikes!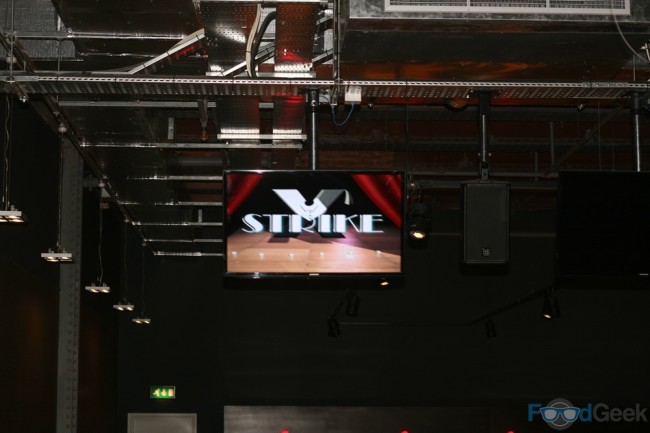 After I'd finished gloating we made our way to the restaurant area for my celebratory meal. Starting with 'Olives' and 'Bacon Popcorn'. The olives were excellent; big, juicy and flavoursome but I found the popcorn a little weird. The bits of bacon were great but the sticky maple syrup was too sweet for me.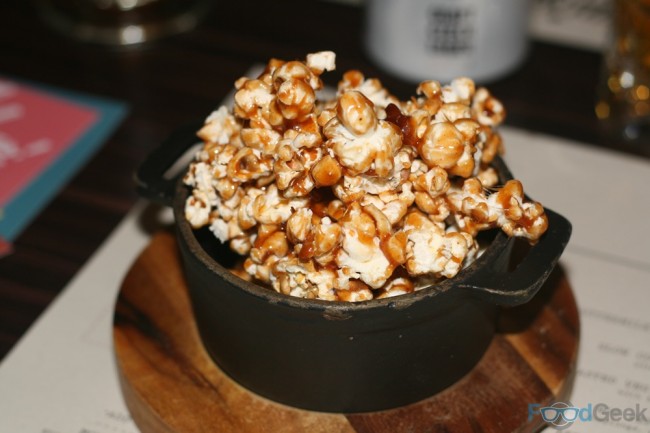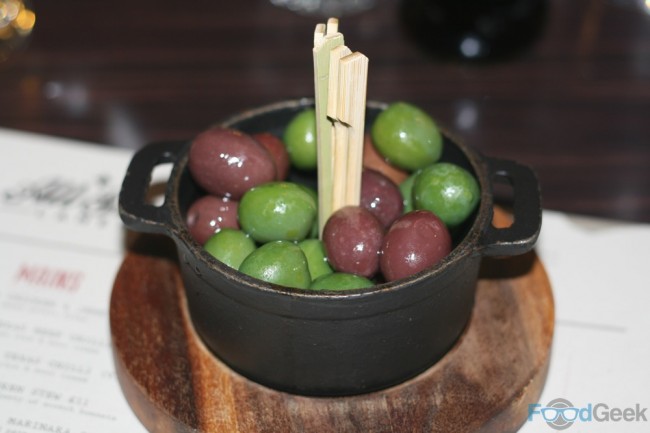 No such problem with my starter of 'Pulled Salt Beef Croquettes'. These were brilliant; tender slow cooked salt beef coated in crispy breadcrumbs and served with a sharp dill pickle & deli mustard dip.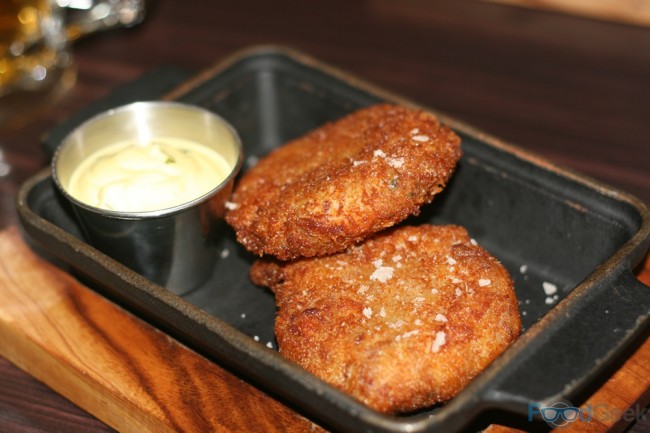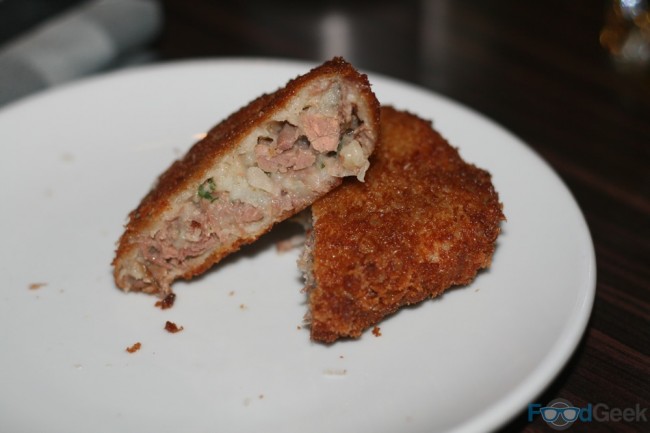 Mrs FG loved her 'King Prawn Taco' too; several plump king prawns in a large crispy taco shell topped with guacamole, sour cream, jalapeños & salsa. Our only complaint was that it was fairly difficult to eat due to its size, we both felt it may have been better to serve two smaller tacos instead, but it tasted great all the same.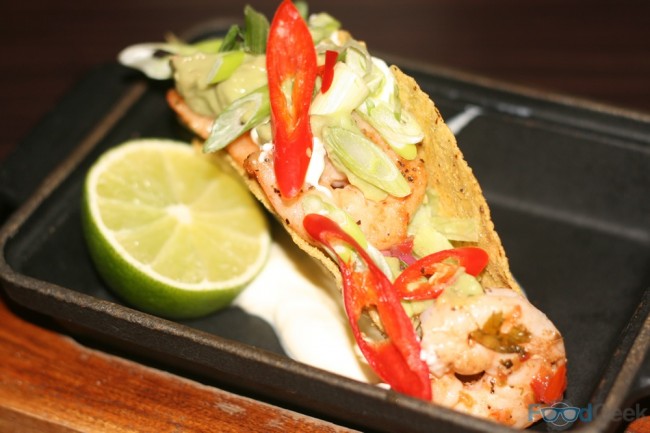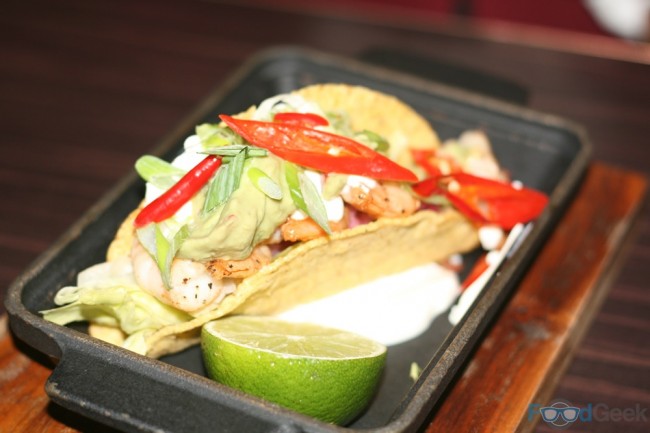 There are so many more refined dishes on the menu that I probably should have ordered but I somehow ended up going for a burger. I can't pretend I don't slightly regret that decision but I did really enjoy the 'Nacho Cheeseburger'.
A quality patty made from chuck steak & rib – cooked just slightly pink – was topped with taco shards, nacho cheese, guacamole and jalapeños. I'm generally going to get on with anything containing guacamole and jalapeños but I wondered whether the taco shards were just a gimmick, in fact they added a great texture to a really good burger. Eating it was actually reminiscent of chomping on a bowl of nachos.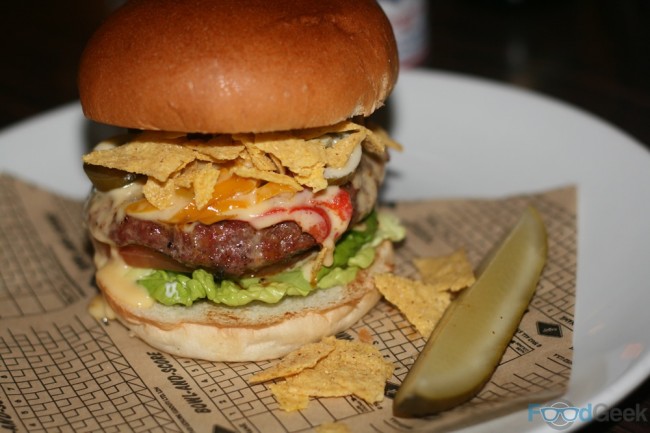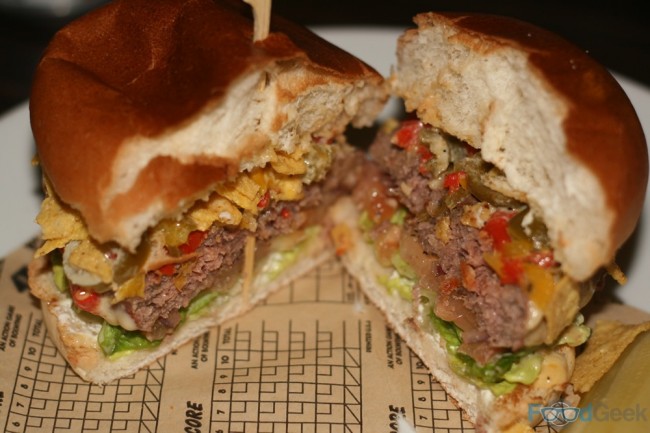 Mrs FG went for one of those more refined dishes; 'Chargrilled Cajun Swordfish'. It looked beautiful – like it could've come from any of the fancier restaurants in the city – and tasted just as good.
Although the fish itself was cooked just about medium – despite being requested pink – it wasn't dry at all. It was full of flavour from both the cajun seasoning and the deep char marks from the grill. Topped with a zingy guacamole and served with crushed potatoes, roast cherry tomatoes and green beans it was a highly accomplished dish.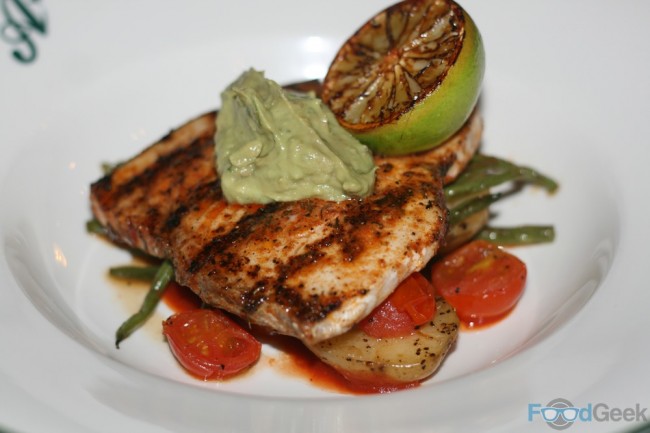 Our sides were 'Lime & Chilli Slaw' which was OK but lacking in both lime and chilli and 'Monterey Jack Corn Grit Chips' which were amazing. I love grits anyway but had never had them cut into chips and fried before, similar to polenta chips but with an even better texture and a lovely savoury flavour from the cheese and seasonings. These are incredibly addictive things.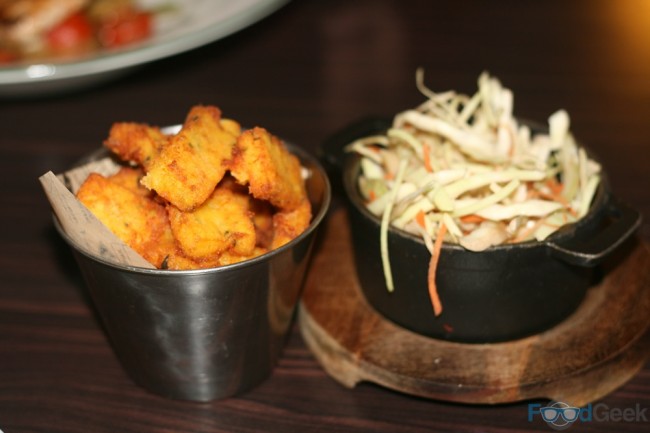 As well as great cocktails, alcoholic milkshakes, wines and spirits there's a decent beer selection too. As a beer geek there are perhaps a few too many average American lagers but also a couple of standout wheat beers and a decent IPA, a perfect match for much of the food we ate.
Desserts were mostly good; my 'Warm Cherry Pie' looked very pretty and I loved the pastry. Unfortunately it contained a combination of fresh cherries which were great, and glacé cherries, which are clearly evil! I won't hold it against them though as I realise there are people in the world who don't hate them as much as me. The vanilla cream and toasted almonds were a good accompaniment to the pie.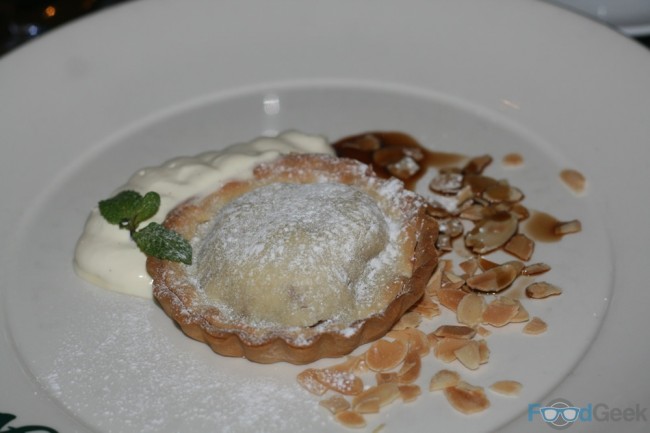 Mrs FG's 'Chocolate Rum & Raisin Brownie' itself was really good; an outer crust with a gooey centre, rich and chocolatey. We didn't love the strong toffee flavoured cream that came with it though, it didn't taste great and overpowered the brownie.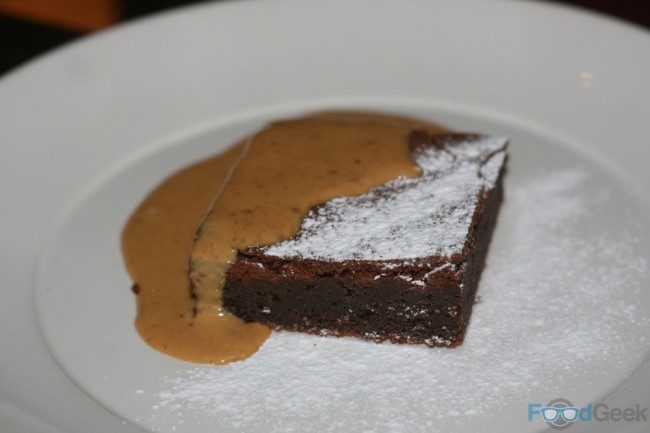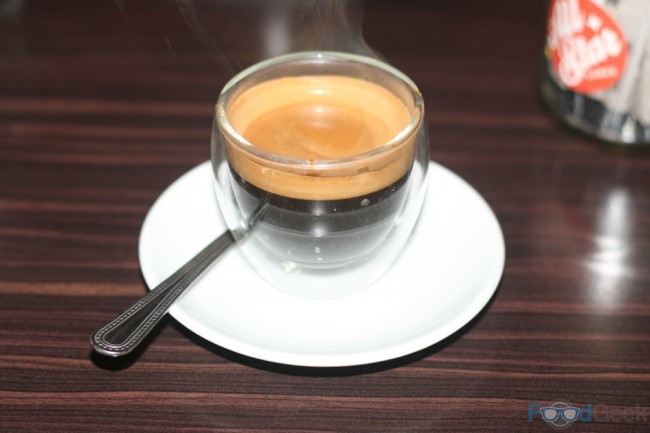 Overall, we were impressed again with the food at All Star Lanes, it's easy to forget the low standard in most bowling alleys. The food here is easily good enough to be considered a restaurant in its own right and I love the balance they've found between traditional fast food style dishes – but made properly – and more refined restaurant standard dishes.
As I said last time; I'd be more than happy to go purely to eat, regardless of whether I was bowling or not. Although, now that I'm not terrible anymore I might keep up the practice and maybe someday will actually be good.
Date of visit: 29.10.2014
Disclaimer: I was invited to All Star Lanes to sample the new menu and wasn't asked to pay for my food or drinks. As ever this does not guarantee a positive review, only honest feedback. I have previously enjoyed the food just as much when paying in full here.