Despite being a lover of Spanish food it's not a cuisine I often eat outside of Spain.
Mainly because most of our restaurants are usually full of the same old clichéd dishes that are inevitably never as good as the real thing.
Also, so much traditional Spanish cooking is fairly simple but relies on the quality of ingredients and I don't think many of their classic dishes are easily replicated with produce from this country.
When I heard about Levanter, a little tapas place in Ramsbottom I was excited as it seemed to tick all the right boxes; informal, relaxed, no booking policy, no time limits, traditional Spanish produce etc.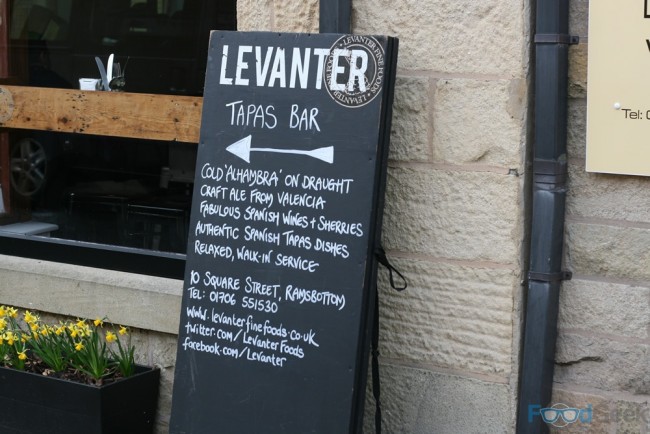 For me the best tapas places in Spain are often where you'd least expect them; in tiny villages or tucked away down a little side street on city outskirts. I hoped we finally had something similar in Greater Manchester.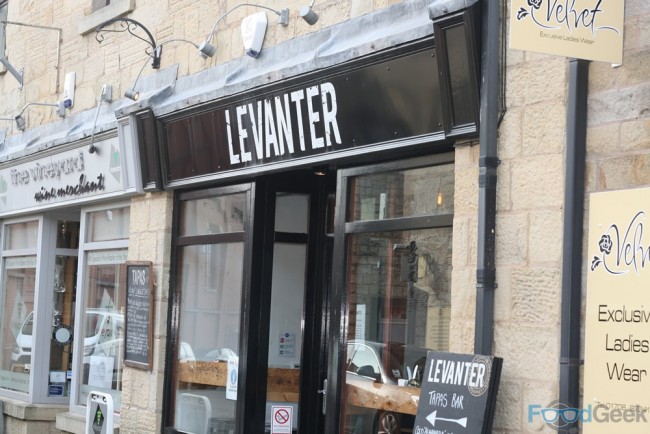 From the moment I stepped inside I had a good feeling about the place. It just oozes character and Spanish charm.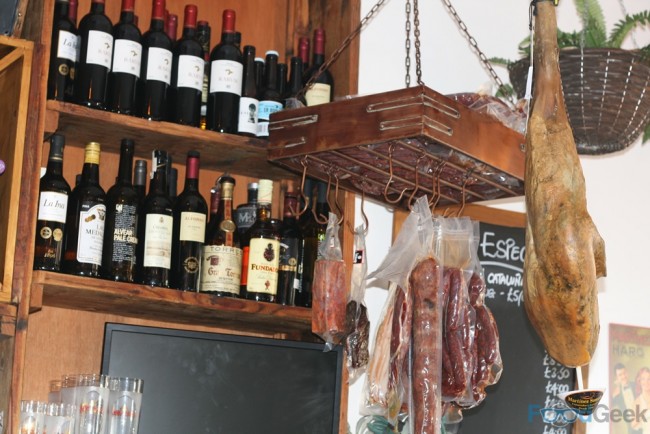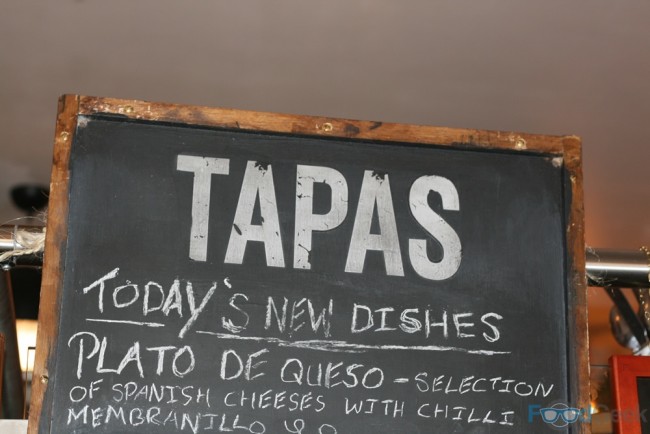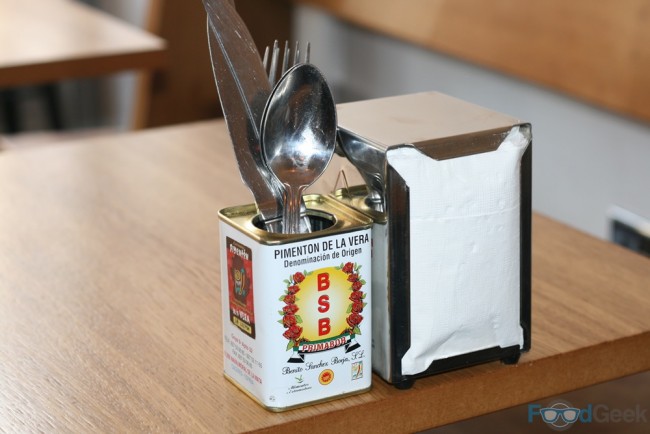 The menu is fairly small, with a few sharing boards of various meats and cheeses along with four pescado, carne and verduras (or fish, meat and veg) dishes each.
Wanting to try as much as possible and to keep it simple we ordered all 12 of the individual dishes.
But of course we started with lovely olives and fresh bread. Making sure not to eat it too fast as so many of the dishes to come sounded perfect for bread dipping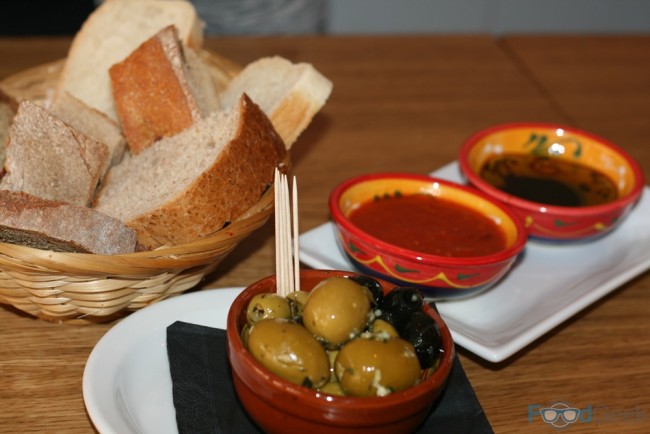 In true Spanish style dishes are sent from the kitchen individually as they're ready. First to arrive were addictive padron peppers coated in sea salt.
Hugely enjoyable but it's always disappointing not to find a single hot one. Not that I can hold the chef responsible for that!
Followed by 'Boquerones De Cantabria', beautifully fresh marinated anchovies that the menu proudly states come from Santander.
'Patatas de Levante' is a twist on classic tapas dish patatas bravas.
Thin sliced, fried potatoes topped with a spicy tomato salsa. The potatoes were amazing, super crispy and well seasoned. The salsa was also great; I just would've liked a bit more of it as only the top layer of potatoes really got any.
A couple of meat dishes arrived next: 'Pinchos Morunos' or spicy pork skewers.
And 'Habas Y Serrano', broad beans & Serrano ham cooked with garlic & mint, an excellent combination of flavours.
Although Levanter does well to avoid the cliché dishes of other tapas restaurants, there's still room for 'Albondigas'.
And why not? The succulent pork meatballs were delicious. I particularly liked the addition of olives to the rich tomato sauce.
'Garbanzos Espinacas Y Heuvos' – Spinach, chickpeas & egg with garlic & cumin seeds was warm and comforting.
Although I did prefer the similar but meatier version. 'Morcilla Y Huevos' contains handmade Morcilla Picante, gorgeous Spanish black pudding.
My favourite dish was 'Atun A La Plancha'. A stunning piece of perfectly seared tuna served simply with a punchy salsa verde.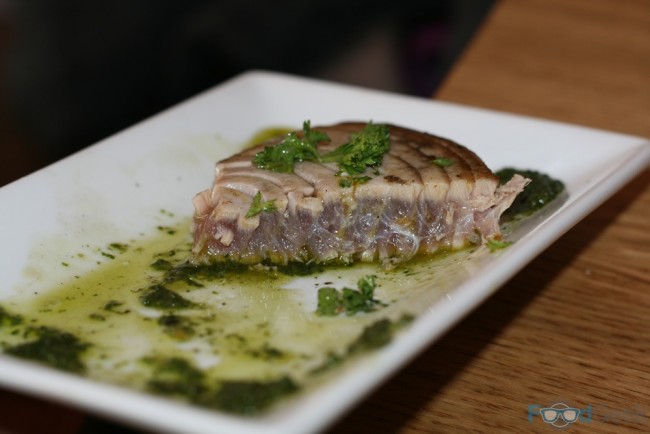 Almost as good was 'Trucha Areo Iris A La Plancha', beautiful rainbow trout fillet with lemon, sea salt, parsley & olive oil.
Last but not least 'Gambas Pil Pil', large juicy king prawns in garlic & chilli olive oil.
It's not just the food that's great at Levanter; drinks are distinctly Spanish too.
I enjoyed 'Er Boqueron', a Valencian craft ale brewed with sea salt along with a delightful white Rioja.
I loved everything about Levanter.
It's such a charming little place – both the restaurant and Ramsbottom as a whole. The staff are all lovely, service was very efficient and it's outstanding value.
Most importantly the food was flawless. It's a small and relatively simple menu but when using fresh ingredients of such quality it's best to let them shine, which the cooking at Levanter really does. I believe the menus change regularly too, almost certainly seasonally. I can't wait to return to try more. I just know if I was more local or Ramsbottom was a little easier to get to I'd be a regular customer for sure.
Despite being early April it was even warm and sunny for my visit, if I'd had a couple more drinks I'd probably have believed I was in Spain.
Date of visit: 02.04.2015
Follow @FoodGeekUK
Review Overview
Summary : A little piece of Spain in Ramsbottom...