I was surprised to receive an invite to the 'reopening' of The Alchemist in Spinningfields recently. I didn't even know it had closed, much less that it was to reopen double its size and with a full food menu.
Probably because Spinningfields isn't an area I spend much time. I'd never eaten in The Alchemist before either, though I had been for cocktails several times and always been impressed. The new menu sounded intriguing so I went along to the press preview to check it out.
Walking through the door it's immediately obvious that the place has doubled in size. The compact bar I remembered is now a huge open space, with a whole new dining room attached to the far end.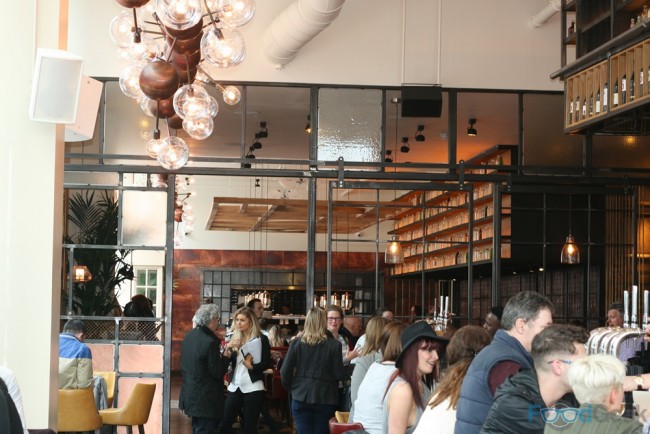 They can now cater for 116 covers in the dining room and 140 more on the outdoor terrace, not bad for a cocktail bar!
As we took our seats in the plush new dining area I couldn't help but admire the decor; it's modern, stylish and in true Living Ventures style suits the setting and theme of The Alchemist perfectly.
Within moments of sitting down we were offered olives whilst perusing the extensive drinks menu.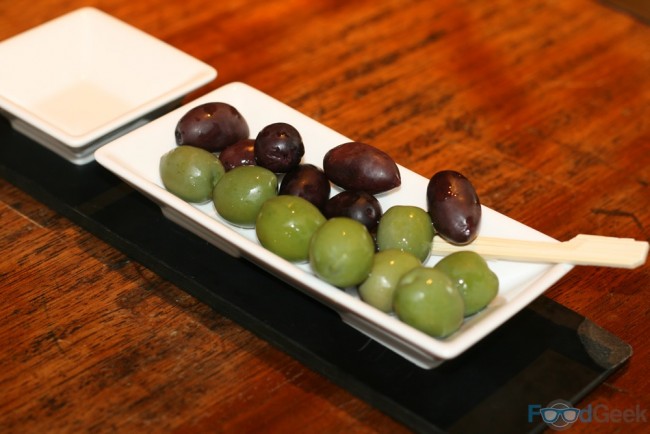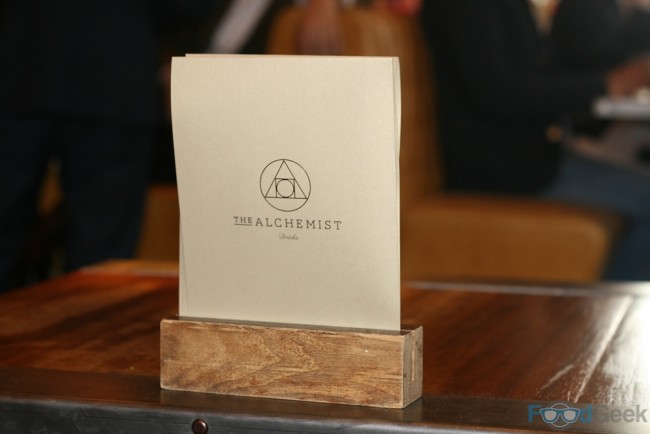 I was happy with a beer but Mrs FoodGeek insisted it'd be rude to come to such a place and not try a cocktail.
She liked her 'White Cosmo' very much. A fruity and floral combination of vodka, elderflower liqueur, Cointreau, white grape juice and lemon bitters. With a pretty Orchid flower frozen in a perfect ice sphere.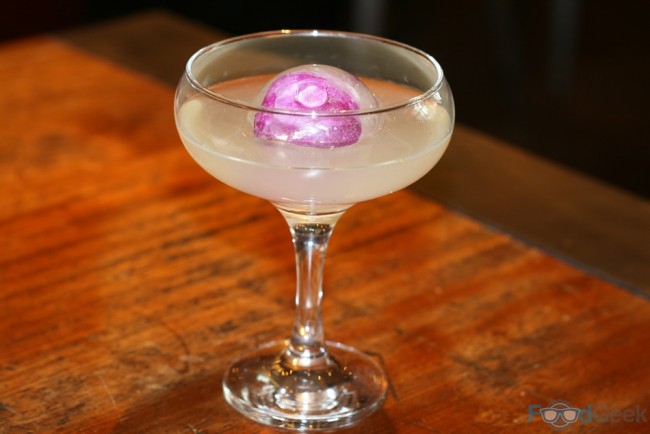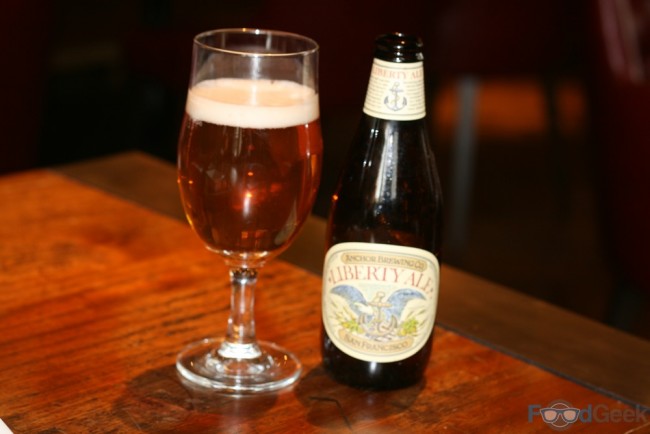 I'd opted for 'Baby Back Ribs' for my starter. Expecting a rack to turn up for me to get stuck into cave man style.
I should've known better, with this being Spinningfields. They turned up meticulously arranged in a stylish vase like dish.
More refined than I expected perhaps but they were excellent. Supremely succulent meat that quite literally fell off the bone coated in a slightly sweet yet tangy barbecue sauce.
We felt the portion size of Mrs FG's 'Chicory Leaves' was perhaps a little small. But the bitter leaves stuffed with Gorgonzola, apple, and walnut were delicious, even more so when combined with the whipped blue cheese dip on the side.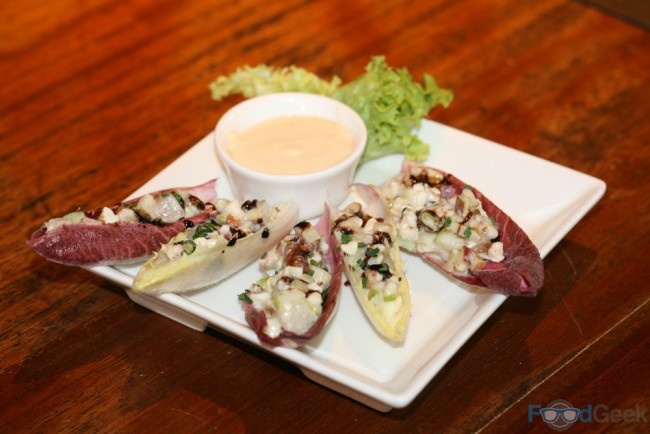 My main course of 'Japanese Ramen' arrived with a bit of theatre and a nod to the restaurants name.
A science beaker overflowing with dry ice was brought out and poured over my ramen dish to dramatic effect.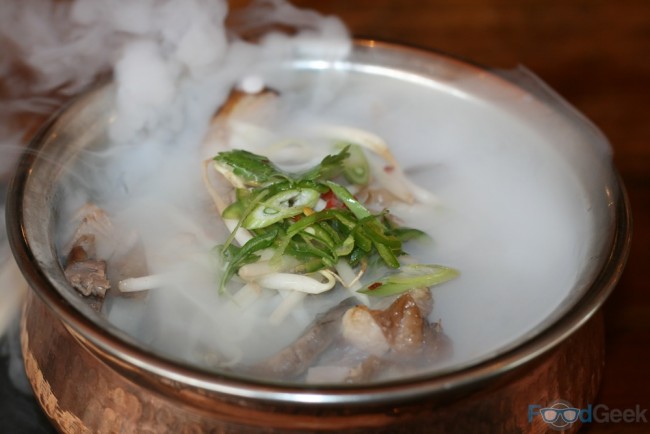 To be honest, the novelty of dry ice in restaurants wore off a long time ago for me. But there were several gasps from nearby diners as my dish was served so it clearly still has wow factor to many people.
All I cared about was the food though and I was slightly nervous ordering a ramen dish somewhere like this but it turned out I needn't have been.
The 'Japanese Ramen' came with a choice of meat or prawns. I went for the duck version, which contained a generous amount of tasty sliced duck in a meaty broth with noodles and oriental vegetables.
My only complaint was that the menu offered 'Mild' or 'Hot'. Naturally I went for hot but there was zero heat in the broth. Luckily it was tasty enough not to bother me too much but it could've been even better with the promised heat.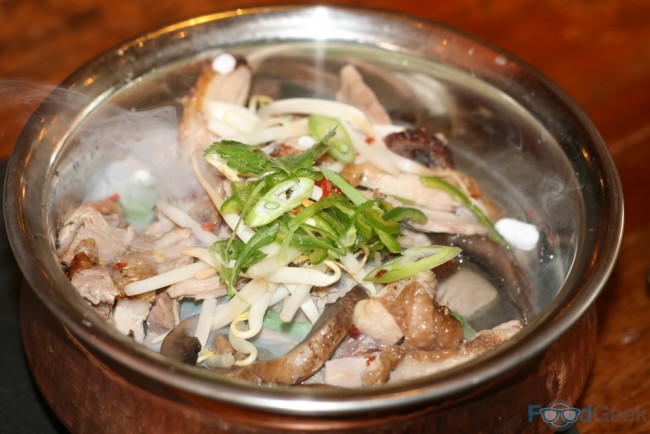 Mrs FG's 'Steak Sandwich' was a little less showy and a lot less exciting. The steak was good and well cooked but the bread seemed a little cheap and/or stale which was a shame.
The highly seasoned 'Salt & Pepper Fries' were excellent however.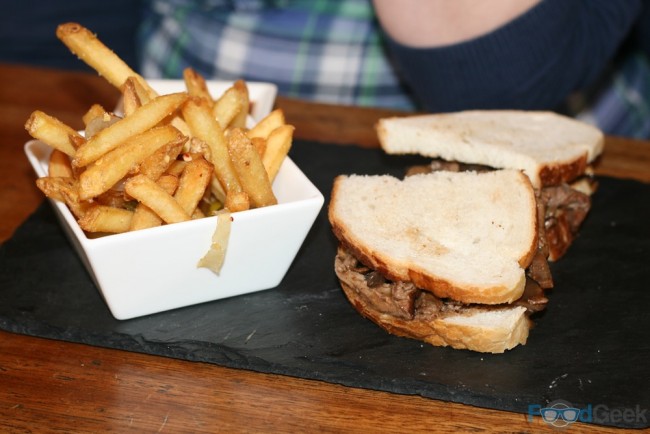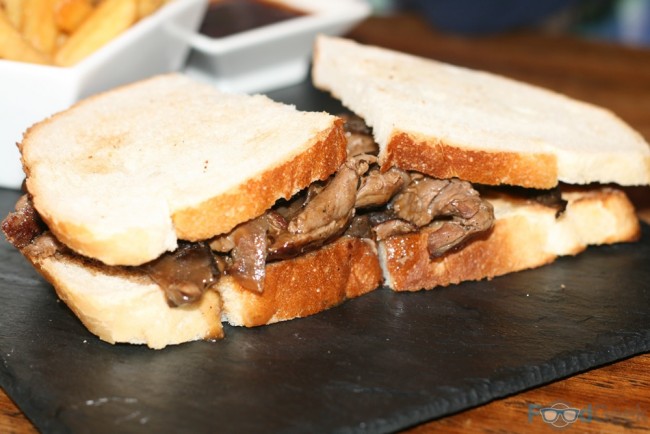 My 'Salted Caramel Cheesecake' was a really nice dessert. Everything that a good cheesecake should be. With a soft buttery base and light airy cheese topping. Most importantly the balance of salt and caramel sweetness was spot on.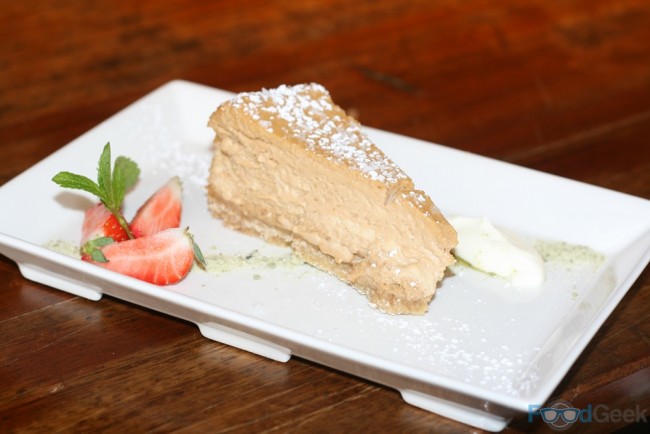 Meanwhile, the Eton Mess loving Mrs FG enjoyed her 'Peach Melba Mess' on the other side of the table. A summery twist on a classic dish.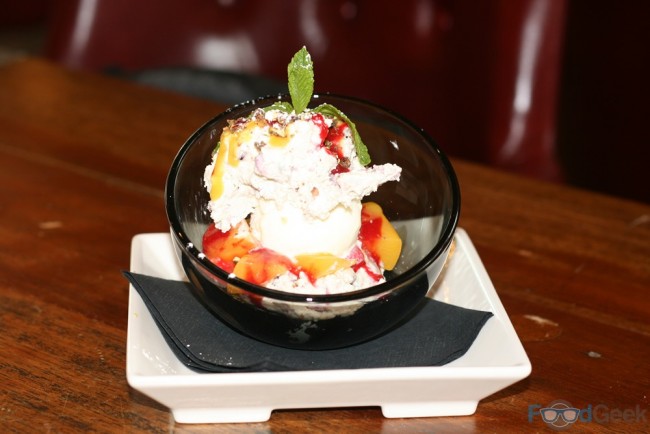 It's fair to say that like many Living Ventures places, The Alchemist probably isn't aimed at me. But that's not to say I didn't have a good time there. I did and I'd happily return.
All of the food was a high standard, including the ramen dish that I was genuinely worried about. It's an interesting menu and the cocktails are as good as they've ever been.
It feels like a proper restaurant now rather than a cocktail bar with food. But there aren't too many other places in Manchester serving great cocktails and good food.
Date of visit: 01.05.2015
Disclaimer: This was a press only preview event and as such we were not asked to pay.