It's no coincidence that the standard of dining in Manchester improved the moment Simon Rogan arrived. His restaurant The French in the Midland Hotel is producing the best food in the city, which has forced others to up their game too.
I was blown away on my first visit in March 2013, returning twice more that year. With the last almost 18 months ago I was overdue a return.
Having only had the Tasting Menu previously – which is good value in terms of quantity and quality of food received but quite expensive – the excellent value set lunch seemed the perfect excuse to return immediately.
The set menu starts with a welcome cocktail; a delightful combination of champagne with green apple and mint.
Followed by two snacks; I loved the kale, dehydrated until crisp as a cracker then topped with cream cheese, crispy garlic and chives.
But the light and airy red cabbage mousse with crispy trotter and seaweed was better still.
Then a starter of 'Salt baked beets, goat's cheese, walnut & kale'.
The classic combination of ingredients is elevated by some clever techniques. The beetroot retains all its flavour from salt baking, the blue goats cheese a light yet flavoursome mousse and the walnuts turned into an intense powder.
The set menu includes 'a glass of wine', however, as the amazing front of house manager Camilla remembered us from previous visits she generously offered a small glass with each course.
The first a rich oak aged Chardonnay, a fairly complex wine for a starter I thought but it worked well with the dish.
Great restaurants do great bread and The French is no exception. Three mini rolls are served so fresh that they're still warm.
The 'White', 'Manchester Ale' and 'Buttermilk' were all lovely but the Manchester Ale stood out.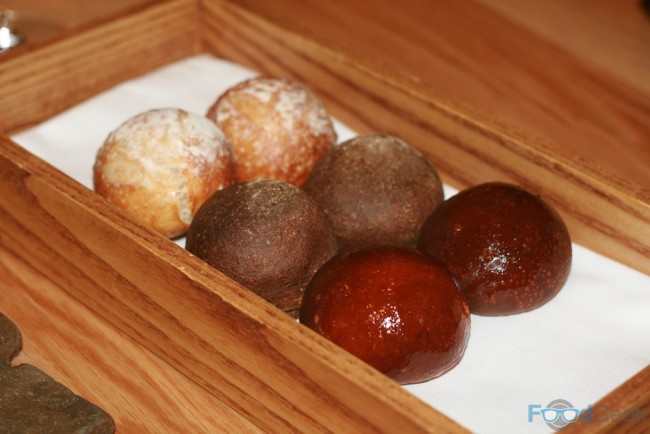 The main course, 'Cumbrian Pork Belly', contained the only element of any dish that I wasn't convinced by. I found the salt baked abalone a bit tough and chewy, like a raw mushroom stalk that lacked flavour. It was my first time eating the sea snail type creature though, so it's entirely possible that's how it's supposed to be.
It didn't take anything away from the overall dish though as everything else was fabulous. From meltingly soft pork belly to nutty, charred asparagus, sticky, spiced cider sauce and sweet onion puree.
Wine with the main course was an elegant, fruity and refreshing Italian red.
One of the best things about The French is its wonderful cheese trolley, which we hoped would be available as a supplement with the lunch menu as it is with the tasting menus.
It was, but we were thrown by another option. Despite being obsessed with cheese boards we eventually opted for a new 'Cheese Tasting' course that costs the same but consists of three small cheese dishes prepared by the chef.
First, an immaculate cone made of beetroot, filled with goat's cheese, pear purée and topped with apple dust.
Followed by crackers made of crushed walnuts, topped with plum chutney, Stilton and apple.
And my favourite; a warm, gooey mature cheese with preserved pumpkin and seeds.
The brilliant 'Cheese Tasting' course also came with a stunning 1985 vintage Port.
Dessert was a beautiful combination of poached Cheshire rhubarb with a tuille, rhubarb puree, sorrel sorbet and toasted oats.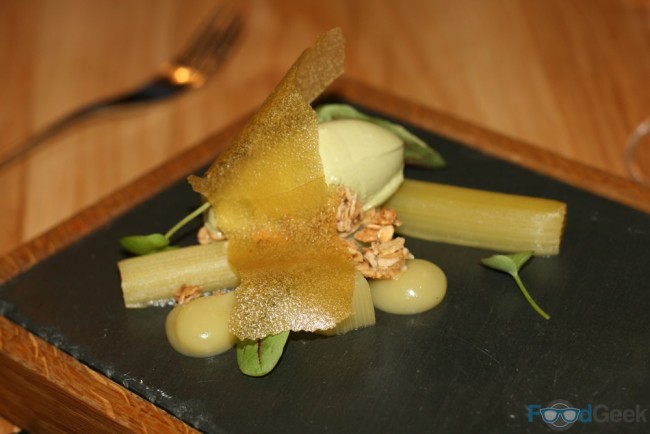 Dessert came with a very sweet dessert wine. Not something I'm generally a fan of but this worked perfectly because the dessert itself lacked sweetness. The combination of the sweet wine with the sharp rhubarb was outstanding.
Finally, coffee and petit fours of aerated chocolate and Uncle Joe's Mint Ball ice cream that are just as enjoyable the fourth time around.
By the end of the meal I had to remind myself we'd come for a 'Three Course' lunch.
With the tasters, bread, cheese supplement and petit fours we were as full as after eating the full 10 course tasting menu. Considering that costs £85 without drinks compared to £50 for three courses, which includes wine, water and coffee, the value was phenomenal.
Service was fantastic too; we were treated no differently to people receiving much larger bills.
I can't recommend The French enough. Not only is it the best restaurant in Manchester for special occasions but the lunch menu means it's cheap enough for regular visits now too.
Date of visit: 15.05.2015
Follow @FoodGeekUK