It's surprisingly difficult to find a good afternoon tea in London on a Saturday.
I'd left it too late to get a reservation at my first choice, Sketch, while many others only serve them Monday to Friday.
Eventually I found Dorsett Shepherds Bush hotel. They were open, had room for us and the menu looked lovely.
We started with a variety of teas. Green for myself, Earl Grey for Mrs FG.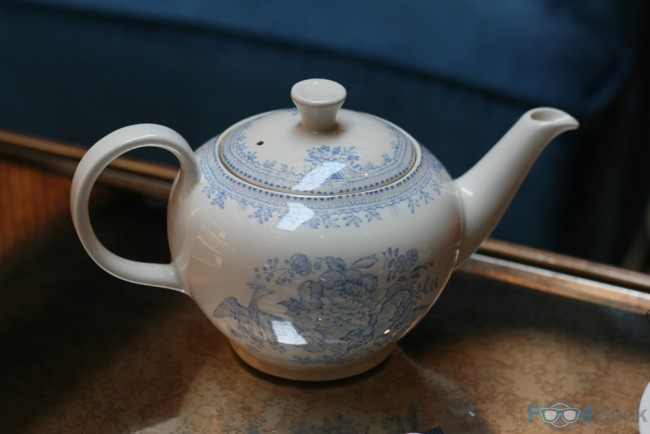 Shortly afterwards an elegant cake stand of impressive looking sweet delights arrived, along with a plate of sandwiches.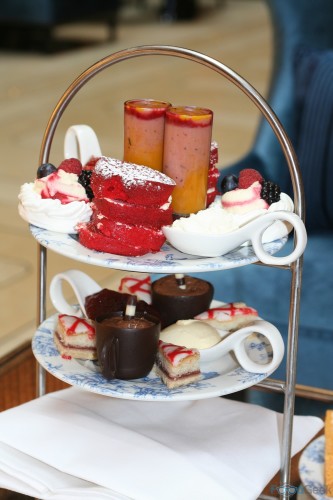 They consisted of: ham & mustard on tomato bread, smoked salmon & fennel cream cheese on dark rye bread, egg mayo & basil on lemon bread and cucumber & cream cheese on pesto bread.
I loved the coloured breads and they all tasted good too.
But as with most afternoon tea's there wasn't anything like enough sandwiches compared to the amount of cakes.
The sweet stuff was a 'Fruit Shoot' – essentially a smoothie of kiwi, papaya, lemongrass, banana and coconut – and various cakes.
All of the cakes were excellent; highlights included blueberry meringue with mixed berries and red Victoria sponge cakes.
Though the most impressive was definitely the 'Chocolate Coffee Cup'. A perfectly formed cup, immaculately made from chocolate filled with rich mango chocolate mousse.
It tasted every bit as good at it looked.
We finished everything but I'm not going to lie, by the end I had a massive sugar rush followed by a pretty big slump.
I genuinely enjoyed eating all of the sweet things but I just don't understand why the ratio of savoury to sweet is always so skewed. A couple less cakes and a few extra sandwiches would've definitely improved it.
But overall it was a lovely afternoon tea in a really nice setting with good service.
Date of visit: 20.06.2015
Follow @FoodGeekUK