It's not every day a professional tea designer creates a special blend of tea for you based on your interests.
But Bernadine Tay – tea designer at Quinteassential – did just that for an event I was invited to at The Midland Hotel recently.
Unfortunately real life got in the way and I wasn't able to make it after all.
Thankfully I had a ready and willing (and very eager) tea loving replacement in Mrs FoodGeek who went along in my place.
I felt so bad when I heard that Bernadine had blended a tea for me based on my love of eating out, chilli and craft beer (we've never met but she knows me so well!)
But Mrs FG had an amazing time which you can read about below…
This is my first and quite possibly last post here on FoodGeek. You see even though I contribute greatly to the eating out, I am also responsible for supplying Mr Geek with valuable information such as the state of the loos, overuse of unnecessary ingredients, whether the plates are stupid and where the waitress got her shoes from (all vital I know) but I have never been permitted to take the helm before. So we shall see if I am banned after this…
Tea. Who doesn't love tea? Fools. Thats who. People who say they don't like tea are nearly as bad as those who say they don't like cheese. THEY'RE ALL DIFFERENT! How can you put a blanket ban on them all without trying them first?
When Mr Geek Face asked me if I would like to stand in for him at a fancy pants tea tasting & blending masterclass at The Midland I thought he'd gone mad. He really thought he had to ask! Obviously I was going to go.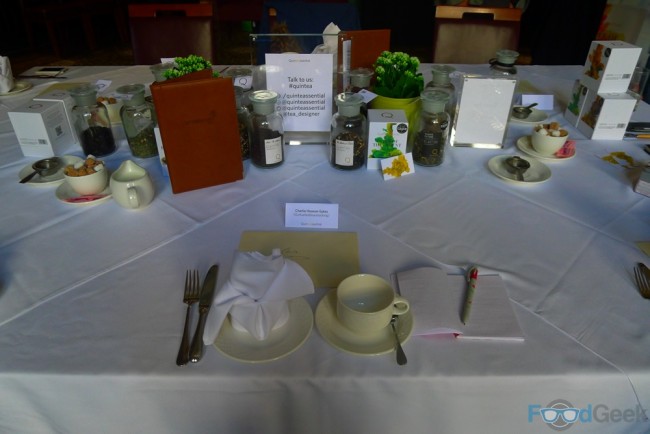 Quinteassential is run by Bernadine Tey who is the founder and Master Tea Blender and quite possibly most tea obsessed person alive. After a few years of slogging away selling her teas at farmers markets far and wide, last year they rebranded and launched a range of 9 British favourite teas – with a twist. Having recently partnered with The Midland Hotel (and Mr Coopers House and Garden) to provide speciality blends for their afternoon tea, the event was held in one of the lovely event rooms at the Midland, where we drank tea, blended tea, drank tea, ate cake, drank tea and learnt about tea.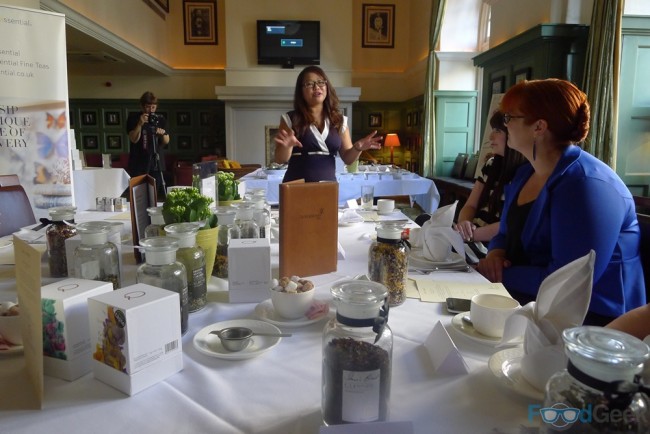 The blends specially created for The Midland are:
'1903' – to mark the opening of the the iconic building as a hotel
'Due North' – a smokey lapsang souchong. Whiskey & Cigars anyone?
'Midland Jubilee' a black tea with strawberries inspired by the afternoon tea classic, victoria sponge.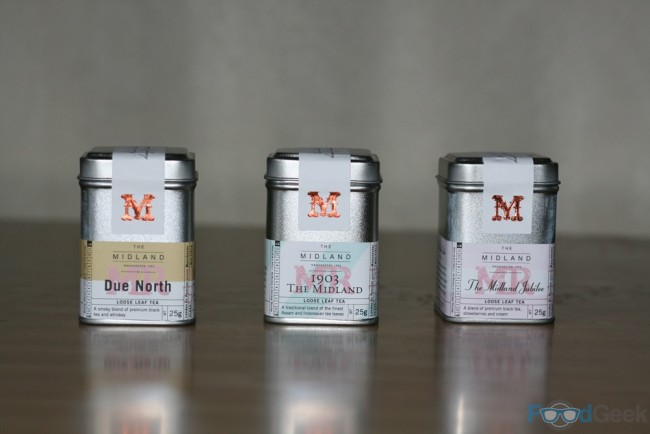 We got to sample the teas from the core range such as 'Garden of Eden','Green Flamingo','Imperial Earl Grey' and 'British Mint & Caramel' as well as blending our own personal teas to a recipe created for us individually by Bernadine. As I was playing stand in for Mr Geek I expertly (ahem) blended his tea for him from the ingredients provided, it smelled amazing and I couldn't wait to try it. Chilli tea anyone?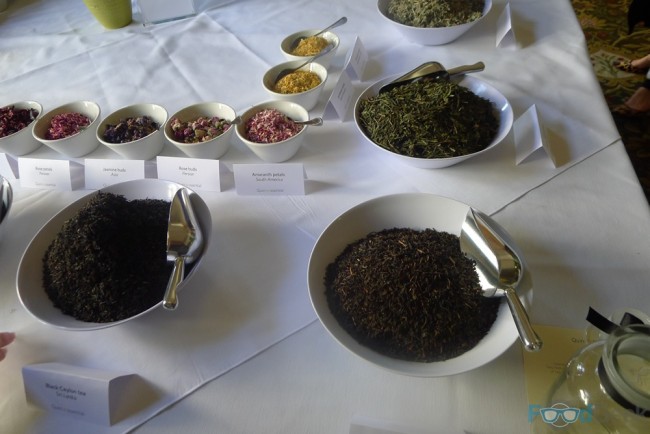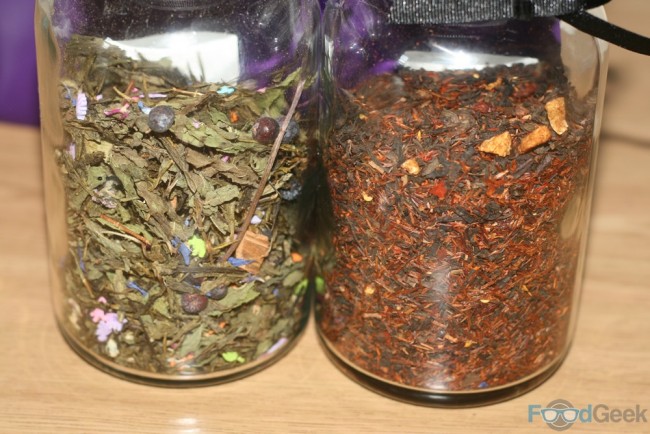 Bernadine also offered to let my blend my own tea as she's lovely and didn't want me to not have my own, to be honest I think it was not a wise move on her part as I have now found my vocation and will be setting up a rival company ;)
The teas are to be left for a minimum of 2 days to allow all the flavours to blend before drinking. There's nothing worse than being told you have to wait for something don't you think?
I was thinking I was pretty special having my own tea, but she also offers her tea creating/blending services out via her website. Guess I'm not so special after all. Sob (cue the violins).
After working hard making teas we were served afternoon tea, I was keen to get my Vimto jelly! They arrived looking very elegant, but I'm in the old school camp and prefer the tiered cake stands, I do think these look a little like repurposed drawers – sorry. The cakes all looked stunning, perfectly formed little treats. No matter how much you just want to shovel them in you just can't, there's something about afternoon tea that makes you remember all those manners that were drummed into you as a small child.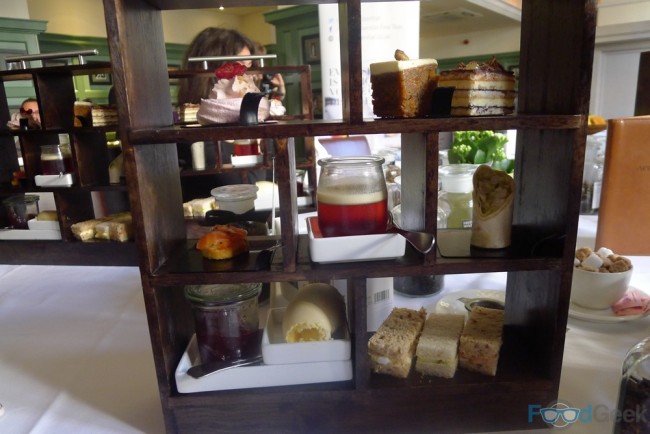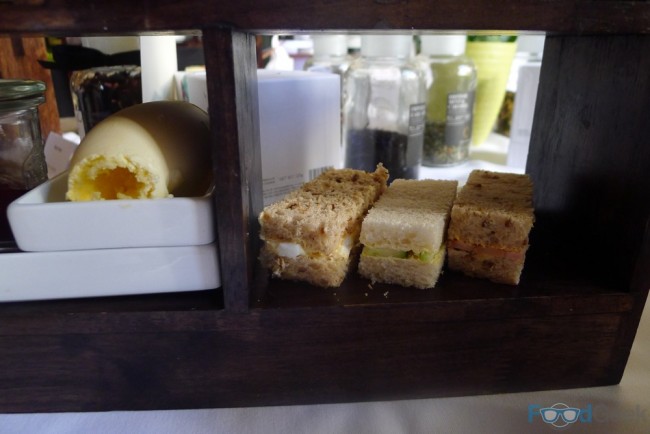 Savouries came in the form of 3 little sandwiches, cucumber, egg mayo, and ham with honey and mustard. All very tasty although I do prefer my mustard to be on the side of making me want to cry but that wouldn't fit in with the subtlety of everything else.
Chicken and avocado wrap was very creamy and well seasoned, and the smoked salmon crostini went in seconds, I could have ate a plate full.
The raspberry meringue was as light as air and had great flavour. The opera cake was my personal favourite so light and tasty. The Vimto jelly was as you'd expect. Vimto in jelly form – what's not to love.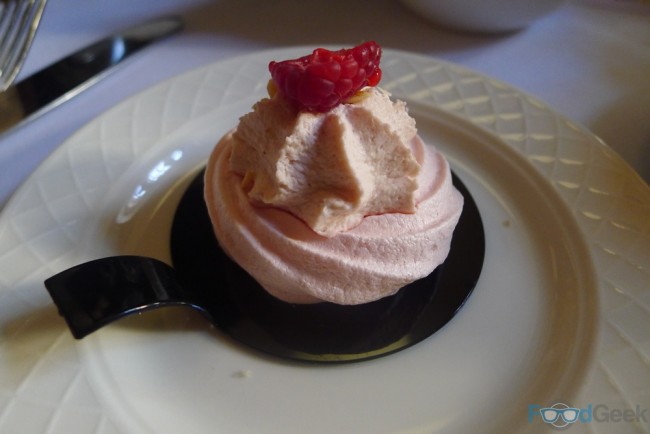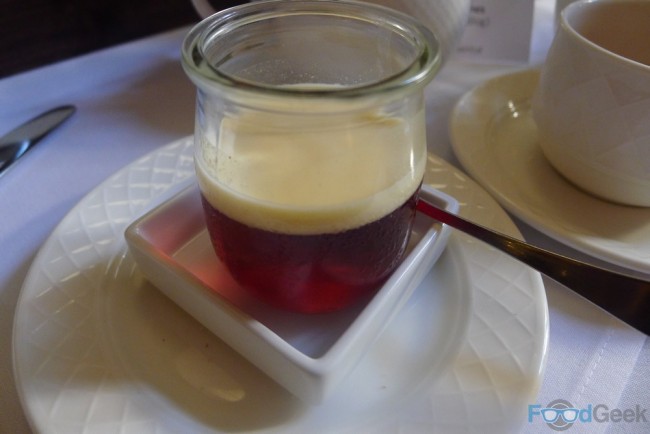 The only thing that didn't really do it for me was the carrot cake. It was a decent enough carrot cake but maybe with everything else being so good I thought it would be better.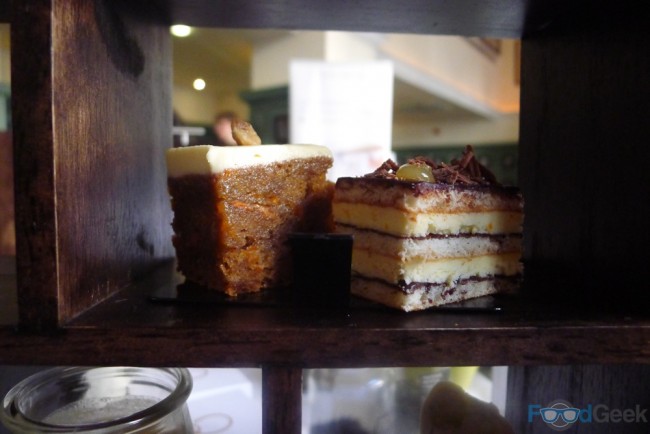 Perfectly formed little scones both with and without raisins were served too, with very generous helpings of cream and jam. No skimping on the toppings here.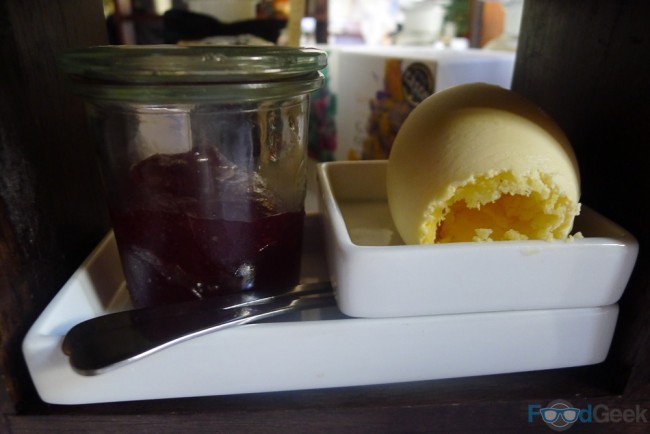 The Afternoon Tea at The Midland was great, I love that they give you more savoury items than most as sometimes they can be…well a bit too cakey.
A couple of days later I tried my tea and it was really smooth, a light vanilla flavour with a hint of juniper, I also added cassia bark which although I couldn't detect in tasting gave my tea a fantastic aroma.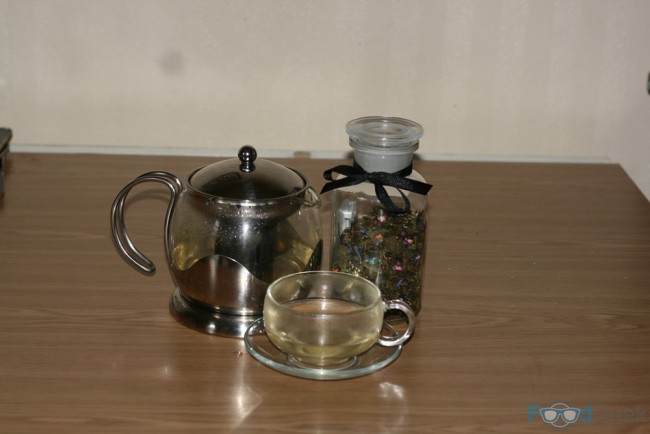 If you would like Bernadine to craft you a special blend of tea – like The Queen no doubt has. You can find out how at quinteassential.co.uk where the full range of teas in available to buy. Alternatively you could pop down to The Midland and have some with cake!
The Midland are also offering you lucky lot 10% discount on their Champagne Afternoon Tea by quoting '1903' when you make a reservation until November 27th.