It's no secret that I'm a big Solita fan, I have been right from the start when they had just one burger on the menu (it's true, honestly!)
Back then they were just a small Northern Quarter grill restaurant but over the last couple of years they've gone from strength to strength. And restaurant to restaurant.
Last year saw the opening of a second site in posh southern Manchester suburb Didsbury and now they've moved north to Prestwich.
Whilst I was excited to have a brand new Solita, particularly one closer to me than the others, I had mixed feelings about this particular venue as they've taken over the site of one of my favourite local restaurants Aumbry.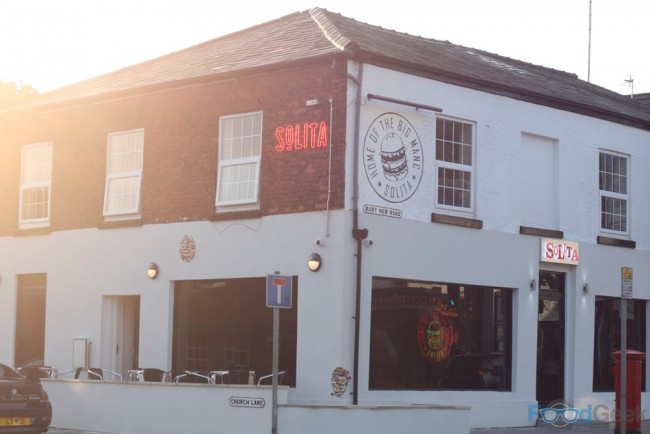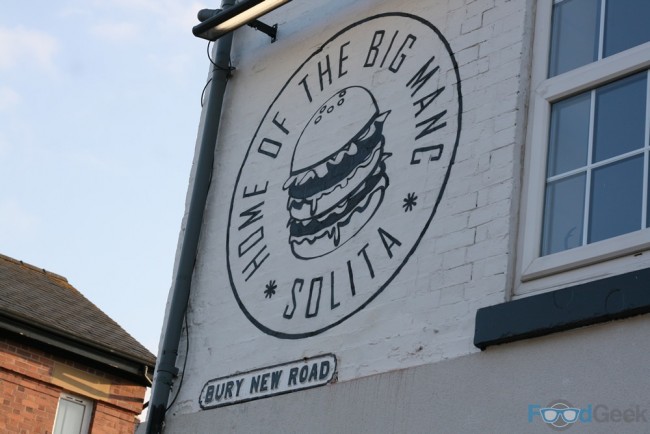 I was lucky enough to be invited to the Solita Preswtich launch party in August where I got a sneak peek at the amazing work they've done with the place.
Both the exterior – where they've joined the former Aumbry site with the run down Indian restaurant next door – and the fantastic interiors.
There are some great touches on the outside such as the and the exposed lego walls.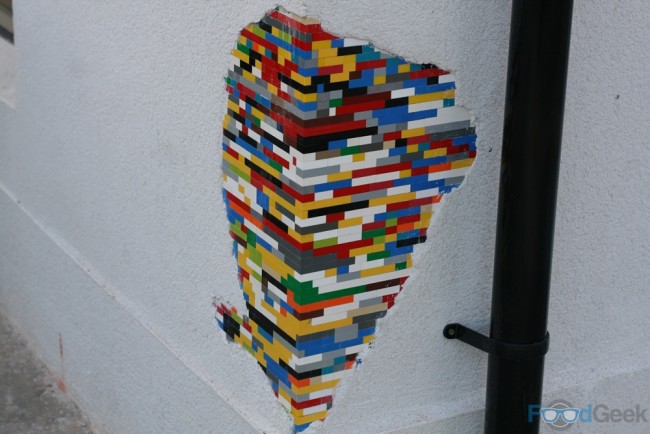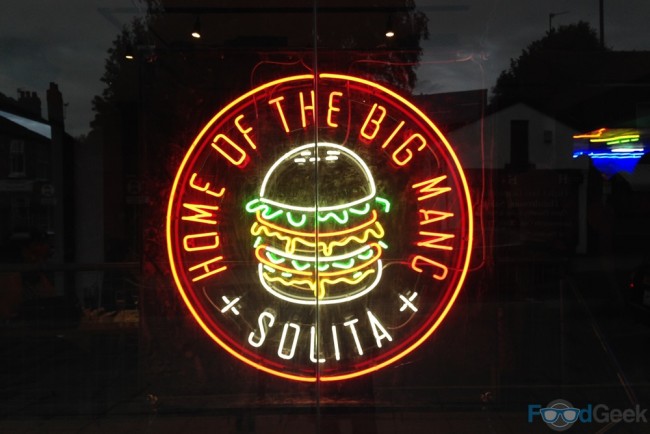 And of course inside too. That now familiar Solita style is turned up to 11 with more neons and Stanley Chow artwork than ever before.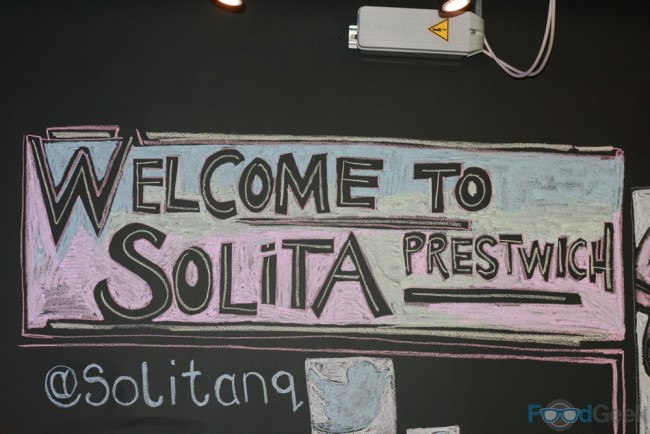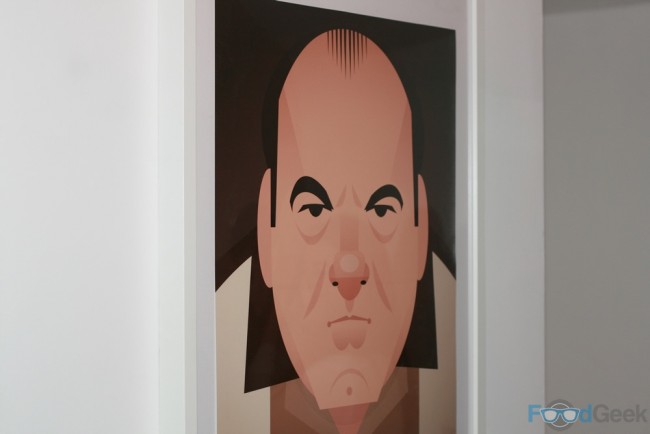 But the pièce de résistance is the stunning comic book ceiling complete with multiple neons.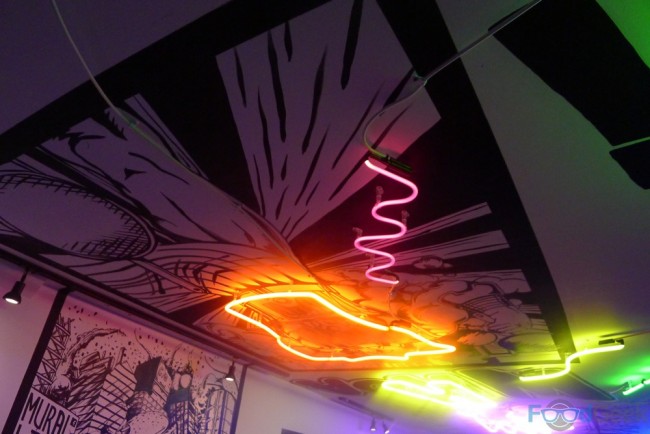 I enjoyed the party so much that I returned to eat there properly a few weeks later.
It would be easy to just admire the decor but they actually do pretty decent food too.
We started with some nibbles; excellent olives and bacon fat popcorn, now with added crispy bacon.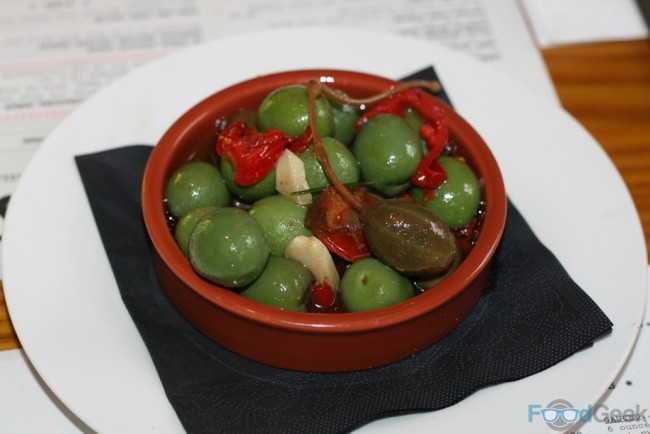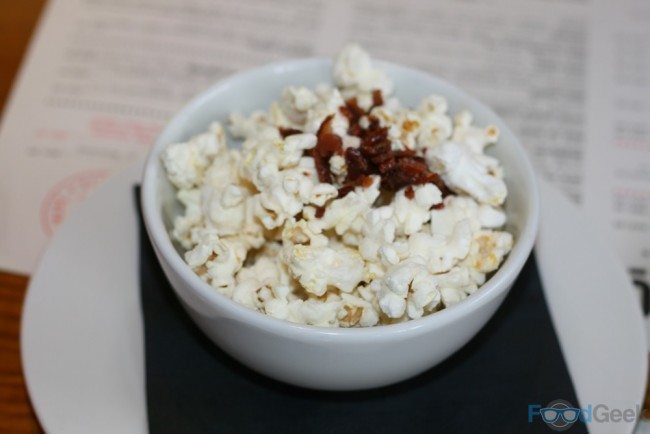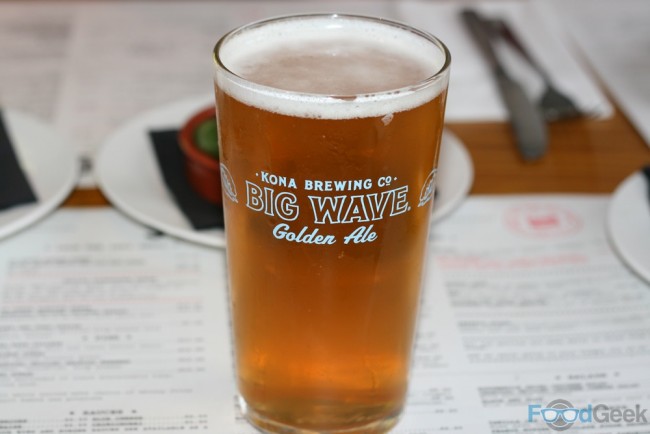 Before moving on to a few proper starters.
'Cheeseburger Spring Rolls', which I've ordered on every visit since they launched but never get bored of.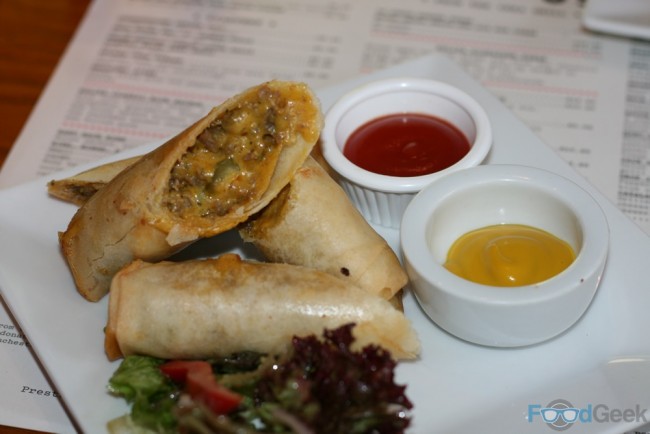 Then a couple of new dishes: 'Halloumi Bites' were good, bite sized chunks of gorgeous salty cheese fried in Panko breadcrumbs. Served with red pepper and ranch dipping sauces.
But 'Bacon Wrapped Dough Balls' are even better. How could they not be? They're soft balls of dough wrapped in crispy bacon, come on!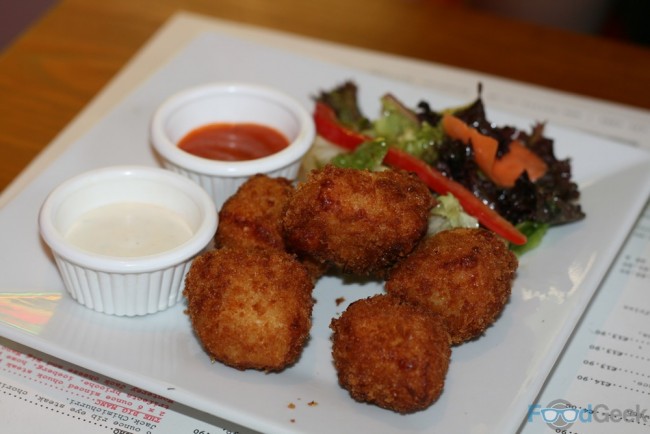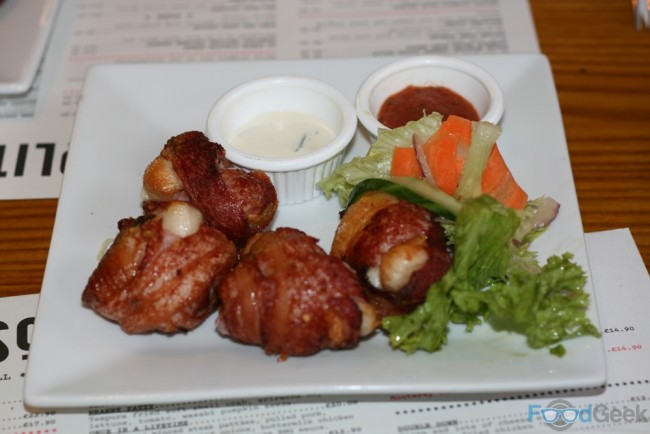 We'd made a pact on the way not to order burgers and Mrs FG did well with her 'Sea Bass Fillets & Salt Baked New Potatoes'.
It was lacking the promised lemon butter sauce but tasted great anyway; the fish was cooked to perfection with lovely crispy skin and soft moist flesh.
The potatoes were also excellent and a welcome change from fries with everything.
Even the salad was good, not an afterthought like many places but genuinely interesting leaves with a tasty dressing. I loved the lemon on the side too that had been caramelised on the hot charcoal grill.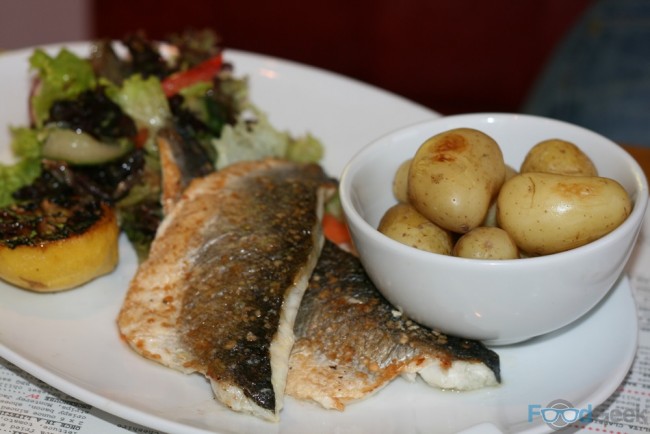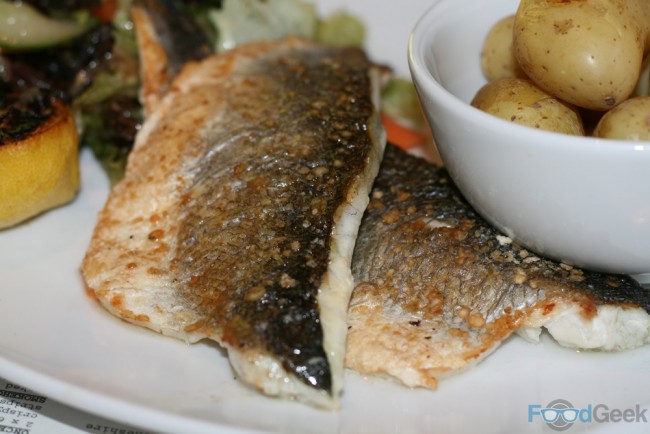 Despite good intentions I couldn't help myself and ended up ordering a burger. Albeit not your typical Solita burger.
The 'Perfect Storm' is a take on McDonalds Filet-O-Fish. Featuring a Panko fried chunky cod fillet, topped with lettuce, cheese and a brilliant home made tartare sauce.
It's fair to say it puts Ronald's version to shame.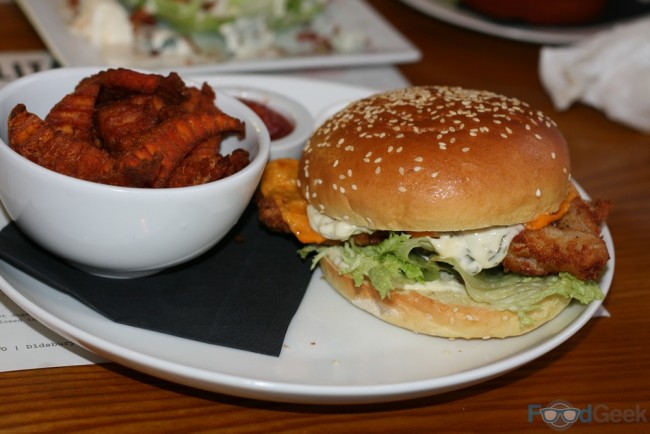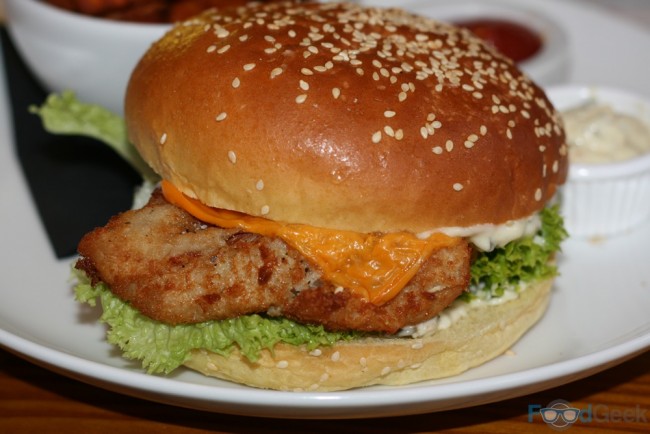 I'm not much of a fan of iceberg, I find it so bland and only really use it to add a bit of texture to certain dishes. But Solita's new 'Lettuce Wedge' is a revelation.
If there's a sure fire way to make me like something it's by smothering it in dressing, blue cheese and crispy bacon. And that's exactly what this is, really generous chunks of blue cheese too, it's definitely not a diet option.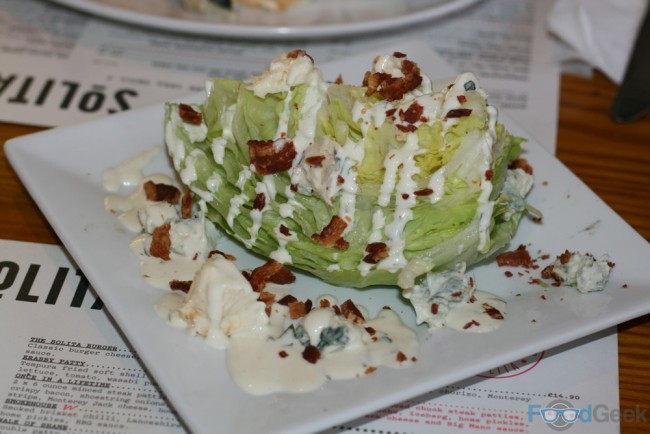 You really don't need dessert at Solita but there's one I'd been after for ages and another brand new one that I just had to try.
The new dish being an elegant 'Rum Baba', the cake was moist and as light as a feather and tasted amazing having been soaked in rum sauce, served with vanilla ice cream.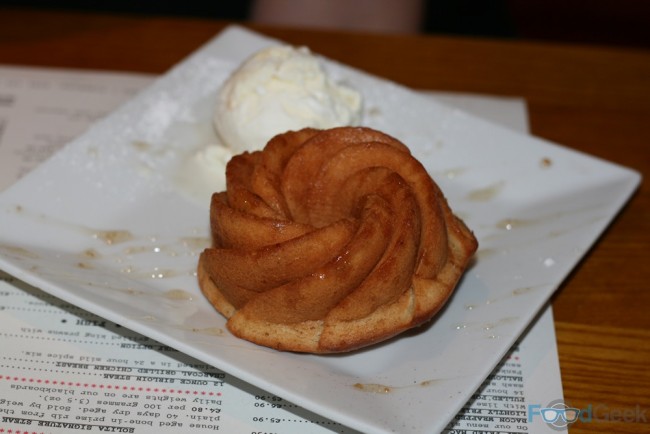 The 'Ice Cream Donut Sandwich' was slightly less elegant but just as enjoyable in an indulgent, comfort food sort of way.
Quality ice cream is sandwiched between a fresh donut and topped with warm chocolate sauce and dark chocolate pieces.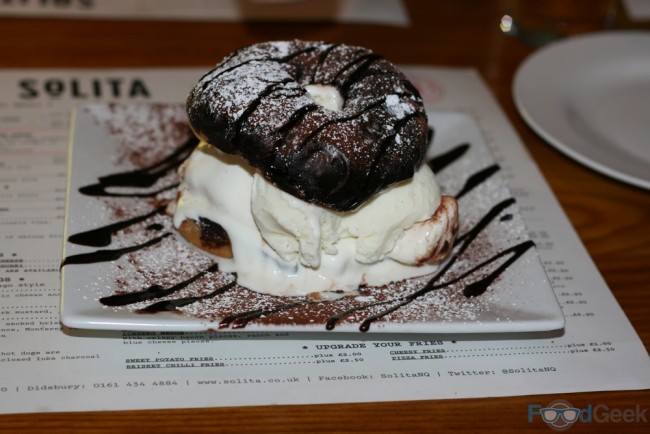 Despite the slight sadness at the demise of Aumbry I really love Solita Prestwich.
It's by far my favourite of the three venues, they've done an amazing job restoring and decorating it, with all the little touches it seems to really have its own identity now.
More importantly though the food both on this visit and at the party were the best I've eaten from Solita for a long time.
With the fact that it's the closest to me I can see myself visiting on a regular basis.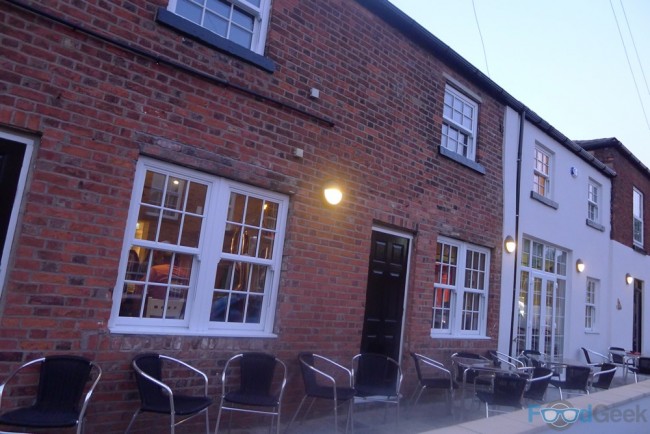 Amazingly the fourth Solita is already on its way and set to open early next year in Barton Arcade on Deansgate and I've heard that plans for the fifth are well under way too.
Date of visit: 08.09.2015