As far as chain restaurants go Yo! Sushi are one of the good guys.
I don't eat in many chains and of course, I wouldn't pick Yo! Sushi over a top independent sushi bar but they're great at what they do.
Their sushi is prepared in full view of diners with decent quality ingredients. And there's always something zooming past on conveyor belts to for you to grab straight away if you're in a rush.
It's one of the few places I'll eat at the Trafford Centre and have eaten at their Piccadilly Station branch many times too. But never at the Arndale for some reason.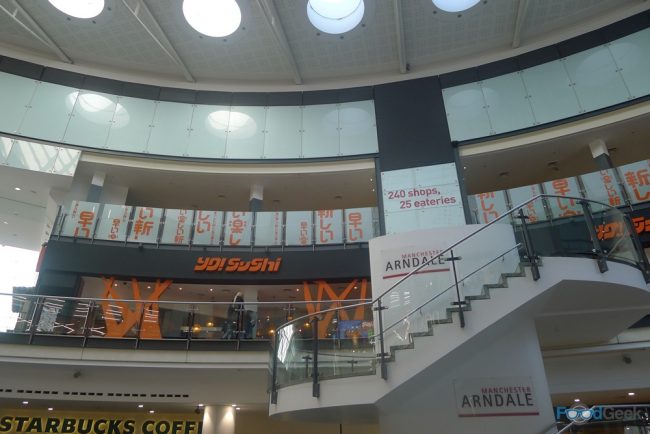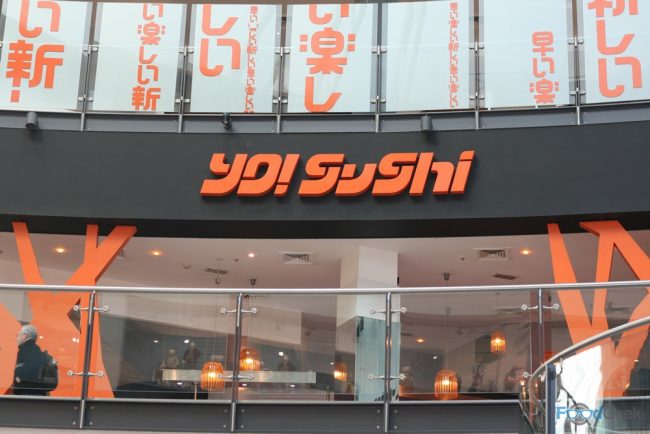 Until recently when I was invited to sample their new menu.
Like other Yo! Sushi restaurants inside is fun, vibrant and brightly coloured.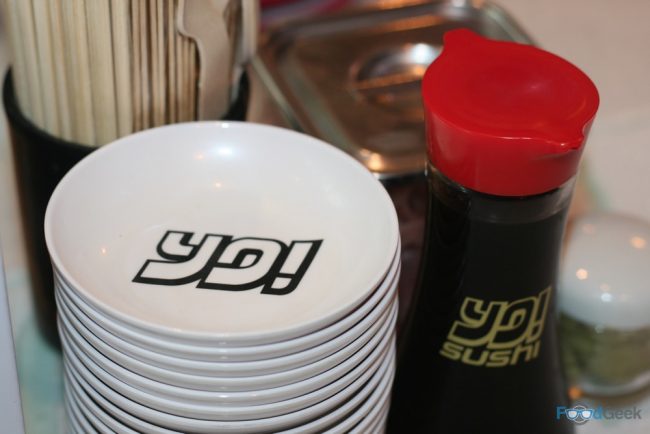 The menu comes in the form of a magazine, with a couple of interesting Japanese features as well as listing the food offering.
There's also nutritional information which I like and each dish is helpfully colour coded.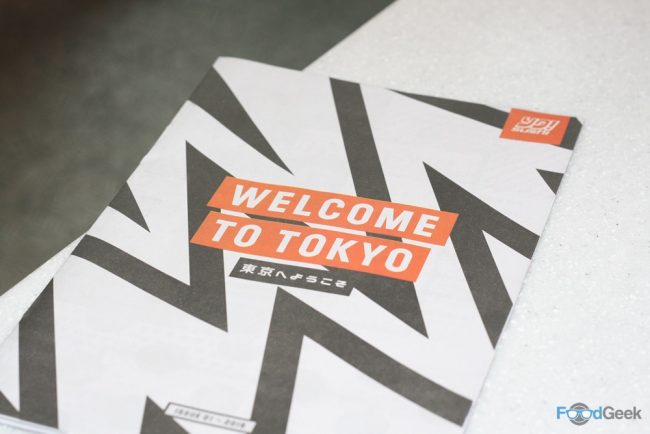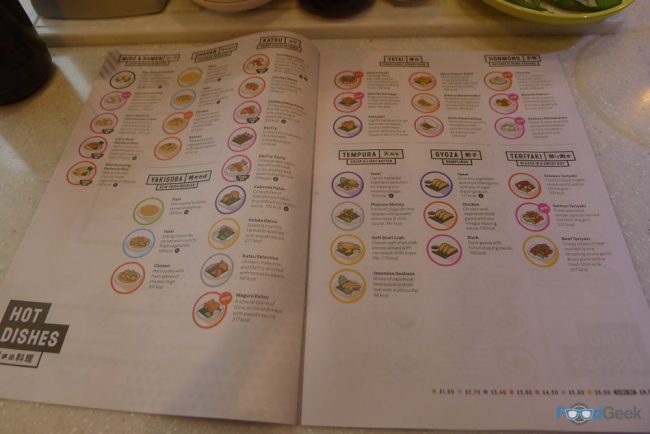 So you know what colour bowl to look out for as they go whizzing by.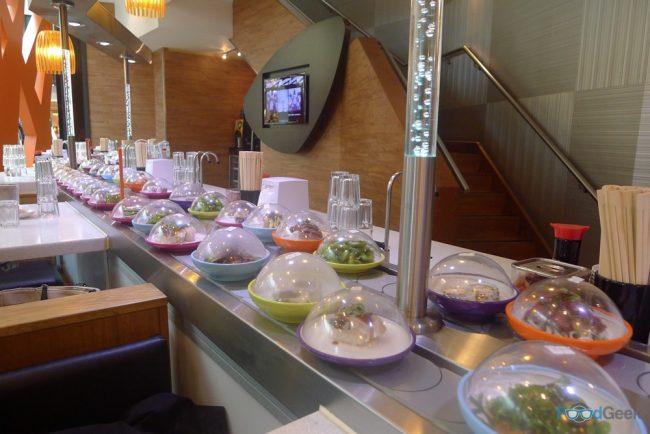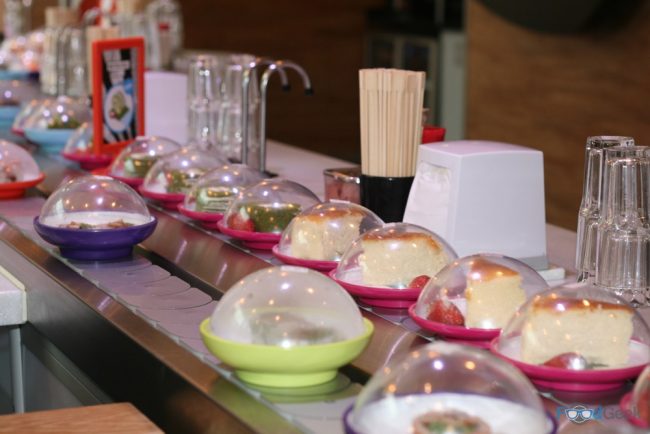 Although I was there to sample the new menu, there are a couple of things I can't resist ordering every time I'm in a sushi/Japanese restaurant.
I've developed a bit of an addiction to these podded soybeans over the years. Luckily they're packed with fibre, protein and vitamins so it's not the worst habit to have.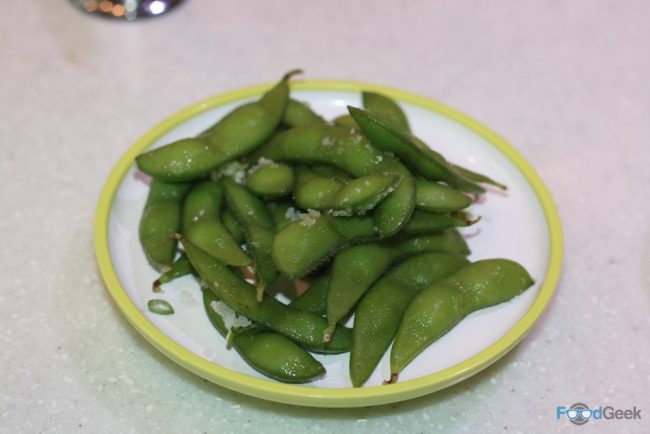 I can't order sushi without having some 'Inari'.
Sushi rice is stuffed inside sweet parcels made from bean curd. They might sound weird, they even look a bit weird but they're so good.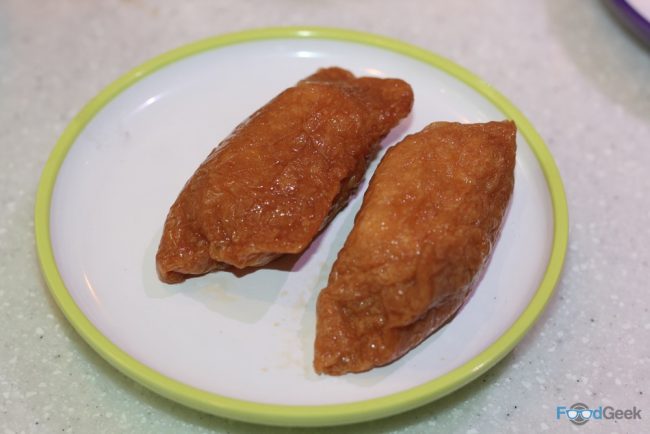 The only other dish that wasn't off the new menu was "Goma Salad', but it was new to me.
A generous portion of crunchy veg with a delicious sesame dressing.
From there it was all about the new stuff.
Starting with 'Potato Salade', not something I'd associate with Japanese cuisine but apparently an Izakaya classic (Izakaya are Japanese gastro-pubs).
Similar to our own potato salad but with a Japanese mustard mayo dressing and pickled vegetables.
There are some unusual creations on the new menu that stray from traditional sushi dishes.
Like 'Dynamite', salmon and avocado ISO rolls (inside out, as the rice is on the outside) topped with chilli oil and my favourite condiment sriracha.
Not one for the purists but tastes great and has a real kick.
Similarly, the 'Ginza'.
Salmon, cream cheese and cucumber, again with sriracha as well as caviar. Another unusual but enjoyable combination.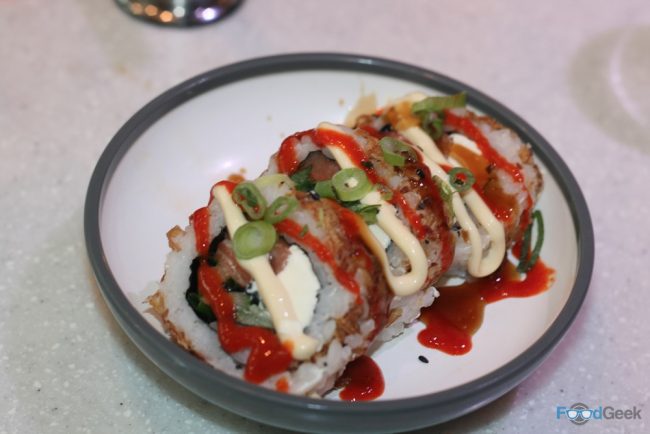 Some of the plainer, seafood dishes I felt weren't quite as good.
The octopus of the 'Tako Nigiri' was a little tough and chewy.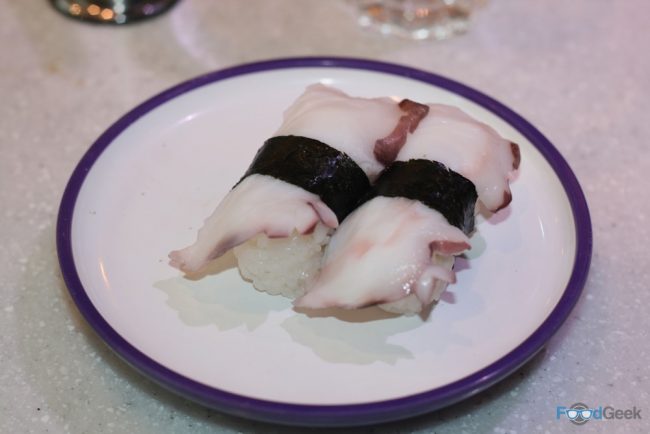 While the sweet raw shrimp of the 'Ama Ebi Nigiri' wasn't the freshest or best quality shrimp I've tasted.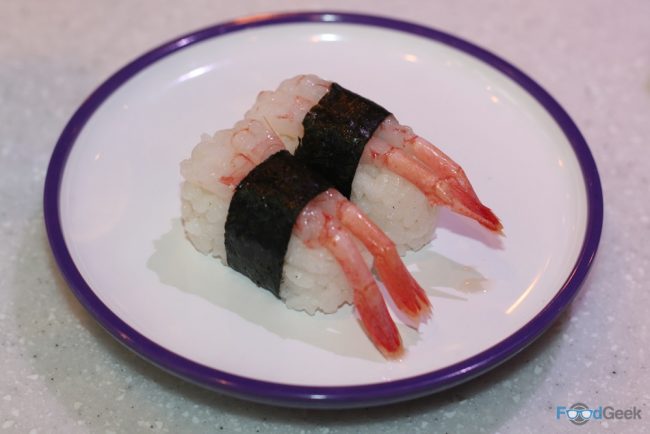 There were some real highlights, though.
'Fish No Chip Roll' may have a silly name but features crisp sea bass tempura with onion, cucumber and a punchy wasabi sauce with a citrussy yuzu dressing.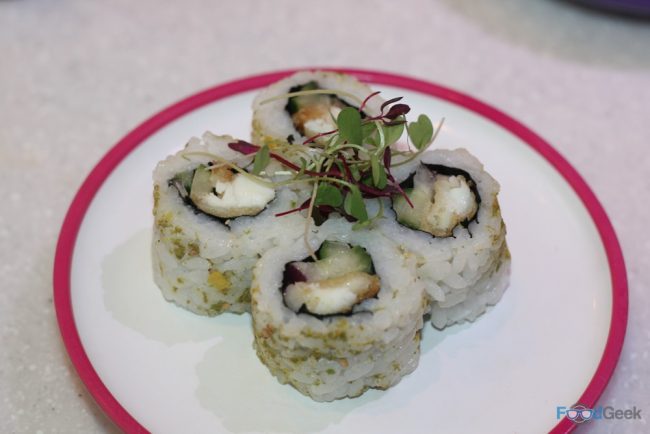 'Spicy Tuna' were my favourite sushi rolls.
Chopped yellowfin tuna – they never use bluefin – is rolled with shichimi togarashi powder (another of my favourites), chilli oil and more sriracha mayo.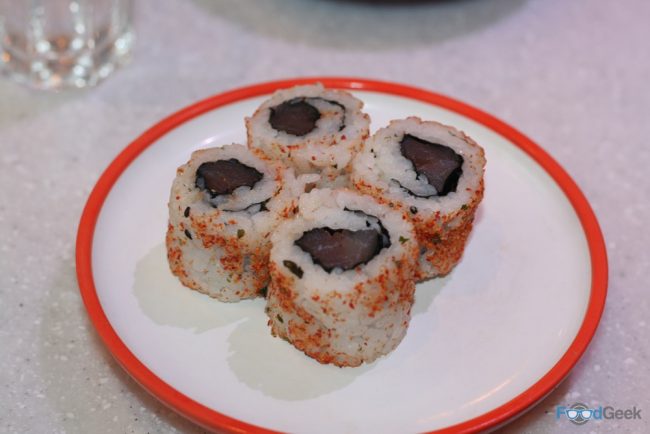 Whilst not the neatest nigiri I've ever had, the 'Saba' -Simple, teriyaki glazed cured mackerel  -was incredibly tasty.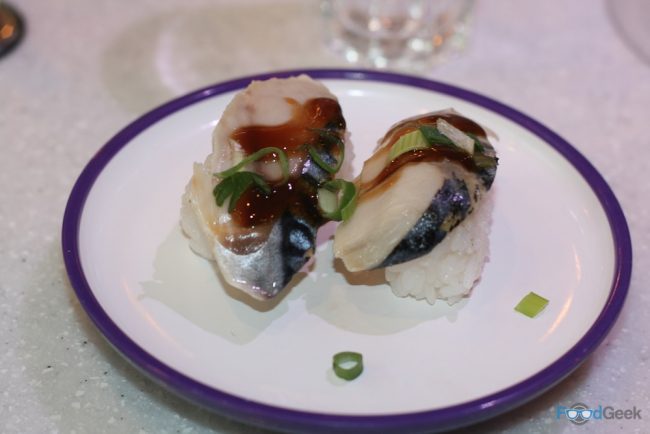 Besides the sushi and other things on the conveyor belt there are a number of hot dishes which can be ordered.
I went for 'Clam & Enoki Miso', a twist on the classic miso soup.
I really loved the more subtle miso flavour and the added depth from clams and mushrooms.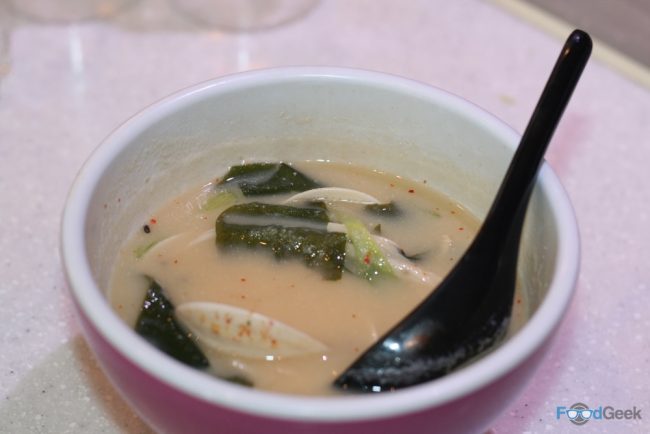 And the dish I was most intrigued yet wary of, 'Okonomiyaki'.
The savoury pancake is perhaps my favourite Japanese dish and one that I regularly make at home. So I was a little nervous it wouldn't meet expectations here.
I needn't have worried as it was brilliant.
Topped with cabbage and moreish smoked bonito flakes. It was gone in about 30 seconds.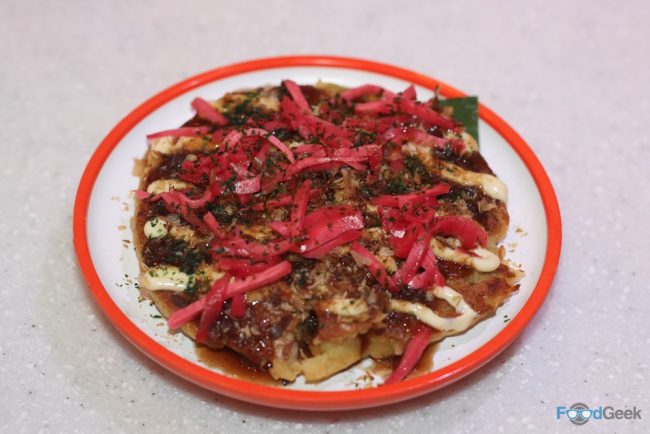 I wouldn't normally order dessert after all that but having spotted two new ones on the menu it seemed the right thing to do.
I'm glad I did as they were both excellent.
Particularly the 'Matcha Roll', which tastes far better than the shot of matcha green tea I drink every morning (it's good for you!)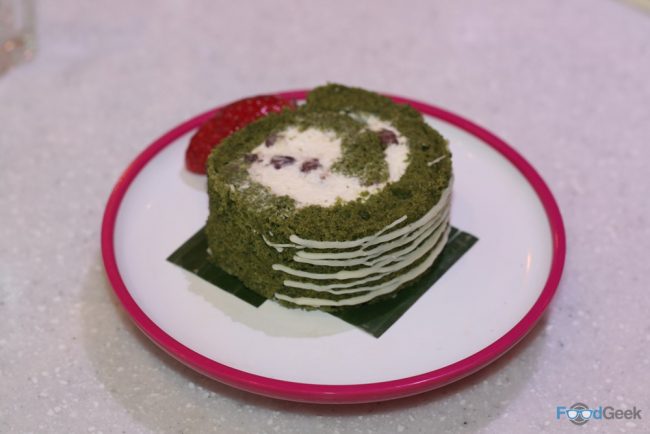 The 'Japanese Souffle Cheesecake' was delicately flavoured with a lovely light and airy texture.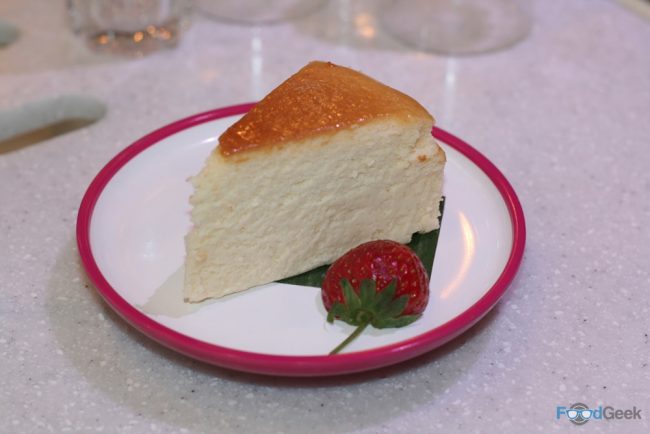 Overall I enjoyed most of the things I ate even though they weren't necessarily what I would've picked had I not been there to try the new menu.
Yes, Yo! Sushi are mainstream but they're doing things in the right way. The food quality might not be quite up there with they very best but that's not what they're about, they offer decent food, fast and in a modern environment. It's great value too.
I'll definitely be returning when I need a sushi fix in a hurry, especially now I can feed my Okonomiyaki habit at the same time too!
Date of visit: 16.03.2016
Disclaimer: I was invited by Yo! Sushi to sample the new menu and not asked to pay.