A few years ago it was hard to get fried chicken in Manchester. Unless you were happy to slum it at the likes of Krunchy Fried Chicken on Canal Street anyway.
Then Splendid Sausage changed to Splendid Kitchen and featured a couple of fried chicken dishes that ended up becoming their signature.
Since then its popped up on several other restaurant menus around the city. Then last year, Yard & Coop arrived in the Northern Quarter specialising in buttermilk fried chicken.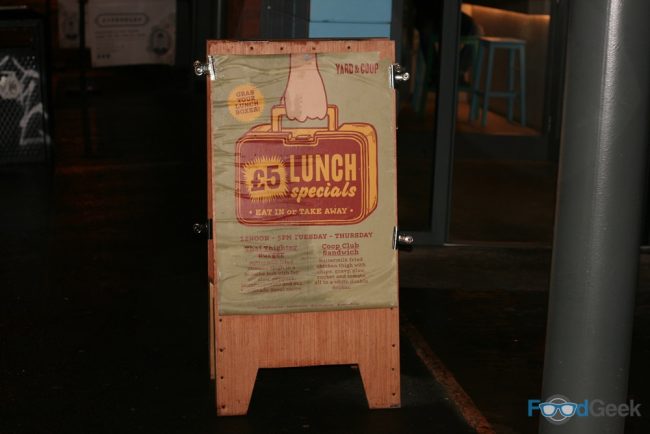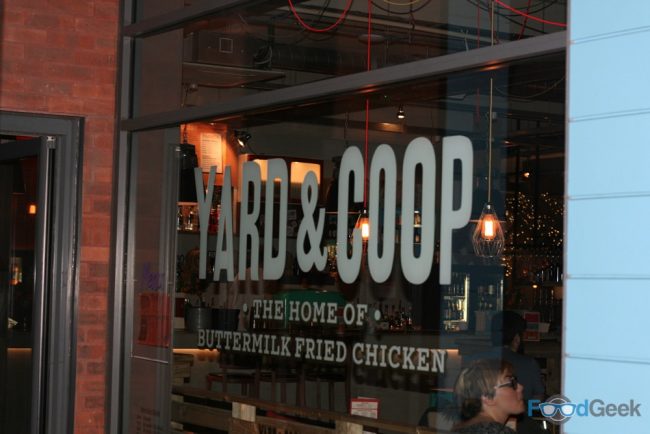 Inside is quite attractive. Although the unfinished, industrial look with THOSE lightbulbs is getting a little tired.
The menu is fairly small and very fried chicken orientated, as you'd expect.
It boasts of secret recipes, sauces made from scratch and being the 'home of buttermilk fried chicken'.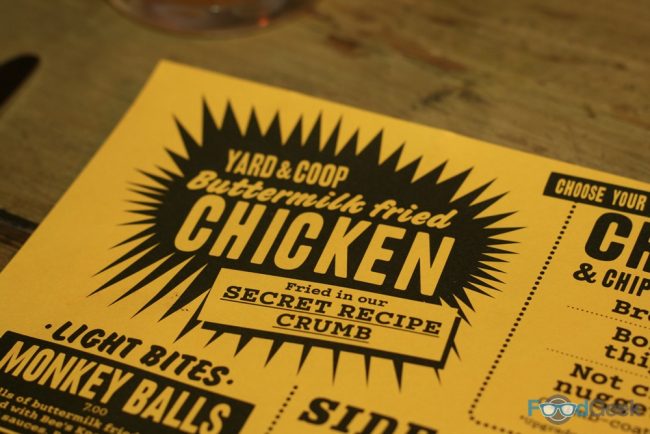 There's a choice of thigh or breast. But everybody knows thigh is best, right?
The chicken comes with salad or chips – with the option to upgrade to sweet potato fries – and one of the made from scratch sauces.
We went for both types of fries with 'Mama Mia' (Italian tomato and basil sauce) and 'Jerkalicious' (a smokey BBQ jerk sauce).
The fries were decent and both sauces tasted pretty good but were quite thin.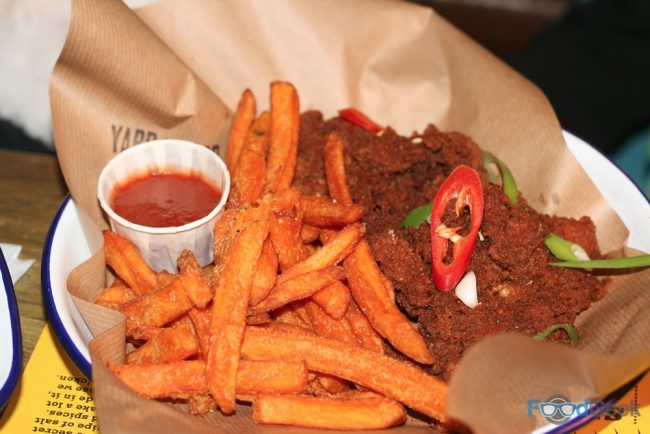 The fried chicken itself was a bit underwhelming.
I mean, it was fine, but nothing special at all. Considering it's what the restaurant specialises in I expected more.
The crumb was tasty but the chicken itself was quite dry. Not easy to do when deep frying thigh meat.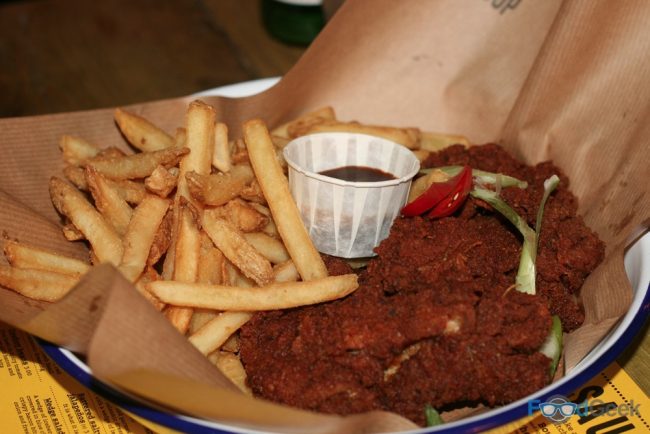 We also tried a number of sides including: 'Yard & Coop Slaw' which was fine.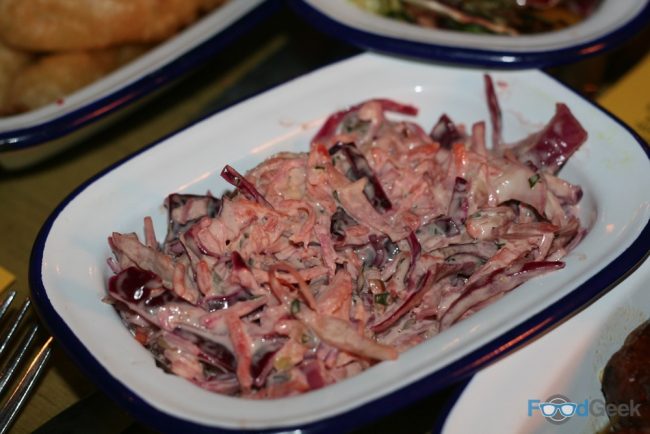 And 'Thai Street Salad' which was less good. Not what I was expecting from a Thai salad.
It did have distinctive chilli, fish sauce and lime juice flavours, but otherwise, it was a bit random.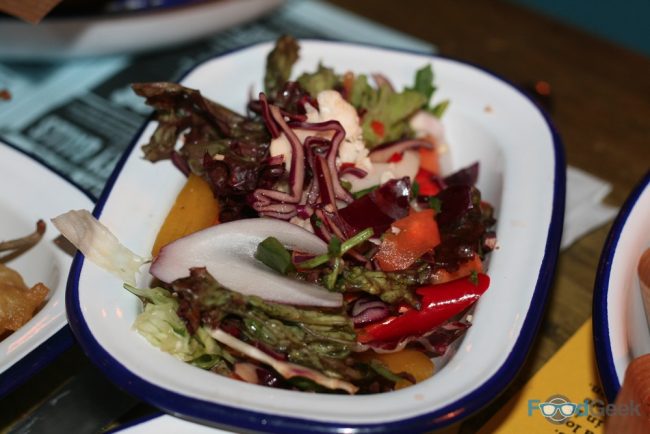 My favourite dish was 'Not Chicken Nuggets', highly addictive breadcrumbed deep fried halloumi.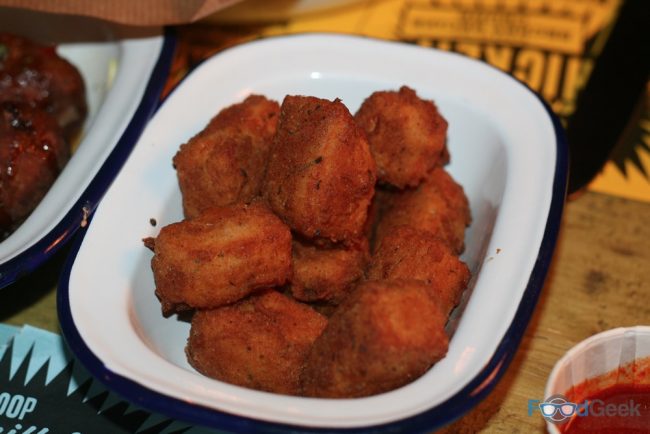 And despite the dodgy name 'Amaizeballs' were good too. Deep fried balls of onion and sweetcorn.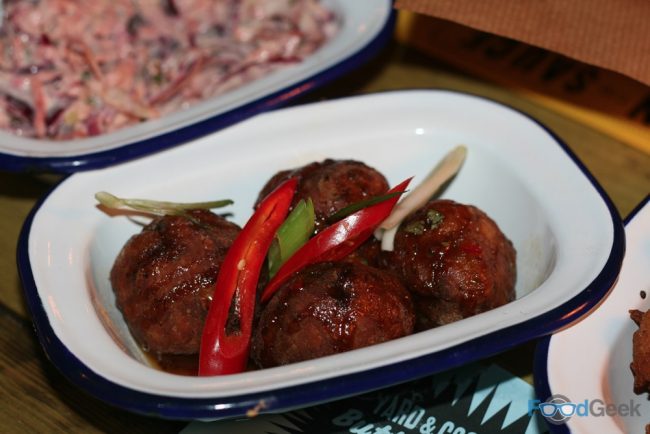 Finally, 'Battered Jalapeños'.
I didn't expect them to be those long, green pickled jalapeños you get from a jar. I wasn't sure at first but actually, it works and I enjoyed them too.
There's only one thing to drink with fried chicken, beer of course.
I was impressed with the range of craft beers on the menu and theirs a couple of house brews too. The wheat beer was pleasant enough.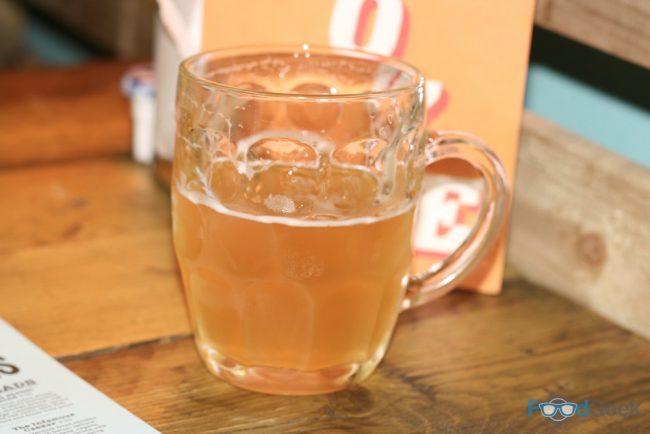 Dessert was a bit disappointing as our 'Home Baked Brownie & Ice Cream' were both sadly lacking in ice cream.
A shame because the brownies were excellent.
Overall I quite enjoyed Yard & Coop but wasn't blown away by it.
It's a nice space with a decent beer selection and some of the dishes were good. But I think if fried chicken is your thing it needs to be much better.
Service too was a bit hit and miss. They were generally quite slow, despite not being very busy. Worse, though, we were asked about sauces but they never arrived. And when I mentioned the lack of ice cream I barely received an apology, let alone anything to rectify the situation.
Still, it was a mostly enjoyable experience overall and fairly good value.
But for me, Splendid Kitchen remains the home of fried chicken.
Date of visit: 19.02.2016