Want to know one of the best things about writing a food blog? Every now and again I get pleasantly surprised by somewhere I wouldn't have gone otherwise.
I was actually invited to Provenance Food Hall & Restaurant earlier in the year. But declined because I genuinely didn't believe there could be anywhere worth eating in Westhoughton. For those that don't know, it's a small town in the borough of Bolton, not a culinary hotspot it's fair to say.
But when I heard that they'd received a listing in The Good Food Guide in their first year I began to take notice.
I then found out that young head chef Lewis Gallagher has won numerous awards. Including North West Young Chef of the Year in 2012 and Runner Up at National Young Chef of the Year 2012. As well as being named the Lancashire Young Chef of the Year twice in 2011 and 2012.
The more I read about them the more intrigued I became. They promise the best quality, 100% traceable, locally sourced fresh produce. Could there really be somewhere so good in Westhoughton?
There was only one way to find out!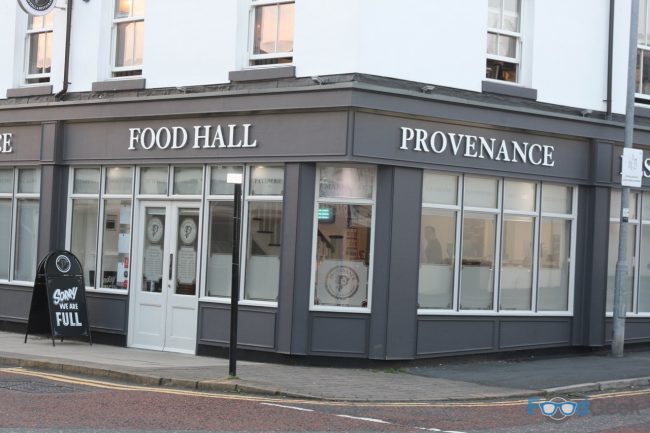 The restaurant is situated upstairs. To get to it you have to walk through the food hall and an array of tempting wares.
They have some amazing looking produce from their own butchers, greengrocers, bakery and delicatessen. There's even an ice cream parlour! Sadly it was closed by the time I arrived but I enjoyed browsing and will definitely be back.
A tasting menu had been created for the evening. Featuring a selection of dishes from their new Autumn/Winter menu.
We tried to ignore the summer sun streaming through the window on what was perhaps the hottest day of the year.
We started with canapé sized versions of some of their upcoming Christmas dishes. 'Black Pudding, Apple, Pork Popcorn', 'Beetroot Gravadlax, Greens and Crème Fraiche' and 'Goose Rillette, Pickles and Sourdough Toast'.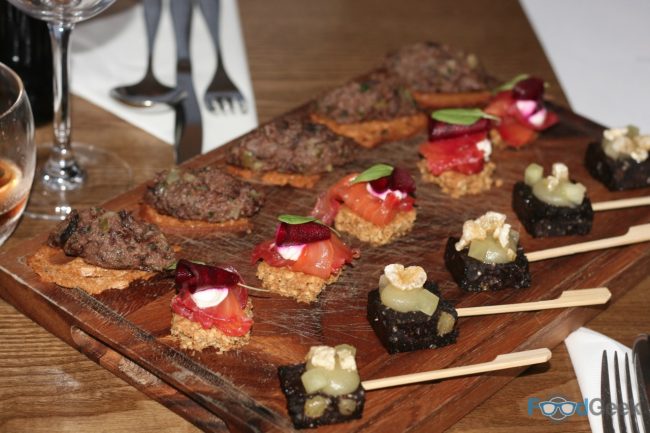 All very enjoyable mouthfuls. The black pudding was a particular favourite.
Followed by the smoothest, silkiest soup I've had for a long time.
'Pumpkin Soup' isn't ideal for a hot summers day, but this will be absolutely perfect for cold dark autumn and winter evenings.
It was so rich and comforting, bursting with autumnal squash flavours and lots of butter. The roasted seeds on top added a welcome crunch.
'Scallop, Cauliflower, Apple' is a classic combination of flavours. It works, so why mess with it?
All they did here was cook the generous sized scallop beautifully. A lovely sear on the outside, soft and juicy on the inside.
Oh, and vacuum packed the apple. It sounded a little unnecessary at first but the intense apple flavour was fantastic. There were a couple of different 'textures' of cauliflower too. The smooth puree was great but I particularly loved the 'torched' florets.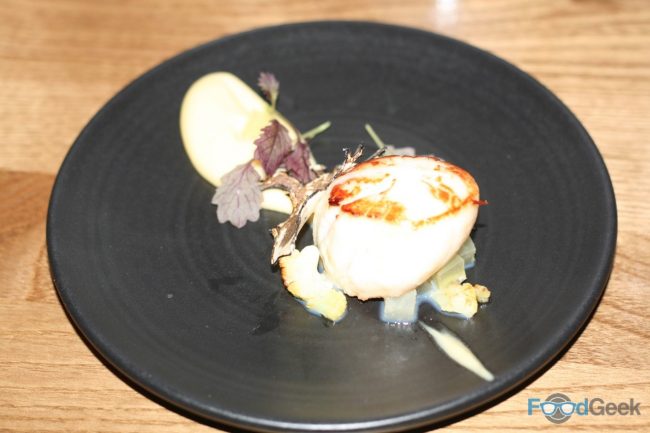 The next dish, 'Ravioli of Truffle & Jerusalem Artichoke', looked very precise. A perfectly formed ravioli, made from scratch as we were proudly informed later by the chef.
I must admit I was a bit worried that it would be too dry without a sauce. I needn't have been.
The pasta itself was lovely and moist. And the inside was filled with soft ricotta as well as the artichoke and well-judged truffle.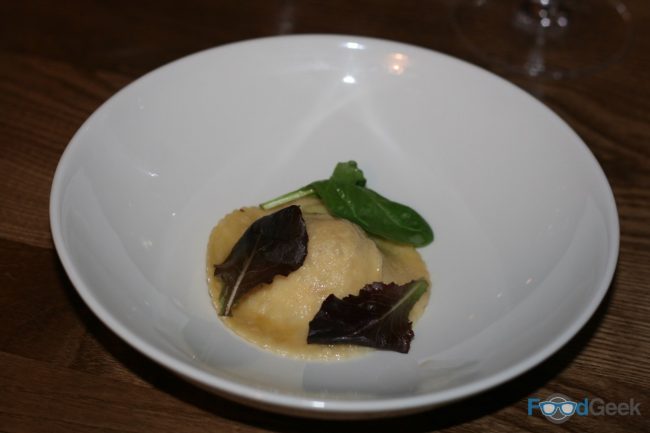 The fish dish was my favourite, 'Monkfish, Ham & Chorizo'.
Another very attractive plate of food, it tasted even better than it looked.
Meaty but soft fish topped with smoky chorizo alongside salty crispy ham is a beautiful combination of flavours and textures. Add a fantastic and very sharp lemon sauce that works wonderfully with the fish and cuts through the richness of the meat and you have a winning dish.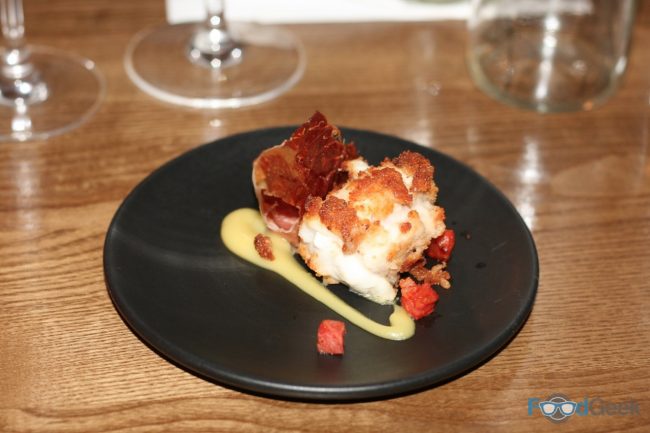 The final main course 'Fillet Of Beef, Onions & Mushroom' was a fairly simple but very enjoyable affair.
The beef is aged in house before being cooked to perfection in a water bath. It's fair to say that fillet is not my preferred cut of beef, I find it often lacks flavour. But there's no denying when it's cooked as well as this the texture is unbelievably good.
And you can compensate for lack of flavour in the meat with things like charred onions and another fantastic sauce. This onion sauce was even better than the lemon sauce of the previous dish. Sweet, smooth and perhaps even a touch of smoke. It worked so well with the beef but I'd have happily eaten a bowlful on its own with a spoon.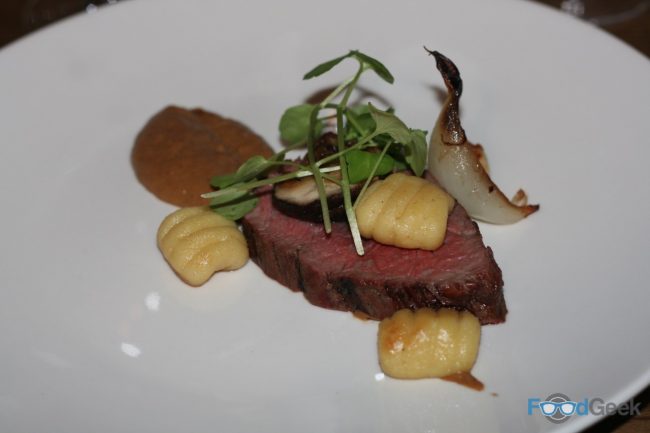 Throughout the evening there was a big discussion around the table about what exactly a 'Chocolate Mushroom' could be.
I was ever so slightly embarrassed when it arrived and I realised I'd eaten it a couple of weeks earlier at the 'Bolton Food & Drink Festival Gala Dinner'. Although in my defence, it wasn't called a 'Chocolate Mushroom' there.
Whatever it's called, it's a great dessert. Both visually and to eat.
But despite eating it twice – and having it explained both times – I can't tell you exactly what the 'mushroom' is. It involved lots of different textures of chocolate though, including meringue and ice cream.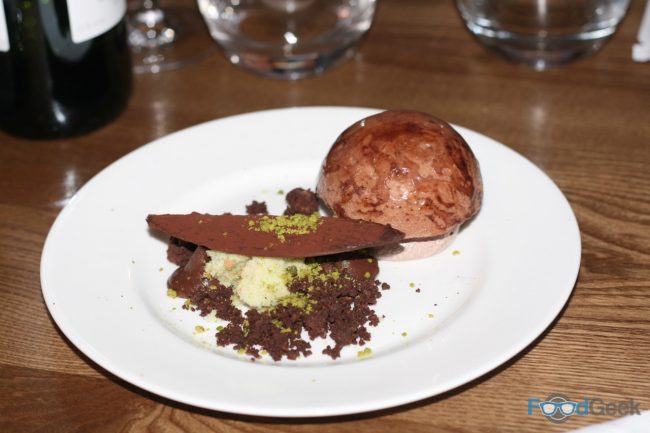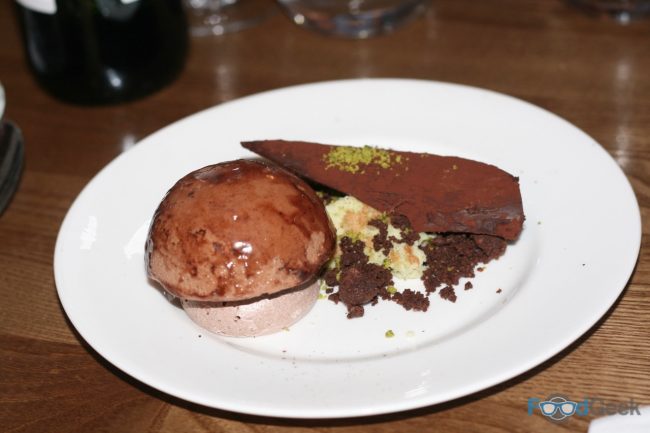 There was time for one last treat with coffee.
The 'Violet Macarons' were very well made, so neat and precise. Whether you liked the taste or not very much depended on whether you like Parma Violet sweets. As that's exactly what they tasted of.
I do, and I thought these were brilliant.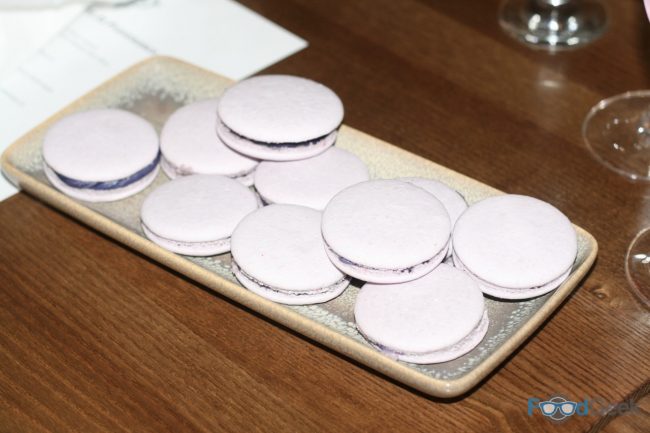 Not only was the food at Provenance impressive but the wine list is too. This includes their very reasonably priced house wines. As good as anything I've paid up to £50 a bottle for in fancier restaurants.
It's hard not to admire somewhere like Provenance. We had chance to meet the owners and they're clearly very passionate about food. But not just any food, quality cooking of locally sourced ingredients. I was so impressed to hear that they make their own bread as well as stocks, sauces and pasta.
They've put a lot of faith into a young head chef and he's rewarding them with a standard of cooking way higher than you'd expect given its location. And an entry in The Good Food Guide in your first year is genuinely impressive stuff.
I love the story behind the place too. The building was previously a toy shop started by their grandparents in 1952. It stayed in the family until it was sold in 1999. It's great that after a 16 year break it's back in the family but this time serving up delicious food instead of toys.
I've no doubt their reputation will continue to grow and it's definitely a place worth travelling too. I just hope the locals embrace it as well and they're busy enough to stay open for a long time to come.
Date of visit: 14.09.2016
Disclaimer: This was an invitation-only preview event. But I will absolutely be returning as a paying customer as soon as possible.