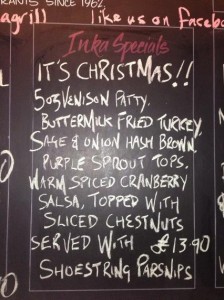 I love Christmas but for some reason so far this year I'm not feeling very festive yet. It will definitely come but to help hurry that festive feeling along I decided to sample the new Christmas menu items at one of my favourite Manchester restaurants, Solita.
Solita are well known for their burgers, they taste great thanks to being cooked over charcoal on an Inka grill and they're never shy to use interesting ingredients. Past favourites have included Kentucky Fried Bacon, Buttermilk Fried Chicken and Meatballs. The current special is a homage to epic US TV show 'Breaking Bad' and contains blue corn tortilla chips amongst other things!
The new Christmas Burger sounded equally exciting, containing a Venison patty, buttermilk fried turkey, sage & onion hash brown, purple sprout tops, sliced chestnuts and warm cranberry salsa.
It's an impressive looking burger, it's a pretty hefty but just about big enough to get your mouth around (or maybe I just have a big mouth?). It tastes fantastic, they've really managed to capture all of the key flavours of a Christmas dinner in each and every mouthful.
The venison patty is excellent quality and well cooked, the buttermilk fried turkey is delicious, soft and juicy inside with a crispy and crunchy coating, the stuffing hash brown is genius. Purple sprout tops are a revelation and better than any lettuce you'll ever get on a burger but the best bit by far is the warm cranberry salsa. It has a hint of spice and brings a gorgeous sweetness to the burger. It was also drizzled in a delicious gravy, actually my only complaint with the burger is that there wasn't enough of this gravy but I was assured it was a mistake by the chef and that there is usually more on.
It's served with house fries which are now made with skin on and are much improved since my last visit, as well as parsnip fries which were thin, crunchy and very tasty.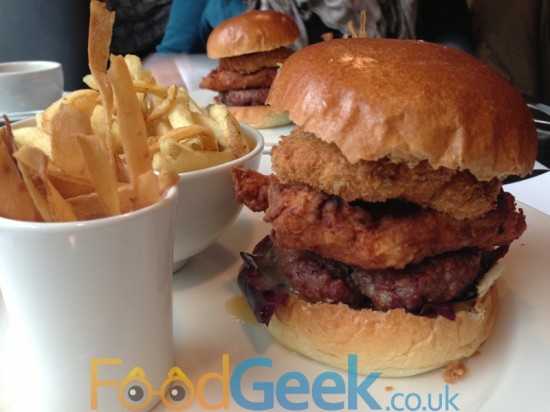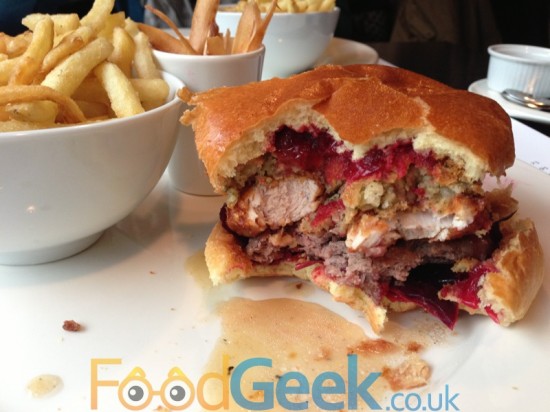 Dessert just had to be the brand new 'Mince Pie Ice Cream'. I must admit that although I do enjoy the occasional mince pie I'm not a huge fan and I also don't get massively excited about ice cream so wasn't looking forward to this quite as much as I could have been. However, it is a stunning dessert. Not only is it amazing quality home made ice cream with just the right amount of Christmassy mince pie flavour but it is sprinkled with a sweet mince pie crumble mix which was so good I could have eaten a bowl full of that alone, as if it couldn't get any better it was also drizzled with rum syrup. All of the flavours work brilliantly together, it's Christmas in a glass! It's definitely the best mince pie I've ever eaten.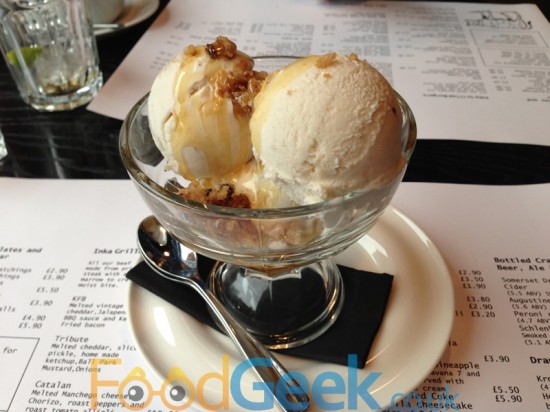 Both the burger and the ice cream are exciting, delicious and most importantly really capture the tastes of Christmas. I left SoLita feeling very satisfied, full and a lot more Christmassy!