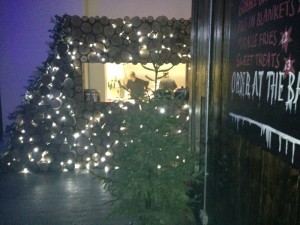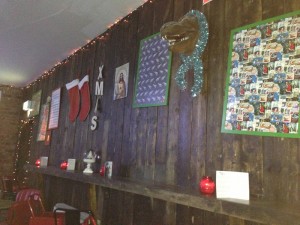 Miracle On High Street is a popup restaurant & bar from the people behind Almost Famous Burgers. On their website they say "We're unashamedly celebrating all things festive – join us for eats, drinks, and being merry." and they're not joking!
The magical feeling begins before you even even arrive as you first have to find a Narnia like stair case at the back of Socio Rehab on High Street. Once you walk through the wardrobe, I mean up the stairs you enter a magical place dedicated to all things festive.
It's dark inside but there are plenty of Christmas trees & fairy lights amongst the more traditional decorations as well as some of the most abstract Christmas decorations i've ever seen. Including a Tyrannosaurus head wrapped in tinsel, the lyrics to 'Driving Home For Christmas' written on the walls in marker pen and a huge sign declaring that "Santa's Your Daddy" in neon lights!
So full marks for festive decoration but how about the food? Well, what they actually had was fantastic. Unfortunately what they had was very limited, despite Christmas still being 11 days away over half the menu is already unavailable.
Thankfully I did get to have the one thing that I really wanted, the 'Miracle Sandwich' and it is a miracle, in a sandwich. It's also a miracle that I managed to eat it as it consists of almost an entire Christmas dinner – Butter roasted turkey, roast potatoes, cranberry & clementine pork stuffing, shredded brussel sprouts, bacon, pigs in blankets & gravy – in a fluffy, soft bun! It was so good, buttery turkey, crispy roast potatoes, delicious sprouts, meaty stuffing & pigs in blanket, all dripping with turkey gravy. It was almost impossible to eat without making a huge mess, maybe that's why it's so dark inside!
We also ordered an extra portion of 'Pigs In Blankets' which were served with a 'Christmas Ketchup' for dipping and 'Gobble Gobble Gravy Fries' which are skin on potato & sweet potato fries covered in shredded turkey, cranberry sauce and gravy. Both were great and fantastic value too.
What we didn't get to taste was any of the stews that we'd been looking forward too, either the 'Winter Vegetable Stew' or the 'Wonderland Warmers' which are a variety of stews served in crusty bread bowls including Beef & Beer, Turkey Chilli & Christmas Creole Jambalaya. These are all off the menu completely.
Even more depressing was the lack of any sweet options as they were also out of their one and only dessert item 'Sweet Treats' a trio of desserts (cinnamon roll, chocolate fudge brownie & stollen) served with warm spiced custard.
Although, the lack of dessert was partially made up for by the fantastic cocktail menu. As well as a fully stocked bar they have a selection of amazing festive cocktails. We very much enjoyed the 'Candy Cane Collins' & 'Berry Merry Christmas' as seen in the photo below as well as a 'Mince & Tinsel Daiquiri' topped with so much cream that it surely qualified as a dessert itself. Served in jam jars with candy canes, fresh fruit and dusted with icing sugar they looked and tasted like Christmas.
Miracle On High Street is a special place, the food is great and the drinks even better. The decorations, music and atmosphere are perfect and you can't help but leave feeling full of festive cheer.
It's just a shame that we didn't get to sample some of the other menu items, although apparently from the 17th December the Miracle Sandwich and Gobble Gobble Fries are no more and they will only be serving a Christmas burger so i'm very glad we went when we did. That's the way it goes with popups I suppose! If they return next year I must remember to get there earlier.
Date Of Visit: 14.12.2012
Follow @FoodGeekUK